UK200017643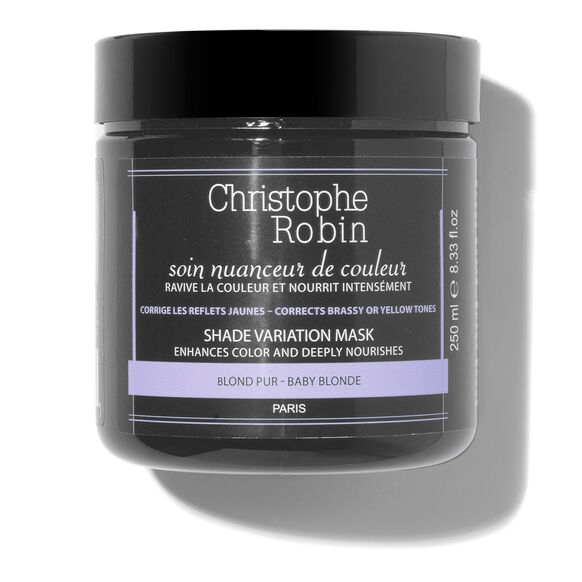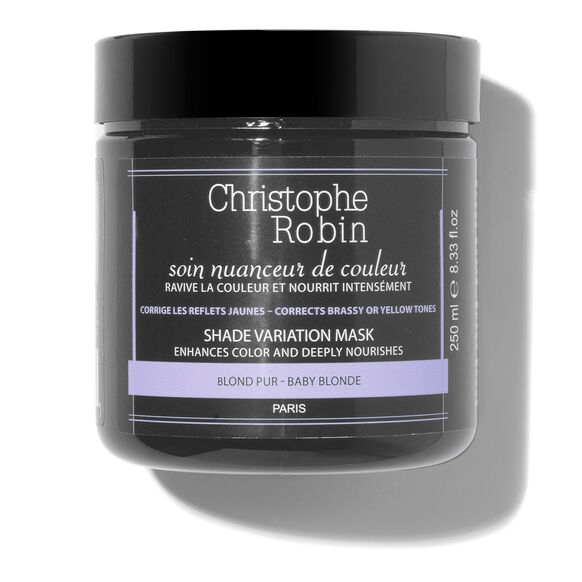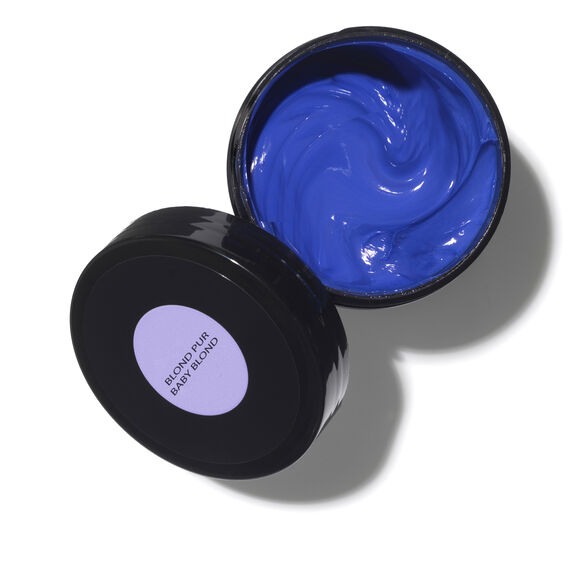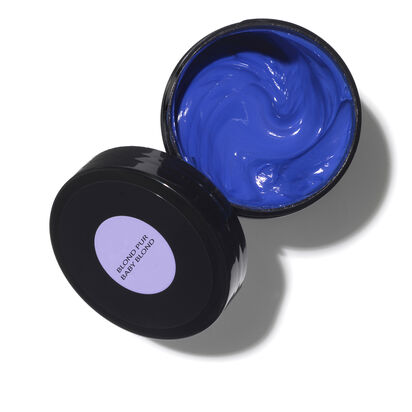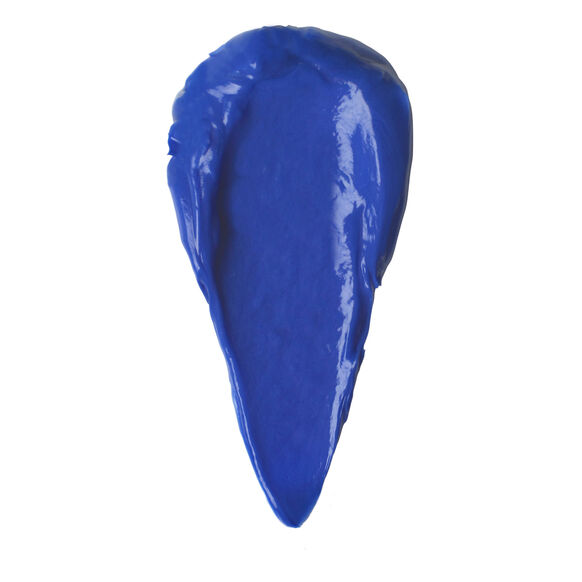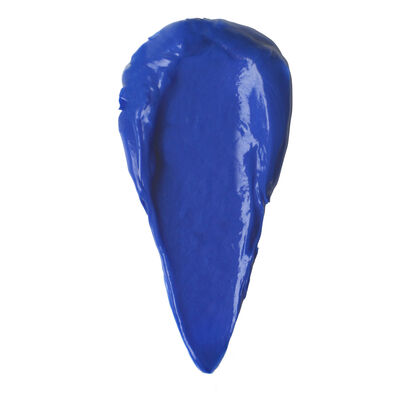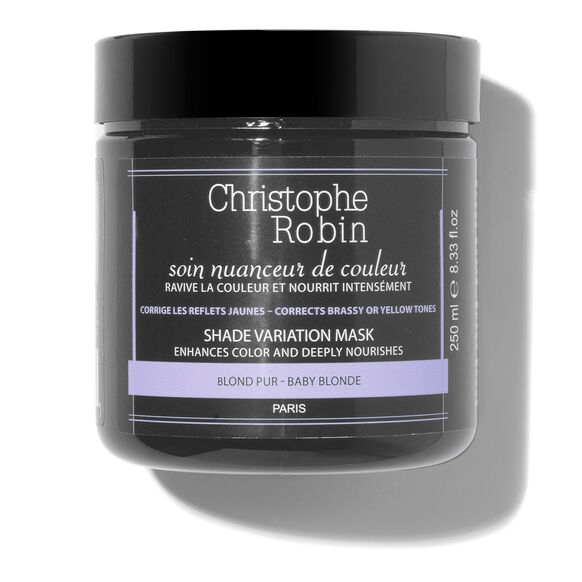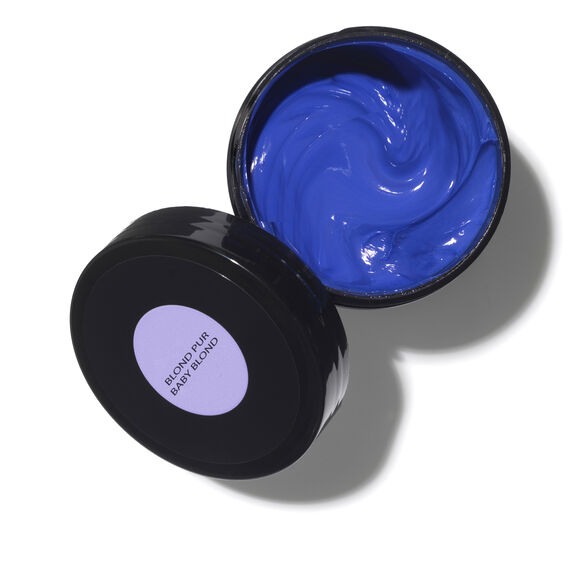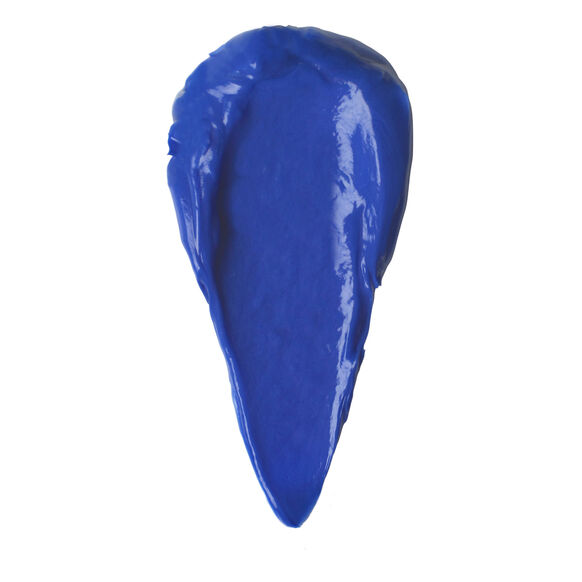 This item is currently not available
Fast and easy payment with

Give your blonde hair a lift with this colour revival mask that will nourish and revitalise your hair's colour giving you fantastic looking hair with no brassy tones.
Christophe Robin Shade Variation Care has been especially formulated to revitalise blonde hair. Blonde coloured hair or highlighted hair tends to become grey or yellow after a while, whilst natural blonde hair can appear dull and lack shine.
Christophe Robin Shade Variation Care contains almond butter and buriti oil to help minimise the porosity and fix oxidation to evenly distribute colour. The formula contains a selection of iridescent pigments and fiorentina iris that act to neutralise yellow or brassy tints restoring the hair's clarity, shine and contrast of highlights.
Christophe Robin Shade Variation Care enhances the appearance of both coloured and natural blonde hair. While deeply nurturing the hair it also neutralises any yellow or brassy tones.
Key Benefits
Deeply nourishes hair
Reduces yellow or brassy tones
Improves shine
Sulphate and paraben-free
Revives highlights
SKU# UK200017643
AQUA (WATER), CETEARYL ALCOHOL, CETYL ALCOHOL, BEHENTRIMONIUM CHLORIDE, GLYCERIN, CETRIMONIUM CHLORIDE, PARFUM (FRAGRANCE), MAURITIA FLEXUOSA FRUIT OIL, ETHYLHEXYL METHOXYCINNAMATE, PRUNUS AMYGDALUS DULCIS OIL, HYDROGENATED VEGETABLE OIL, TOCOPHERYL ACETATE, BUTYROSPERMUM PARKII (SHEA) BUTTER, CITRIC ACID, SERICIN, IRIS FLORENTINA ROOT EXTRACT, POTASSIUM SORBATE, SODIUM BENZOATE, DISODIUM EDTA, CI 60730 (ACID VIOLET 43), TOCOPHEROL, BHT.

Wash your hair with the clarifying shampoo with Chamomile and cornflower or the cleansing purifying scrub with sea salt to renew the hair fibers. Then, apply the shade variation vare to towel-dried hair from root to tip.
Lather by massaging into hair and leave in for 5-30 minutes, depending on the desired intensity. Rinse thoroughly.
Tones are removed after 3-5 washes.
跟踪的:Y50
在7-11个工作日内收到您的订单 消费Y350即可免费
表现:Y130
在3-5个工作日内收到您的订单
Christophe Robin 在过去的 20 年里一直是一流的配色师。1999 年,他推出了一套护发产品,可保护色彩,增强光泽,从发根到发尖强韧秀发。除了恢复头发健康外,这些创新产品和独特的材质也不含对羟对羟基苯甲酸酯、硅、十二烷基醚硫酸钠和氧化剂。
Rated

5

out of

5
by
Zheniya
from
I recommend it
The Christophe Robin Shade Variation Care Mask Baby Blonde has a classic creamy texture. The mask spreads easily through the hair. In addition to the main function of the mask, it perfectly looks after the hair - detangles the hair, softens, conditions the hair, makes the hair more shiny. the mask perfectly removes yellowness, makes the hair color cooler.
Date published: 2021-05-22
Rated

5

out of

5
by
rosemaryisdead
from
Really love this one
Bought this one in a small size, tried it, and then bought the full version. It's expensive but totally worth it! I like how it removes the brassy undertones while not leaving my hair dry. I leave it on for 25-30 minutes and then wash it off. Would definitely recommend it to fellow blondes!
Date published: 2021-05-17
Rated

5

out of

5
by
Klpopcorn
from
Saved my hair in lockdown
I love this product, I'm a huge fan of Christophe Robin hair products and will purchase a new one every time that there is an offer on a space nk. I love this one, I use it once a weekend on a Sunday night on my blonde highlighted hair (roots are terrible right now...) and I get loads of compliments on how shiny my hair is. It removes that dull, faded blonde look that you get after a while. Miracle product.
Date published: 2021-04-11
Rated

5

out of

5
by
Caza2507
from
Amazing Product!
Most other purple shampoos and conditioners leave my hair dry but this product is amazing. It removes brassy tones but leaves my thick hair feeling silky and soft and combs through easily after washing. Once dried my hair is still soft and shiny can't recommend this product enough! ⭐️
Date published: 2021-04-11
Rated

5

out of

5
by
Rachael25
from
Great product
This has revived my hair since I haven't been able to get my highlights done. It's way more nourishing and effective than purple shampoos which can be drying, and has given my hair a much needed freshen up. I would continue to use this in between salon visits!
Date published: 2021-03-25
Rated

5

out of

5
by
MBIRA
from
Good result
I dye my hair into lighter colours and unfortunately I know the problem of yellow hair. I used purple shampoo of different brands but they make my hair very dry and my hairdresser said that the best solution are different colouring masks. I bought this one and liked it a lot. I use it after my shampoo and my hair look not only cold blonde but nourished without any yellow colour. I recommend it
Date published: 2021-03-25
Rated

5

out of

5
by
Jessjok
from
BLONDE'S BEST FRIEND
If you are blonde, and your hair gets yellow quickly (Especially during the summer) you need this! Before using this product, I would only wash my hair once a week with a purple shampoo which would leave my hair tangled, dry and lifeless. Now, After incorporating this into my purple shampoo routine my hair feels silky smoothy. I keep it on for about 30 minutes whilst in the sauna and it really does the trick! Worth every penny, as a little goes a long way and the tub last for ages with weekly use.
Date published: 2021-03-12
Rated

5

out of

5
by
Sugarplum1303
from
Miracle!
If I could recommend only one Christophe Robin product, it would be this one. First, it smells absolutely amazing. It makes your hair incredibly smooth and silky after just one wash. It will make you excited to take a shower to wash your hair. Also, it brings out my natural blonde highlights and takes the brassiness away from all of the sun damage in my hair. Highly recommended!
Date published: 2021-03-09
Rated

5

out of

5
by
Katerina77
from
Very hydrating!
I'm honest I'm not blonde, but this conditioner is fantastic for all hair if you have brassy tones that you wish too tone down. Because it's for blonde hair it's even or hydrating than most. A like goes a long way. I always love using Christopher Robin products and have done so for years!
Date published: 2021-03-09
Rated

4

out of

5
by
RLJ777
from
Toning and softening
I desperately needed something to brighten my hair during lockdown and this came up often with good reviews. It also caught my eye as it was a purple mask rather than a shampoo as I find purple shampoos quite drying. I also liked that it doesn't contain sulphates or parabens so decided to give it a try. It's quite a thick cream so it doesn't drip and does leave my hair very soft but I definitely wouldn't skip conditioner. It really did help to brighten my colour turning it from brassy to a more ashier shade.
Date published: 2021-01-31
Rated

5

out of

5
by
Alicat2409
from
Lockdown Colour Saviour
I have very long fine blonde highlighted hair and this pot of wonder has been my colour saviour during lockdown. Ordinarily I would have a colour service every 5-6 weeks and because I am quite fair naturally find that I only need to use a shade variation product in the last week or two before my roots are tended to. I love the texture of this product that it is a thick mask so doesn't drip and I can pin my hair up for the full thirty minutes without it splodging everywhere. After it is rinsed out my hair smells wonderful (I adore the baby powder smell) and it is easily manageable with a comb gliding through effortlessly. Personally I have never needed to use a conditioner afterwards as some have found with thicker hair types. This product has been my lockdown hair saviour so I don't feel like a total scruff bag on Zoom calls and cannot recommend highly enough.
Date published: 2021-01-06
Rated

4

out of

5
by
Antoniiaa
from
Good results - need a top up conditioner after
I bought this a few weeks ago and have been using it once a week. My hair is long, naturally dark with a few highlights. Because my natural colour is so dark, my highlights tend to go very brassy very quickly. Using this mask definitely has helped to keep a cool tone to them. Very pleasant to use, nice consistency and scent, and a little goes a long way. I think I'd probably get 10 applications from one pot, which for me is very good (have a lot of hair, and very thick). I have found that I need to use a conditioner after this though - it leaves my hair moisturised, yet very static. So that's the only thing that I would say I'm not 100% happy about. If your hair is thin and doesn't need a lot of moisture - then I don't think that would be a problem.
Date published: 2021-01-04
Rated

5

out of

5
by
Pink panther
from
Brass be gone!
Wow! I absolutely love this. I have been bleaching my hair for many years and so am something of a connoisseur when it comes to toning products. I love a purple shampoo but they all, without fail, leave my hair feeling dry and straw like. I have been searching for a purple mask that will moisturise and tone and I have now found it. This is a great product. My hair feels silky and bouncy after using this, even if I use it to tone my roots. I mostly leave it on for half and hour but have been known to leave it on for a whole afternoon and it never leaves a purple tinge, like other products do. I'm so happy I found this. I also like the little travel pouch version for holidays.
Date published: 2021-01-01
Rated

5

out of

5
by
eviene
from
My favoutite mask for toning hair
This one is a holy grail, it's honestly so good I can't even start. I bleach my hair and dye it fairly often but I also enjoy wearing platinum blond. This mask is great for cool blonds, blues and purples. It removes brass and yellow undertones while maintaining the hair soft and shiny. It is not a recovery mask so it wouldn't resurrect completely dry hair, mind you. I use it for about 30 minutes before rinsing. And, by the way, the mask has the most lovely smell that reminds me of Guerlain Kiss Kiss lipsticks.
Date published: 2020-12-26
Rated

5

out of

5
by
ktea888
from
works really well!
i have been highlighting my hair before but no-one ever told me that i need to use purple hair mask to avoid highlights turning yellow! have been using this for about three months and my highlights stay blond and hair doesn't look dry. in general i'm happy with Christophe Robin hair masks. they are pricey but do work!
Date published: 2020-11-27
Rated

5

out of

5
by
lizcburns
from
I LOVE this for my blonde hair
I have tried quite a few blonde conditioners and this is the best I have used. It is on the pricy side but surprisingly I need less than other similar conditioners and so it lasts longer. I like to leave this on for the 30 minutes from root to tip. That can be quite a faff when I'm in a hurry but it's nice to do once a week. I wash my hair every other day generally. If I am in a hurry then I will just do it for 10 minutes but don't find I get as much of an effect. If left on for the 30 minutes it makes my blonde look lighter and brighter. I am a natural blonde from roots to mid and then have the past effects of balayage nearer the ends. I have to be careful leaving this on for 30 mins for the ends as can sometimes look a very little bit grey. With other conditioners like this they have left purple in my hair or a silvery finish in parts of my hair and not in others which is a bit of a weird look!
Date published: 2020-10-26
Rated

5

out of

5
by
ede456
from
Shade Variation Care Baby Blond
I really love the Shade Variation Care Baby Blond by Christophe Robin. It's very hydrating for my dry, curly hair and smells wonderful. I definitely noticed a difference in terms of the blonde color: This product took out the yellow/golden tones and gave my hair a cooler tone. I really had to scrub my scalp to get all the purple dye off my skin, though.
Date published: 2020-10-12
Rated

4

out of

5
by
Star27
from
Great treatment
I've been using this once a week it's great at neutralising any brassiness in my hair. My hair is really soft and shiny after using this. Smells gorgeous. I prefer using a purple treatment than a purple shampoo as I find them quite drying and it's easier to leave a treatment on. Definitely buy again
Date published: 2020-08-31
Rated

5

out of

5
by
JackieC123
from
JackieC123
I was suggested this product by one of the lovely ladies working at my local spacenk after I'd had balayage done on my dark hair colour to help make sure the highlighted hair didn't go brassy. Certainly does the trick and the added bonus is that I LOVE the smell of this stuff.
Date published: 2020-07-26
Rated

5

out of

5
by
sheva2804
from
Love it!!!!!!
Love it!!!!!! I love it! I have blonde highlighted hair. It tends to go brassy fast. This mask keeps my hair bright and a little white which I love. But it also makes it Crazy soft. Like I can't stop touching it soft. This has become a staple in my hair care. I no longer need purple shampoo that would dry out my hair. I use this it tones it again and makes it softer and healthier looking. I absolutely Love it! I have fine hair but a lot of it long past my shoulders.
Date published: 2020-06-15
Rated

5

out of

5
by
Emol123
from
Blonde hair revitalised
I had high expectations of this...... and I wasn't disappointed Left it on for an hour (says 30 mins) but wanted a bit more of an intense effort. My hair definitely felt in better condition, smoother and less frizzy. It also smelt so lovely! The blonde reviving was subtle, but definitely there...... my hair isn't blonde I just have high lights and they were definitely less brassy. I will continue to use weekly :)
Date published: 2020-04-25
Rated

5

out of

5
by
D_S
from
Great for brassy tones
I love this mask, it really does take out the brassy tones in between colours, and it doesn't seem too aggressive on my hair. It does work better the longer you leave it in, and I haven't yet had any averse affects to leaving it in longer. Hair also feels soft after use.
Date published: 2020-04-22
Rated

5

out of

5
by
dkim
from
Amazing!
Love this! An easy-to-use product that I apply on my hair about once a week for 30-45 minutes. It smells absolutely divine and leaves my hair feeling super soft and smooth for days! I love that it is vegan, friendlier to my bleached hair, and effective!
Date published: 2020-01-24
Rated

5

out of

5
by
LuBear
from
Think I like it
Purchased this a few months ago on my hairdresser's recommendation having bleached my hair. Having used lots of harsh purple shampoos previously, this is much more gentle. But it is quite expensive and I've not seen a huge change in the colour of my hair.
Date published: 2019-12-25
Rated

5

out of

5
by
Micky
from
Excellent
It is quite easy to find purple shampoo or purple conditioner, completely different story is to find a purple hairmask. My hair is dark blonde and quite brassy, this amazing mask tace care of the yellow tones and brings back my natural blonde. I ll keep on my hair at least 30 minutes for better results, only cons it will stain your towels but it s quite to wash it off
Date published: 2019-11-25
Rated

5

out of

5
by
SouthernAllie
from
Holy Grail
I must have been through about 30 of these over the last few years! It is incredible. Makes your blonde so bright and gets rid of brassy tones perfectly. Also very hydrating and hair feels healthy after. The perfect product in my eyes! Will always be a holy grail!!!!!!!
Date published: 2019-11-01
Rated

4

out of

5
by
JenniH
from
Great results but need weekly consistent use
I applied this post-shampoo, let it sit for 10 minutes (shower is too cold to wait for another 20 minutes, plus not water/environmentally-friendly to do so). The effect is decent on my blonde highlights. Love that the product is in purplish blue hue (all time fave color), and it DOESN"T STAIN YOUR FINGERS/NAILS which is a BONUS!!!
Date published: 2019-11-01
Rated

3

out of

5
by
skinsmything
from
JUST OK
I kinda just felt like i was using a standard conditioner that kinda improves color vibrancy and health. Not sure Id buy it again.... maybe. What I really love is the CR scalp scrub and leave in hair conditioner. Ill keep trying CR prductsn but cant say this was my favorite.
Date published: 2019-10-31
Rated

5

out of

5
by
Honey7
from
Best mask for blonde hair
I've just bought my second pot of this, I use it after the salt scrub cleansing mask and not only does it freshen up my blonde highlights, it leaves my hair soft and silky. I leave it on for 30 minutes and it takes the yellow tone out of my light blonde hair. Recommended.
Date published: 2019-10-30
Rated

5

out of

5
by
Designlady85
from
Great for in between salon visits
I have light brown hair which I get colored to be a pale blonde at the salon. It goes brassy very quickly, but using this about once a week has helped tremendously. I put it on about half an hour before I wash my hair and the reddish tint is gone. I would highly recommend
Date published: 2019-10-26
bvseo_sdk, dw_cartridge, 18.2.0, p_sdk_3.2.0
CLOUD, getReviews, 7ms
reviews, product