IN FOCUS
How To Find Your Signature Summer Scent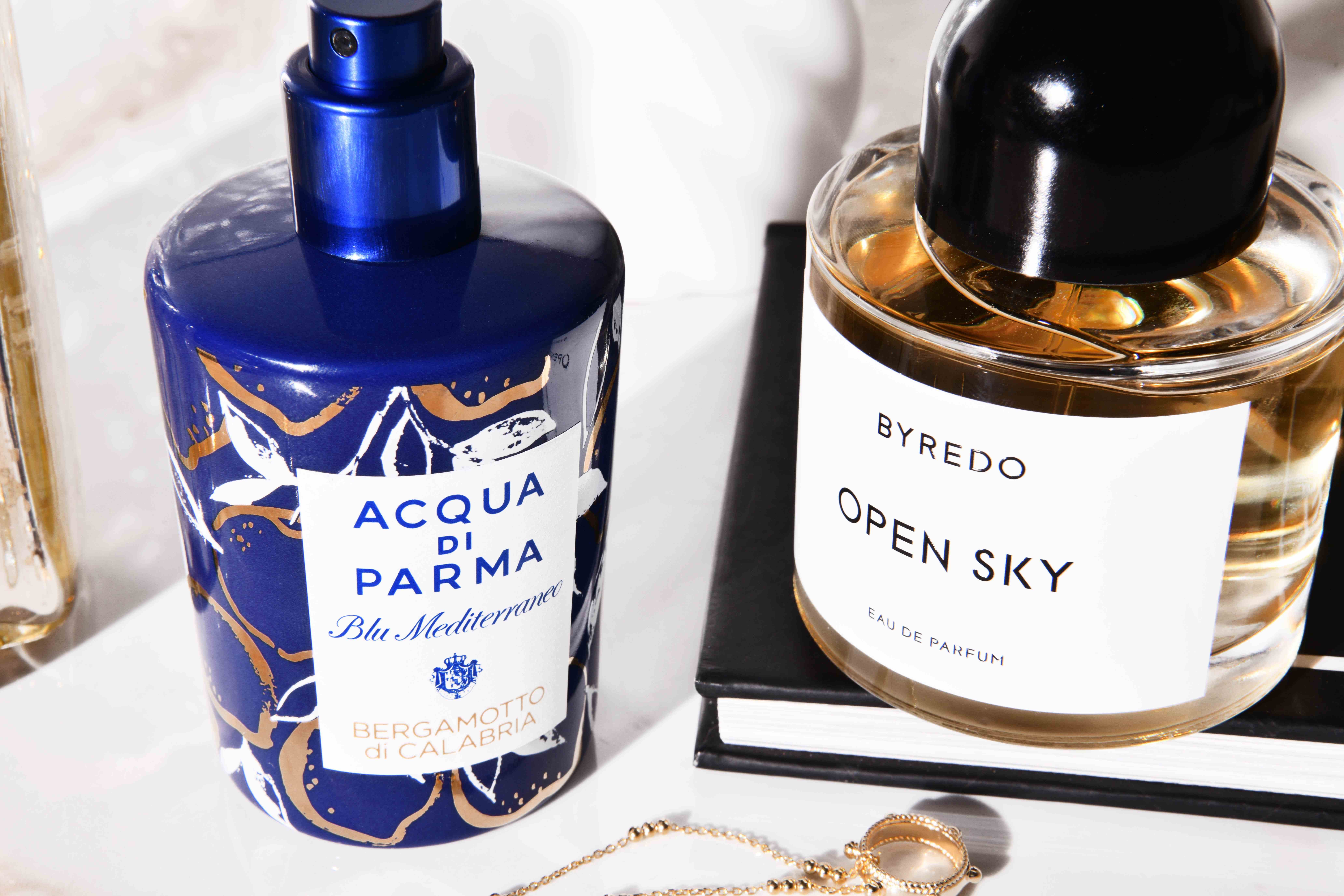 Our guide to the latest fragrances.
As a homage to the easing-of-lockdown Summer of Love, perfumers have gone big – really, really big – with new fragrances bursting with so much euphoric joy they're basically drunk on fun and dancing on tabletops swigging Whispering Angel. I love this scent-thusiasm, marking a momentous time with some truly special and unique perfumes to dazzle our dormant senses now that they've been let out of hibernation. How to find your new signature summer scent?
In general, summer-specific fragrances come in all your favourite perfume families but with a focus on fresh and breezy notes with fewer hefty base flavours, all cleverly balanced using light-but-purposeful ingredients melting into warm sun-baked skin. So whatever scent vibe you're normally into, our picks below are the summery tributes to match it, elevate it and show you the most phenomenally good time you've waited so very long for.
You Love Fresh, Citrusy Scents…
If your usual 'fume radar points to zesty colognes and laundry-on-the-washing-line splashes, bergamot is your spirit scent animal. It's a knobbly, tangerine-sweet, lemony-bright citrus fruit prized in perfumery for its soft floral elegance, yet there's a crisp and dewy bite that makes it utterly addictive. It's used as the opening 'top note' in many perfumes because of its glittering and welcoming glow, but in , it takes centre stage.
The bergamot extract is obtained using a traditional artisanal method famed in Calabria, Italy, where the flesh of the fruit is scooped out by hand and the peel is rubbed continuously with a sea sponge (Spugnatura means 'sponging'). When the sponge is squeezed of this golden nectar, the extract is so full and lush it's virtually a complex perfume in itself with juicy top notes, a rosy heart and richly textured woody base notes - elongating this citrus dream for absolutely ages on the skin.
If you like the sound of that, you will love Malin + Goetz Bergamot Candle, $57.00. The scent is more herbal with a peppery ping of coriander and a soil-rich mineral twang, plus it's brilliantly designed to refresh dining zones. Having friends over for a BBQ? The zippy botanical energy of this fragrance will subtly float through guests without intruding whatsoever.
Still in citrus land is in a gorgeous new limited-edition bottle. This time, we're turning up the heat with a tribute to blood oranges and their deep, decadent sunset warmth, which has been captured by blending blood orange and bitter orange extracts with a steamy and resinous mix of jasmine, amber and tonka bean.
You Prefer Warmer, Woody Scents…
If you prefer your perfumes woody and aromatic, has the dry bark and damp trunk combo you'll recognise, but with a blast of cold freshness from grapefruit and vetiver to lift it up high into a joyous celestial space. It's so happy and optimistic it's bordering on therapeutic.
Speaking of, if you believe in the self-care power of perfume, you need in your summer fragrance wardrobe. It's not brand new, but it epitomises everything about SS21. Imagine lying on a beach towel after a long swim in the ocean, letting your body warm up from the baking sunshine, then turning over onto your front. As you place your cheek on your hot forearm, you can smell a faint mix of salt and suncream and caramelised skin. Beach Walk is precisely this olfactive snapshot.
Wanderlust was also on Byredo founder Ben Gorham's mind when he dreamt up Byredo Open Sky, the latest scent from this renegade superbrand inspired by the in-between moments of travel where the anticipation of the journey itself electrifies your whole being. I say renegade, because there are some quite polarising perfumes from Byredo and this is definitely one of them. Leaning into the CBD trend, this includes hemp leaves mixed with citrus pomelo and spiky black pepper with a smokey smoulder of Palo Santo: dangerous, curious and sensorially shocking... a real risk-taker scent that reminds you of wild times and zero rules.
You Prefer Floral Fragrances…
Floral lovers: you have two new stunners on your horizon. Let's start with the heavenly . This dewy, wet, morning-fresh rose is blousey and whimsy with a mouth-watering apple crunch, and as your body heat warms the scented balm it unfurls a pillowy musk note called Ambroxan that melts into pores like a summer-tog duvet on naked skin.
On the other end of the floral spectrum is something far less innocent and way, way more indecent. Tom Ford Tubereuse Nue takes the sweet and creamy tuberose blossom and gives it a billionaire's makeover. It is unapologetically carnal and raunchy, deliciously glossy and a little bit greasy but in a really good way, like an intense body oil slathered on tanned skin wearing a gold bikini standing on the bow of a superyacht docking in Cannes. It's not going to a party. It is the party.
This is what summertime freedom smells like. Our advice? Spritz like there's no tomorrow.