UK200021720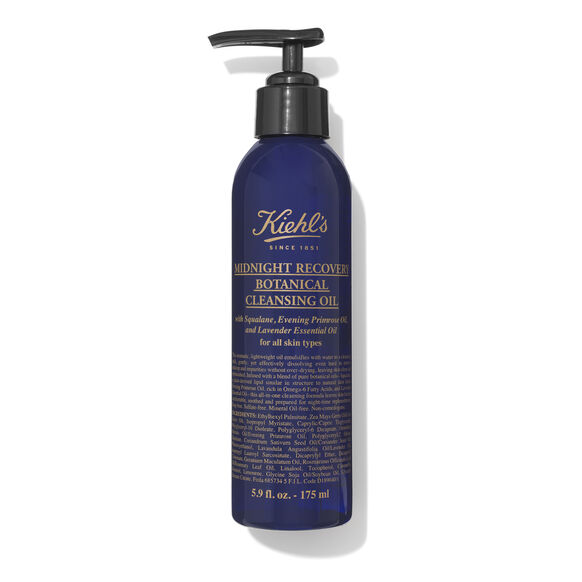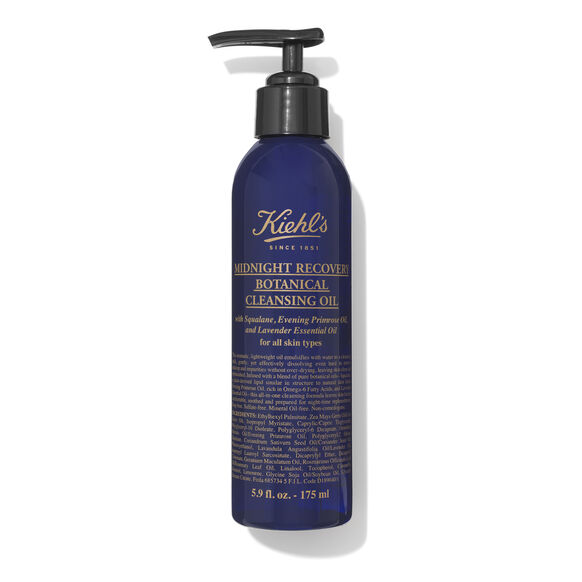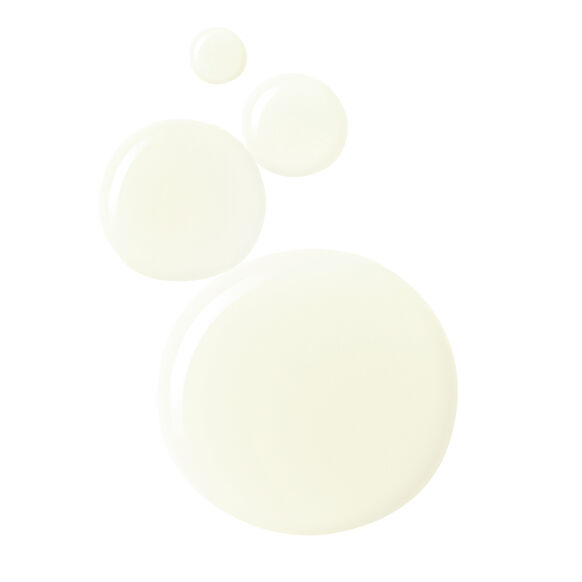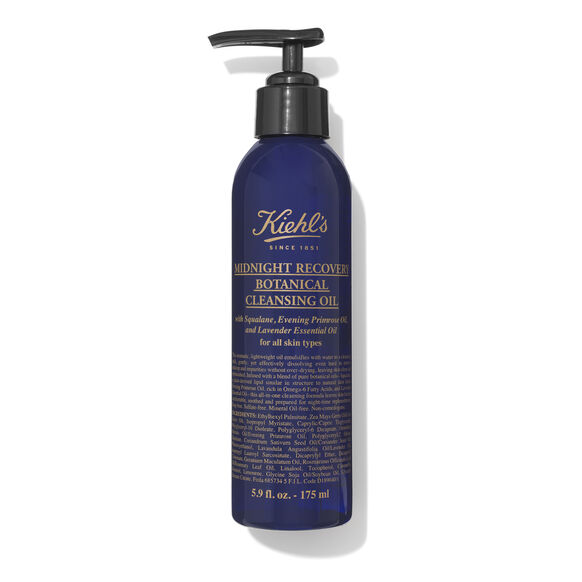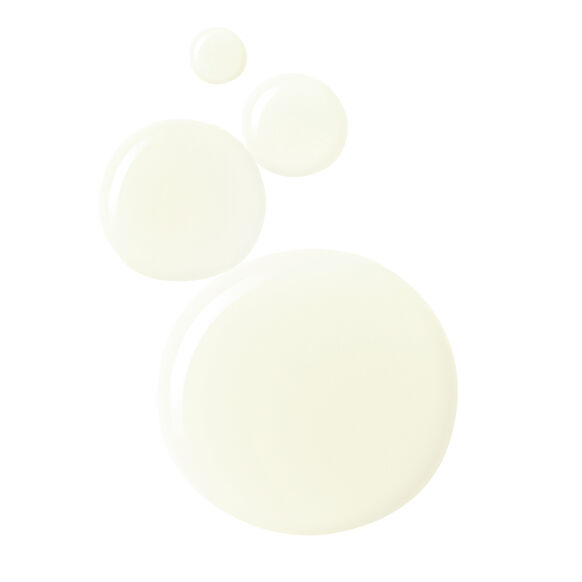 Prepare tired skin for optimal overnight revitalisation with Kiehl's New Midnight Recovery Cleanse Oil botanical-oil enriched cleansing formula. With its affinity for skin, squalene softens and smooths while lavender essential oil stimulates cell repair and adds a pleasant scent and fatty acid-rich evening primrose oil nourishes and soothes.
When blended with water, this luxuriant oil emulsifies into a light milky formula that removes the deepest impurities and toughest makeup.
To use, simply mix a few drops with water, apply all over skin then remove once with mild water or a wipe. With its deep pore cleansing action, there is no need for further application or harsh repeated removal.
This nourishing formula is free from soaps, sulphates and minerals for gentle and natural skin care that leaves no unpleasant oily residue.
The combination of natural ingredients calms irritated skin and diminishes a blotchy appearance for a consistent, brighter look overnight.
Key Benefits
Deeply cleansing
Calms skin
Evens skin tone
Simple one-time nightly use
Natural ingredients
No parabens, minerals or sulphates
SKU# UK200021720
Gently massage a few pumps' worth of product in a circular motion into your skin. Then add water to gently melt and dissolve all traces of dirt, oil, sunscreen, and face and eye makeup; then gently rinse away.
Use as the first step to your night-time skincare routine, as it leaves skin feeling soft, supple and prepped for optimal night time replenishment.
Don't forget that you can use this to remove eye-make-up remover too, as it's ophthalmologist tested for sensitive eye area.
TRACKED $7
Free on all orders over $50
Receive your order in 7-11 working days*(Please be aware that during sale and promotional periods your order may take longer to arrive).
EXPRESS $13
Receive your order in 1-2 working days* (Please be aware that during sale and promotional periods your order may take longer to arrive).
GIFT WRAPPING
If you'd like to send your order as a gift, we can add a beautiful finishing touch with our limited edition Christmas gift wrap. Choose complimentary gift wrap at checkout.


At this time we are unable to ship to P.O Boxes, A.P.O or F.P.O
The Kiehl's apothecary began in New York's East Village more than 150 years ago. Its luxurious skin, hair and bodycare products combine old-world herbal formulas with cutting-edge technology.
Rated

3

out of

5
by
2bzy2shp
from
hard to remove
Kiehl's is a reliable brand, so I'm always happy to try a new Kiehl's product. However, it's quite a heavy oil, so will dissolve whatever makeup you may have put on. But it's a bit of a faff to add water to get it into a milky fashion and then off your face. And not really appropriate for the shower.
Date published: 2021-03-01
Rated

3

out of

5
by
EmE7
from
Decent cleansing oil
I wanted to try a cleansing oil after reading an article about this type of cleanser. First of all, it has a powerful scent with all the botanical ingredients but I don't mind. More to the point, I found that I need to use quite a lot of this product - this could be to do with the fact that it didn't come with a pump for some reason. My skin feels nice enough after using this, but I won't be buying it again. I've found other cleansers which I prefer to this one.
Date published: 2021-02-12
Rated

5

out of

5
by
Irinakey
from
Fine cleanser
Cleansing oil is a new product for me. It is convenient that you can take a small sample volume. The oil is quite economically consumed, removes makeup, moisturizes the skin and does not leave a sticky film. It has an unobtrusive aroma. Ideal for winter use.
Date published: 2021-01-30
Rated

5

out of

5
by
emmyboo
from
Excellent staple routine product
Amazing product, definitely part of my staple facial routine. Smells amazing, leaves my sensitive skin clean but not stripped or aggravated. I also like to use this under a exfoliator to help give it more slippage and always very happy with the result
Date published: 2021-01-27
Rated

5

out of

5
by
JenniH
from
Loved it Loved it!!!
The scent was so relaxing and delightful to use at the end of the day in removing makeup. It doesn't contain mineral oil either so is a plus. It lathers clean and rinse without any residue grease. I followed up with eye makeup remover and then a second-cleanse with another cleanser. Loved how delightful this cleansing oil is! I already had backups even though this is a bit pricey. Worth it for me.
Date published: 2020-12-01
Rated

5

out of

5
by
KatieD
from
Stress relief for my face
Oh how I love thee! I do love an oil, all oils, for all things. I have combination skin and find often one product doesn't fully suit my whole face - that is simply not the case with this. It has a lovely scent, is a gorgeous consistency and does the job (getting rid of the day, not leaving anything behind) without leaving any residue. Perfect.
Date published: 2020-11-11
Rated

5

out of

5
by
Hanny345
from
Lovely cleansing oil
Really enjoyed using this and the classic midnight recovery scent is so nice in the evening before your evening routine! A few pumps with a bit of water added turned into a milky solution, would definitely repurchase once I have worked my way through some other products
Date published: 2020-11-10
Rated

5

out of

5
by
marine86
from
Love on the first try
I love it the first time I've tried when I received the sample. The best cleansing oil in my opinion. The oil is light and it easy glides on the skin, I did not expected it. I just wish the price is cheaper than now. However aside the price this amazing cleanser done the job breaking down the makeup and spf. The bonus of this cleanser is the pump in the bottle makes it easy to use.
Date published: 2020-10-30
Rated

5

out of

5
by
Eire
from
Love this cleanser
I love this cleanser, the smell is amazing, very relaxing! The price is excellent as well. I keep repurchasing this product, I am now on my fourth bottle. I find that it lasts ages and I use it twice a day. Can use it all over your face and is a treat to use!
Date published: 2020-10-20
Rated

5

out of

5
by
Jade3940
from
The ultimate in removing makeup in a relaxing way!
This is the only thing I use to remove makeup from my face. It goes on very well with just one pump, and removes all makeup so effectively and non-abrasively. The lavender fragrance makes this the ultimate go to product for a end of day/bedtime routine with a mood enhancing oil that feels like the ultimate treat. Everyone who I know that uses this speaks highly about this. It's money well spent and one of my favourite products in the Kiehls range. I'm also a fan of the eye cream and face oil in this Kiehls midnight range.
Date published: 2020-09-20
Rated

5

out of

5
by
tigerlily
from
Lovely
One of the best products from Kiehls as it is gentle and lovely to use. You get a good amount of product which is really nice. I enjoy Kieh'ls products in general because they don't irritate my skin and this is the same. I am on my second bottle and enjoy using this.
Date published: 2020-09-08
Rated

4

out of

5
by
MarieB
from
Lovely smelling cleansing oil
It has been a while since I used a cleansing oil, the last one was Shu Uemura.....and I was underwhelmed. I think that was because I missed the lovely smell of other cleansers! Thi cleanser was very effective at removing makeup and SPF, left my skin feeling soft and clean, and smelled nice too! One star taken off as I think I really prefer a balm to an oil.
Date published: 2020-08-03
Rated

5

out of

5
by
Fusciakisses
from
Best makeup remover
I have used this for years and just love it - I've tried other things in between (who doesn't get swayed by magazine and blogger reviews?!) but always come back to this as it just can't be beaten. I have combination sensitive skin and this doesn't irritate my skins or eyes at all. It gets rid of every last bit of makeup, and mascara comes off so easily. Worth every penny
Date published: 2020-07-15
Rated

4

out of

5
by
JJ95
from
Nice but strong scent
The oil is really nice. It removed my makeup but it struggled with not waterproof mascara. However tt didn't sting my eyes. If you remove your eye makeup first and then go with this oil you will be happy. It is very easy to remove and does not leave any residue on the skin. I gave it 4 stars due to mascara and also because the scent is too much for me. It is not unpleasant but very strong - it gave me a headache.
Date published: 2020-06-18
Rated

5

out of

5
by
michward01
from
Lovely cleansing oil
I'm in the middle of using a sample of this and i'm finding this super lovely, soft and gentle on your skin. I clean my face with a cotton pad soaked in miscellar water 1st then I use this which removes the last few traces of any grime, oil and dirt embedded in my skin. Then I was as instructed. My skin feels so soft and supple afterwards. has such a lovely fragrance too. High recommend.
Date published: 2020-06-11
Rated

5

out of

5
by
Elicia89
from
Great Cleanser
I love this cleanser! I'm not a huge fan of lavender however, this smells delicious with the other ingredients, you only need a tiny amount to remove all of your make up including eye make up, massage over your face and add a little water to activate the oil, i always double cleanse so use this in conjunction with the cannabis facial wash. You may think it's a bit pricy but it last a long long time.
Date published: 2020-06-07
Rated

5

out of

5
by
Ana Romano
from
Night-time skincare routine staple
I was reluctant to try cleansing oils but this product converted me. I've been only using oils since then and Midnight Recovery remains my favourite. Yes, it is on a pricy side but it does the job well, dissolving any waterproof make-up very quickly, and the smell is absolutely amazing. I like to follow up with Midnight Recovery Concentrate for a real skin treat. Will definitely repurchase this product in the future.
Date published: 2020-05-18
Rated

4

out of

5
by
batseli
from
Perfect for night-time
I have combination skin and this cleansing oil leaves my face looking super clean after every use and it works amazingly at removing all traces of my makeup and all the dirt that has built-up throughout the day. This product is a great addition to my night-time skincare routine because when I wake up the next morning my skin feels soft and hydrated. I love that this cleanser contains lavender essential oil because after I have given it a good massage into my skin it leaves me feeling very relaxed.
Date published: 2020-05-15
Rated

5

out of

5
by
Jem Star
from
The only oil cleanser I have repurchased, on my 3rd bottle!
I asked for this at Christmas 2 years ago after an influencer recommended it for combination skin...it was a gamble but oh my days did it pay off! I wasn't sure in the first week, turns out I was using too much too often so pulled it back and it has had an amazing effect on my skin particularly around my jawline and cheeks where I use to suffer with big hormonal spots for a week of the month but after a month of using this they really calmed down and now I don't get them at all. The scent whilst clear is not overpowering at all, I like to double cleanse with this and in particular after a workout, I feel clean but not "filmy". Whilst it is pricey I find it lasts at least 7 months, using it only once in the evening with 2 pumps of product. I'm now halfway through my 3rd bottle and have no intention of replacing it. An essential part of my routine!
Date published: 2020-05-13
Rated

5

out of

5
by
NadiaS
from
Best cleanser!
This is one of the best cleansers that i ever ised. It's smells with lavanda, which is really calming and relaxing smell. It's easily removes all make up traces even the waterproof. Cleanser don't dry skin, it even feels more hydrated and relaxed after this cleanser.
Date published: 2020-04-13
Rated

5

out of

5
by
Happibug
from
Great hydrating cleanser that smells amazing!
I find it hard to find a cleanser that doesn't dry my skin out too much after use. I would say my skin is normal/dry and this wash really makes my skin feel hydrated. You lather the cleanser and massage into the skin, the smell is so so lovely! If your a fan of the midnight oil then you'll love this cleanser like I did. It also got my make up off really well and my face felt thoroughly cleansed. I just really liked the feeling after I'd dried my face, it didn't feel tight, just clean and supple. Normally my face drinks so much moisturiser after a cleanse but with this I didn't see that happening. I've bought loads of this cleanser and I will keep buying it!
Date published: 2020-04-06
Rated

5

out of

5
by
Jjj555
from
Lovely - a staple in my routine
I absolutely love this cleansing oil and have bought it multiple times. I have very dry skin and this is very gentle and doesn't leave a residue on my skills like some other oil cleansers. It's good at removing makeup although. Lovely smell too. Would definitely recommend.
Date published: 2020-04-05
Rated

5

out of

5
by
tyna_s
from
Nice ....
I'm a Kiehls fan .... so trying this cleansing oil was a must for me. I was not disappointed, its a really lovely cleansing oil. It smells lovely and does a really great job. I cleanse twice and this is my first step. It removes all my eye and face make-up ready for my second cleanse.
Date published: 2020-04-01
Rated

4

out of

5
by
Swsw
from
Good cleansing oil
I tried a sample and found this cleansing oil removed makeup thoroughly and easily, and didn't sting the eyes as much as other cleansing oils and balms I've tried. I couldn't really notice a smell which I prefer. I thought the rich oils left my skin nice and soft after using it without making my t-zone oily. However, I haven't used cleansing oils in a few years so found it messier than a cleansing balm and won't purchase the full size soon for that reason.
Date published: 2020-02-18
Rated

5

out of

5
by
AshleyUpFarm
from
Night-Time Treat
This cleanser effortlessly removes my makeup, even waterproof mascara, and leaves my skin smooth and hydrated. I love the calming scent and it makes taking off makeup both quick and a pleasure. This is the main cleanser I use and has really set the bar but be warned...don't purchase the travel size - it leaks everywhere!
Date published: 2020-02-05
Rated

5

out of

5
by
sakura_latte
from
very nice
I'm a big fan of the Kiehl's ultra facial cream so I was happy when I received a sample of this cleansing oil. It effectively removes all my make-up and leaves my skin feeling very soft and supple. I currently use a cleansing balm from another brand but after I use it up, I think I'd buy this cleanser next.
Date published: 2020-02-01
Rated

5

out of

5
by
kiphip
from
A truly lovely cleansing experience
The best cleanser I've ever used to remove make up. Such a great product if you've been out late at night and need a all in one solution to remove and cleanse when you are crying out to be in bed. I was dubious about oil cleanser, but another great product from Kiehls
Date published: 2020-01-18
Rated

5

out of

5
by
Bobbles1981
from
Love this cleanser
I'm a real fan of oil cleansers. This is now a staple of my evening routine and I use the full range. I love the scent, really relaxing. It goes on dry skin and changes to a milky texture with water. It's gentle, doesn't irritate, and does a good job of getting most of my eye makeup off too. Highly recommend.
Date published: 2019-12-11
Rated

4

out of

5
by
valkus
from
nice cleanser
I've had a bunch of mini bottles and samples of this product in the past. It has the same smell as the midnight recovery oil from the same brand so if you like the smell of one, you'll like the other. This oil spreads easily and does a good job at removing makeup, especially eye makeup. A bit expensive for how much you get though, but I might repurchase.
Date published: 2019-12-09
Rated

5

out of

5
by
alicepictora
from
My new fave oil cleanser
I've just finished the smaller size of this (which has lasted about two months with daily use) and really enjoyed it. Smells lovely, lasts a decent amount of time and gets all of your makeup off easily, including waterproof mascara. Can't ask for more from an oil cleanser! I'll most likely repurchase the largee version for the shower and the small size for travel.
Date published: 2019-11-01
bvseo_sdk, dw_cartridge, 18.2.0, p_sdk_3.2.0
CLOUD, getReviews, 25ms
reviews, product