UK300054516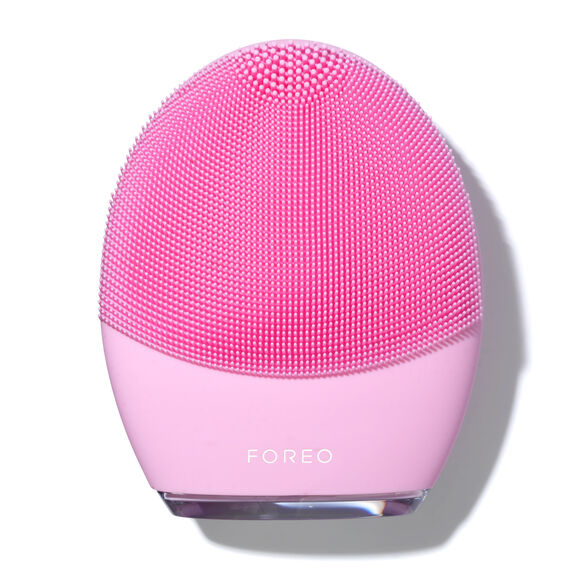 Pincez pour zoomer Double-cliquez pour agrandir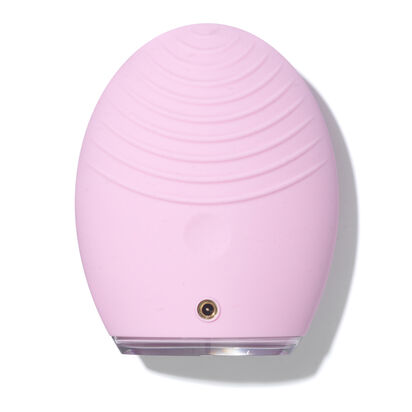 Pincez pour zoomer Double-cliquez pour agrandir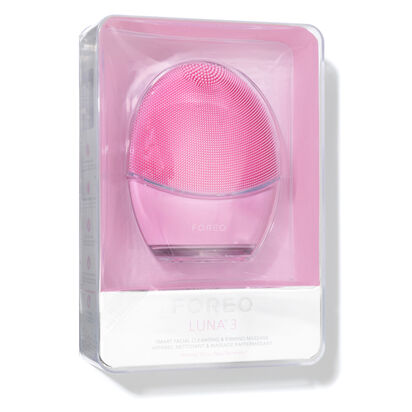 Pincez pour zoomer Double-cliquez pour agrandir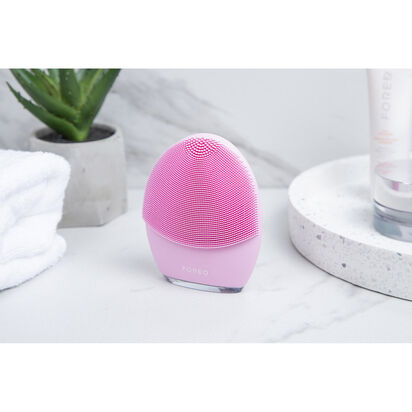 Pincez pour zoomer Double-cliquez pour agrandir
Cliquez pour interagir avec la vidéo




Ça vaut
209
points NDULGE.
Obtenez une peau parfaitement nettoyée, lisse et douce avec la brosse nettoyante pour le visage Foreo Luna 3 pour peau normale, un dispositif de nettoyage électronique hygiénique qui fonctionne avec une application pour révolutionner et personnaliser la routine quotidienne de soins de la peau.
La Foreo Luna 3 est fabriquée en silicone flexible et dispose d'une tête plus large et de points de contact plus doux et plus longs que les modèles précédents. Cela permet un nettoyage plus profond et plus doux, avec une couverture sur l'ensemble du teint. Le Luna 3 exploite quelque 8 000 pulsations T-Sonic™ par minute, en utilisant des mouvements circulaires pour purifier les pores de l'excès de sébum, de la saleté et des résidus de maquillage.
La brosse nettoyante pour le visage Foreo Luna 3 pour peau normale dispose de 16 intensités pour garantir que chaque routine de nettoyage est personnalisable en fonction de l'humeur et du besoin de soin de la peau. Elle peut être utilisée jusqu'à 650 fois avec une seule charge et est totalement étanche.
Principaux avantages
Dispositif étanche et hygiénique pour réveiller la peau
La tête en silicone souple et les points de contact éliminent en douceur la saleté et les impuretés.
Jusqu'à 8 000 pulsations par minute pour apaiser la peau
Expérience de nettoyage personnalisable avec 16 intensités.
Se connecte à l'application pour créer une routine de soins unique.
Fonctionne jusqu'à 650 utilisations par charge
SKU# UK300054516
- 1. Téléchargez l'application FOREO.
- 2. Allumez le LUNA 3 et connectez-vous à l'appli via Bluetooth.
- 3. Suivez les instructions pour sélectionner vos préférences de nettoyage et votre routine de massage raffermissant.
LIVRAISON STANDARD €5
Gratuit à partir de €50 d'achat Recevez votre commande en 2 à 4 jours ouvrables.
LIVRAISON EXPRESS €9
Gratuit à partir de €120 d'achat Recevez votre commande en 1 à 2 jours ouvrables.
LIEUX DE REMASSAGE €5
Retirez votre commande à un endroit pratique dans un délai de 9 à 11 jours ouvrables.
INTERNATIONAL
Nous expédions dans le monde entier ! Pour en savoir plus sur nos options d'expédition internationale, consultez notre page de livraison.
RETOURS
Achetez en toute confiance grâce à la garantie de satisfaction à 100 % de Space NK. Les produits non ouverts peuvent être retournés pour un remboursement complet ou un échange dans les 28 jours suivant l'achat avec une preuve d'achat. Les produits ouverts ou utilisés qui ne vous donnent pas entière satisfaction peuvent être retournés pour un échange dans les 28 jours suivant l'achat avec une preuve d'achat.
La gamme d'appareils FOREO va révolutionner votre régime de beauté. Associant la technologie T-Sonic à des poils souples en silicone, chaque produit purifie en profondeur tout en offrant des avantages anti-âge supplémentaires.
---
Résumé des évaluations et commentaires des clients
MMOm09
Localisation: Atlanta, GA
Critiques: 1
Gender: Female
Recommande ce produit: Yes
Luna 3 - normal skin
The Luna 3 is *amazing*. I was in love with it after the very first use and I continue to be in love with it. You always wonder if the claims products make are really truly real - especially with things you can't exactly measure (is my face really 99.5% free of dirt? who knows - there's no way for me to verify this!), but I can say that based on what happens after I wash my face with the Luna 3, it's definitely true that my face is able to more efficiently absorb products - in the past, I would add my products and I assumed they were being absorbed somewhat, but I was more or less mixing the moisturizer with my serum when I put it on my face, as the serum was still basically ON my face - but now my serum absorbs so quickly that my face is basically clean when I go to put on my moisturizer - to the point where I'm using a bit more of both (would probably annoy me, except that I'm ok with the reason being that more is actually going INTO my skin and presumably doing more good than it ever did before). My face also feels incredibly smooth and silky directly after washing, even before putting on any products at all. Since the t-sonic technology dilating your pores temporarily is why products absorb better, I assume that it's also helping the bristles get at that 99.5% dirt ;-) hahaha, but who cares - the point is my face feels amazing and I can tell it's better utilizing the skin care I've been dishing out for all along! On top of the cleaning, the massages are quite nice - very relaxing. There are four routines in total: eyes, neck, something I can't remember and an all over one. I've settled on doing the eyes followed by the all over one. Again: too soon to tell if they are doing anything, but it's very relaxing and as they resemble the ancient gua sha techniques, I do believe over time they'll have a positive effect. I started out with just this Luna 3, but almost immediately decided to dive in and get the UFO and then the BEAR - my routines are now: AM - Luna 3 cleansing, UFO masking (very relaxing), Luna 3 massage (also relaxing!); PM - Luna 3 cleansing, Bear, UFO masking. That said, I think I'll be switching the AM and PM and ultimately probably doing the UFO only in the evenings. Whichever way - I'm loving it all and do think my face is seeing improvements. I'm 42 and have generally done a good basic job of skin care and do eat very clean, but have never really done anything 'extra', I don't even get facials ever (I don't particularly find it relaxing to have someone else get handsy with my face... hahah) - as a result my skin is more or less just fine, but starting to show lines and the beginnings of the dreaded jowls (reason I went all in), and while none of this has magically 100% reversed just by using any of this for a couple of weeks, I do see the fine lines are somewhat less apparent, and well - I hope any slight jowling does in fact disappear! Bottom line: highly recommend the Luna 3! It's probably the one product I would most recommend if you can only afford one, actually. If you are having trouble deciding between the different versions of the products, Luna or otherwise, do know there are a ton of very detailed reviews out in the www which tend to provide great info that will help you decide.
---
WittySmitty
Localisation: Ontario, Canada
Critiques: 1
Gender: Female
Recommande ce produit: Yes
The app is what blows it here...
This is my second Luna product (started with a mini and after using that for more than a decade finally upgraded to a full size Luna) and absolutely LOVE it! As much as I loved the mini, I wish I would've moved to the Luna a lot sooner! My skin looks fantastic and have even received multiple compliments from coworkers (who see me every day) on how good my skin looks! The reason why I only gave it 4 stars is because the app is terrible. In theory, it's a great idea, but in reality its not very practical. If you want to adjust the timing/intensity of the unit you need to facilitate that through the app. But the unit also has to be on in order to access it through the app (somewhat inconvenient). You're also required to use the app if you would like to use any of the massage functionalities. However if I'm using my Luna, there's a pretty good chance I'm in the shower and the app (which is obviously on my phone) isn't in there with me. And from what I can tell there also isn't a way to turn the unit on 'travel mode' (which the mini had) so it doesn't accidentally turn on in your suitcase when packed. If there isn't going to be a way to engage that setting on the unit itself it should at least be an option within the app. But regardless of my distaste for the app I would recommend a Luna to anyone! Worth the annoyance of dealing with that app to have your skin look this good! <3
---
Maria
Localisation: Oxford
Critiques: 1
Gender: Female
Recommande ce produit: Yes
Amazing
This was a Christmas present for my husband (we bought Foreos to each other this year on Christmas!) he's super happy his skin looks great. Highly recommended
---
Jacey H
Localisation: UK
Critiques: 1
Gender: Female
Recommande ce produit: Yes
Great little machine, very gentle on the skin.
Very happy with the Luna 3, very gentle on the skin, easy to clean after each use. The reason I knocked 1 star off is because of the packaging, it was packed in a big hard acrylic case, although it looks nice but the amount of plastic used in the packaging is obscene, I felt guilty after unpacking and throwing the case a way in the bin. And it's really difficult to open as well, there was no indicator on how/where to open it, and it's too hard to just randomly cut it open. Some instructions on how to set it up the first time would be helpful too. I tried turning on the machine after charging, and it didn't work. Later on I worked out that I have to register the device on an app to activate it first. Overall after getting through all the hassles of opening the package and setting up the device on an app, it works really well.
---
Parm
Localisation: BC Canada
Critiques: 1
Gender: Female
Recommande ce produit: Yes
This is like a gentle power washing for the face!
I have been using the Luna 3 for a week and my skin has never felt so smooth and so clean. I love that we can personalize the settings. Such a cool product and for my 46 year old skin, a must. Highly recommend.
---