UK200008307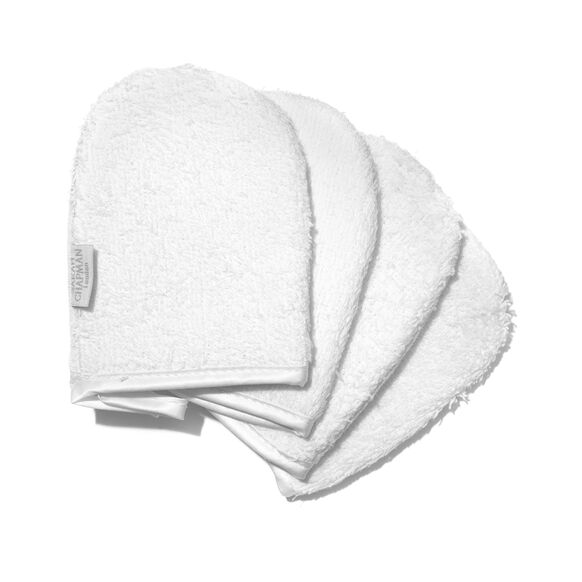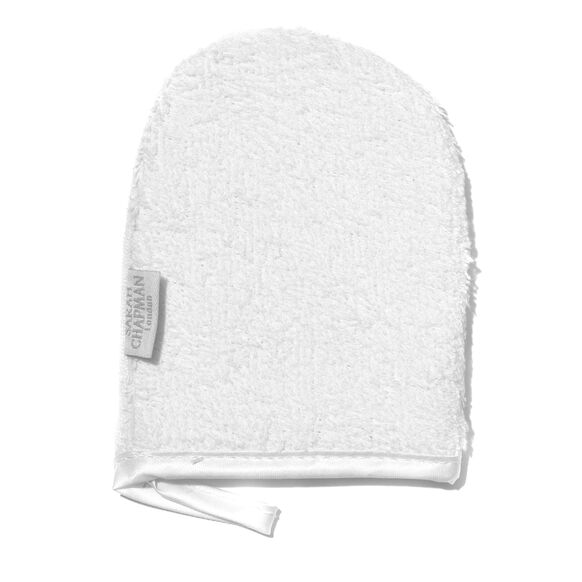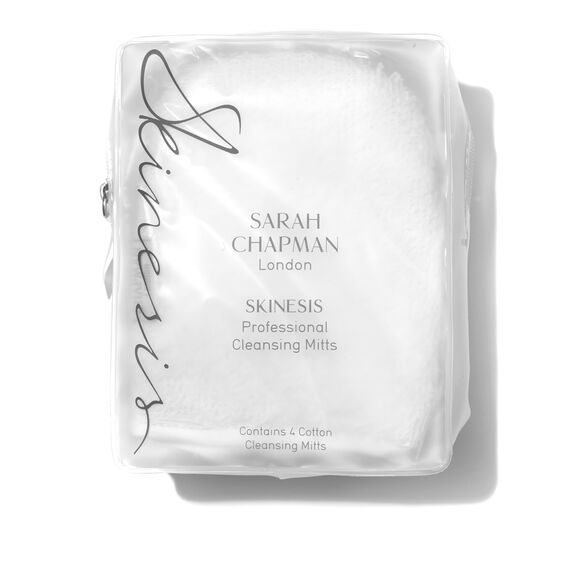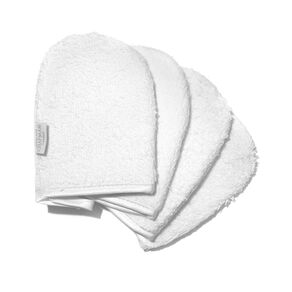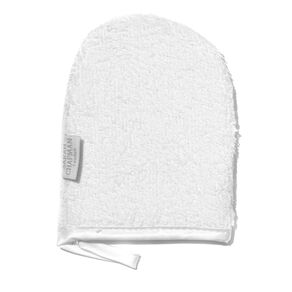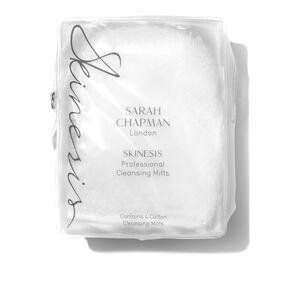 Achieve an expert facial with Sarah Chapman Professional Cleansing Mitts, a pack of four dual-sided mittens that ensure a comfortable, deep cleansing experience in the comfort of home. These professional cleansing mitts are ideal for gentle exfoliation and the removal of grime, impurities and makeup.
As the skin is cleansed, it appears smoother, clearer and brighter than ever, revealing a natural radiance from within. Sarah Chapman Professional Cleansing Mitts are dual-sided to ensure their effectiveness – while one side of the mitt benefits from texture that's perfect for exfoliation, the other is soft enough to remove makeup from the delicate eye area.
Made with a layer of sponge, the mitts fit snugly onto the hands and are suitable for all skin types.
Key Benefits
Dual-sided mitt that retains heat and moisture
Textured side is perfect for exfoliation
Fine-weave, softer side is ideal for makeup removal
Provides a facial treatment in the comfort of home
Designed to fit the fingers and hands perfectly for added comfort
SKU# UK200008307
Soak mitts in warm water, slot over 4 fingers and use to wipe away cleanser, make up and grime. Use the fine side for eye make up removal.
TRACKED $7
Free on all orders over $50
Receive your order in 7-11 working days*(Please be aware that during sale and promotional periods your order may take longer to arrive).
EXPRESS $13
Receive your order in 1-2 working days* (Please be aware that during sale and promotional periods your order may take longer to arrive).
GIFT WRAPPING
If you'd like to send your order as a gift, we can add a beautiful finishing touch with our limited edition Christmas gift wrap. Choose complimentary gift wrap at checkout.


At this time we are unable to ship to P.O Boxes, A.P.O or F.P.O
The Sarah Chapman brand philosophy fuses potent, high-performance scientific actives with powerful botanicals. Skinesis formulas are infused with restorative natural scents to deliver a multi-sensory skincare experience that delivers exceptional results.
Rated

4

out of

5
by
Kelz
from
Great mitts
These mitts are great for removing make up and giving skin a thorough cleanse. The dual sides mean that you can be gentle around the eyes or any other sensitive areas or you can flip over to concentrate on other areas that can handle a bit more exfoliation. The brand seem to focus on a spa type experience and the type of tools/products that would be used in a facial itself. They are soft and fit over the hand well and don't fall off mid cleanse.
Date published: 2021-04-03
Rated

4

out of

5
by
ASD
from
Great cleansing mitt!!
I know these aren't the cheapest but they do feel really nice. Really soft and absorbent. Like the cloths they use in a spa. Love using these to remove a balm cleanser after doing a deep cleanse. They wash well. I usually tumble dry them just Tom make them nice and soft and fluffy on my skin
Date published: 2021-02-17
Rated

5

out of

5
by
Samie652
from
Love them
I have bought tons of these. I've given them to my mum, my daughters, my friends. They are absolutely salon worthy. They are gentle but remove every trace of make up or cleanser. They are great used hot to remove face masks and also run under cold water to close pores.
Date published: 2021-02-13
Rated

5

out of

5
by
JoRoz74
from
Amazing
These cleansing mitts are the best on the market. I used different brands in the past but always come back to these. They clean my skin perfectly leaving it smooth and make up free. I use textured side to gently exfoliate my skin's surface, drawing out dirt and impurities and the soft side I use for the removal of eye make-up.
Date published: 2021-02-08
Rated

4

out of

5
by
le22
from
Really soft
Bought these as I had seen they have been good for sensitive skin. Found they were really soft and didn't irritate my skin. I used them for taking off my makeup and found it to be easy. The size is good and they are easy to take if you travel. Also much better for the environment that cotton wool
Date published: 2021-01-23
Rated

5

out of

5
by
shadow2020
from
High quality
I recently bought these for my clients as they had said my mitts were a little rough. The ones I bought were fine on the body skin, but some sensitive clients thought they were a bit rough. So I had bought these, client noticed the difference and loved them. Really gentle and kind to sensitive skins
Date published: 2021-01-17
Rated

5

out of

5
by
JB01
from
Love these
Love these face mitts. Easy to use, very luxurious, perfect for a mini facial at home. They dry easily and come in a set so you have enough to use one each day. Also great for travelling. Thinking about buying another set and some for presents, would definitely recommend!
Date published: 2020-10-19
Rated

5

out of

5
by
Anjelika
from
Just perfect
I was really skeptical regarding all cleansing mitts in general until I have tried the Sarah Chapman Skinesis Professional Cleansing Mitts. I am really excited I have bought them. In one pack you will get 3 mitts. The shape is really handy and each side has a different texture that helps to clean gently the face and eyes area.
Date published: 2020-09-10
Rated

5

out of

5
by
PlanningwithCrystal
from
My favourite cleansing mitts
I love these mitts - they have two sides - one for cleansing the skin and the other side offers a little more exfoliation (but gently) - they are the perfect size and design for putting over your hand and give me a great amount of control when using. These mitts are the most similar to the ones used when having a professional facial and wash beautifully - lasting a really long time.
Date published: 2020-09-01
Rated

3

out of

5
by
Snowball
from
Ok
I really liked the idea of these, while they are lovely and soft. I find them a little bit small and fiddly to use, I think they are more suited to someone else using them on your face during a facial. I am continuing to use my plain cotton flannels even though I have tried various mitts and cleansing cloths, they are still the best for me!
Date published: 2020-08-30
Rated

4

out of

5
by
Belen
from
Super Soft
Love these cleansing mitts by Sarah Chapman. I started using them to cut back on the amount of cotton wool I used on a daily basis and threw away and realised they are the best thing since sliced bread. Super effective at taking off makeup. I love them
Date published: 2020-08-24
Rated

5

out of

5
by
Nicksjj
from
Great Product!
These are fabulous! I love the way that they fit over my hands making it easier to massage in product and to remove it. They last for ages, wash really well, also make great body cleansing mitts for travelling. They are more 'robust' than other similar products on the market, and I definitely feel the difference after using them - I tend to only use them when I've been wearing make-up and my skin needs a more thorough cleanse. Definitely worth trying!
Date published: 2020-08-10
Rated

1

out of

5
by
Mrsbeautyjunkie
from
Very difficult to use
Not a fan of these. I liked the idea of having more control in cleaning my face. I thought by having these on my hand I would be able to get around my nose more easily and under my eyes. Unfortunately the mitt slides and turns as you use it. You have no control. Sadly they went straight into the bin. I wish id return them!
Date published: 2020-08-01
Rated

5

out of

5
by
MicheleB
from
Fully satisfied
I am fully satisfied with these mitts, I was looking for an eco-friendly option. I use the rougher side to remove my foundation and the soft side to rub off my eye make up. They are easy to rinse and they machine wash great. The pack of four is enough to clean and rotate, they are also nice and small for travel.
Date published: 2020-07-18
Rated

1

out of

5
by
MarieB
from
Prefer a flannel or muslin
I have other dual-sided cloths I far prefer, or using a simple washcloth or muslin. These get loaded with water so are messy (even after wringing). The mitt is a bit small to cleanse face (but a good size to fit hands) and having to flip the hand or really, the mitt, over to use both sides doesn't really work. The brand tag on the side gets caught and scratches your face when using as the mitt surface are is so small, I have cut all the tags off now. I regret purchasing,
Date published: 2020-06-01
Rated

3

out of

5
by
myskinstastory
from
Good for travel
I picked up these Sarah Chapman Cleansing Mitts when my usual ones were out of stock. I like the fact they are dual sided like my usual cloths but I'm slightly disappointed on the size. With a usual cloth I can clean my whole face off of cleanser or a mask and then have to rinse it. With these mitts because they are smaller you need to keep rinsing to get a clean bit of cloth. Good for travel if you limited on space which is now what I use them for!
Date published: 2020-03-27
Rated

4

out of

5
by
Nada
from
Great mitts
Brought these after reading lits of reviews i live it when i have ny facials done and the use those big mitts to remove the products. These are not so big though slightly smaller but still do the job and i love using these to remive my face masks siak it hit water and omg lovely feeling.
Date published: 2020-03-12
Rated

5

out of

5
by
Neenachabou
from
My everyday tool
Love this mitts. It works great with cleansing balms, remove stubborn masks easily and leave my skin smooth and clean. I use both sides just depending on my mood - both are very nice and gentle. I love that this ones are made of pure white cotton. There is for mitts in a package - so one package lasts pretty long! And it's very easy to wash them.
Date published: 2020-02-29
Rated

5

out of

5
by
Andy52
from
Great Set
These are lovely bits for cleansing. they are incredibly soft, effective and great to use. The mitt I have found to be better than a cloth for cleansing. the set gives multiple great mitts and its is of great value. 10/10 would recommend to all - great!
Date published: 2019-10-30
Rated

3

out of

5
by
Liz09
from
okay
i recently bought these mitts to help get that extra bit of makeup off on my evening cleanse. i read the reviews about them being small and thought id give them a try as i have very small hands. they are TINY i can fit my hands in them but they arent that great for moving. nonetheless they are super soft and do the job
Date published: 2019-10-03
Rated

5

out of

5
by
Helen1234
from
Great face cloths
These face cloths are expensive but they are so much more than just a flannel. They remove every last scrap of make up leaving the skin really clean and ready to apply serums and moisturiser. My only criticism is the amount of plastic packaging. I understand the need to keep things clean and hygienic but the amount of plastic packaging is a problem with all the makeup products that needs addressing.
Date published: 2019-09-28
Rated

4

out of

5
by
kikinko
from
good
I bought this after reading the positive reviews about it. every evening after cleaning my face I usually use it. has the softest cleansing pad. it has the rough side and the soft side. and I must say both are equally good. also it can be used after a face mask as it removes everything
Date published: 2019-09-24
Rated

4

out of

5
by
Imaginemynamehere
from
Fab mitts!
Brought these a few months ago and I really enjoy using them. They fit over my fingers easily and are great for a more spa like experience when taking off my makeup with a cleansing balm or foaming wash cleanser. They are double sided too so I can use the more gentle side when my skin is feeling more sensitive which is handy!
Date published: 2019-08-30
Rated

1

out of

5
by
Aussiedolly
from
disappointed
Far, far too small. I find I never reach for these and they now sit in the bottom of the container underneath the cloths that i do use (Emma Hardie/Eve Lom). Also hard to tell which side is which as there isn't much difference in texture. Save your money and buy a load of cotton flannels.
Date published: 2019-08-08
Rated

5

out of

5
by
LouLou83
from
Beautiful cleansing mitts
I use these alongside the Sarah Chapman ultimate cleanser for the most luxurious cleanse! These are so soft and gentle on the skin and because of the quality they wash well (I wash on a low heat with no washing products and this gets them as clean as new)
Date published: 2019-07-30
Rated

1

out of

5
by
Mimi1122
from
Basic
These are terribly small and like most others are basic in terms of the quality of fabric when I bought them. I'm fully aware of prices for materials and it is unbelievable how cheaply these must have been made in terms of the quality and amount of fabric used. Another rubbish attempt at a face mitt.
Date published: 2019-07-23
Rated

1

out of

5
by
Chelle_belle
from
Far too small!
I bought these thinking I was getting 4 relatively good sized mitts. They are tiny! My 11 year old daughter's hand is too big for them. In comparison I bought the omorovicza single mitt although only one was such a generous sized mitt. Sorry but these are far too small to use and are completely useless for me. A mitt should cover your and and I can barely fit all my fingers in never mind my hand. Such a waste of money. Not happy.
Date published: 2019-07-15
Rated

5

out of

5
by
Maddy
from
Clever little mitts!
These Sarah chapman mitts are really clever and easy to use to supercharge any cleanser you have. I use these with any of my gel cleansers to really get clean results! They are dual sided so great for everyday cleansing and gentle exfoliation. They effective remove every last trace of dirt and grime off my face!
Date published: 2019-07-15
Rated

4

out of

5
by
Meredith
from
Small but effective
I brought these as an alternative to cotton pads and the Eve Lom wash cloths. They're good but definitely small! Good price for 4 - we'll see how long they last but don't seem to go grey and a bit grubby from eye make up the way cloths tend to. I like having the alternative finishes...
Date published: 2019-07-02
Rated

5

out of

5
by
Laura2005
from
Love these mitts!
I recently purchased these alongside a Sarah Chapman cleanser, and they are wonderful! I used to use a Muslin cloth with other oil based cleansers and I must say these are far more effective. I feel they provide a more effective gentle exfoliation, and easier to target problem areas. I wash them with my bed linen and towels and they come out brand new.
Date published: 2019-05-05
bvseo_sdk, dw_cartridge, 18.2.0, p_sdk_3.2.0
CLOUD, getReviews, 26ms
reviews, product