UK300025853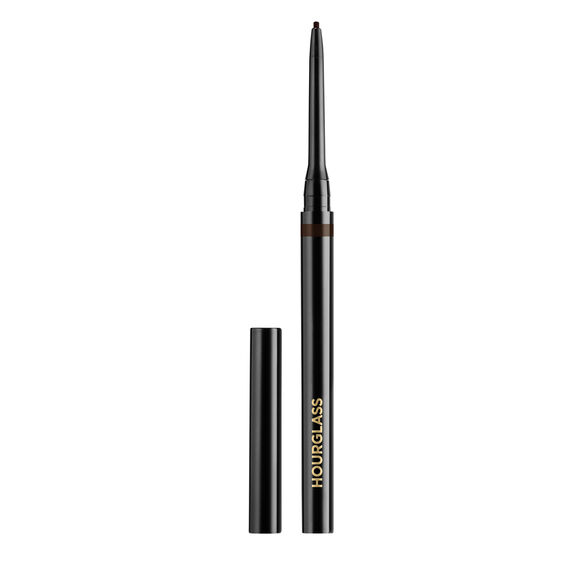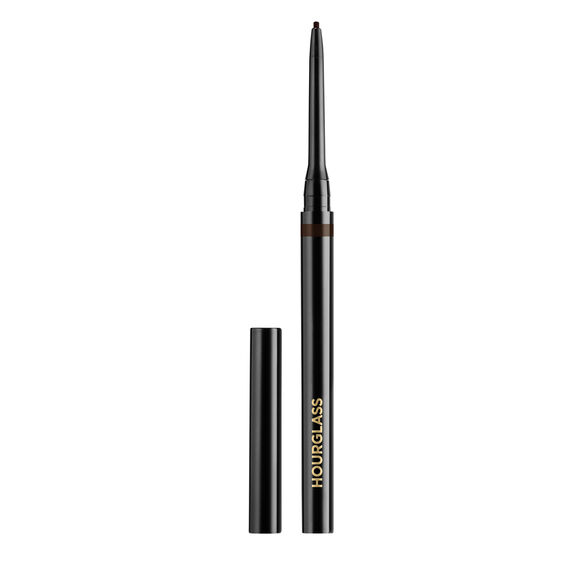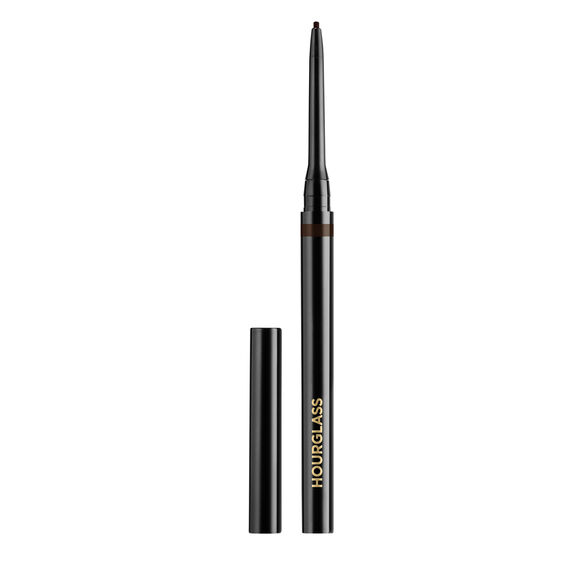 Create precise lines like a professional makeup artist with the help of Hourglass Mechanical Gel Eye Liner. The applicator dispenses the gel eyeliner, and impeccable application is achievable even for the most inexperienced makeup user.
Once applied, the eyeliner is long-wearing, malleable, and just as intense as any traditional eyeliner. With the 1.5 mm precision tip, creating fine lines is effortless. Additionally, the gel is waterproof, so no smudging or transfer occurs. It also works to moisturise the skin and glides on smoothly and evenly before drying quickly so there is no clammy or uncomfortable feeling whatsoever.
For best results, click twice to dispense the eyeliner gel and apply as desired. Replace cap after each use. Available in three shades, each mechanical pencil provides between 17 and 20 applications. This eyeliner is also free from gluten, phthalates, mineral oil, talc, synthetic fragrances and synthetic dyes.
Key Benefits
1.5 mm precision
Gel eyeliner without the hassle of a pot and brush
All day waterproof wear
No animal testing
Paraben, mineral oil and triclosan-free formula
Slim mechanical pencil style fits anywhere
Simplifies your beauty routine
SKU# UK300025853
• Two clicks will dispense enough gel formula to line the eye.
• Only dispense product as needed – mechanical pencil does not retract.
• Replace cap after each usage to prevent drying.
• Remove with a waterproof makeup remover.
TRACKED $7
Free on all orders over $50
Receive your order in 7-11 working days*(Please be aware that during sale and promotional periods your order may take longer to arrive).
EXPRESS $13
Receive your order in 1-2 working days* (Please be aware that during sale and promotional periods your order may take longer to arrive).
GIFT WRAPPING
If you'd like to send your order as a gift, we can add a beautiful finishing touch with our limited edition Christmas gift wrap. Choose complimentary gift wrap at checkout.


At this time we are unable to ship to P.O Boxes, A.P.O or F.P.O
A fusion of science, beauty and luxury, Hourglass' innovative cosmetics collections combine potent active ingredients with ground-breaking new formulas.
Rated

4

out of

5
by
LaceyAM
from
SOFT GENTLE ON THE EYE
Recommended by my lovely, friendly local SpackNK store who I trust impeccably. I was looking for a change in my makeup routine and wanted to try a top lid liner that can be smudged and followed by a smokey sparkly eye without too much effort. Since lock down I have not worn make up and wanted a quicker daily routine. This liner is gentle on application and blended well. Tip - You don't need to turn up the liner best to keep the nib short. I found it to be long lasting and happy with the results. You can choose and adapt the look that's right for your eye shape. I always ask questions in store which is spot on, informative and very helpful. Thank you SpackNK.
Date published: 2021-06-30
Rated

3

out of

5
by
Flavs
from
Not worth the hype
As soon as you put it on it looks amazing. So easy to apply, so pigmented it almost looks like a liquid eyeliner. I hoped it would long lasting too but it started to fade after only a few hours. I expected more from this for sure. Overall it's not bad but not amazing either
Date published: 2021-06-24
Rated

5

out of

5
by
Bobsta
from
Love this eyeliner
I really love this eyeliner. It works really well. I'm already onto my second one of this eye liner and I love it. It is easy to apply, really long lasting, and definitely my favourite eyeliner to date. Great for a strong eye but works to smudge too.
Date published: 2021-06-10
Rated

4

out of

5
by
Sarah1001
from
Great eye liner
Bought after excellent recommendation from lady instore as was looking for advice and wanted to try something that wasn't pen and didn't need sharpening. Really easy to apply once you get hang of, only deducted a star a despite thorough face cleanse routine I'm finding it all difficult to remove completely as evidence of day before is appearing on light coloured eye mask- although I don't use a specific eye make up remover my cleansers and wipes I usually use normally remove enough not to get noticeable transfer- because of this I'm undecided if will purchase again…. But this is only downside. Clever idea, easy application, no sharpening mess so I was given exactly what it was I was looking for (thank you again to instore expertise)
Date published: 2021-05-31
Rated

5

out of

5
by
Joesafari
from
Go to eyeliner
This eyeliner has replaced all other eyeliners for me. Super fine, blend-able and stays put. The only drawback is the fact it runs out very quickly, but I can live with that, I don't like having ancient eye products hanging around anyway! Will continue to rebuy forever.
Date published: 2021-05-26
Rated

5

out of

5
by
Inga B
from
The best!
This is the only eye liner I have used in the previous few years. Yes it is expensive and it does not last long ........but it is the only one worth buying in my opinion. It is so easy to use and it just works! There are a range of colours to choose but I like Canyon the best.
Date published: 2021-05-23
Rated

5

out of

5
by
Janet5116
from
So long as you don't drop it! This eveliner stays on!
This is my fourth purchase. Nothing beats it for me. It stays on under washed off. I use a brownish one as I am fair skinned. I first found it in Fenwicks and it is not easy to find. My eye lids are a bit lined - I am 70 so it can be hard putting eyeliner on but this stuff is really fantastic.
Date published: 2021-05-08
Rated

2

out of

5
by
Sobia Khalil
from
Too expensive
It's expensive for so little use you can get out of this , I appreciate the thin line I can get from this, I like it but not enough to purchase again and again I have it in copper bronze shade which is nice but I don't use it enough as it doesn't pop much
Date published: 2021-05-01
Rated

4

out of

5
by
MBIRA
from
Thin lines, convenient use
I have this eyeliner in canyon/brown colour. It's very convenient for me because it provides thin lines and you shouldn't sharpen it. The only thing that bothers me with this eyeliner that it's unpredictable when it finishes. It's soft, the colour is beautiful
Date published: 2021-04-26
Rated

5

out of

5
by
YSK89
from
Best eyeliner
Ok, I always bulk buy mechanical eyeliners in Japan because I could never find eyeliners in the UK that gives dark but thin lines. But this product met both of my criteria. The only thing is the price which is pretty pricy given it runs out pretty quickly but so fat this is the best eyeliner I've found in the UK.
Date published: 2021-03-18
Rated

4

out of

5
by
Claire15
from
Good
I bought this ages ago and then coronovirus hit, everyone stopped going out and so I've only just got this back out the makeup bag. I'm glad I did! It's a lovely fine tip so you can be very precise. Very smooth and easy to apply. It dries well and doesn't smudge in the day. I've taken off a star because I actually find it dries too well, or at least too quickly, so it's difficult to smudge for a more smokey eye effect.
Date published: 2021-03-05
Rated

1

out of

5
by
Anbanan
from
Great eyeliner, poor mechanism. Breaks way too easily
I love Hourglass products, including this gel eye liner. It would be perfect if the product design wasn't so epically flawed. I've bought two of these, each one breaking within just a few days of use. You're meant to turn the tube a few clicks to raise the gel liner as needed. But the gel stick breaks easily, falling into the the mechanism used to disperse it. If it happened the one time, I'd give it a pass. But twice in a row like that is ridiculous. I see from the reviews that others have had similar problems.
Date published: 2021-03-03
Rated

2

out of

5
by
jillyfiddle
from
Breaks easily and not much product in there
Lovely colour. Didn't go on easily. Not as soft as I'd thought it was going to be. Main problem was that it broke off 2-3 times and then it was all used up! So I didn't get to improve my technique! I have an Hourglass mascara and concealer that I love but I suppose they can't always get it right.
Date published: 2021-01-15
Rated

5

out of

5
by
jhb404
from
Favourite Eye Pencil
This is my favourite eye pencil. It is really intense colour, and is nice and soft but precise. I use it instead of a liquid eyeliner. It doesn't pull at the skin when being applied which like too as I don't want to damage the skin. It also stays exactly where it has been applied the whole day without smudging.
Date published: 2020-12-30
Rated

5

out of

5
by
Pammy81
from
Rich colour pigment!!!
I love making my lash line look more intensified, with this product you can make a small line that looks great. Also the amount lasted long with my experience. I bought it in October and run out of it in April. I wouldn't recommend this product if you want a winged eyeliner or cat-eye.
Date published: 2020-11-18
Rated

4

out of

5
by
Desra
from
Great colour quality
I bought this back in July and I think I'm a fan for life. I've just run out and while waiting for a new one I've had to go back to an old product, which just doesn't do the job anymore. The Hourglass colour really pops. It would have been 5 stars, but as others have mentioned, it doesn't last as long as I'd hoped, and you can't see when its going to finish either, but very happy to buy again.
Date published: 2020-11-17
Rated

4

out of

5
by
leing0133
from
Long-lasting eyeliner
I bought this eyeliner recently and it is really easy to use. It applies evenly and the colour is a dark brown/bronze with a hint of shimmer, but it is not copper-bronze (instead, more like a shimmery brown) - great for an evening look as the gel can be used to create a smokey-eye effect or during the day with neutral shimmery toned eyeshadows. It can be applied thinly or thickly to the eye to create a 'larger-eye' effect. However, the product itself does not last as long as expected as you have to twist more of the gel product every few applications. Overall however, a great eyeliner.
Date published: 2020-11-07
Rated

2

out of

5
by
Puddlam
from
Break like crazy
The liner goes on smoothly ; it's easy to control ; the colour is strong & intense; its thin enough to do both thick & thin liners. However, it breaks like crazy and I've never dropped it once! It breaks so easily that I think 40% of it must have just dropped off and wasted. Definitely won't be buying again, especially with it being not cheap.
Date published: 2020-10-26
Rated

4

out of

5
by
Linzi
from
Great but...
This is genuinely one of the best performing eyeliners on the market, or at least that I have tried. Goes on smooth and pigmented, nice and thin for precise application and excellent staying power. BUT it is INSANELY overpriced for the amount of product that you get. No joke you will maybe get 4 or 5 uses out of this then wonder where it went... Be warned! Such a shame.
Date published: 2020-10-12
Rated

5

out of

5
by
Jam Mistress Jen
from
Vegan, easy glide gel eye liner in cool colours!
Hourglass is such a fantastic brand. Vegan, high quality, high class. I've now bought one of their gel liners and like all their other products, it's fab. I'm 41 so my eyelids are a bit crepey (boo!). Gel eye liner is so good for my eyelids. I'd been looking for a dark blue/navy and thankfully Hourglass had one. This eye liner goes on so smoothly and does not pull my eyelids. It stays in place and is noticeably dark blue. Highly recommended!
Date published: 2020-10-11
Rated

3

out of

5
by
mjf_1993
from
Not my favourite eye liner
This gel eyeliner is fine but I expected the tip to be tinier to create really thin wings. I also expect the product to run out pretty quickly. It is longlasting and pitch black so if you don't mind that it's still a little thick, it might be the right product for you.
Date published: 2020-10-07
Rated

4

out of

5
by
MPV
from
Decent but still smudges a little
I have this in "jet black". It is exactly the right colour I am looking for. The eyeliner is thin, which is amazing to look at but a little difficult to apply. It glides on really nicely but smudges a little. It is not exactly a "gel" texture but more like a less chalky/powdery pencil.
Date published: 2020-10-01
Rated

5

out of

5
by
largibbon
from
lasts all day
This is the only eyeliner I have found which stays put on my lower last line all day. It's a very fine tip, so great for precise lines and tight-lining. As everyone else has said, you don't get much product and you can't tell how much you have left, so you always need to have a spare one in case you run out before you've done both your eyes.
Date published: 2020-09-14
Rated

5

out of

5
by
Led
from
Nice
I use a lot of liquid eyeliners, but this mechanical liner is the best I've ever used - dark, smudge-proof & super easy to use. The only downside is that you'll go through it way too fast. More product would have been great. I Will be ordering again!
Date published: 2020-08-30
Rated

5

out of

5
by
TriciaindaHouse
from
Just the best
I must be on my 15th one of these. Perfect for tightlining my upper lid. The slim design makes it easy to get right into the upper lash line and there is minimal transfer to my lower lid - certainly less than any other gel liner I've tried. I buy Canyon, which is a good dark brown and therefore slightly more subtle than the Obsidian, which I have also tried. Bronze is also a very pretty colour, but no use for tightlining and, well, I have other eyeliners to use on my lids as opposed to the waterline. Lasts all day and I will continue buying as long as Hourglass make it!
Date published: 2020-08-10
Rated

5

out of

5
by
Nmk
from
love it
iv been using this product almost on a daily basis and I can say its very comfortable wearing, long lasting, anti smudge and precision application. Iv never seen that with many pencil eyeliners but this ticks all the boxes for me. I would repurchase again.
Date published: 2020-08-07
Rated

5

out of

5
by
MitchScott
from
Precise and easy to use
Wanted an eyeliner that I could use to tightline along my upper lashes. For someone who doesn't use eyeliner often, it is easy to use and control – doesn't tug on the lash line or skin. Importantly, it is precise and I'm able to achieve a really fine line without too much effort, giving me a subtle look which is what I want. I found it lasts a good 5-7 hours and doesn't smudge. The pigment is good - I bought the colour Canyon and it is a very dark brown. This eyeliner is good to use if you want a thin tight line and as it is so easy to use, it's great for those of us who don't feel confident applying eyeliner. No doubt you could create a thicker line with it but think you'd end up using a lot more product and it'll probably not last that long.
Date published: 2020-08-02
Rated

4

out of

5
by
Fi47
from
Great formula.
I love that this eyeliner is mechanical as it means I don't have to bother with sharpeners and mess. It goes on really easily and lasts all day and I'm usually terrible at applying eyeliner. I would like it if the shade range was bigger though as I don't wear eye shadow and like coloured eyeliner but struggle to find one with a good formula.
Date published: 2020-07-17
Rated

4

out of

5
by
Anka K
from
Easy to use
I bought this gel eye liner as I was looking for a fine liner to draw just near to my eyelash line. It does the job well and stays in place all day. It is easy to use and doing a flick at an eye's end is manageable. I need to use it a bit longer to check if it irritates my eyes when used on the inside of my eyelid- I noticed my eyes felt different on two applications but I have rather sensitive eyes and there are a lot of eyeshadows I can't wear.
Date published: 2020-06-13
Rated

4

out of

5
by
Sisi2000
from
Nice and easy
These are simply great for a hustle free application, glide nice and easy, creating a very thin line. Not for someone who prefers a statement eye liner. I love it that they are so thin and no need to sharpen, but you have to be careful not to break it.
Date published: 2020-06-03
bvseo_sdk, dw_cartridge, 18.2.0, p_sdk_3.2.0
CLOUD, getReviews, 8ms
reviews, product