MOST WANTED
Our Hair Buyer Reviews Olaplex No.4D Dry Shampoo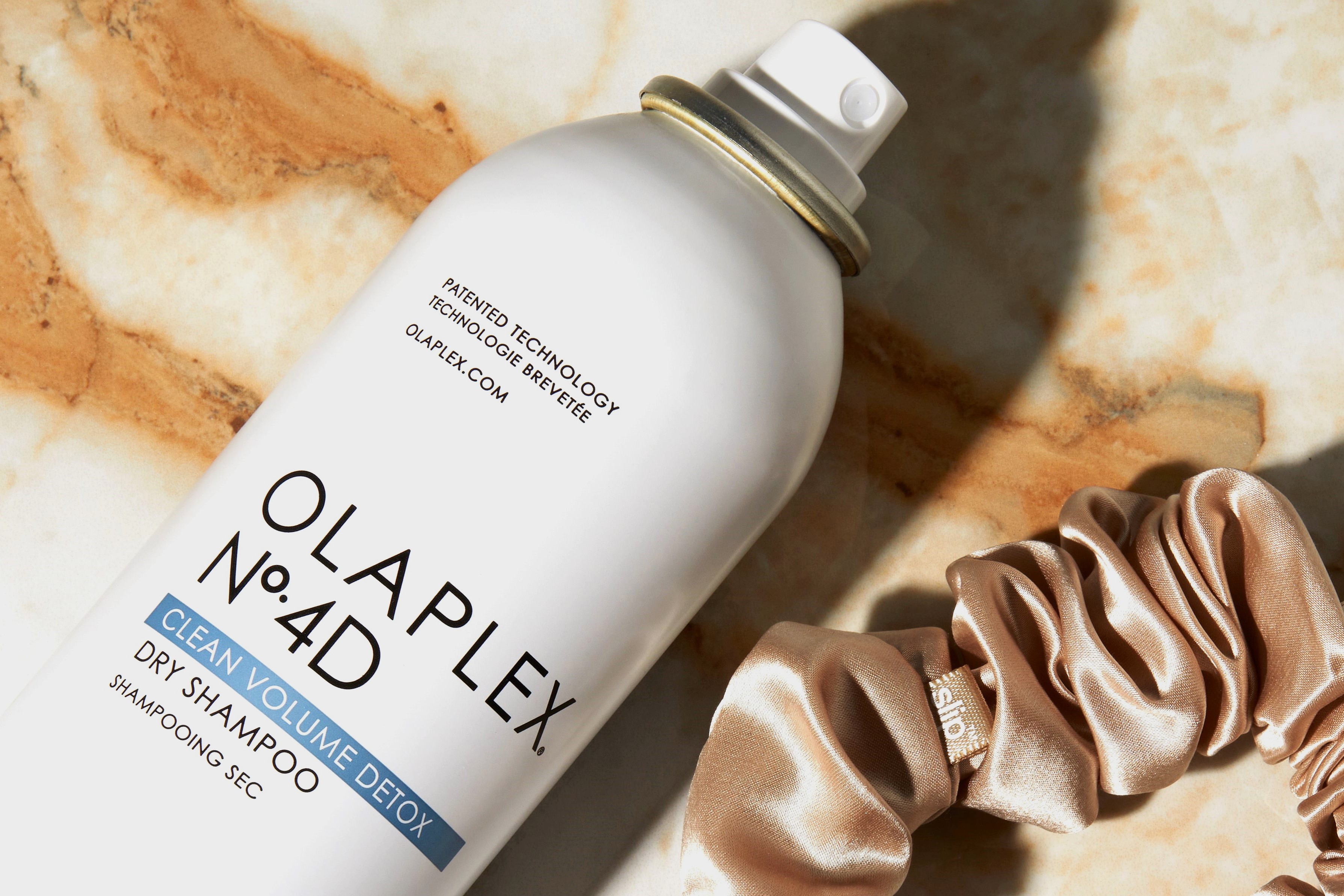 As Space NK's hair buyer, I can't have favourites
but
Olaplex is a brand I find myself regularly recommending to friends. It has all the haircare essentials you could need with three shampoos, a conditioner, hair mask and the two much-loved strengthening treatments. All the
Olaplex products
contain the scientifically proven Bond Building Technology which helps to restore and repair dry, damaged hair – whether you've been overdoing the heated styling or hair dye.
When it comes to hair styling, the brand is thinner on the ground but no less impressive with
No.6 Bond Smoother
,
No.7 Bonding Oil
and
No.9 Bond Protector Nourishing Hair Serum
. The latest arrival, Olaplex No.4D Clean Volume Detox Dry Shampoo sits somewhere in between haircare and styling with its clever cleansing and volumising formula. It marks an incredibly exciting moment for the brand, so I wanted to be one of the first to put Olaplex's dry shampoo to the test.
The Top Line On Olaplex No.4D Clean Volume Detox Dry Shampoo
Yes, even Olaplex Shampooing sec No.4D Clean Volume Detox, 28,00 £ contains the brand's patented Bond Building Technology. Even when you're too tired to wash your hair you can give it a speedy refresh and help repair damage. Olaplex promises that its dry shampoo will cleanse and detoxify your scalp without leaving any white residue, gritty texture or dulling your hair's shine. The brand's Global Styling Ambassador Jimmy Paul swears by its volumising powers too: "I'm known for creating iconic 'big' hair looks and this dry shampoo is able to seamlessly add lift."
Everything You Need To Know About Olaplex's Dry Shampoo
A beauty resolution of mine for 2023 is to bring down the number of times I wash my hair each week. By doing this, I'm hoping to ease the natural oils being stripped away and also reduce the number of times I use my curling tongs. As a result, dry shampoo is an essential step in my weekly hair routine.
On first impressions, Olaplex's No.4D Dry Shampoo has a super light texture, leaves zero residue and the fragrance is delicate but smells fresh. I'm brunette, so I need my dry shampoo to be invisible. There's nothing worse than misting it through your hair just as you're about to leave the house only to find patches of chalky grey around your roots. Even as your scramble to rub away the white residue, your hair is left looking sad and dull. I can say for absolute certain that Olaplex No.4D was undetectable to the eye, even after I spritzed my roots for a second time.
The best dry shampoos are invisible to the eye and the touch. You don't want your hair feeling gritty after using one and I can confirm that Olaplex No.4D ticks this box too. My hair felt softer and looked shinier after using it. The brand carried out a small consumer perception study and the results matched my experience with 97% of consumers noting that their hair looked cleaner.
In terms of volume, Olaplex 4D isn't a volumising styling spray however it is worth noting that it does leave your hair with a healthy amount of body. While some dry shampoos leave your hair feeling a bit cardboard-y and lifeless, Olaplex 4D leaves it feeling fresh and more volumised at the roots.
The formula also contains rambutan seed extract which helps to soothe and detoxify your scalp, preventing blocked pores which can cause irritation and oiliness. In keeping with the rest of the Olaplex range, the No.4D Clean Volume Detox Dry Shampoo is vegan and free from sulphates and parabens.
The Verdict On Olaplex 4D Dry Shampoo
I'm seriously impressed with Olaplex Shampooing sec No.4D Clean Volume Detox, 28,00 £ and would recommend it to just about anyone. The formula leaves your hair feeling fresh and clean without looking chalky or feeling gritty, which is exactly what we all want from a dry shampoo. There's the added bonus of the Bond Building Technology to help repair and restore your hair and I definitely appreciated the extra boost of volume.
More From Olaplex
Olaplex is one of those brands that you discover through the grapevine via a friend, colleague or your hair stylist. It's a firm favourite among those who take good care of their hair. The product everyone raves about is the Olaplex N°3 Perfectionneur de cheveux, N/A, a supercharged treatment that helps to nourish and strengthen your hair bonds. People also love the Olaplex Shampooing d'entretien No. 4, 13,00 £ and Olaplex Conditionneur d'entretien des obligations n° 5, 13,00 £ – both of which, alongside No.3 regularly make the top 10 bestselling products at Space NK. If you're looking for a frizz-smoothing, shine-boosting treatment, make sure you check out the Olaplex Huile de collage No.7, 28,00 £.
Read More
• How to Use Olaplex
• How To Achieve The Glass Hair Look • Why Is My Scalp So Itchy
• The Smoothing Benefits Of Keratin For Hair • The Lowdown On Sulphates