IN FOCUS
Everything You Need To Know About Hair Oils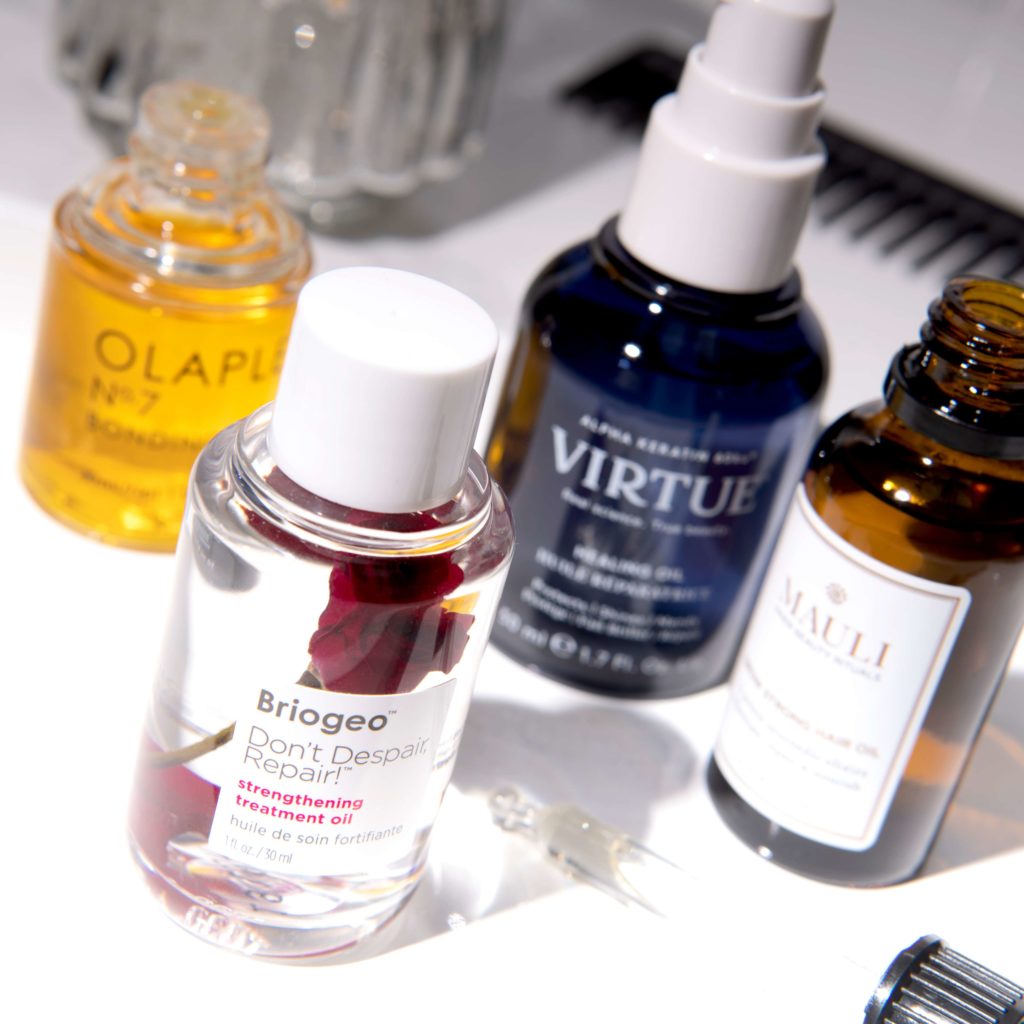 From
nourishing
to repairing our locks, hair oils should be an absolute staple in everyone's
hair routine
, no matter what your hair type and texture is. Our hair needs the same attention we give our skin with a good routine, from cleansing to nourishing at the end. If you've avoided hair oils for fear of being left with heavy, greasy locks, you'll be pleased to hear formulas have advanced in recent years. Hair oils are so multipurpose now that you can get one that ticks all of your boxes, whether you want to a dreamy, glossy finish or need to inject some moisture after a few rough days.
While hair oils are mostly used as finishing touches after hair styling, they actually have many more benefits for our hair – think of them as a hybrid between serums and moisturisers. "Natural oils help to nourish your hair with vital nutrients like vitamins, antioxidants, fatty acids and omegas," says
Briogeo
's founder, Nancy Twine. "All of these nutrients contribute to your hair's overall health, working to repair and prevent future damage as well as offering many other benefits," she adds.
If you're not sure what hair oils are for, or if using one will actually make a difference to your locks, give this a little read and by the end, we're pretty sure you'll be convinced that you need to use hair oils daily.
What are the Benefits of Hair Oils
Like we've mentioned, hair oils are great multitaskers and based on your hair needs, there should be a hair oil made for you. Let's delve into the benefits of hair oils and why you should be using them.
Hair oils Repair and protect
We all know what it's like to play around a bit too much with different hairstyles, using heated styling tools and trying out one too many products. And then we wash our hair, and it feels dry and tends to break easily. This is one of the top reasons why we love using hair oils. They are amazing at repairing damaged hair, especially if you're starting to notice split ends. Plus, the moisture of the oil can help form a protective seal around your hair. "Our Briogeo Don't Despair, Repair! is packed full of essential lipids, like ceramides, and fatty acid ingredients to help repair and protect each strand," says Nancy.
Hair Oils Nourish and hydrate
Whether our hair is naturally dry, or if we use hot tools, or even if the environment is not the friendliest, our hair can seriously be dehydrated. Sometimes, a good layer of oil is all that's needed to bring it back to life. Think of it as drinking a glass of water after a hot day. Our hair needs the same care when it comes to dryness and dehydration. For daily hydration, jojoba oil or grapeseed oil are perfect to use in the morning before heading out the door.
Hair Oils Combat Frizz
No one likes frizz. From doing keratin treatments to using pomades like Hailey Bieber, we all try to fight frizz the best way we can. Although it can be natural, frizz is often the result of dry hair. In that case, a little bit of hair oil is all your mane needs to smooth frizz.
Hair Oils Strengthen your Hair
Is your hair shedding more than usual, or are you seeing more split ends? Just like our skin, our beautiful locks are easily affected, and we don't want to let it get too bad before doing something. Having a good hair routine is extremely important to have healthy tresses. From scalp to ends, using a hair oil will strengthen the mane and allow for a healthy hair growth.
What are the Best Natural Hair Oils
While we would recommend using hair oils formulated for specific hair types and needs, there are natural oils that can give your hair the most gorgeous shine. They're also good ingredients to look out for in haircare for ultimate hydration.
• COCONUT OIL: The thick consistency of coconut oil works a treat if you want to repair damaged hair and seal moisture in. If you have fine hair, we wouldn't recommend using this one as it could leave it feeling greasy. However, if you have coily, afro hair, coconut oil is amazing to use before and after washing your hair. It locks in a ton of moisture and prevents it from breaking easily.
• ARGAN OIL: Just like coconut oil, argan oil has been used for a long time to boost healthy hair. Packed with antioxidants and fatty acids, not only will argan oil nourish and repair your hair, but it will also give your tresses more elasticity. For anyone with curly hair trying to get more defined, bouncy curls, this might be the one for you.
• ALMOND OIL: If you've been struggling with hair growth, almond oil is the one you've been looking for. When used on your roots, almond oil will nourish and repair your scalp and promote better hair growth. This oil is packed with biotin, which is used to boost hair growth and thickness.
Why you Need to Use a Scalp Oil
With the skinification of hair, we're becoming more aware of scalp treatments. Our scalp is just as important as the rest of our skin, so it's only fair we show it as much attention. From boosting hair growth to reducing dandruff, having a routine for our scalp will help achieve healthier hair.
Using a hair oil can prevent getting a dry, flaky scalp and help nourish your hair at the root, which we often forget to do. From Ouai to JVN, haircare brands are now releasing more and more products specifically formulated for our scalp. From exfoliating solutions to oil-blends that help hydrate, scalp care has become one of the fastest growing categories within haircare.
What is Hair Slugging?
Slugging is the skincare trend inspired by K-Beauty that has taken over TikTok. For those not au fait with the term 'slugging', it's all about using occlusive at the end of your routine to lock-in nutrients and hydration, so you get all of the benefits from your serums and treatments. What started as a skincare trend has now expanded into a whole movement with people referring to hand slugging and hair slugging. But what does slugging mean for your hair?
Hair slugging is all about applying a generous layer of oil onto your hair, wrapping it overnight and then washing it off in the morning. If you're more of an evening-shower type of person, you can use the oil during the day and slick your hair back into a bun or ponytail, AKA channel the wet hair look. What are the results of hair slugging? Even after washing your hair, some of the oil will remain and you can expect smoother, shinier locks.
The Best Hair Oils for Every Hair Type
Our Final Thoughts on Hair Oils
Hair oils are good for your hair! From you scalp to your ends, hair oils will improve the look, feel and the health of your hair. It's all about choosing the right one for your hair type and sticking to a routine, just like you would with your skincare.
Read More
• Best Routine for Textured Hair
• How to Achieve the Glass Hair Look • The Best Shampoos for Every Hair Type
• Review of Olaplex number 9 Hair Serum • Hot to Get Glass Skin