IN FOCUS
What Is Niacinamide And What Are The Skincare Benefits?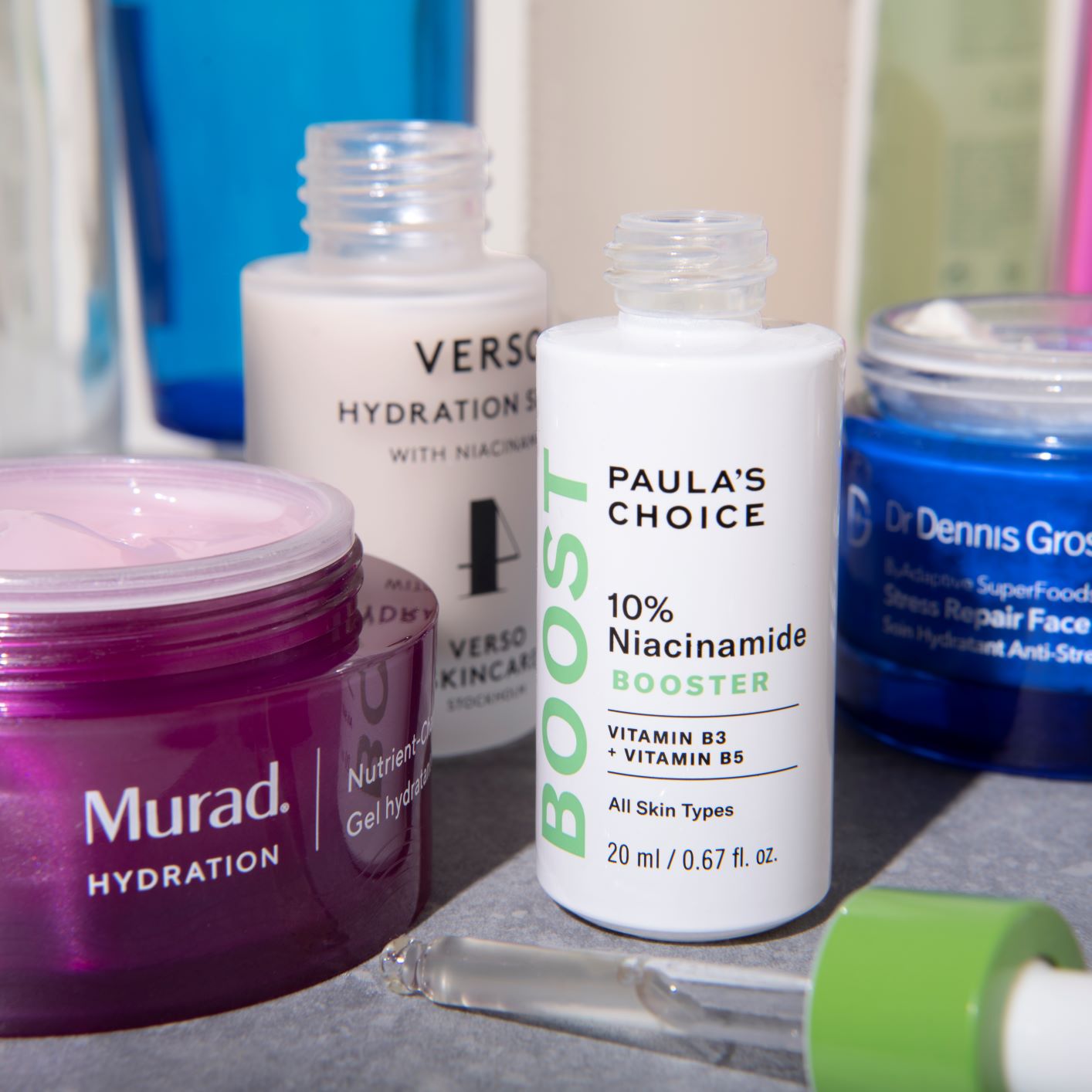 It's the most talked about skincare ingredient right now.
Niacinamide is likely to be in at least one of your existing creams and serums, but until recently it's been largely overlooked while notorious powerhouse ingredients such as vitamin C, retinol and hyaluronic acid have stolen the limelight. However, it's having quite a moment right now. From skinfluencers on YouTube to dermatologists, everyone is talking up its benefits. But what is niacinamide and what can it do for your skin? Read on…
What Is Niacinamide?
Niacinamide is a derivative of niacin (vitamin B3). "Niacinamide is a vital part of your diet, required throughout life to maintain health. It's found in foods such as grains, fish, meat, and beans in the form of niacin and is then converted into niacinamide," explains Paula Begoun, founder of Paula's Choice. "Not much of the niacinamide we consume from foods or supplements makes its way to our skin. Therefore, topical application is a great way to get its numerous skin benefits."
What Are The Skincare Benefits?
"When applied topically, niacinamide enhances moisture levels, improves texture and helps to strengthen and repair your skin barrier," says Dr. Murad, dermatologist and founder of Murad Skincare. It's the latter that gives niacinamide serious kudos among dermatologists.
"The stress of modern living combined with the environmental aggressors around us can play havoc on our skin. This leads to premature ageing, pigmentation, irritation and breakouts," explains Dr. Murad. "Niacinamide has the ability to soothe skin by strengthening the barrier." A strong, healthy barrier helps to lock-in moisture and keep bad bacteria out. It also helps to minimise inflammation, which is often an underlying cause of many skin issues.
If you regularly battle with breakouts niacinamide's anti-bacterial benefits will help to rebalance your oil production, ease congestion and refine your pores.
Is Niacinamide Suitable For All Skin Types?
Unlike some ingredients that can be too aggressive for sensitive skin types, niacinamide is a universal crowd-pleaser. "Everyone can achieve great results whether they have dry skin, oily skin, acne, signs of aging, skin discolorations, or clogged pores," Paula confirms. It can be layered with any other product without noticing you've added an extra step to your routine."
If you have acne-prone skin, it would be prudent to add The Ordinary Niacinamide 10% + Zinc 1%, $6.50 into your daily routine skin. Both niacinamide and zinc help to ease inflammation and calm skin.
Where Does Niacinamide Fit Into Your Routine?
As we mentioned, niacinamide is likely to feature somewhere in your routine already. For example, Murad Nutrient-Charged Water Gel, $70.00 contains it to help boost moisture levels, but niacinamide isn't mentioned in the product name. Check the ingredients list on the back of your products for niacinamide or vitamin B3.
That said, if your skin is feeling particularly dry or you're concerned about breakouts and blackheads, then adding in a specific niacinamide serum is worthwhile. Whether you opt for Paula's booster or Verso's Verso Hydration Serum with Niacinamide, $95.00, we recommend applying the serum just before your moisturiser or SPF.