IN FOCUS
Discover This Month's NDULGE Birthday Treats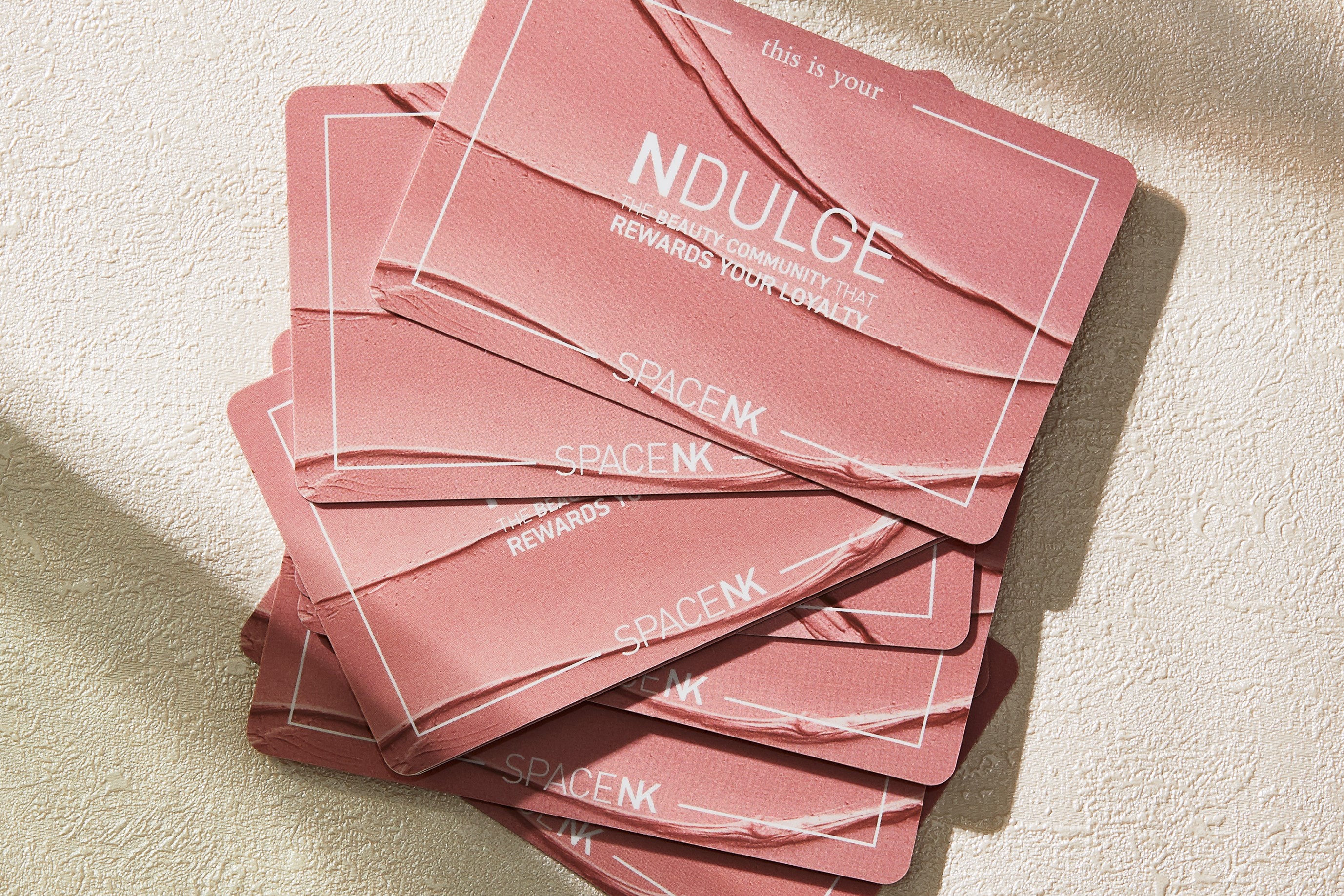 Whether you're shopping for food or makeup, most stores now offer some kind of loyalty scheme. At Space NK, we take loyalty very seriously – so much so, we're convinced that you won't a beauty rewards programme as good as NDULGE. While you will receive points for every purchase you make, there are plenty of other benefits to joining NDULGE, including exclusive access to our brand events where you'll have the opportunity to meet founders and industry renowned experts.
What is NDULGE and how does it work?
There are many reasons to join NDULGE, our beauty loyalty scheme. Not only do you earn 1 point for every £1 you spend and enjoy early access to the sales and exclusive brand events, but you also receive a complimentary birthday beauty treat. These change month by month and include some of our favourite beauty brands carefully selected by our buying team. It's worth noting that when you reach 100 points, you'll receive a £5 reward to spend on your next beauty purchase too.
NDULGE vs NDULGE Deluxe
The two-tiered system has been curated specifically to celebrate and reward loyalty. Everyone in the beauty community starts as an NDULGE member and receives all of the benefits mentioned above. Any NDULGE customers who spent £1000 or more within a 12-month period will automatically be upgraded to NUDLGE Deluxe.
NDULGE Deluxe members collect double the rewards and receive £10 for every 100 points earned, which is double the points standard NDULGE customers receive for every 100 points.
This month's NDULGE birthday gift: November 2022
November's trio of mini treats has something for everyone and every beauty need. The miniature JVN Hair Huile complète de prélavage pour le cuir chevelu, 25,00 £ will ensure your hair stays hydrated and healthy throughout the winter months by treating your scalp to a dose of hemisqualane. For your skin, the trial-size Ren Clean Skincare Crème de jour Evercalm Global Protection, 40,00 £ will ease inflammation and redness, as well as shield against pollution. And, because party season is underway, you'll also receive Rose Inc Rouge à lèvres rechargeable Satin Lipcolour Rich, 22,00 £ in Persuasive AKA the perfect autumnal shade.
NDULGE Deluxe member? You have a tough decision this month as there are six full-size products to choose from. If you want to press reset on your winter skin routine, we recommend exploring Dr. Barbara Sturm Serum Lifting, 235,00 £ and Paula's Choice Traitement au rétinol à 1 %., 13,00 £. Ameliorate Exfoliant corporel lissant, 18,00 £ will keep dry, scaling skin at bay with minimal effort required from your part. Those who want to put the focus on their home and create a relaxing oasis, should look to Neom Bougie de voyage parfumée Real Luxury, 18,00 £ and to give your morning shower an uplift, Fresh Gel de bain et de douche Hespérides au pamplemousse, 21,00 £. Last but by no means least, there's Virtue Coiffeuse 6 en 1, 18,00 £ to bat away the unwanted frizz and flyaways caused by the wet, windy weather.
How to become an NDULGE member today
All new customers are automatically enrolled into the loyalty scheme, but if you're not an NDULGE member yet, simply sign-up here and start reaping the rewards today.
Looking For The Perfect Gift?
• Best Sustainable Beauty Gifts
• Best Skincare Gifts • Best Candles to Gift
• Best Beauty Self-Care Gifts • Best Grooming Gifts For Men