MOST WANTED
People Are Calling This Tatcha's Best Cleanser... Is It?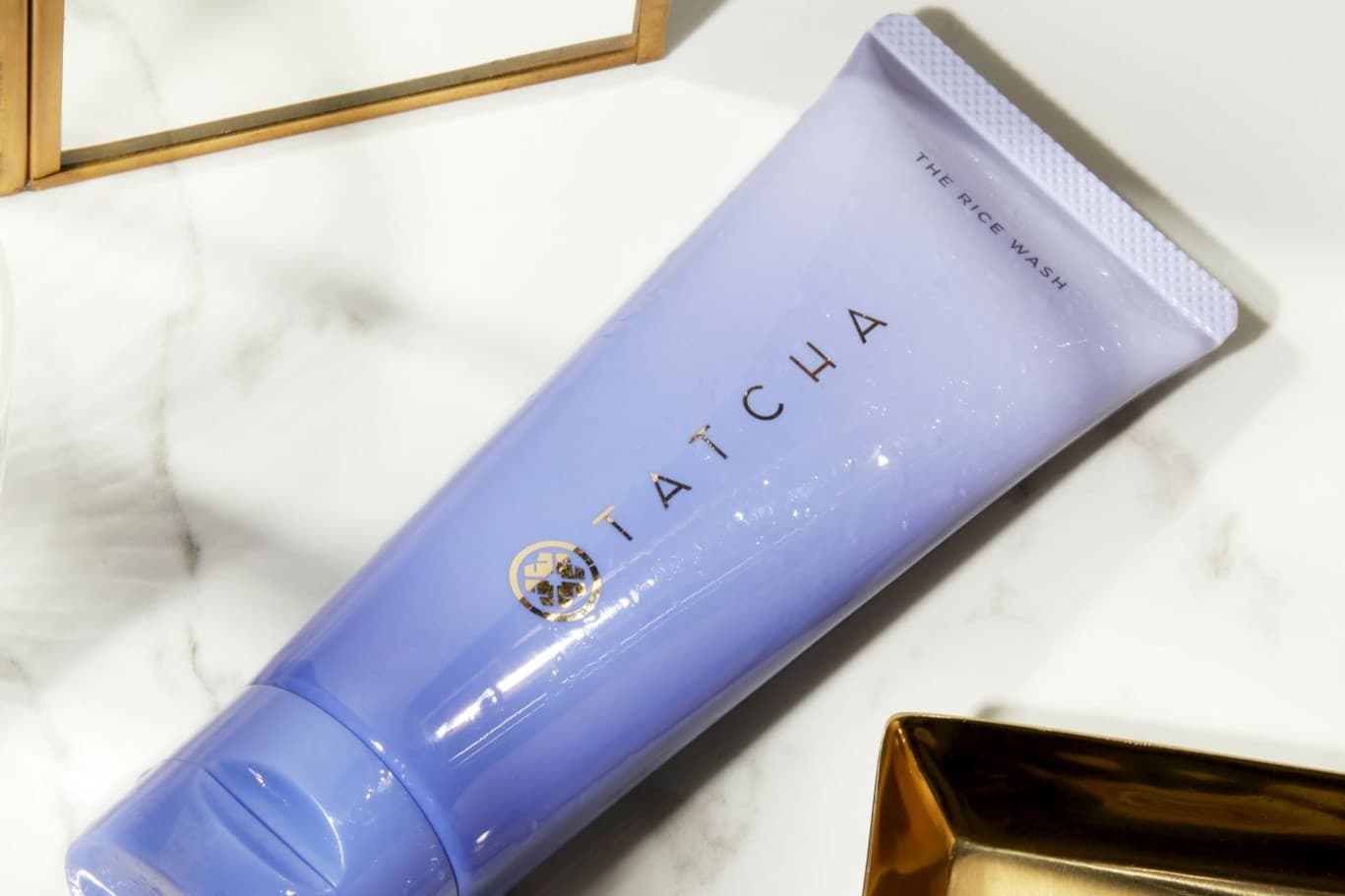 Tatcha founder
Vicki Tsai
takes cleansing very seriously. Having spent time in Japan learning about the ancient beauty rituals, for Vicky cleansing is less of a chore and more of a self-care moment that helps to clear her skin and her mind. It'll come as no surprise that some of the
best Tatcha products
are cleansers, including the two latest arrivals.
Both the
Tatcha The Deep Wash
and the
Tatcha The Rice Wash
have finally arrived in the UK after being available on the other side of the pond for the past two years. The latter, in particular, has racked up rave reviews due to its luxury texture.
I've been using The Rice Wash Soft Cream Cleanser for the past four weeks and here is everything you need to know.
The Top Line On Tatcha The Rice Wash
Tatcha The Rice Wash Soft Cream Cleanser promises a soft creamy texture that helps to remove dirt and grime without stripping skin. In true Tatcha form, this cleanser contains nourishing Okinawa algae and hyaluronic acid to help soften skin, which makes it perfect for all skin types.
Everything You Need To Know About Tatcha The Rice Wash Soft Cream Cleanser
There's something luxuriously weighty to The Rice Wash as you squeeze it out of the tube onto your hand. The texture is thick and creamy, but as you massage it into your skin you feel the super-fine rice powder and as you work the formula into your skin it lathers up. It's not a bubbly lather, but more of creamy, cocooning lather that feels pampering. There's a delicate, uplifting scent – perhaps lemongrass – that feels fresh but is in no way overpowering first thing in the morning or just before you climb into bed.
As someone with dry-to-combination skin who has spent the past couple of months trying to keep my cheeks and forehead hydrated, Tatcha's cleanser has been a welcome relief. The rice powder makes you feel like you're getting a deep, thorough cleanse, but your skin isn't left feeling tight or dry after. I find a £1-sized amount is more than enough for my face and neck as the formula expands as it lathers. It's hard to say for sure, but I've been using this cleanser for a month, and I still have over half the tube left, if not more as you don't need much.
I use The Rice Wash in the morning on its own and in the evening after I've used a cleansing oil to remove my makeup. While the formula rinses easily, I use a flannel to ensure it's completely washed off.
The Verdict On Tatcha The Rice Wash Soft Cream Cleanser
If you're looking for a hard-working cleanser that won't dry out your skin, even in the deepest, darkest depths of winter, I recommend trying Tatcha Le lavage du riz, 41,00 £. It's not the cheapest cleanser we stock, but a little goes a long way and cleansing is a fundamental (yet often overlooked) step of any skincare routine so it's worth the investment.
For me, the creamy texture elevates the cleansing experience and makes it feels like more of a self-care ritual – and I'm still impressed by the texture, despite using it twice a day for a month. The Rice Wash helps bring to life Vicki's belief that cleansing is something we should embrace consciously as a ritual each day, and it's raised the bar for the next cleanser I have to review.
If you have oily skin, you could find this cleanser too rich and might be better looking to Tatcha Le nettoyage en profondeur, 41,00 £, which helps to balance excess oil.
Read More
• Best Tatcha Skincare Products
• Tatcha's Vicky Tsai's Skincare Rituals • Review of Tatcha Violet-C Radiance Mask
• Tatcha Lip Balm VS Tatcha Lip Mask: What's The Difference? • Tatcha The Liquid Silk Canvas Review