SPACE SESSIONS
Inside Jonathan Van Ness' Grooming Routine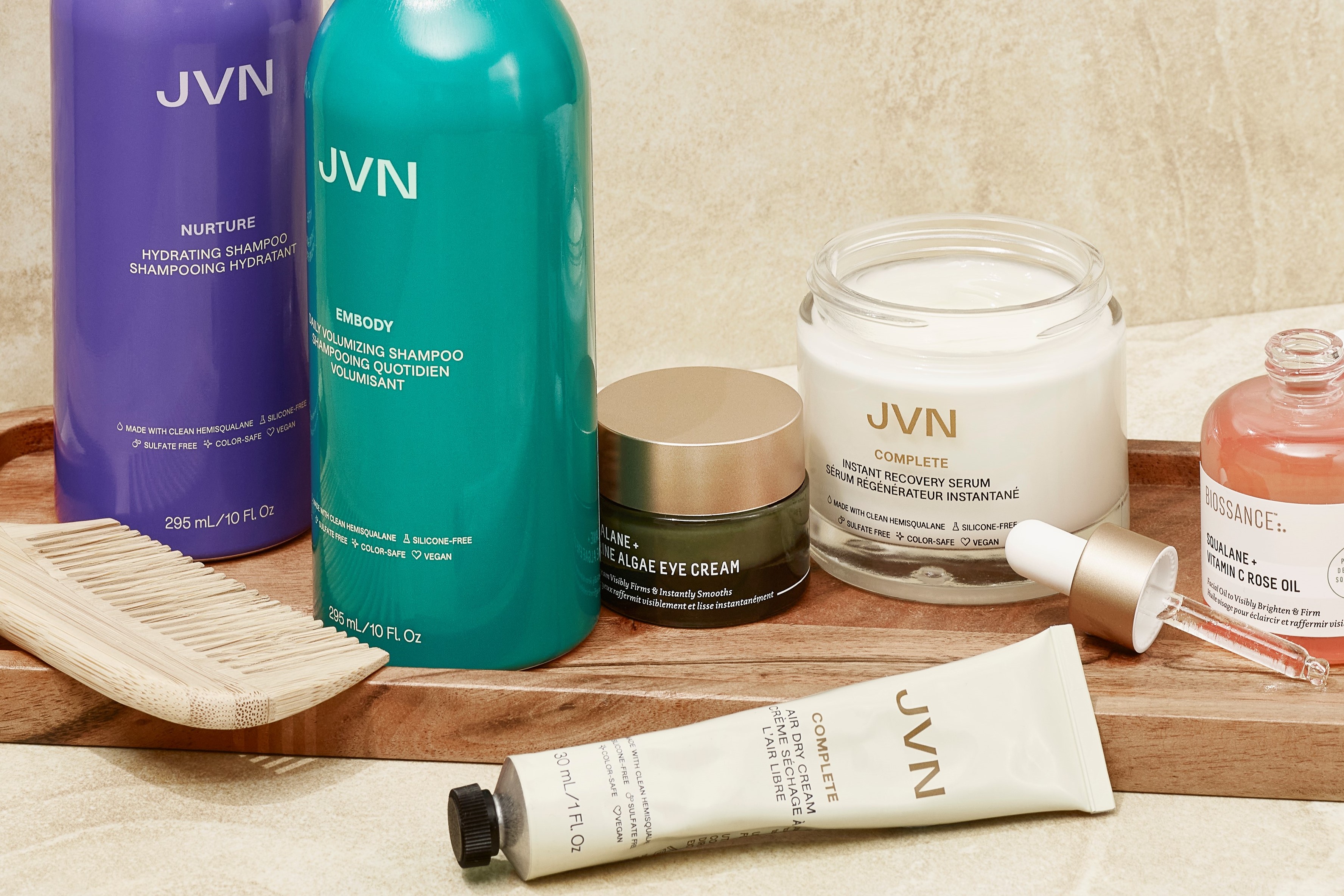 The best hair stylists know how to build a good rapport with their clients. There's an art to it as Jonathan Van Ness has proved on Netflix's reboot of Queer Eye. Calming even the most apprehensive people on the show with his relaxed, friendly manner has made Jonathan Van Ness, or JVN as he's more commonly referred to, one of – if not the – most loved members of the Fab Five.
Jonathan's approach to beauty and grooming on the show goes further than just giving someone a new haircut. While he'll encourage people to up their grooming routine – we all remember, "you've gotta floss", he also has a more philosophical ethos: "how you take care of yourself is how the world sees your". It's no surprise that since Queer Eye hit our screens in 2018, we've all been intrigued to know what Jonathan Van Ness' daily grooming routine looks like.
But when we caught up with Jonathan, we had a couple of other questions we wanted to put to him before he gave us a sneak peek into his day-to-day beauty routine. As a strong advocate of social injustices, from the environment to race and gender, we wanted to know how Jonathan has incorporated those into his debut brand, JVN Hair. With so many celebrity fronted hair, skin and makeup brands launching left, right and centre, it can be hard to see past the gloss. JVN Hair feels different, and Jonathan promises us it is…
JVN Hair Is For Everyone
"For me, as a founder and a person, inclusivity has been extremely important throughout my life and career. It's a matter of how you make people feel included," Jonathan tells us. "I had to work really hard to make myself feel included because of traditional gender norms and beauty expectations."
"My goal with JVN is, and always will be, to make sure everyone feels welcome to play with their hair, connect with their sense of self, and improve their relationship with themselves through their hair. Our mission at JVN is to come as you are, knowing that our worth isn't based on how we look but on what we do for ourselves and others, and improving our relationships through beauty," he says.
There's No Greenwashing Here
"Sustainability has always been a concern of mine. Understanding how ingredients are sourced and formulas are really important because they interact with your body every day," says Jonathan. "Hemisqualane comes from sugarcane and is sustainably sourced. Squalane is usually sourced from sharks, but we have a plant-based alternative. Hemisqualane is not only super effective, but it doesn't accumulate in our water sources like silicones do."
It's not just the formulas he's focused on either: "we also use aluminium and glass packaging to reduce the amount of plastic that goes into our environment and landfills." Don't forget, you can recycle your empties via Handle.
Jonathan's Top Tip For Cleaning Up Your Routine
"One place to start would be to look at refillable soap and body wash options or glass bottles. JVN is great for haircare because there's less plastic in the packaging. Also, by choosing silicone free formulas, you're choosing cleaner ingredients for the earth and your body," he says.
A Sneak Peek Into JVN's Grooming Routine
"In the morning, I shower and then I touch up my beard if it needs it. For skincare, I do my full Biossance routine, my current faves include Biossance Sérum repulpant rapide au squalane et aux peptides de cuivre, 52,00 £, Biossance Crème pour les yeux au squalane et aux algues marines, 42,00 £ and Biossance Crème réparatrice Squalane + Oméga, 45,00 £," he says.
"On my hair, I use JVN shampoo and conditioner, the ones I use depend on what I'm style looking for. For example, if I want volume, I JVN Hair Shampooing volumisant quotidien Embody, 18,00 £ and the matching conditioner. After I get out, I apply JVN Hair Sérum complet de récupération instantanée, 12,00 £ and JVN Hair Crème Air Dry complète, 9,00 £, then diffuse with my hairdryer. In the winter, the air is drier, so I'll switch in JVN Hair Masque d'hydratation profonde Nurture, 21,00 £ and use JVN Hair Huile complète de prélavage pour le cuir chevelu, 25,00 £ more because I'm wearing hats, so I need to protect my hair and scalp.