IN FOCUS
Drunk Elephant vs. Sunday Riley: Which Is Best For You?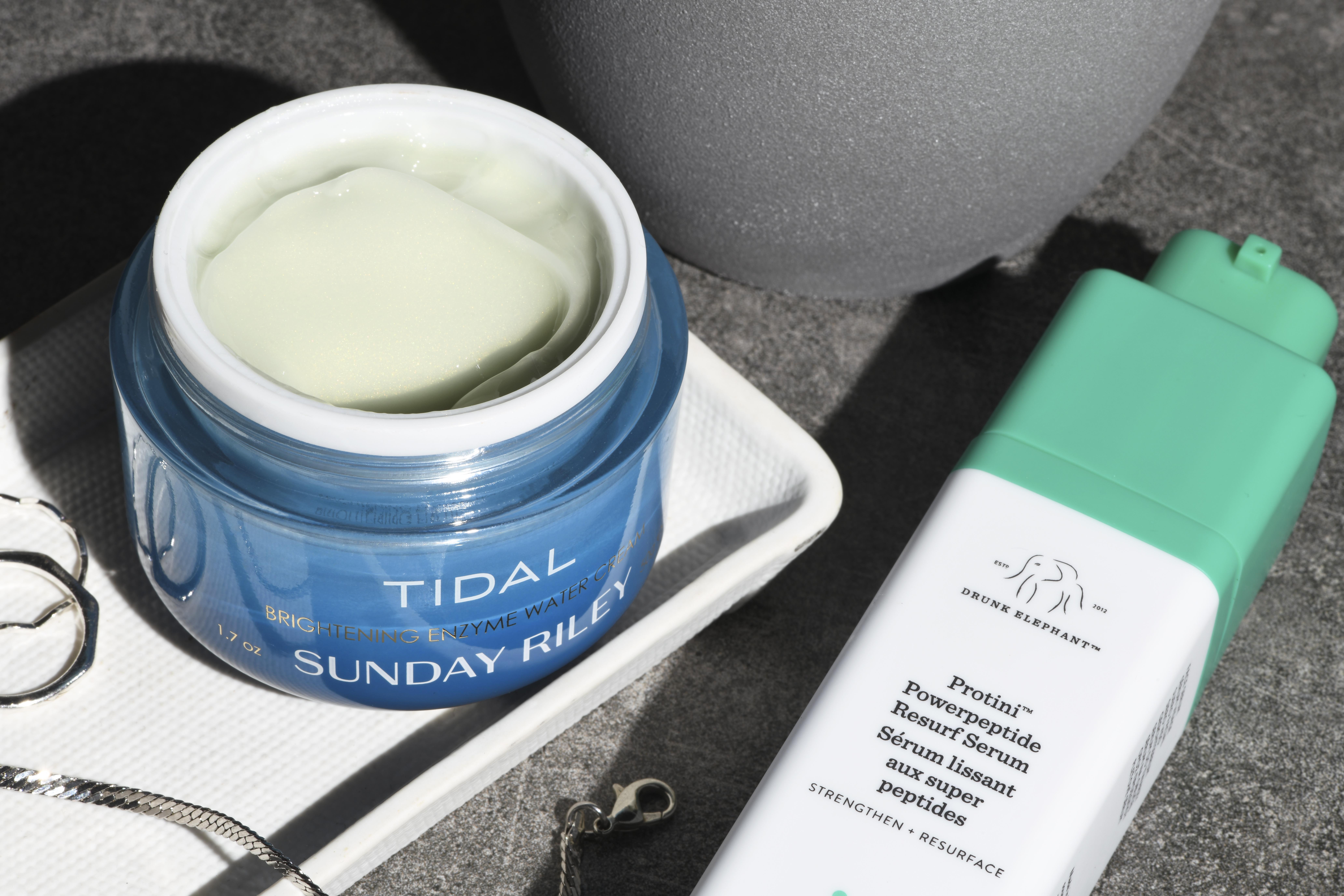 Our expert beauty advisors are regularly asked if
Drunk Elephant
or
Sunday Riley
products would be better for their skin. The two bestselling, world-renowned brands are regularly compared, especially when it comes to their ingredient-based formulas. For example, when it comes to
vitamin C
, would you be better with Drunk Elephant's C-Firma Fresh Serum or Sunday Riley's C.E.O Rapid Flash Brightening Serum?
While we wholeheartedly rate both brands, we decided to ask two devotees to share what they love about each to help you decide which one is best for you. Talking all things Drunk Elephant, we have beauty writer Rebecca Baio and Space NK's senior press officer is sharing her love for Sunday Riley.
Why I Love Drunk Elephant

Behind The Brand: Founder Tiffany Masterson was fed up with wasting money on products that angered her skin. But it wasn't until digging deeper into the issue that she discovered a trend. Tiffany calls it 'The Suspicious Six' - problematic ingredients which can spark everything from breakouts to sensitivity. What are they? Essential oils, drying alcohols, silicones, chemical screens, fragrance/dyes and SLS, and you'd be hard-pressed to find a product that doesn't contain at least one. That's why Tiffany created Drunk Elephant - to help us strip this Suspicious Six from our skincare routine. Once removed (or after putting skin on a #drunkbreak, as Tiffany likes to say), skin is given its best chance to soak up and benefit from all the good skincare stuff. No reactions included.
Why I Love It: I've never fully understood my skin. Which isn't excellent, considering trying new skincare is part of my job. All I know is, a shiny new tub of something arrives, I try it, and nine times out of ten, my skin will react. As a result, I don't dip into retinol, exfoliating acids are off the menu, even vitamin C is approached with trepidation. That was, until I went on my own #drunkbreak. The moment I tried C-Firma Fresh Day Serum and didn't end up spotty and sensitized, this whole world of ingredient possibilities opened up to me. Simply put, Drunk Elephant sits in the tiny slither of brands that my skin does a whoop for.
Drunk Elephant's Hero Product: If you haven't got on with oils in the past, I understand. Truly. But did you know most are loaded with essential oils (yep, that's right – no.1 on the Suspicious Six list). It's just one reason you might want to give Drunk Elephant Virgin Marula Luxury Facial Oil, $44.00 a chance. Not only is it free from irritating essential oils, the cold-pressed oil, harvested from the marula fruit pip, actually works to reduce redness and blotchiness, while helping to nourish skin and plump away signs of aging. Just add two or three drops onto cleansed skin, and watch the marula magic happen.
The Formula You Should Try First: If a similar trend of product-sparked flare ups led you to Drunk Elephant, take skin easy and start with hydration. Drunk Elephant B-Hydra Intensive Hydration Serum, $54.50, is all about treating skin to a splashy moisture kick, boosted by the brightening power of a watermelon, lentil and apple extract complex. Even the most selective skin types are guaranteed to love it.
Why I Love Sunday Riley

Behind The Brand: Sunday Riley founded her namesake brand back in 2009 and her Good Genes exfoliating treatment became a runaway success overnight. At the time, very few brands were championing the skin-boosting benefits of acid-based products. The aim of the skincare line was, and still is, to prove that when you strike the right balance between botanicals and science-based active ingredients, your skin will thank you.
Why I Love It: There are so many products on the market that promise the world but fall short on delivering results. Sunday Riley is absolutely not one of those brands. The formulas are packed full of active ingredients and results-driven without feeling clinical. The selling point for me is that you can shop depending on your preferred texture, as well as by ingredient. The vitamin C line-up is available in a serum, oil and cream, so you can layer up on one ingredient, or choose the texture that slots into your skincare routine – it feels more flexible than other brands in that sense.
Sunday Riley's Hero Product: It's a tough call between Sunday Riley Good Genes Glycolic Acid Treatment, $91.00 and Sunday Riley CEO Glow Vitamin C + Turmeric Face Oil, $40.00 – both are firm bestsellers at Space NK. If you haven't used any Sunday Riley products before though, it would be criminal not to try Good Genes. Glycolic acid is the key ingredient in this exfoliating serum and it helps to brighten and smooth skin, but with the addition of prickly pear extract you don't have to worry about your skin being stripped of moisture. Gentle enough to be used every day, I can comfortably predict that your skin will look brighter and clearer within a couple of weeks.
The Formula You Should Try First: While the hyped-up product is Good Genes (and the hype is real, I recommend it to everyone!), Sunday Riley U.F.O. Ultra-Clarifying Face Oil, $40.00 is the most unique product from the range. I suffer with hormonal cystic acne and feel it has been drummed into me that face oils must be avoided at all costs. UFO is the exception to this rule. With salicylic acid and antibacterial tea tree, it works to keep my skin clear, but unlike so many blemish products on the market, it doesn't dry out my skin. This formula has been game-changing for my skin and I couldn't be without it.
Read More
• Augustinus vs. La Mer: Which Is Better For You?
• Briogeo vs. Olaplex: Which Is Better For You? • Charlotte Tilbury vs. NARS: Which Is Better For You?