IN FOCUS
How To Create An Uplifting Mani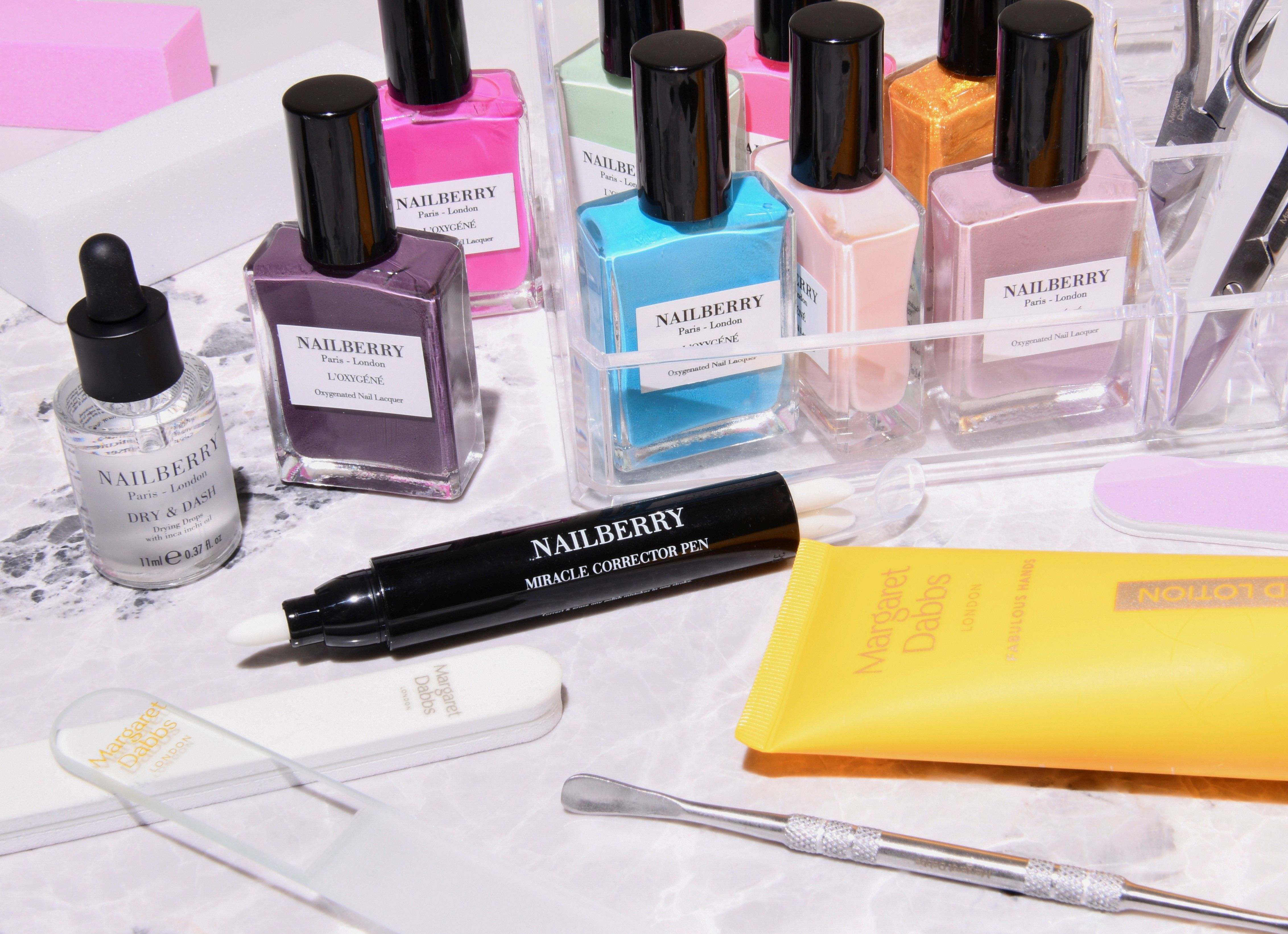 There is something incredibly satisfying about having perfectly polished, glossy nails.
It makes you feel instantly more pulled together. With salons closed for the time being, it's time to take matters into your own hands and master the DIY mani. To help you on your way, we asked the experts for their insider tricks to achieving a neat, smooth finish that lasts. Hopefully this step-by-step guide will bring you pro-like results and a welcome mood boost too…
Step 1: Tend To Your Cuticles
The pros always whip your cuticles into shape in no time, but it can be a real struggle getting the same result at home. Rather than soaking your cuticles, award-winning session and celebrity manicurist, Michelle Humphrey recommends using a cuticle remover. "Soaking is an old school manicuring technique to soften the cuticles and although it works for cuticle care, the nail plate absorbs water which causes it to expand. When the nail shrinks back, your polish is more likely to chip," she says.
Step 2: File, Shape and Buff
Next up, cut and file your nails into the desired shape. For this, use the Margaret Dabbs London Crystal Nail File, $21.00. "Not only is it more hygienic, it won't tear the nail and it will help to seal the tip to promote healthy growth," says brand founder, Margaret Dabbs. It's also more environmentally friendly than a disposable file. Every year, an entire football stadium can be filled with discarded emery boards. These files can be easily washed or spritzed with sanitiser and will last a lifetime.
"After filing, gently buff the nail and wipe clean with a cotton pad soaked with polish remover," says Michelle. "This removes any excess oil and dust which helps your polish fix onto your nail." Margaret also warns not to over buff the nail as you'll make it too thin. A couple of strokes is all that's required.
Step 3: Apply A Base Coat
Another secret to long-lasting results is to always apply a base coat like . "This really helps to anchor down the colour and prevent chipping," says Michelle. "Don't forget to cap the free edge too."
Step 4: Choose Your Colour And Paint
Next up - choose your colour. If you're after some inspiration, you can read our guide to some of our most uplifting shades. "Always apply two thin coats and make sure it isn't too thick," says Michelle. If your polish is gloopy or thick when you open it, swirl the brush around in some acetone, place it back in the bottle and give it a good shake. This should loosen the polish and thin out the formula.
"When it comes to the application, float the brush over the nail instead of pushing it down," says Michelle. "This helps to maintain a smooth and even finish and prevent streaks. Cap the free edge by running the brush along the tip of the nail. If your nails are shorter than your fingertip, then just do this with the top and base coat to avoid getting polish on your skin." If you do get polish on your skin, you can tidy up any mistakes with .
Step 5: Finish With A Top Coat
Every good manicure finishes with a top coat and we love . "This will help to seal in your colour and give that salon-worthy high gloss finish," says Michelle. "Top coats also help to prevent chips and boost your polish's longevity."
Step 6: Hydration Is Key
Keeping your hands and nails hydrated is key to prolonging the life of your mani. While this might feel like an impossible task at the moment with the constant handwashing, getting into the habit of applying a hand cream daily will help counteract any dryness. Choose the right formula and they can be really pleasurable to use. Margaret's top tip? Apply your hand cream to damp skin so it absorbs better and really locks in moisture. If you're concerned about ageing hands, try Dr. Barbara Sturm Anti-Aging Hand Cream, $65.00 which helps to improve elasticity and plumpness.
Margaret also suggests using to build strong, healthy and hydrated nails. "Be sure to add this into your daily routine and within just two-to-three days it will completely transform your nails," Margaret says. "Apply a thin layer to cover the fingernail and cuticle area and massage in."