IN FOCUS
3 Volumising Hair Tricks From Jonathan Van Ness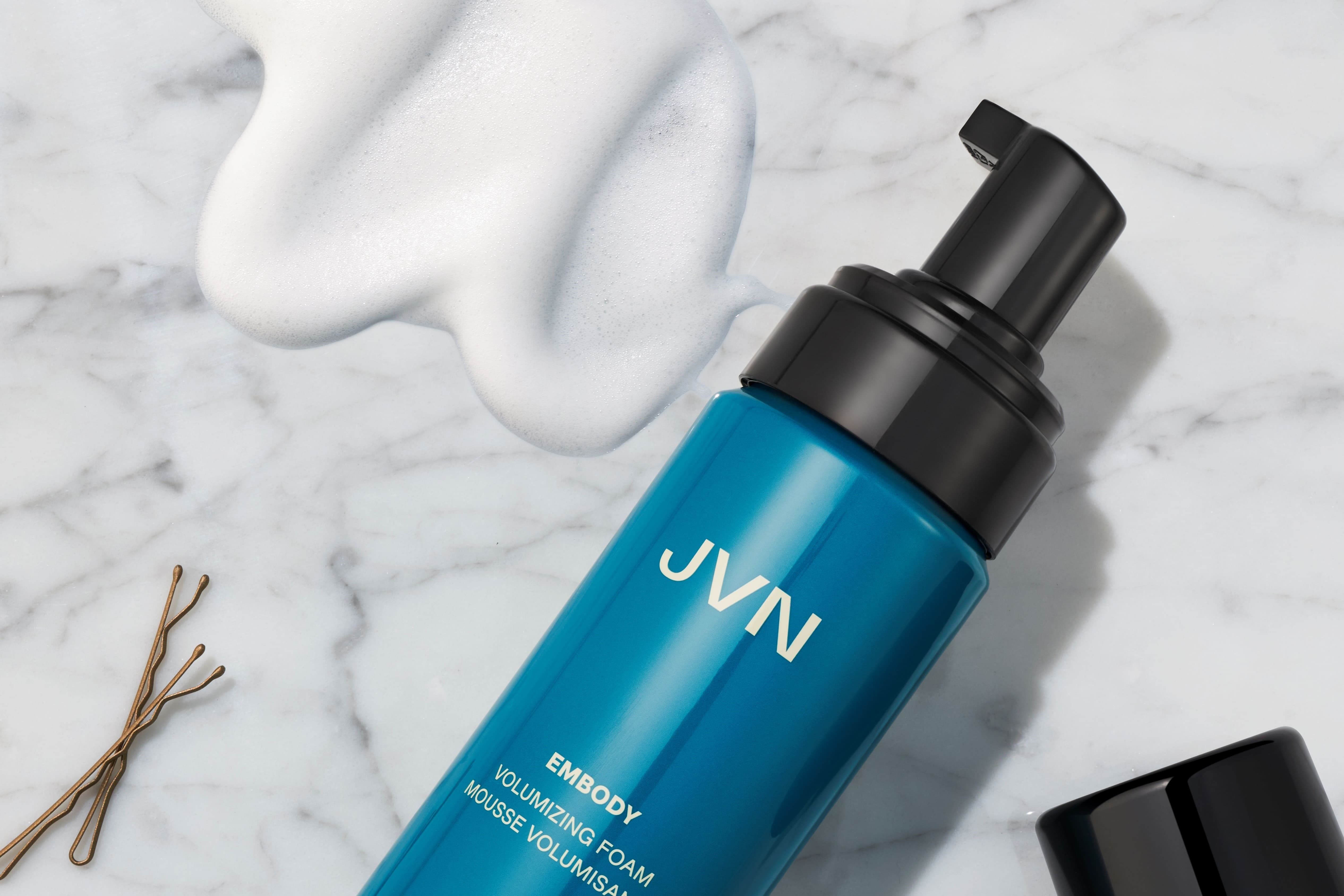 From long and fine hair to short and curly, whatever your hair type and length it's likely that at some point or another you've wanted to bolster the volume. The pursuit for the best volumising hair products has been a long and endless one. You want a formula that's easy to use, doesn't leave your hair feeling crunchy, looks completely natural and holds the volume in place all day long.
Queer Eye
star, hairstylist to the A-listers and brand founder,
Jonathan van Ness
promises he has created just that with the new JVN Hair Embody Volumizing Foam. And he's shared not just his tips for using the new volumising hair product, but his speedy trick adding instant volume to your hair with or without product.
Volumising Hair Tip 1: The Claw Clip Trick
"I love the claw clip trick for adding volume to your natural curl, it's one of the quickest and easiest ways to add a little root boost," says Jonathan. "Apply one to three pumps of JVN Hair Embody Volumizing Foam, $33.00 to damp hair (not soaking wet) and add clips to your hair at the root wherever you'd like to see more height. The foam adds soft hold thanks to the marshmallow root extract, so once your hair is dry and the clips come out, your style will last much longer."
Volumising Hair Tip 2: Roller Girl
"If you're looking to plump up the volume for your straight hair (or you're just not doing your natural curl that day), it's all about Embody Volumizing Foam and rollers," Jonathan declares. "You don't even have to put them throughout your entire head, especially if you're pressed for time. Just add some velcro or hot rollers through your crown and around your face." Place the rollers were you'd like to see more volume and then blow-dry your hair. Give your hair a short, sharp blast of cold air after the heat to help lock in your style.
Volumising Hair Tip 3: The Gravity Flip
"Flip your hair upside down when you're drying and be sure to focus on getting heat into your roots. When you flip your hair back up it's going to be instantly more voluminous," directs Jonathan. "You can even do this when your hair is already dry to activate more volume – just flip and tousle, tousle, tousle. This is a universal trick if you want to add a little height to all hair types and textures - 1a through 4c."
Read More
• Best Hair Products for Spring
• Everything You Need To Know About Hair Slugging • The Best Shampoos For Every Hair Type
• A Guide to JVN Hair Products • How To Look After Your Scalp