IN FOCUS
Rosehip Oil Skin Benefits Explained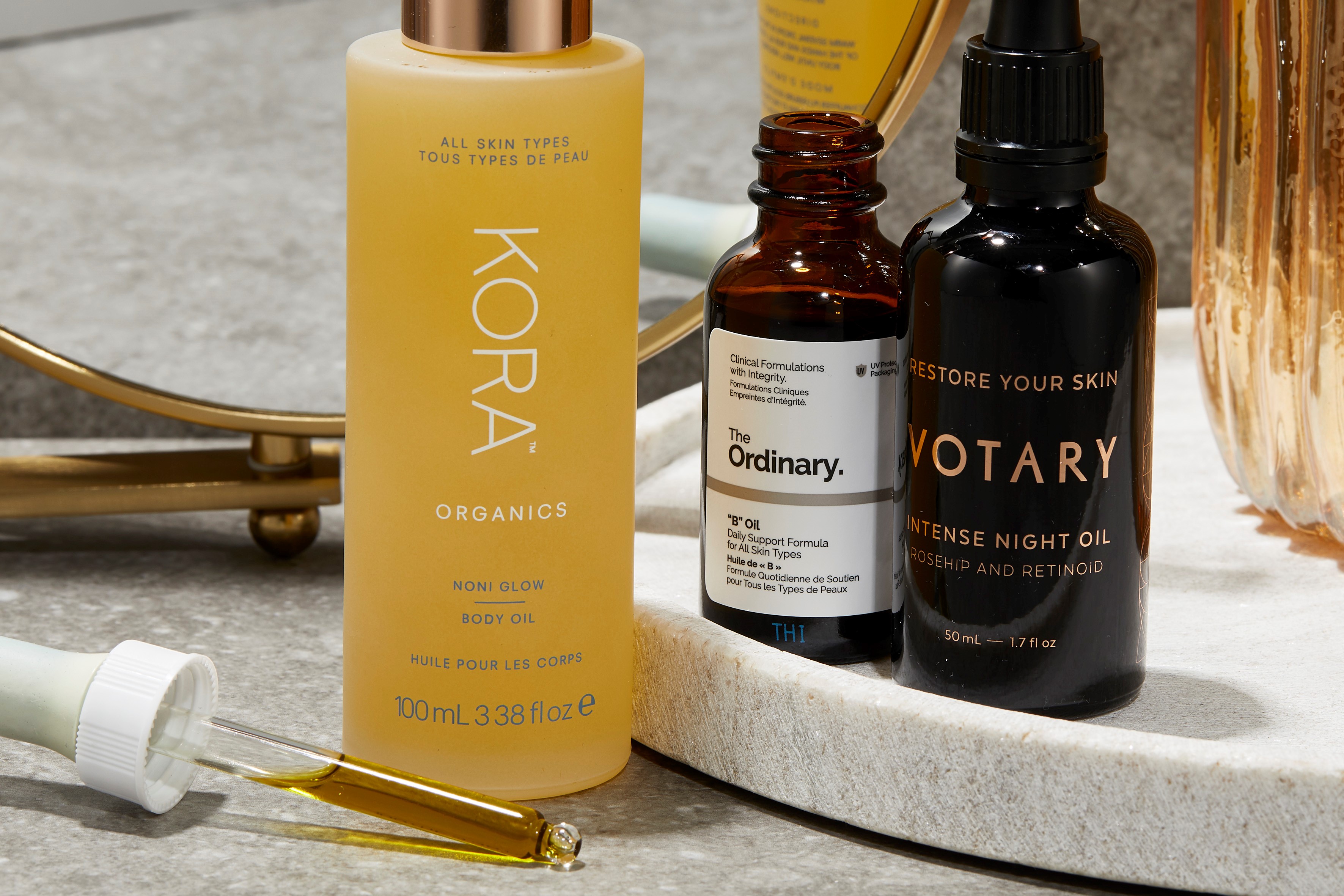 Like most renowned skincare ingredients, rosehip oil has been used for millennia for its ability to calm, hydrate and brighten skin. Celebrities including
Miranda Kerr
, and even royalty including the Duchess of Cambridge are reportedly fans of rosehip oil skin benefits.
Also known as rosehip seed oil, rosehip oil is a pressed seed oil from the small fruit that sits beneath the rose. It's hydrating, anti-inflammatory and anti-ageing making it a popular go-to for facialists and product formulators. "Rosehip oil is excellent for dry and sensitive skin," says Erin Carter, a facialist at
Skin Work
in London. "It helps to hydrate the skin and protect it with antioxidants."
Various
studies
have shown that rosehip helps to reduce inflammation and, thanks to its antioxidant properties, can help to slow down the appearance of signs of ageing. Researchers have also found that it can help brighten skin, reduce the depth of crow's feet, reduce skin damage caused by UV and even increase cell longevity. Most experts agree that almost all skin types can experience rosehip skin benefits. This is everything else you need to know.
What is Rosehip Oil?
Rosehip oil is created with the seeds taken from the small fruit that sits beneath the rose is pressed. The oil can be used on its own - as it was traditionally - or combined with other actives and antioxidants in a serum, moisturiser or face mask. Rosehip oil contains high concentrations of multiple vitamins, including vitamin C and K.
Benefits of Rosehip Oil for Skin
There are many rosehip oil skin benefits. It is known to help brighten skin and even out skin tone, it helps to regenerate skin and heal it from trauma (good to remember for those times you may have been overzealous with AHAs and scrubs). It is also known to help support collagen and elastin production, calm inflammation, boost antioxidant protection, and soothe sensitivity and redness. If you are wondering whether you can use rosehip oil for wrinkles, yes you absolutely can as studies show it is effective at reducing the UV damage that causes fine lines and supporting productions of the collagen in the skin, helping to soften the appearance of wrinkles.
Is rosehip oil good for acne? Yes, it is, to an extent. If you have open or weeping spots it's best not to apply anything, but if you have less angry acne and acne scarring then you could see excellent results using rosehip oil daily.
Side Effects of Rosehip Oil
The great thing about rosehip oil is that there really are no downsides to using it. Erin recommends caution when applying it directly to acne, but otherwise all skin tones, types, ages and conditions can benefit from the hydrating, antioxidant and anti-inflammatory properties of rosehip oil.
The only word of caution, rosehip oil is a good source of vitamin A so it's best not to use it at the same time as retinol (or any other retinol derivative or Tretinoin) unless it is part of a retinol/rosehip oil formula where the concentration has already been considered.
How to use Rosehip Oil in your Skincare Routine
Rosehip oil can be applied directly to skin or as part of a formula in your serum, toner, moisturiser or facial mask. If you are applying the oil directly, rosehip oil is safe to use twice daily, both morning and night. Erin recommends combining rosehip oil with a massage. "Take a few minutes out for a facial massage when applying rosehip oil to help stimulate your skin, remove tension and drain fluid," she says. "Just remember to keep your massage strokes moving upwards and outwards to help with lymphatic drainage."
She also recommends continuing to use an active serum, such as vitamin C, while using rosehip oil. "Although rosehip oil contains antioxidants, I would use it in addition to a targeted serum to get maximum benefit." And the order in which it needs to be applied? "Massage it in after your serum, but before moisturiser," she says.
If you love to treat your skin to a regular mask why not add a few drops of rosehip oil to the formula, or to your skin first if you are using a sheet or cellulose mask, to boost its antioxidant action. And don't leave the rest of your body out, rosehip oil is an excellent all-rounder so add a few drops to your hair masks and body moisturisers too.
Our Favourite Rosehip Oil Products
You can reap the rosehip oil benefits for skin from head to toe thanks to an array of nourishing formulas. While plenty of brands include rosehip oil in their face and body oils, these are the three that we really rate.
If you the dream anti-ageing duo of retinol and rosehip, this face oil is the answer. We recommend two to three drops massaged into skin just before bed.
This is the perfect option for those who want to try out rosehip oil without having to invest too much money. It's infused with squalane for a serious moisture boost.
Let the skin below your neck reap the benefits of rosehip oil too with Kora Organics dreamy body oil. It's super hydrating, but what we love most is the subtle glow it gives your skin – particularly when you've got a tan.
Final Verdict on Rosehip Oil for Skin
You need rosehip oil in your daily beauty routine. It is a hardworking multi-tasker that boosts any skincare routine with additional antioxidants, anti-inflammatory protection and cellular rejuvenation. Everyone can benefit from using it.