IN FOCUS
Vitamin C Skincare Explained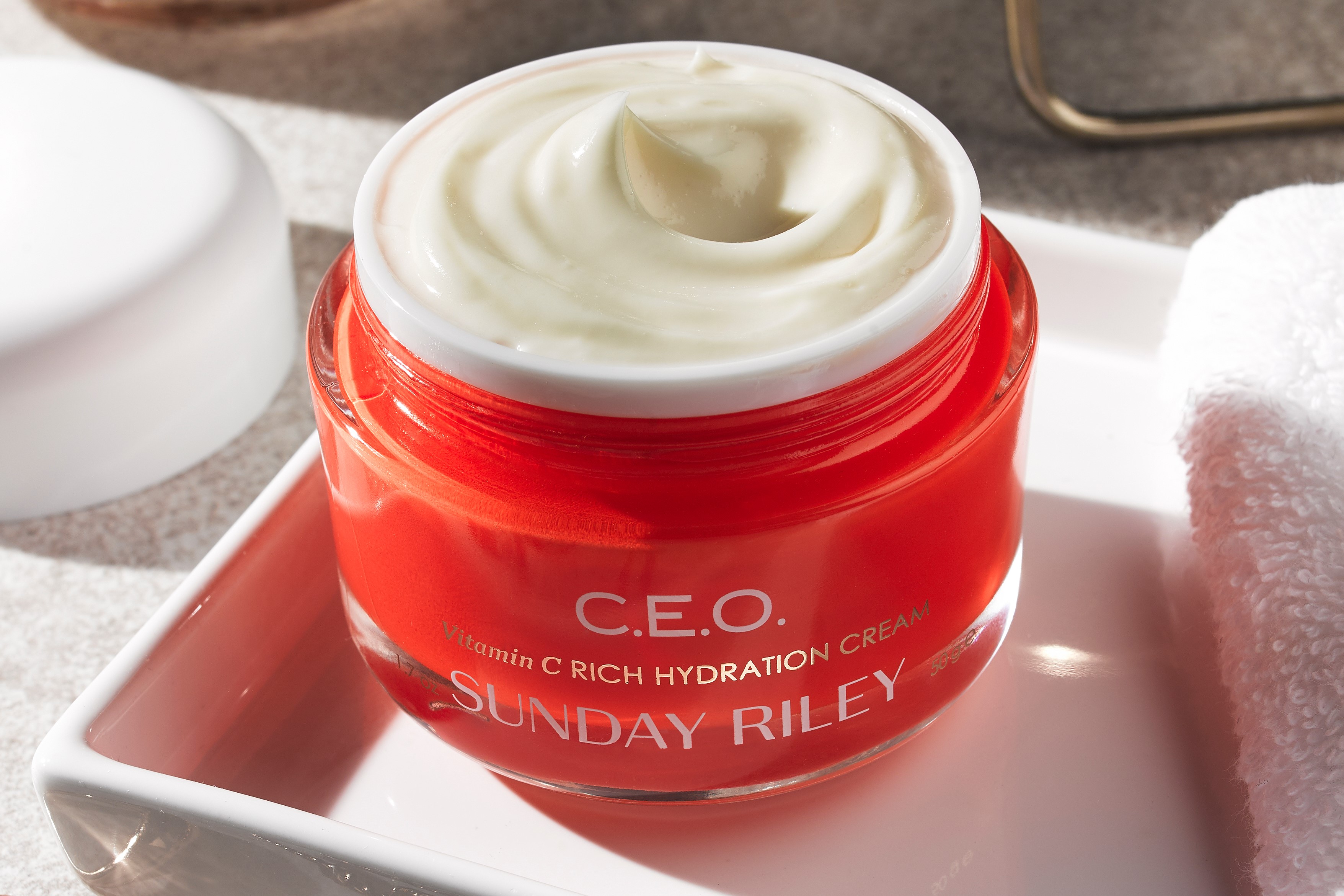 From brightening and evening out tone to plumping and firming your skin, vitamin C is regularly touted as a must-use skincare ingredient. Should you opt for a serum or a cream and where does it fit into your routine though? We're here to answer all the questions to help you get the best results from your vitamin C.
Vitamin C is a staple in everyone's skincare routine, and it is part of the skincare anti-ageing trifecta: vitamin C,
SPF
and
retinol
. This ingredient with an array of benefits has quickly become a staple for us. If you're not sure how to incorporate Vitamin C in your routine, or what results you should expect, we've got that covered for you.
What is Vitamin C?
Vitamin C in skincare is one of the best ingredients because of its multifunction. From anti-ageing to protecting the skin, everyone should have it in their (morning) skincare routine. The vitamin C ingredient you usually find in skincare is called L-ascorbic acid and is an extremely potent vitamin C derivative. Vitamin C comes from citrus fruits like oranges and lemons, which are important for your health as well. You could say that vitamin C is one of those ingredients we need in every area of our daily health and wellness, where skincare also has its place.
The Benefits of Vitamin C for Skin
Vitamin C in skincare provides an array of benefits, and honestly, we're here for it.
• Brightening boost: "It not only helps to brighten pigmentation that already exists but also reduces the activity of the enzyme that leads to these dark spots from forming in the future," says Dr Dennis Gross. For anyone struggling with dark spots or post-inflammation hyperpigmentation (PIH), vitamin C is one of the best brightening ingredients out there.
• Antioxidant powers: If you're wondering what this word means in skincare, think of antioxidants as ingredients that act as a shield on your skin from harmful free radicals. These include anything from stress to pollution and UV rays - you absolutely still need to use an SPF afterwards.
• Anti-ageing properties: When looking at anti-ageing products, you'll see that vitamin C is often an ingredient in these products. Because of the antioxidant properties, vitamin C will help down the appearance of fine lines and wrinkles because these environmental stressors are staying away from your skin barrier.
• Collagen levels: The antioxidant properties of vitamin C keep your skin from fighting free radicals and prevent the loss of collagen in the skin. As we get older, our levels of collagen start decreasing. This means that our skin doesn't look as plump but also has effects on our muscles and joints.
How to Use Vitamin C in your Skincare Routine
The best time to use vitamin C in your routine is in the morning. Not only will it brighten your complexion and make you look more awake, but it will also protect your skin from free radicals. If you live in a busy city, where pollution and UV rays may be out to play, a layer of vitamin C will help protect your skin and fight the signs of ageing these stressors could cause.
If you use retinol in your nighttime routine, that's all the more reason to use vitamin C. After any type of exfoliation, your skin will always like that extra layer of protection. After applying your vitamin C, don't forget to apply your SPF! These two ingredients join forces to boost your skin's defence and fight whatever is thrown at it.
How long will it take before I see results from Vitamin C?
This is the age-old question when it comes to introducing something new to your skincare routine. When it comes to vitamin C, it can take between three weeks to a month to start seeing long term results on the skin. Just like with any other product, consistency is key if you want to have the best results.
When choosing your vitamin C serum, make sure you take into account the concentration (the stronger, the better). You also want to choose an air-tight sealed product to keep the potency of the product from being damaged over time.
Our Favourite Vitamin C Skincare Products
The Ordinary Vitamin C Suspension 23% + HA Spheres 2%, $9.00
If you've never used vitamin C before and looking for a product that's easy to start with, this the product for you. In-between a serum and a face cream, The Ordinary Vitamin C contains a high-level of vitamin C, in a stable formulation.
Sunday Riley CEO Vitamin C Rich Hydration Cream, $65.00
The cult-favourite CEO Serum is now also in a moisturiser form. This cream will absorb quickly into the skin to provide instant hydration and fight signs of ageing through gentle exfoliation. Make sure you pack on the SPF after applying this cream, to boost the benefits of the Vitamin C.
Drunk Elephant C-Firma Fresh Day Serum, $87.00
Ever wanted to create your own skincare products? This formula from Drunk Elephant allows you to do just that. With a serum in one bottle, powder in the other, mix the two to create your own Vitamin C serum at home. The powder form allows for the active vitamin C to stay potent until you mix it with the serum.
Space NK The Essential Vitamin C Edit Box, $90.00
Whether you're new to vitamin C or a pro, the buying team has curated a box dedicated to the ingredient. Featuring BeautyStat, Murad, Oskia and more, this box is jam-packed with the bestselling vitamin C products.
Our Final Thoughts on Vitamin C in Skincare
Vitamin C is an ingredient that we love and if you don't have it in your routine yet, you should think of incorporating it. It protects your skin from daily stressors, brightens your complexion and most importantly, helps fight signs of ageing. The ingredient is also really easy to incorporate into your routine, a little bit every morning and your skin will thank you long term.
Read More
• Latest New Beauty Product Launches
• What Is Sensitive Skin? • What Is Retinol?
• How To Treat Hormonal Acne • How To Recycle With Handle