LOOK BOOK
How To Get The Glow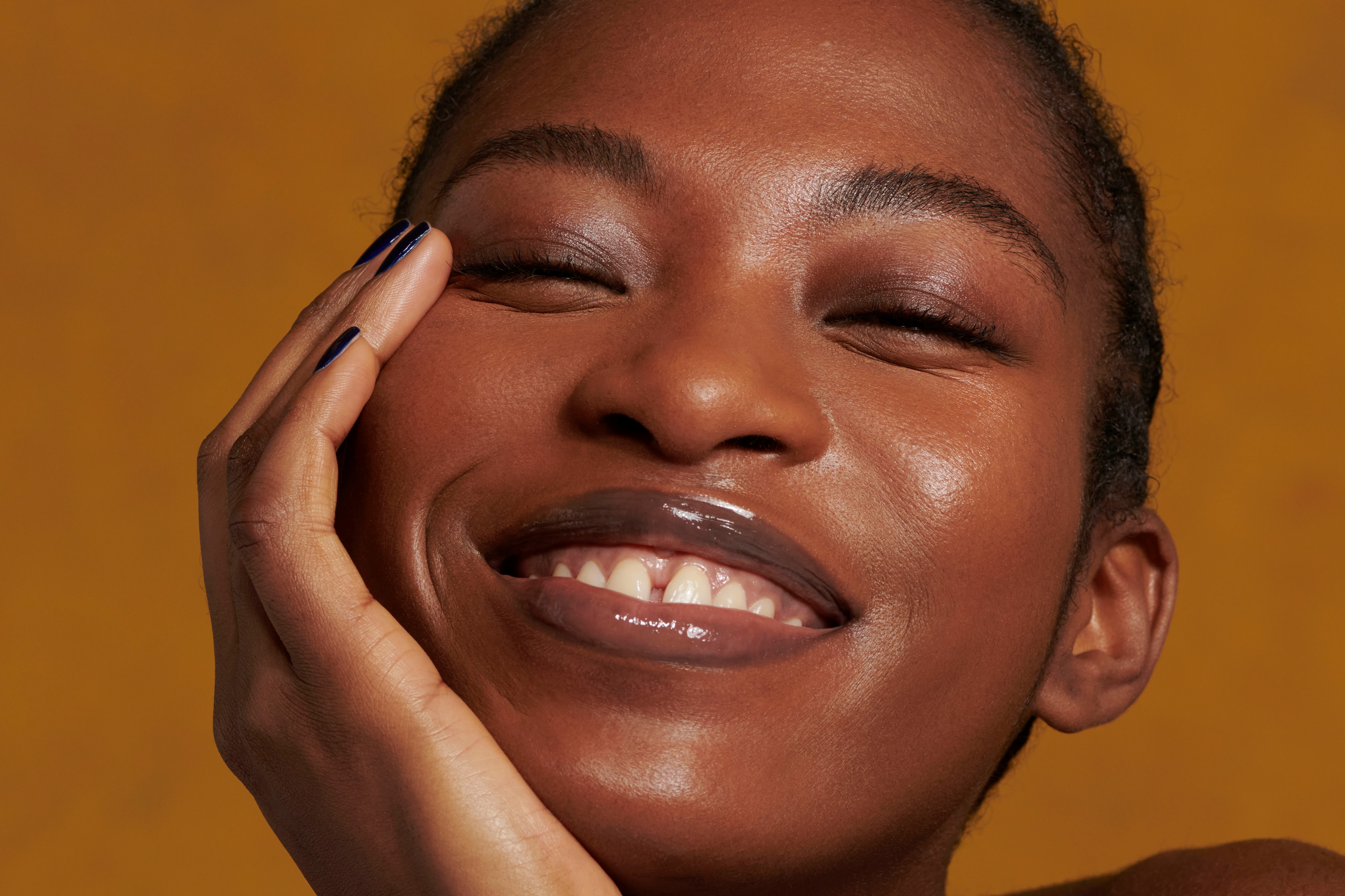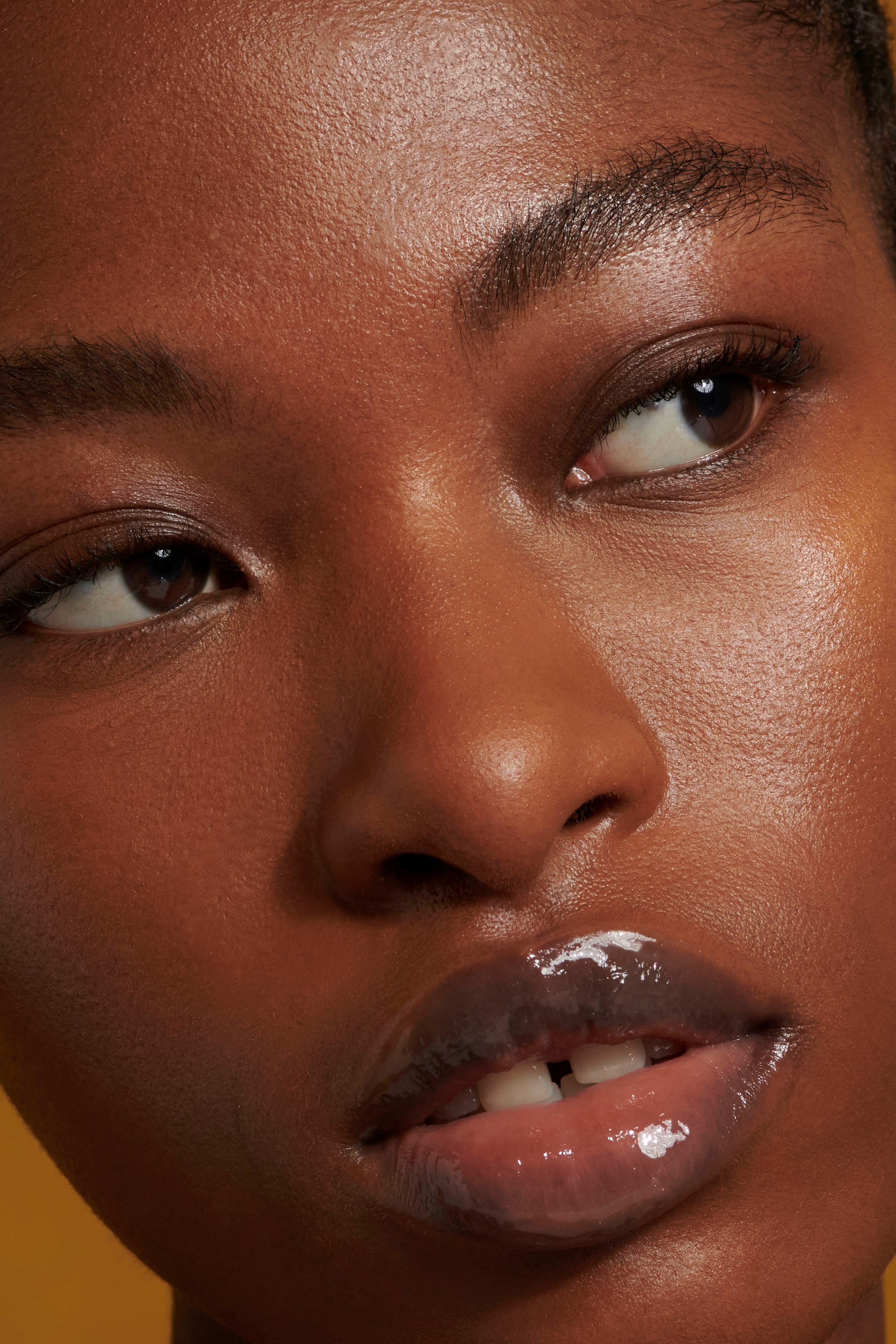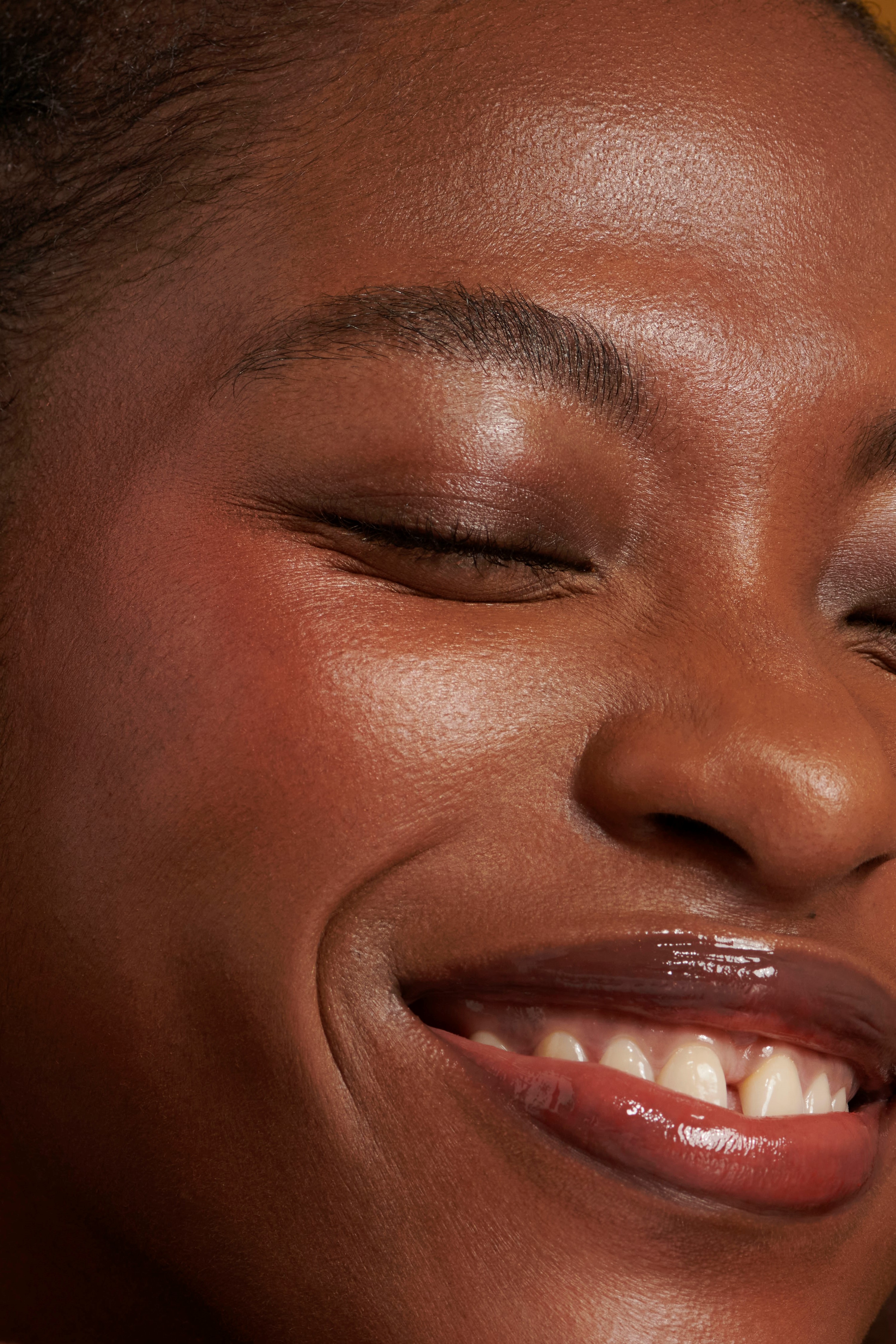 How To Achieve A Glow With Makeup
First things first, make sure your skin is hydrated as it'll look firmer, plumper and healthier before you apply any makeup. Our dream duo for hydration is The Ordinary Hyaluronic Acid 2% + B5, $10.50 and Dr. Jart+ Ceramidin Cream, $17.00. "Getting your base right is essential," says makeup artist Adeola Gboyega AKA the glow queen. "Opt for lightweight, light-reflecting formulas that can be layered up to achieve that healthy-looking glow."
Makeup essentials: "I really rate both Charlotte Tilbury Hollywood Flawless Filter, $50.50 and ," says Adeola, who used the former on model, Chizoba. To achieve that gorgeous sheen across the tops of your cheekbones, use Kevyn Aucoin Glass Glow Liquid Illuminator, $39.00, but "press it on using a damp makeup sponge to achieve a seamless, real-skin finish," adds Adeola. For a more sculpted look, had a hint of blush along your cheekbones and up to your temples (as seen on the right). Use a liquid blusher like and apply it on the same way as the highlighter.
Top tip: "Finish by spritzing Hourglass Veil Soft Focus Setting Spray, $48.00 to bring together all the layers and leave you with a natural-looking finish," says Adeola. "It's also a handy product if you need to refresh your makeup quickly."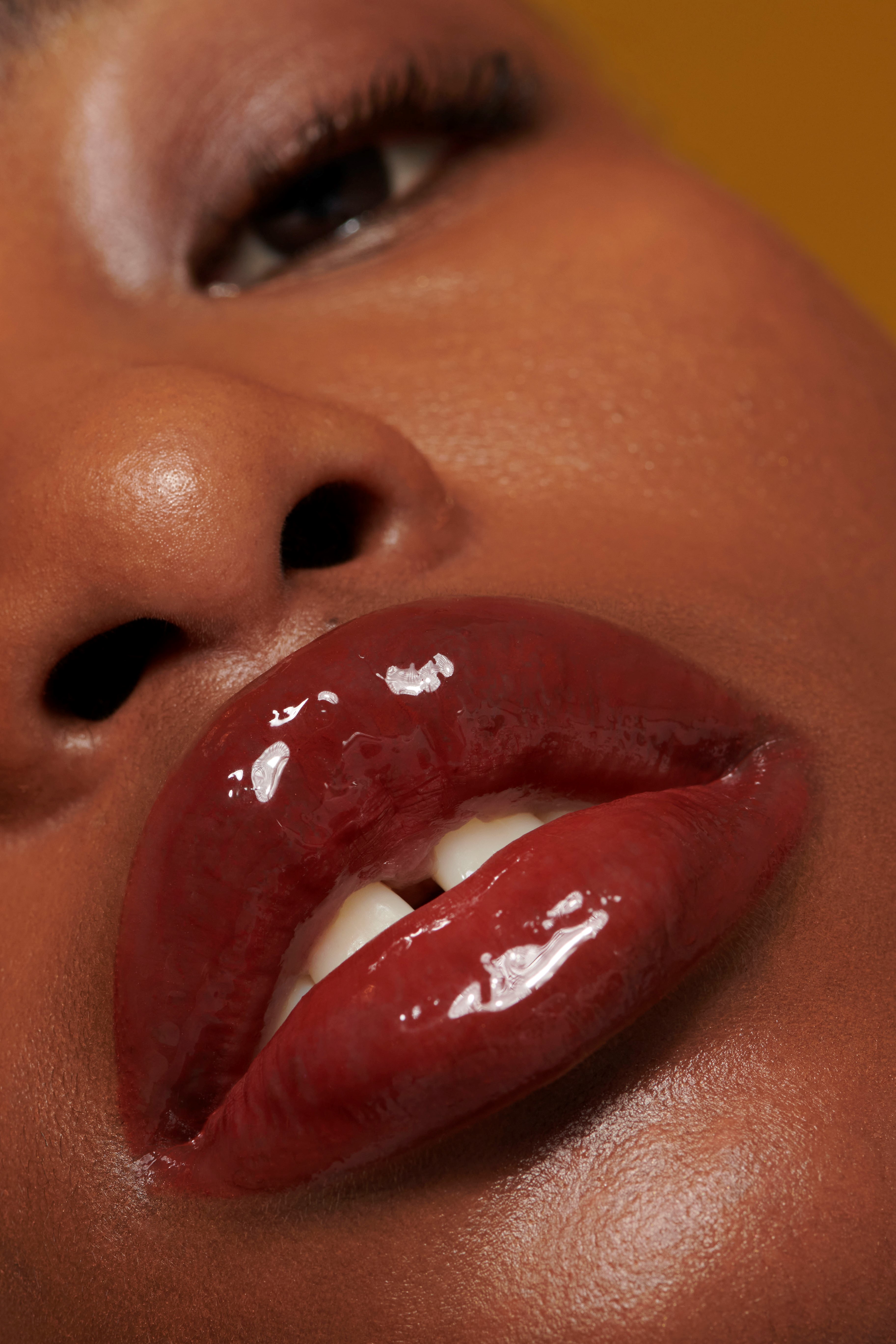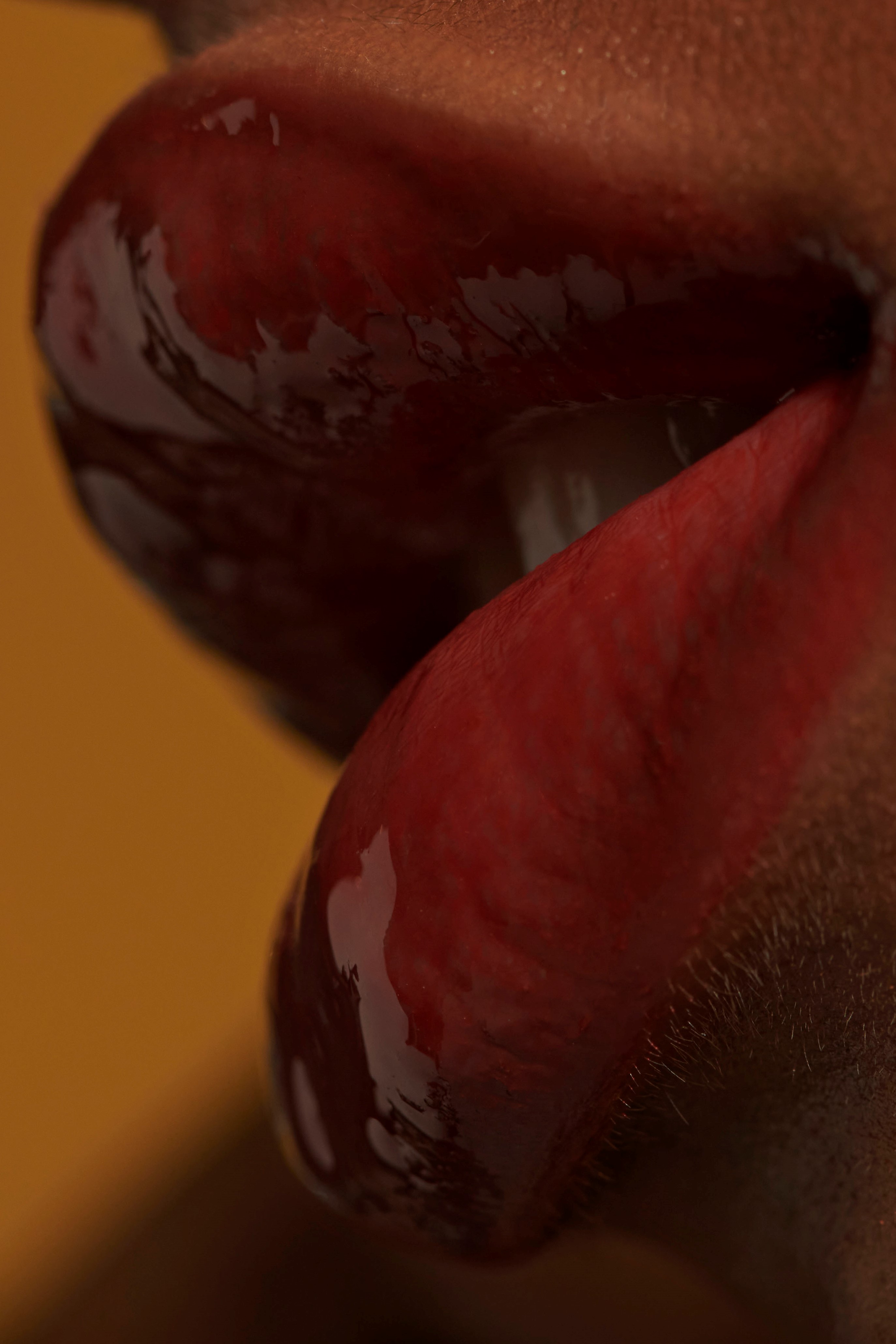 How Wear A Glossy Lip With Radiant Skin
Can you wear a glossy lip with a radiant glow, or is it overkill? That's a question that Adeola gets a lot. "It's all about balance," she says. "Ensure your T-zone and nose are shine-free and keep your glow focused on where the light naturally catches your skin so it isn't trying to compete with the gloss."
Makeup essentials: Hourglass Unreal High Shine Volumizing Lip Gloss, $39.00 combines strong pigment with next-level gloss – Adeola used Icon on Chizoba for this look. If you want even more gloss, layer Kevyn Aucoin Glass Glow Lip Gloss, $31.00 in Crystal Clear on top.
Top tip: Outline and fill in your lips with a liner before applying the gloss to ensure the colour lasts longer. This is an insider trick that will ensure your lip colour lasts all night long, regardless of whether you're going for a matte or gloss finish.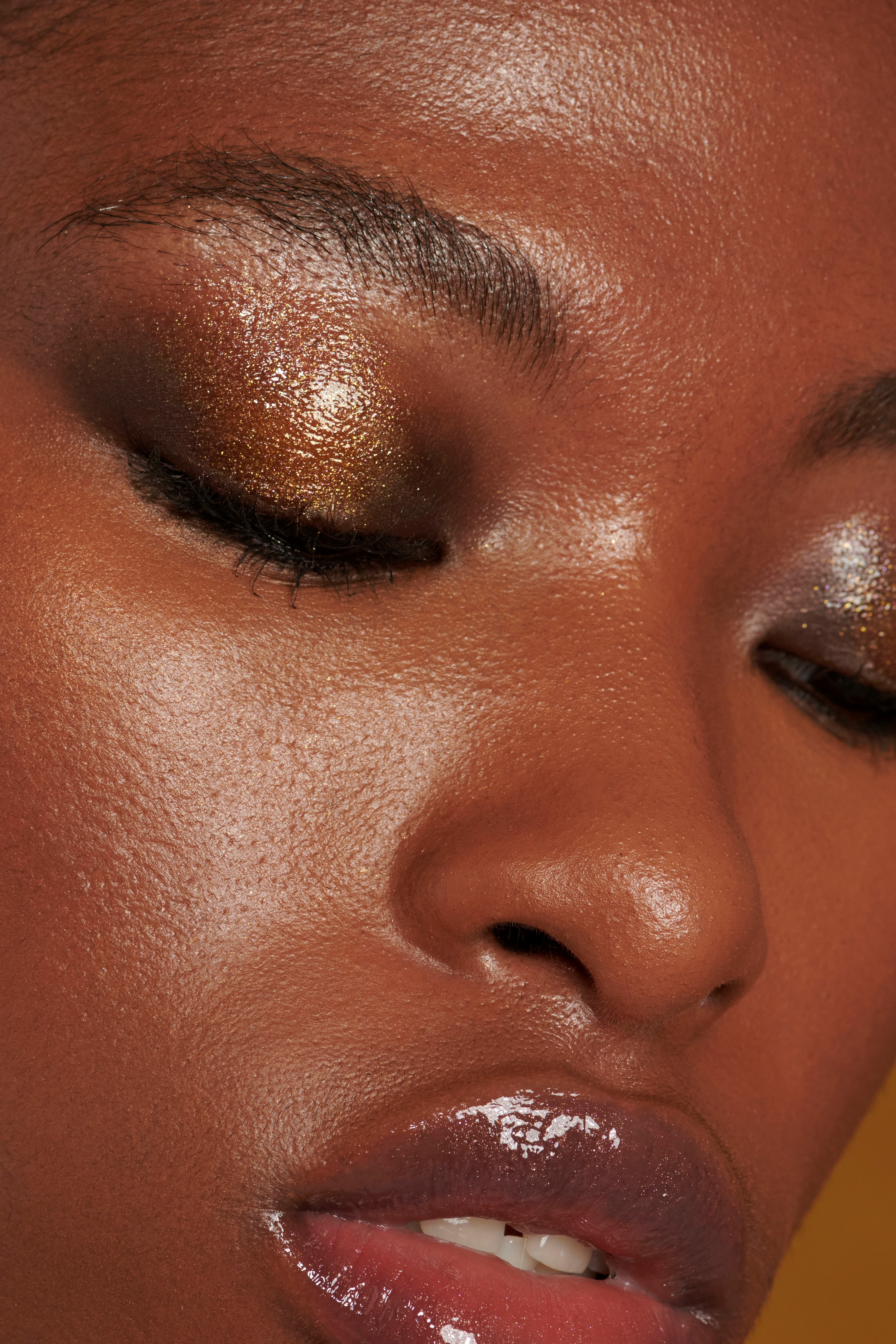 How To Pair A Shimmery Eye With Your Glow
A shimmery, smoky eye is go-to makeup look for a lot of us, but how do you team glitter with glow without looking like a disco ball? "Similar to how you approach a glossy lip, keep it balanced," says Adeola. If you're dialling up the glitter across your eyes, make sure your highlighter is sparkle-free. However, if your eyeshadow is more of a metallic sheen, "adding a gloss, like I did on the righthand side, can enhance your glow, brightening and lifting your entire look," says Adeola.
Makeup essentials: The easiest way to achieve a smoky eye is with the help of a palette as the shade selection is done for you – we love Anastasia Beverly Hills Soft Glam Eyeshadow Palette, $50.40 and Charlotte Tilbury Luxury Eye Palette, $31.80. "Blending is key not just between the shades, but once you've lined your eyes too," adds Adeola. For the gloss finish, Adeola applied the Kevyn Aucoin Glass Glow Lip Gloss with her finger.
Top tip: Play around with where you place the lightest eyeshadow. Concentrating it in the centre rather than the inner corners of your eyes can give the illusion of bigger, rounder eyes.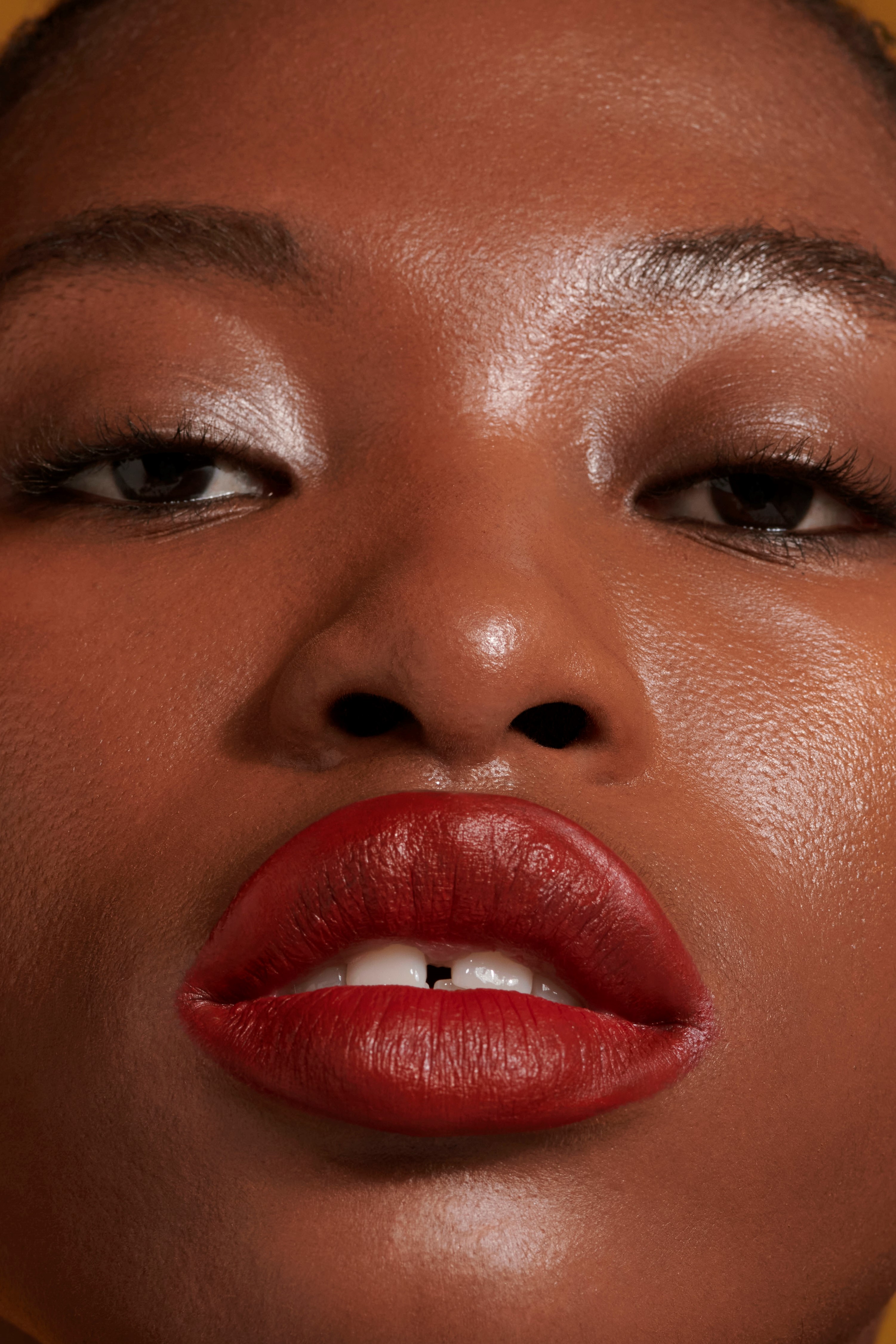 How To Boost Your Glow With A Matte Lip
If you want to make your glow pop, pair it with a matte lip. "The contrast really makes your skin sing and a matte lip has an effortlessness to it that works for almost every occasion," says Adeola.
Makeup essentials: You can be more generous with your highlighter if you're opting for a matte lip and take it into the inner corners of your eye, above your Cupid's bow and above your brows. comes in a range of flattering shades and lasts for an exceptionally long time, even when you're eating and drinking. As with the glossy finish, using a lip liner before you apply your colour will ensure it lasts for longer.
Top tip: Apply a dash of highlighter just below your bottom lip, almost on the line for a fuller-looking finish.