MOST WANTED
Meet The Essential Serum For Sensitive Skin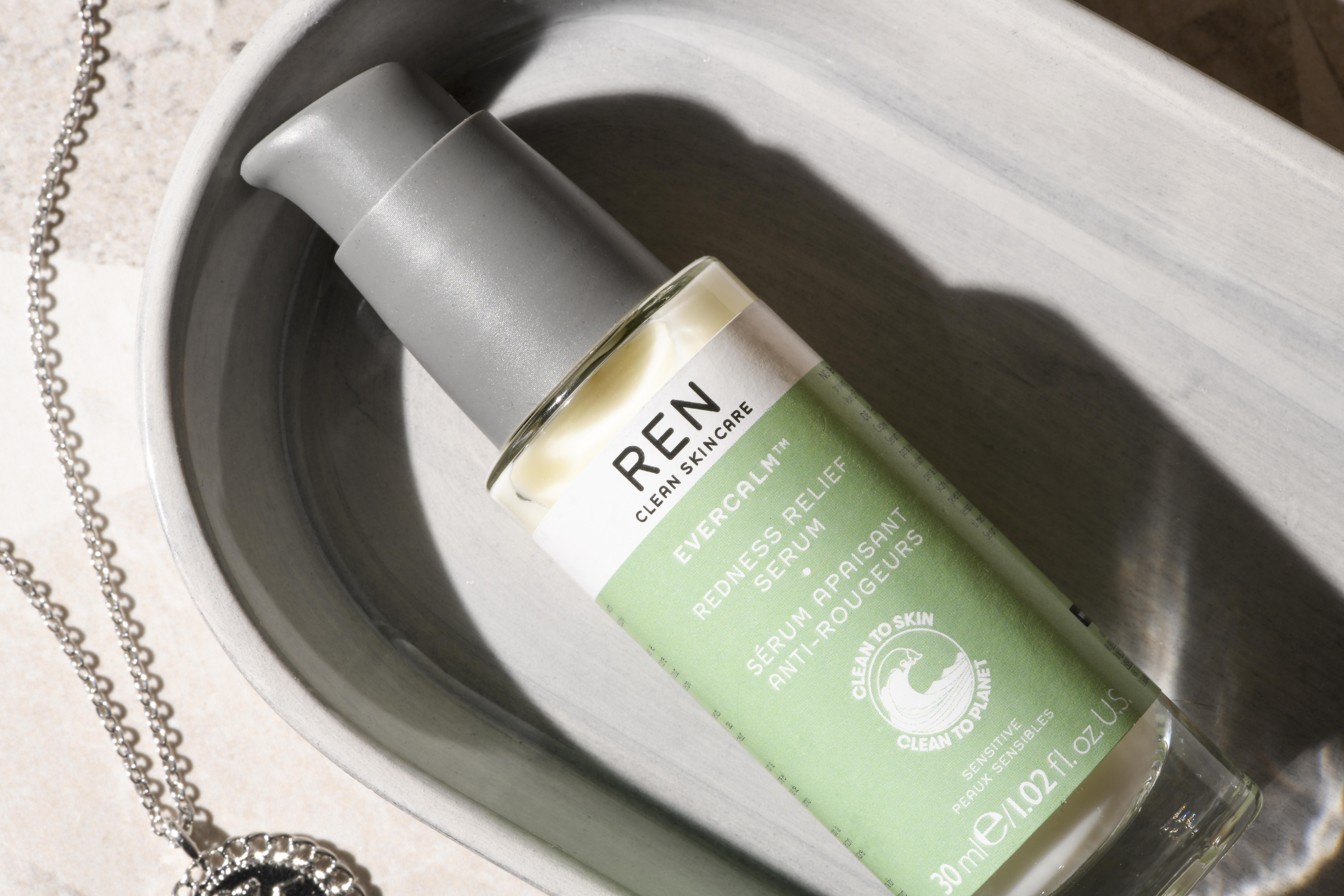 Despite having an effective, pared back skincare routine, I still battle with breakouts and my skin can look red and inflamed. Over the past year, mandatory face masks have made this a more common occurrence. If I'm honest, REN's Evercalm Redness Relief Serum sounded too good to be true, but I incorporated it into my routine to see if it was worth the hype. Here are the four points that stood out for me…
1. It Works Quickly
There is nothing worse than waking up to stressed-out skin - especially if you've got something on that day. I've been caught out on the mornings when my complexion feels aggravated and looks red and patchy, or I've got a breakout brewing under my skin. Usually, I'd reach for concealer and try to hide it, never enjoying the fact I knew I was just masking the situation.

What I love most about Ren Clean Skincare Evercalm™ Redness Relief Serum, $58.50 is that after just 20 minutes, it helps to take down any redness. The formula feels cooling and soothing (even more so if it's been stored in the fridge), helping to minimise any discomfort almost immediately. Which leads me on to my next point…
2. It Sits Well Under Makeup
Not only do I suffer with breakouts and redness, but my skin can be incredibly oily. Most serums, moisturisers and SPFs add to the oiliness and cause havoc with my makeup. REN's serum sinks in quickly and is almost undetectable after a few minutes. I'd actually go as far as to say I like the look and feel of my skin after using it and consider this a redness-relief primer. My top tip? Try pressing it onto your skin rather than rubbing it in. This helps to reduce any friction which can aggravate your skin even further.
3. The Formula Is Very Gentle
Believe it or not, some products designed for sensitive skin can still cause irritation. REN, however, has really nailed kind-to-skin formulas and uses 100% plant and mineral-derived ingredients. The magic ingredient in this particular serum is white mushroom extract, which helps to calm redness and ease sensitivity. It's also packed with beta-carotene (a potent antioxidant) and biosaccharide (a humectant), which bring the added benefit of protecting your skin from environmental pollution and keeping it hydrated. For this reason, I've been using it every day as part of my morning routine.
4. There Are Long-Term Benefits Too
Together beta-carotene and biosaccharide not only helps to shield skin from potentially sensitising free radicals, they also get to work by strengthening your skin barrier. A damaged or compromised skin barrier can be one of the biggest reasons for skin sensitivity, so it's good to know that over the long-term this serum will also help to ensure my barrier is happy and healthy. Even on days when my skin isn't overly red, I've still been applying a thin layer under my SPF and, touch wood, my skin hasn't been misbehaving as much as usual.