SPACE SESSIONS
Whitney White AKA @Naptural On How To Embrace Your Natural Curl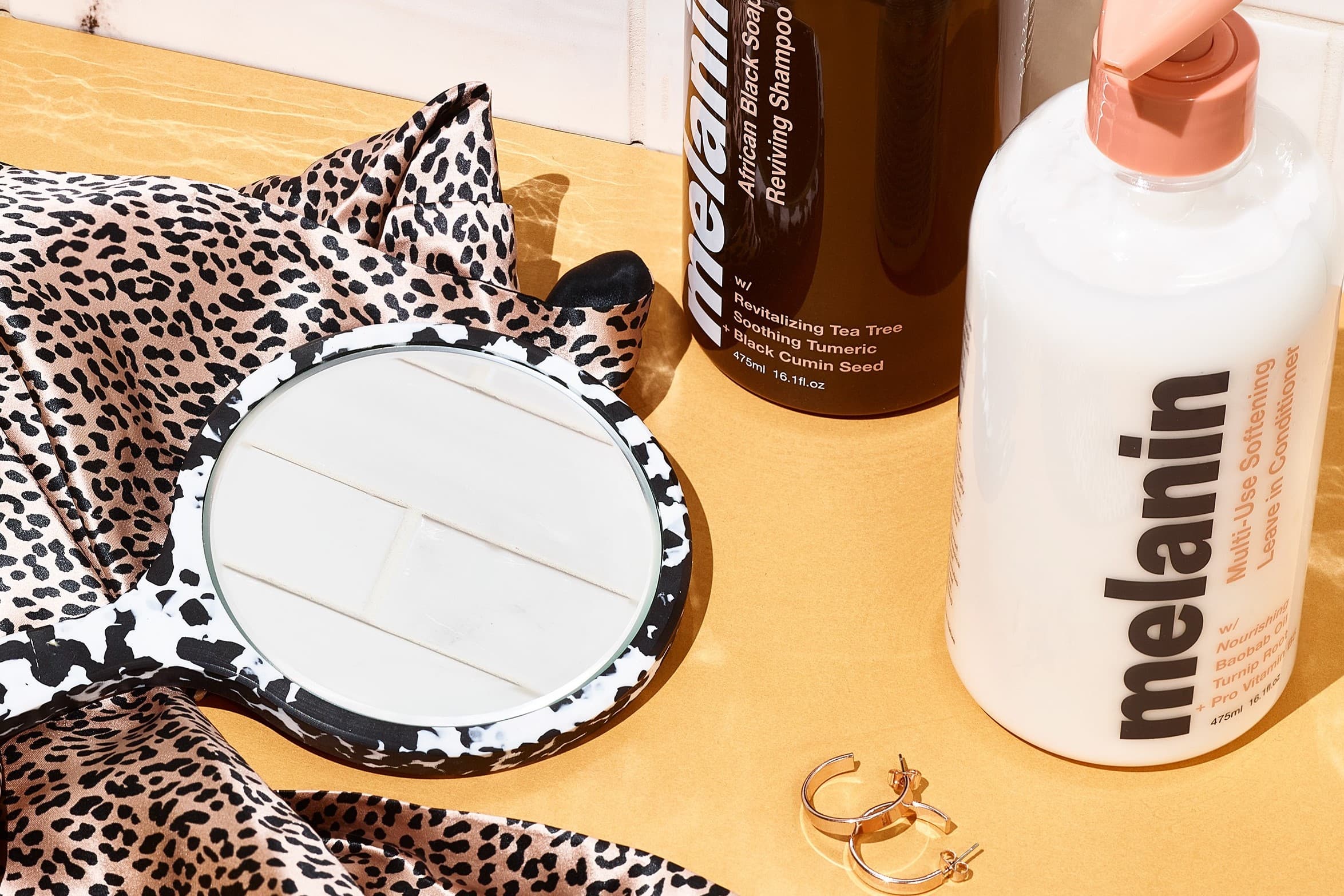 "What I couldn't find on the shelves to benefit my hair, I made for myself." We're talking to Whitney White, curly hair advocate, and co-founder of
Melanin Haircare
- a sister-created company with a passion for natural haircare,
healthy scalp
care and safe ingredients. Its purpose? To allow all hair types, whether curly, coily, wavy or straight, a chance to shine by giving us access to luxury hair products at an affordable price tag.
As Whitney puts it, "finding the right hair products to nurture and support healthy hair growth were key to embracing my natural hair texture," and she wants to share that same hair love with others. Has she always felt this way about her natural curls? Surprisingly, no. We caught up with the brand founder to hear her hair story.
My curl love has grown
I didn't always love having curls. Growing up, the message I was given was that my hair was "unruly" and needed to be controlled or hidden. Most of my life I wore my hair chemically altered to be straight. It wasn't until I grew older, and became more appreciative of my unique beauty, that I began to understand and love my curls!
Curly hair needs moisture
The ingredients most important to natural curls are those that moisturise and strengthen. Straight hair, when healthy, is sturdy from root to ends. Curly hair on the other hand (even when healthy) can be sturdy in some places and weaker in others where the curl of the hair bends. The more bendy, or coily, the hair, the more likely you are to find weaker spots in the hair shaft.
It's really important to make sure you're moisturising your curls to increase the flexibility and ensure the hair won't snap. Strengthening ingredients can also reinforce those weaker spots. Pro vitamin B5 (also known as panthenol), cetearyl and/or cetyl alcohols (also known as fatty or beneficial alcohols), and hydrolysed vegetable proteins such as soy or wheat are my favourite ingredients to moisturise and strengthen curls.
My curly hair routine
If my hair feels neglected after a busy week, I'll detangle and section it before shampooing to make the cleansing process quicker, and to avoid making the tangles worse as I massage my hair and scalp. The Melanin Haircare Multi-Use Softening Leave In Conditioner, $25.00 and Melanin Haircare Multi-Use Pure Oil Blend, $23.00 are great to detangle, soften, and smooth. After the pre-poo, I cleanse my hair and scalp in the shower with the clarifying Melanin Haircare African Black Soap Reviving Shampoo, $25.00. My tip is to use the handy nozzle cap directly on your scalp, then massage and smooth the additional lather down the hair shaft.
After rinsing away the shampoo, I add the Multi-Use Softening Leave In Conditioner from roots to ends, working section by section to detangle and twist with my fingers. If I need to add more leave-in conditioner I will, and then I smooth Melanin Haircare Twist-Elongating Style Cream, $22.00 into my coils, working section by section using the prayer hands motion. I follow with Multi-Use Pure Oil Blend to help lock in the moisture and nutrients.
How I style my curls
Sometimes I'll define my curly style with a gel, other times I'll opt for a softer look and will stop with hair oil. For a more stretched look, and to get the most out of my length, I sometimes re-twist my hair in large sections and release my curls once the hair has dried. There are so many different ways that I like to style my hair, but these are my favourites.
The one product I can't live without
The Multi-Use Softening Leave In Conditioner is my holy grail product! I love all of the products in the Melanin Haircare line, but if stranded on an island, I'd reach for the leave in conditioner. My hair needs so much moisture to make it easier to style and maintain its health. The Multi-Use Softening Leave In Conditioner helps to instantly hydrate, smooth, and calm my hair cuticle. My hair just loves it!
For defined curls, steer clear of these ingredients
Ingredients that dry the hair out and block the hair shaft from being able to absorb moisture should be avoided when trying to make the most of your curly hair. Moisture is key to bouncy, shiny, and healthy- looking curly hair, and ingredients such as the "bad" short-chain alcohols, SD, ethanol, and isopropyl alcohols, sulfates, mineral oils, and dimethicone are usually used to enhance the look of a style but do little to help promote the health of your curly hair. If you must use these ingredients (they can't always be avoided), be sure to clarify your hair as soon as you're finished with that style to thoroughly remove them.
You can restore lost curls
When your curls are simply weakened, overloaded with old product, or have been heat-trained over time from constant hot tools, there are a few things you can do to bring them back.
Dull, flat curls are usually due to product overload. If you have product sitting on the hair and scalp, over time it adds weight and blocks the hair's natural sheen from shining through. A simple clarifying shampoo or treatment to help rid the hair and scalp of the product will do wonders.
In the case of neglected curls that have been damaged due to constant hot tools, a weekly deep conditioning treatment that contains protein can help fill in any weaker spots on the hair shaft, to slowly reinforce your curl pattern.
Everyone can love their curls
My most important advice to anyone looking to embrace their natural hair texture is to figure out what your hair naturally wants to do. Explore how your curls, coils or kinks like to sit, and create hairstyles that work with your natural texture, rather than always trying to fight it. Understanding your hair does take time, especially if you've never worn your natural texture, but don't give up. There is a learning curve that we've all had to experience and there is light at the end of that tunnel and it's beautiful and uniquely yours. Embrace that journey.
Read More
• Best Routine For Textured Hair
• How To Restore Your Hair Colour Post-Summer • The Skinification of Hair
• Briogeo vs Olaplex? Which one is Better? • How to Achieve the Glass Hair Look