IN FOCUS
Behind The Brand: May Lindstrom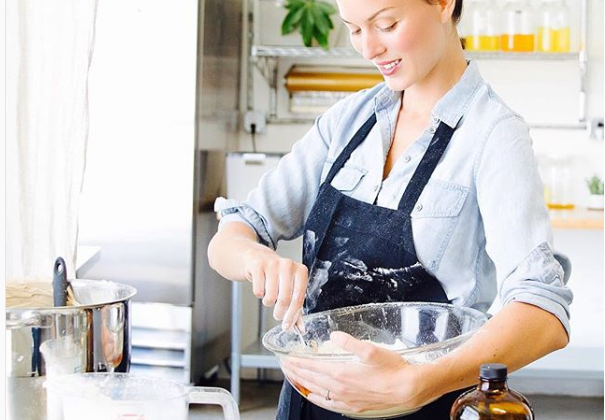 A truly personal exploration of skincare, May Lindstrom Skin is a unique brand, created and guided by namesake May. The brand offers a personal touch and emotional connection alongside all-natural, hand-blended formulas that come stamped with a birthday – to date the product and ensure absolute freshness, it's a brand unlike any other. We couldn't wait to delve into May's story.
In The Beginning
May Lindstrom Skin officially launched in 2012, but May's adventures in skincare began much earlier than that. "Growing up, I would spend full days mashing wild plants into a pulp and covering myself, and everyone who would humour me in 'potions' made from these vibrant green liquids. I have been a formulator of sorts from the very beginning."
With highly sensitive and chemically reactive skin, May spent much of her twenties creating bespoke formulations for her own use, and for others suffering with extreme skin conditions such as severe acne, psoriasis, eczema, dermatitis, and even radiation burns from chemotherapy. "I yearned to create something that was simply luxurious and lovely, and yet still offered the level of efficacy that I had seen truly transform the skin of my clients."
For many years May immersed herself in the study of plant medicine blends, focusing on those that helped to ease pain and inflammation, an endeavour that led to many breakthroughs resulting in the 2012 launch of May Lindstrom Skin. "This also happened to be the same day that my first child came earthside and my life shifted forever. Since that day, my small family – and my small family business have grown together."
All About Ingredients
May's highly sensitive complexion led her to the natural world as "traditional skincare wreaks total havoc on my complexion" she explains. In the small town she grew up in there were no chemical-free options, so she found herself reading and learning about natural ingredients from a very early age. Nowadays every ingredient used in May Lindstrom Skin is organic, bio-dynamic, wild crafted, cruelty-free, sustainable and environmentally and socially conscious. There are no parabens, propylene or butylene glycols, petroleum, sulfates, PEGs, TEA, DEA, phthalates, GMO, silicones, pesticides, artificial dyes, fragrances, fillers or carcinogens. So, what is in those beautiful black jars and bottles?
Each and every product is created in the studio kitchen at the May Lindstrom Skin headquarters in LA. Every ingredient comes straight from the earth and there are no shortcuts and all the ingredients are meticulously sourced, checked and blended by May's small team.
What To Try?
Following May's passionate dedication, The Blue Cocoon is top of our must-try lists. It's an unusual multi-tasking product, so use it as a daily moisturiser, or applied to wet skin directly after cleansing – the balm formula turns to a fluid-oil and instantly softens, soothes and hydrates. It also works as a moisturising eye cream, and thanks to the anti-inflammatory benefits of blue tansy it's ideal for rosacea, eczema, acne or as a spot treatment during a breakout.
The Magic of May
It's inspiring to see someone doing it differently, and May Lindstrom certainly is. Whether it's her production line, where "each bottle is filled, shined, stamped with its birthday and each box lovingly packed as though it's Christmas" through to her packaging, which is fully recyclable: "I've put an immense amount of thought and energy into creating the most gorgeous packaging I could dream of, but a focus on environmental consciousness and respect is also vital to our foundation. Our planet has given me everything, and I desire for our efforts to give back."