IN FOCUS
How To Boost Your Glow With Skincare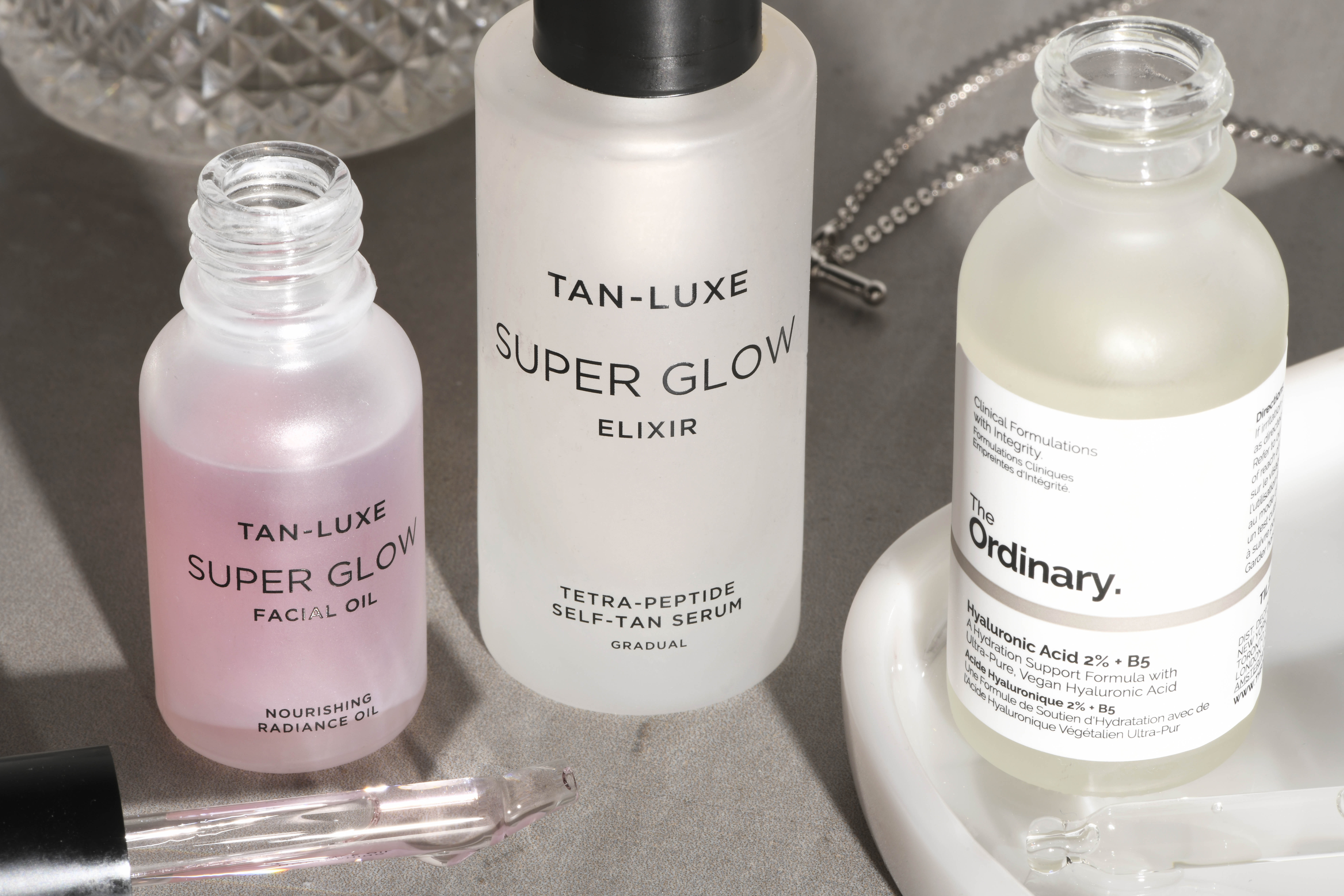 Highlighters and illuminators are usually the first port of call if you're trying to achieve a fresh, healthy glow, but skincare can play an important role. Finding a good exfoliating treatment and enlisting the help of hydrating ingredients, including hyaluronic acid, can seriously help to boost your glow. Here are three quick and simple steps to improving your skin's radiance with skincare…
Step 1: Gently Exfoliate
Dry, dead skin cells can have a dulling effect on your complexion, so regular and gentle exfoliation is a fundamental step to enhancing your radiance. Rather than scrubbing your skin with a physical exfoliator, opt for an exfoliating toner such as Summer Fridays Soft Reset AHA Exfoliating Solution, $54.00, which has a blend of 16% AHAs (alpha hydroxy acids) to smooth and polish, along with hyaluronic acid to hydrate and niacinamide to refine and strengthen your pores. If you have super sensitive skin, look to Kiehl's Daily Refining Milk-Peel Toner, $56.50, which uses the gentler lactic acid to exfoliate. Both can be used daily, or every few days, and should be applied after your cleanser and before your usual serum or moisturiser.
Step 2: Hydrate, Hydrate, Hydrate
Hydrated skin looks and feels firmer, plumper and more radiant. If you don't already, add a hyaluronic acid serum into your skincare routine. Hyaluronic acid is a hydrating heavyweight and can hold 1000 times its weight in water and its suitable for all skin types and ages. Plus, there's a serum for every budget, from The Ordinary Hyaluronic Acid 2% + B5, $10.50 straightforward formula to Dr. Barbara Sturm Hyaluronic Serum, $320.00 version which includes Dr. Sturm's signature purslane to soothe your skin. Votary Brightening Hyaluronic Serum, $97.50 combines hyaluronic acid with glycolic acid, a powerful AHA), making it the perfect option for anyone who wants to combine step one and two, or minimise the amount of beauty products they're using.
Step 3: Dial Up The Glow
While summer might be feeling like a distant memory, you can hang on to your tan and retain that gorgeous healthy glow with a little help from self-tan. Brands like Tan-Luxe and Isle of Paradise have tanning drops that can be added into your serum or moisturiser to top-up your glow. Using two-to-three drops once a week is plenty to boost your glow without looking overtly tanned. If you have a paler complexion and would prefer a premade formula, look to Amanda Harrington's Perfect Face Ultimate Gradual Tan and swap it in twice a week instead of your usual moisturiser. The formula mimics the way your skin tans over time for the most natural finish.
And, If You Want More Glow…
Whether it's a dot of highlighter in the inner corners of your eye to lift dark circles or a wash of illuminator across the tops of your cheekbones to enhance your natural bone structure, we recommend investing in Hourglass Vanish Flash Highlighting Stick, $46.00. The handbag-friendly stick offers the subtlest hint of radiance without glitter for a flattering, natural-looking glow. Glide the balm directly onto skin and blend gently with your fingers – it takes seconds and feels effortless.