IN FOCUS
3 Steps To Dial Up Your Glow For Spring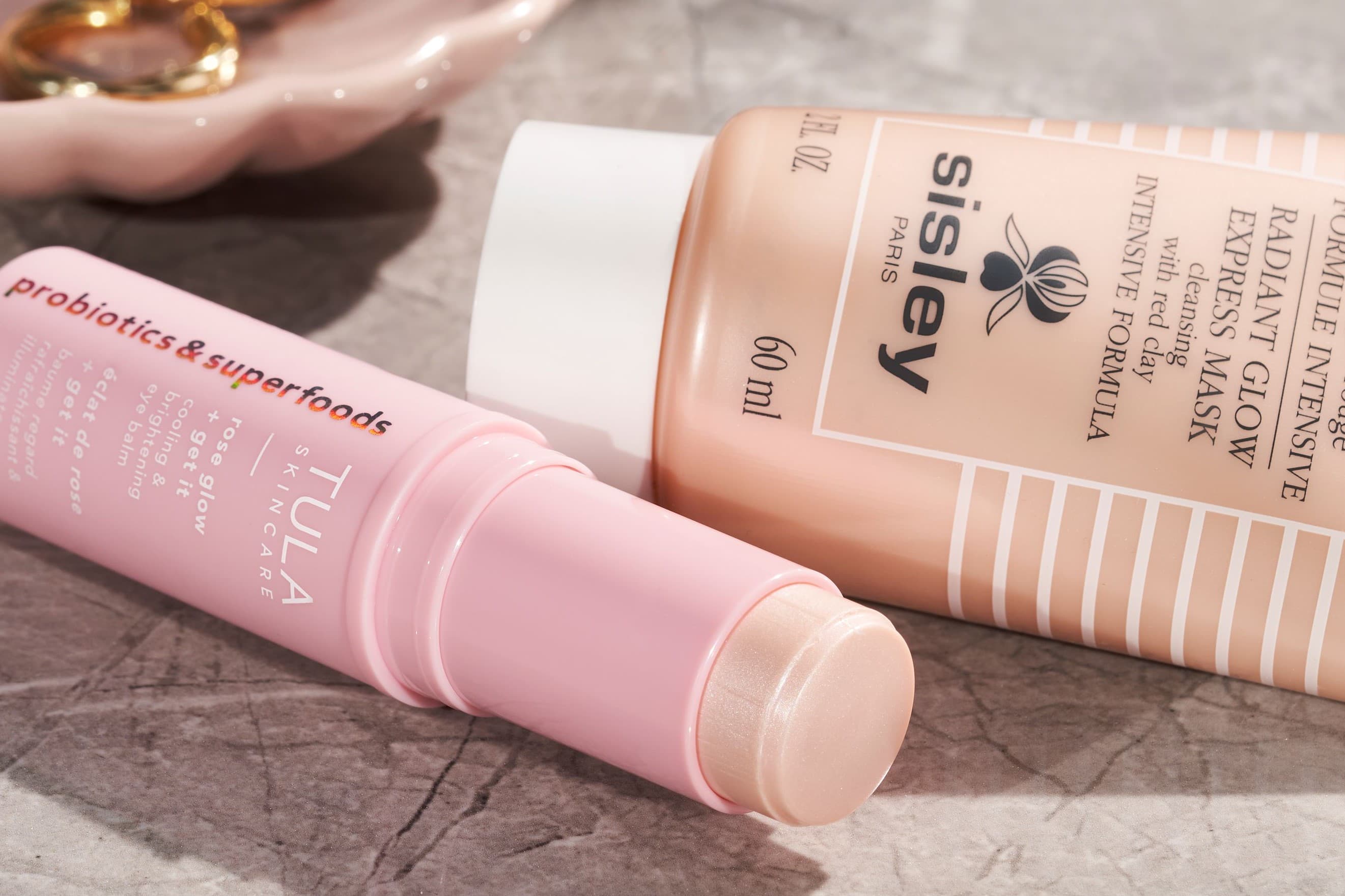 Healthy, radiant, glowing skin is a universal beauty goal that spans all ages and skin tones. The backbone to glowing, glass skin is a strong, healthy
skin barrier
that locks in hydrating and bats away environmental aggressors. With spring and brighter days coming up, it's time to switch up our routine and go for the products that will effortlessly add that glow. We love this season, the days are longer, warmer and our skin naturally looks less dull and brighter. While hydrating and glow-giving formulas are still a must, it's also the time to reach for skin-clearing formulas for those days when we can be extra-congested.
"How do you get glowing skin?" you might ask. Well, while
highlighters
and illuminators (we're looking at your VIEVE Skin Dew) offer that instant, feel-good glow, hydrating skin is the answer to longer-lasting radiance. Here is our three-step routine to getting naturally glow skin…
Our Top Tips for Glowing Skin
Step 1: Exfoliate Away The Dead Skin
Exfoliation is the first step to get glowing skin as it removes dead surface skin, loosens blocked pores and boosts collagen production. Formulas that incorporate AHAs and BHAs will offer a well-rounded exfoliation and there is a huge selection of acid toners, pads or treatment masks.
We love to use the Dr. Dennis Gross Alpha Beta Universal Daily Peel, € 25,00 once or twice a week and never fail to be impressed by how radiant our skin looks after. If you have sensitive skin or a damaged skin barrier, opt for gentler exfoliating acids, such as PHAs (Dr. Jart+ Pore Remedy PHA Exfoliating Serum, € 23,00 is gentle but effective).
Aside from exfoliating acids, a good clay mask is always a great way to clean out your pores, get rid of the dead skin and reset your skin. We love the Sisley-Paris Radiant Glow Express Mask, € 108,00, to help wash the day away and give our skin that instant glow we all crave. The viral Caudalie Vinergetic C+ Instant Detox Mask, € 28,00 is another favourite we love to have on hand to help get rid of stubborn congestion.
Step 2: Layer Your Hydration
K-Beauty has influenced our skincare habits over the past few years as we all strive to have that clear glowing skin that reflects the light and allows you to channel the 'no makeup' makeup effortlessly. The K-Beauty approach is rooted in having a thorough skincare with essential steps like double cleansing, but there's also a heavy emphasis on hydrating ingredients. We are big fans of some the heroes such as hyaluronic acid and squalane, and actively look for both ingredients in our serums and creams.
Skin flooding advocates layering lots of hydrating serums, but we prefer to find the formulas that work best for our skin. Our current favourites include the Tatcha The Dewy Serum, € 101,00 for that real 'glow from within' look and Révive Moisturizing Renewal Oil Triple Defense Hydrator, € 205,00 for a three-pronged approach to hydration. In terms of the best face creams, we like to keep it light with January Labs Moisture Balancing Lotion, € 29,00.
For an extra glow and to protect your skin barrier healthy, make sure you wear a sunscreen. SPF is the ultimate skincare step to keep your skin happy and healthy, and Ultra Violette Supreme Screen Hydrating Facial Skinscreen SPF 50+, € 39,10 is super lightweight and glow-boosting.
Step 3: Opt For A Glowy, Luminous Base
With the glowing, glass skin look, you can choose to go bare skin, or you can opt for a sheer, radiance-boosting base. Illuminating primers are very 'in' right now – worn alone or underneath your foundation, look to VIEVE Skin Dew, € 25,00 for inspiration and check out Jamie Genevieve's makeup trick with Skin Dew and VIEVE Modern Radiance Concealer, € 28,00.
For those who like some coverage, the Summer Fridays Sheer Skin Tint, € 46,00 is a great option as it leaves the perfect glowy finish. At the end of your makeup, you can finish with a touch of highlighter. Remember though, the goal of achieving naturally glowing skin is to show of your complexion rather than hiding it with makeup. You can also go for an illuminating stick like the Tula Skincare Rose Glow & Get It Cooling & Brightening Eye Balm, € 32,00, aside from brightening the undereye area, we also love it use it on the high-points of the face for that natural, no-makeup makeup glow.
Some Daily Habits to get Glowing Skin
Having glowing, radiant skin is not just about skincare and makeup, it's also about having healthy daily habits that will impact the way your complexion looks from the inside out.
Drink more water:
You've heard this before and you'll hear it again, but drinking water is so important to keep your body and skin healthy. You can use all the hydrating skincare you want, but without consuming enough water your skin will still look dull and dehydrated.
Sleep 8 hours a day:
Those precious eight hours when you're sleeping are when your skin is regenerating and repairing any damage caused during the day. Not only will a lack of sleep stop you from functioning properly, it also prevent your skin from looking its best.
Eat healthy, balanced meals:
Nutrition is a big part of getting glowing, healthy skin. You can use the best skincare but if you're not getting the right nutrients from within, it will show on your skin.
Our Final Thoughts On Getting the Glow
Getting clear glowing skin requires a 360 approach, taking care of your health and sticking to a good skincare routine. It also takes time (unless you have VIEVE's Skin Dew or Charlotte Tilbury Hollywood Flawless Filter, € 40,00 in your beauty arsenal). Incorporate our three steps into your routine, listen to what your skin needs and lean towards hydrating products to nourish your skin barrier, and you will achieve that healthy, glass skin look in time, we promise.
Read More
• Review of Drunk Elephant Bouncy Brightfacial
• Everything You Need To Know About Skin Flooding • Everything You Need To Know About Skin Cycling
• How To Use A Gua Sha