IN FOCUS
Clay Mask Benefits And How To Find The One For You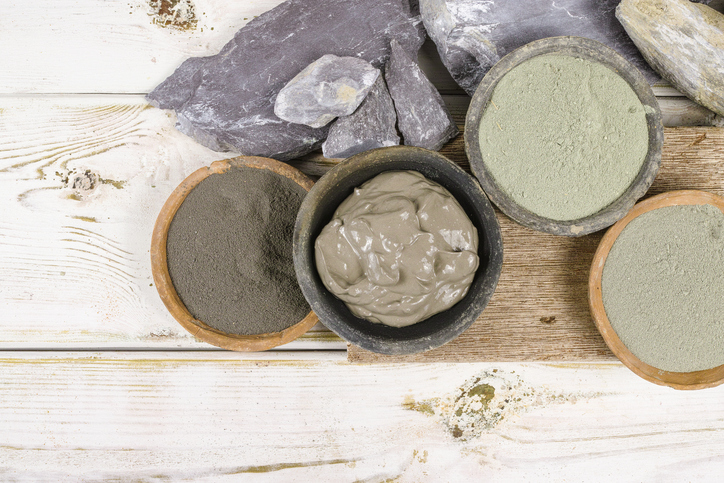 Natural clays, such as bentonite, kaolin and pink clay, have been used throughout history to protect skin from the sun and treat infections, burns and other ailments. We've come a long way since then in terms of clay mask benefits and now kaolin clay masks, bentonite clay masks and pink clay masks are routinely used to help unclog pores, promote even skin tone and suck up excess sebum.
Clay mask benefits are many and they are particularly beneficial as part of a wider skincare routine for
oily and acne-prone skin
. "Clay masks are beneficial for oily and congested skin types," explains Erin Carter, a facialist at
Skin Work
in London. "They help to draw out impurities and oil, leaving skin feeling balanced. They're also excellent for brightening skin."
If you are wondering if mud is good for your skin, you are right, they are. Clay is essentially mud and the clay found in most facial masks is extracted from water with extremely high mineral content. Bentonite clay for example was first discovered in River Rock in Wyoming and is now a popular go-to for acne treatments, while red, yellow and white kaolin clay was first discovered in China, French clay is - you guessed it - sourced from France and rhassoul clay is unique to Morocco and renowned for its high mineral content. Essentially, no two clays are the same. They may look similar but each has its own uniqueness that makes it an ideal treatment for a particular type of skin. This is what you need to know.
What are Clay Masks and What Do They Actually Do?
Clay masks are exactly that, they are a topical treatment that you paint onto cleansed skin and leave on for a set time. They're applied wet but as they dry, they absorb any excess oil, bacteria and pore-clogging debris from the surface of the skin. The results are fairly impressive and instant, making them an excellent quick fix for skin that's looking a bit ropey before an important event or special makeup application.
Benefits of Clay for Skin
Facialists and aestheticians often use a clay mask step during a facial treatment to remove oil and minimise the appearance of pores and, similarly, makeup artists - especially those who prepare clients for red carpet events, photoshoots and fashion shows, often call on them to create a smooth and balanced surface for makeup application. If you're getting married, 10-minutes with a clay mask in the morning before going into makeup can help to keep shine at bay and prolong your makeup.
There are different types of clay masks and while they certainly have a similar action on skin, they each have their own unique quirks that make them suited for a specific skin type or result.
Kaolin Clay Mask
Kaolin clay was first sourced in China but now it can be found all around the world. It can be found in a trio of colours, white, yellow and red which, when combined, create pink clay. Kaolin in a gentle clay and not too drying so if you have sensitive, reactive skin but want to draw out excess oil and mattify your skin slightly, this is a great option.
Bentonite Clay Mask
Bentonite was originally found in Wyoming, USA, but again it is now sourced from multiple locations around the globe. It contains mostly montmorillonite and is created when volcanic ash meets sea water. It can also appear as a pink clay but this particular clay can only be found in France. Facialists love to use bentonite to calm acne and inflamed skin.
Rhassoul Clay Mask
Rhassoul clay can only be found in the Atlas Mountains in Morocco. It's a brown clay rich in stevensite and magnesium so it's an excellent choice for skin that feels imbalanced and quick to react or become sensitive.
Side Effects of Clay for Skin
When using a clay mask, of any kind, it is important to only leave it on the skin for the set amount of time in the directions. We know that clay is an excellent ingredient for absorbing oil but if it's left on the skin for longer than instructed it can begin to remove valuable moisture too, leaving skin feeling tight and dehydrated.
Erin agrees, "There are many great leave-on or overnight masks, but clay masks are not among them. Only leave it on for the stated length of time and then remove it thoroughly with a warm mitt or flannel."
Kaolin clay is the gentlest of them all so if your skin is feeling particularly sensitised it is a good option. If you are using bentonite clay on your skin to help heal acne then, again, only use it for the directed length of time to avoid creating further inflammation.
How To Use Clay In Your Skincare Routine
Clay masks should be a regular step within your routine but a weekly treat rather than a daily staple. Apply a generous layer to cleansed skin (we like to use a skincare or makeup brush for an even application) and allow it to work for the time directed.
If you have combination skin and really only find yourself oily or prone to breakouts in certain places, such as the T-zone, you can apply a clay mask just to those spots and use something more hydrating elsewhere on your skin. For acne treatments, only use a clay mask if your skin is feeling settled. If it's particularly angry and you have open or weeping spots, then they're best left alone.
Clay masks are excellent prep for makeup when they're used an hour-or-so before. Once your skin is touch dry after removal apply a good amount of moisturiser to rehydrate and allow that to settle before going in with your foundation or concealer.
For a more pampering moment, we love to combine a clay mask with steam to really clear out pores and create a clean and balanced canvas. Apply your mask and allow it to dry slightly. Once you start to feel the clay tighten on your skin, pop your face in front of a steam or above a hot bowl of water for the remainder of the treatment. Additionally, Erin likes to combine a clay mask with facial massage, "Once you have applied the mask to your skin try adding a drop of water to loosen the texture and continue to massage it in. Pay attention to the areas of congestion, such as around the jaw or nose. This is a really great way to create an effective treatment at home."
One thing to note, once dry clay masks can be a challenge to remove. If you find this the case try misting your skin with a facial spray or adding a drop of facial oil to your skin to loosen the clay, before removing with a warm and wet flannel or mitt.
Our Favourite Clay Products for Skin Benefits
A lot of skincare brands offer clay and mud masks, but these are the three the Space NK editorial team come back to time and time again...
It's a bestseller for Fresh for a reason. This clever clay mask helps to cleanse skin and unclog pores without stripping your skin of natural oils. With the help of Umbrian clay, chamomile flower and lavender water, your skin in left feeling soft, smooth and clean, rather than tight.
This is our go-to clay mask for when we're getting ready for a special occasion. In true Charlotte Tilbury form, this mask helps to create a smooth canvas before you apply makeup. While kaolin clay gets to work, sweet almond oil and calming frangipani flower extract helps to rebalance skin. For maximum results, try wearing this mask in the shower as the steam will open your pores.
Designed with acne-prone skin in mind, Malin + Goetz's clay mask is the one we recommend to friends complaining about breakouts. Kaolin clay takes centre stage to draw out impurities, while witch hazel and arnica help to calm skin and act as anti-bacterial superheroes.
Final Verdict on Clay Masks for Skin
Clay mask benefits have been appreciated since the dawn of time and that's not surprising. They are an excellent treatment for helping to regulate sebum, reduce shine, minimise the appearance of pores and calm acne and sensitivity. Make them a part of your weekly pamper routine.