MOST WANTED
Our Rare Beauty Soft Pinch Liquid Blush Review 2023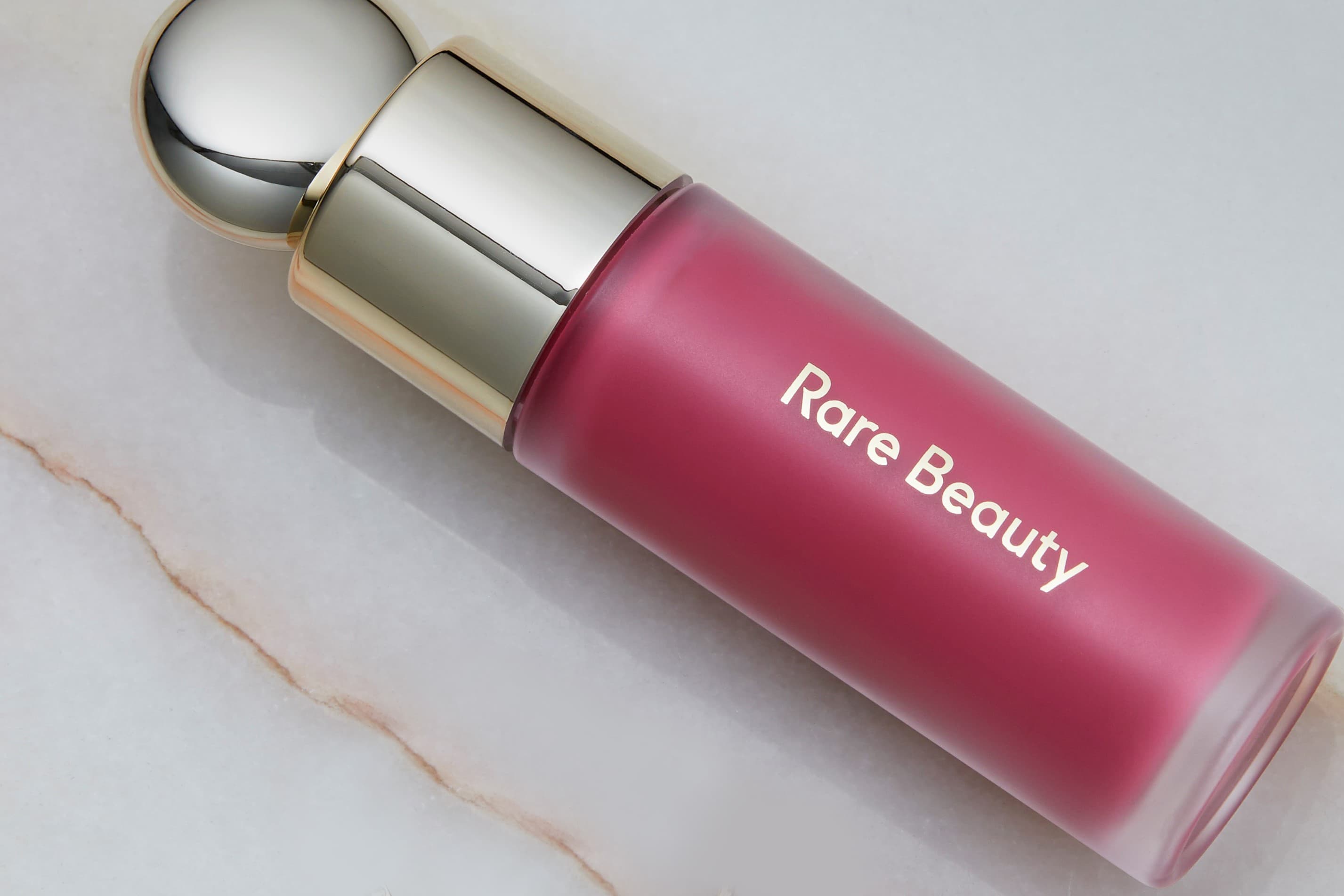 Selena Gomez
is the most followed woman on Instagram with over 427m followers. The singer, actress, producer and businesswoman isn't doing too badly on TikTok either with 59m followers. Selena's fans, also known as 'selenators' are incredibly loyal, so when Space NK launched
Rare Beauty
in February 2022 we were prepared for products to fly off the shelves.
Fast forward 18 months and
Rare Beauty products
are still proving incredibly popular, so much so, we can't keep some of the lines in stock. Several shades of the
Rare Beauty Soft Pinch Liquid Blush
are regularly out of stock.
On TikTok #rarebeautyblush has had a whopping 1.6 billion views, while #rarebeautyblushreview has had an impressive 22.4 million views. Itsmelissajayn was one of many Space NK customers to give Rare Beauty Soft Pinch Liquid Blush a five-star review: "I was so excited to try this after seeing it all over social media! It's stunning the colour is beautiful, you only need the tiniest amount, and it looks amazing. I would strongly recommend this blush, it's so easy to apply!"
Why is there so much hype around this particular blusher? How long does Rare Beauty blush last for? And what are the best shades? We've answered all your questions and asked three of the Space NK team to share their thoughts. Our SEO content coordinator Hanitra Ramaholimihaso, beauty editor Victoria Hall and online merchandiser Viv Samuels road tested three different shades and shared their honest review of Selena Gomez's Soft Pinch Liquid Blush. Skip straight to
Hanitra's Rare Beauty Soft Pinch Liquid Blush review
.
What are the shades of Rare Beauty blush?
There are 13 shades of the Rare Beauty Soft Pinch Liquid Blush ranging from soft, peachy nudes to rich, berry pinks to cater to all skin tones. Four of the shades come in a matte finish, including Bliss (a pinky nude), Love (a soft terracotta), Grace (a bright mauve) and Faith (a rich berry).
There are also nine dewy finish blushes: Hope (a blushed nude), Virtue (a warm peach), True Rose (a rosy pink), Encourage (a dusty rose), (Joy (a punchy peach), Believe (a deep pink), Happy (a vibrant pink), Lucky (a hot pink), and Grateful (a strong red).
What Rare Beauty colour blush is best for my skin tone?
With 13 shades and two finishes, you might be wondering how to choose the best shade for your skin. The general rule of thumb is lighter, softer tones such as Rare Beauty's Hope and Bliss will suit pale skin tones, while more vibrant, punchy shades like Lucky and Faith will complement dark skin tones. However, as you read our reviews below you'll realise that the while the Rare Beauty blush is highly pigmented, it can be blended out to create a wash of colour so if you have pale skin but like the look of Happy or Joy it is absolutely worth going into store to try it out.
How To Apply Rare Beauty Blush
The versatility of Selena Gomez's liquid blusher is part of the reason it's so popular. The wand applicator allows you to dispense the right amount of blush without getting messy and from there you can use your fingers, a brush or a sponge to blend it out. You'll read below that Hanitra and Victoria apply the Rare Beauty blush differently to suit their preferred finish. If you're looking for a stronger blush look, we recommend using a brush as you'll be able to layer the formula, whereas your fingers will provide a more natural finish.
You can apply the Rare Beauty blush to your cheeks, along your nose and on your lips. It's a makeup essential if you want to create a tonal look as you can create a wash of colour across your cheeks and dial it up on your lips (we recommend the Dewy finish Soft Pinch Liquid Blushes for this).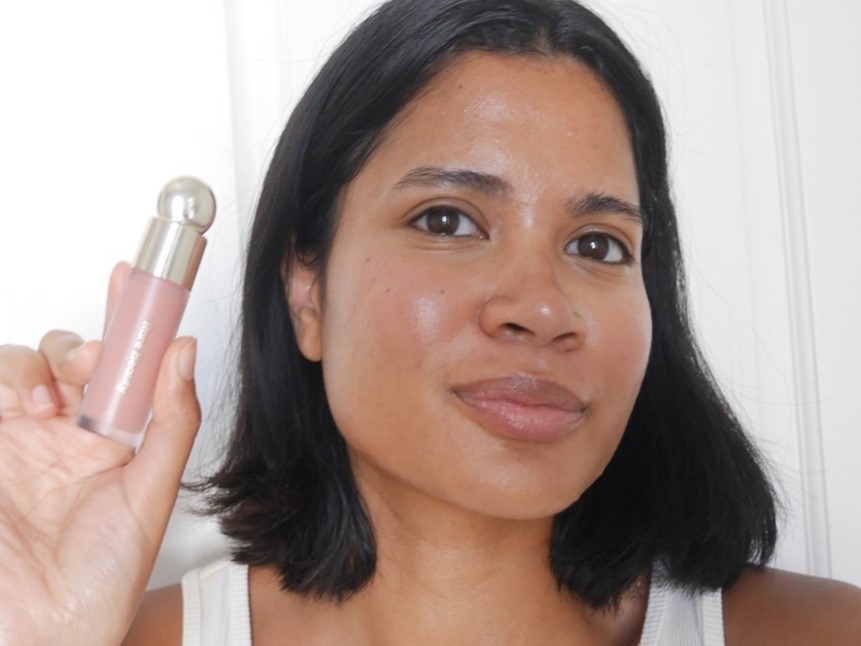 Hanitra's Rare Beauty Soft Pinch Liquid Blush review

Ever since Selena Gomez's beauty brand launched in the UK, I don't think a day has passed without the Rare Beauty liquid blush appearing on my social media feeds. As a true blusher fiend (especially cream blusher in the summer), I knew I had to try this Rare product, but it was sold out pretty solidly for the first few months – even now it's tricky to get your hands on some of the shades. Finally, I got my hands on one.

I have now been wearing the Rare Beauty liquid blush in the shade Hope for a few weeks and it looks like I have found the perfect liquid blush. From the texture to the colour payoff, this product works perfectly for those no makeup makeup days. This shade gives me a naturally flushed look, and has a nice, dewy finish (see the before and after using Rare Beauty liquid blush below). Sometimes cream blushes can get very dry once applied, but this one feels very creamy. As someone with acne-prone skin, I also like that it doesn't enhance my skin texture when I'm breaking out.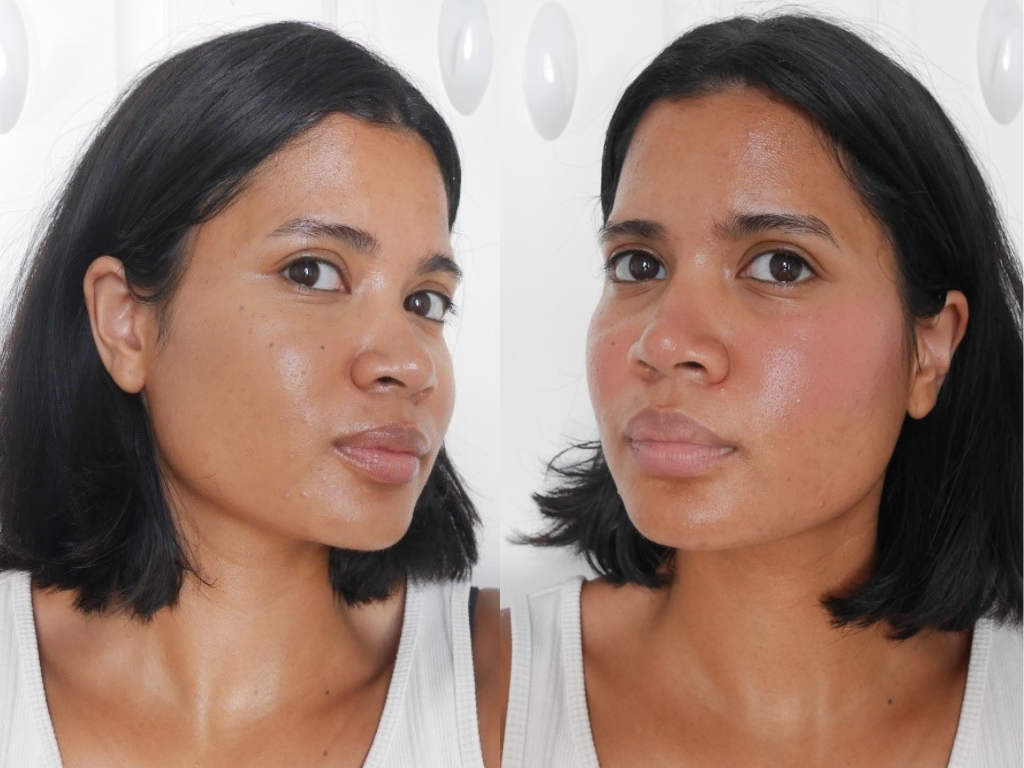 Rare Beauty Soft Pinch Liquid Blush Hope before and after

I apply one dot on each cheek and blend it out with my Beautyblender The Original Beauty Blender, € 20,00. You do have to work quite fast because it will set on the skin, and once it does, it will not move for the rest of the day. If you don't know how much to apply, TikTok did not lie when they said applying one dot was more than enough. It's always better to add more than to apply too much. I like that it comes with a doe-foot applicator. A lot of liquid blushes come in a squeeze tube or a pump, which can make the application a little messy but none of that with this easy applicator.

I can now say that I have been converted to this blush and I'm definitely going to keep using the Rare Beauty liquid blush, and I want to get my hands on more shades, I feel like the darker ones like Believe or Faith for autumn/winter.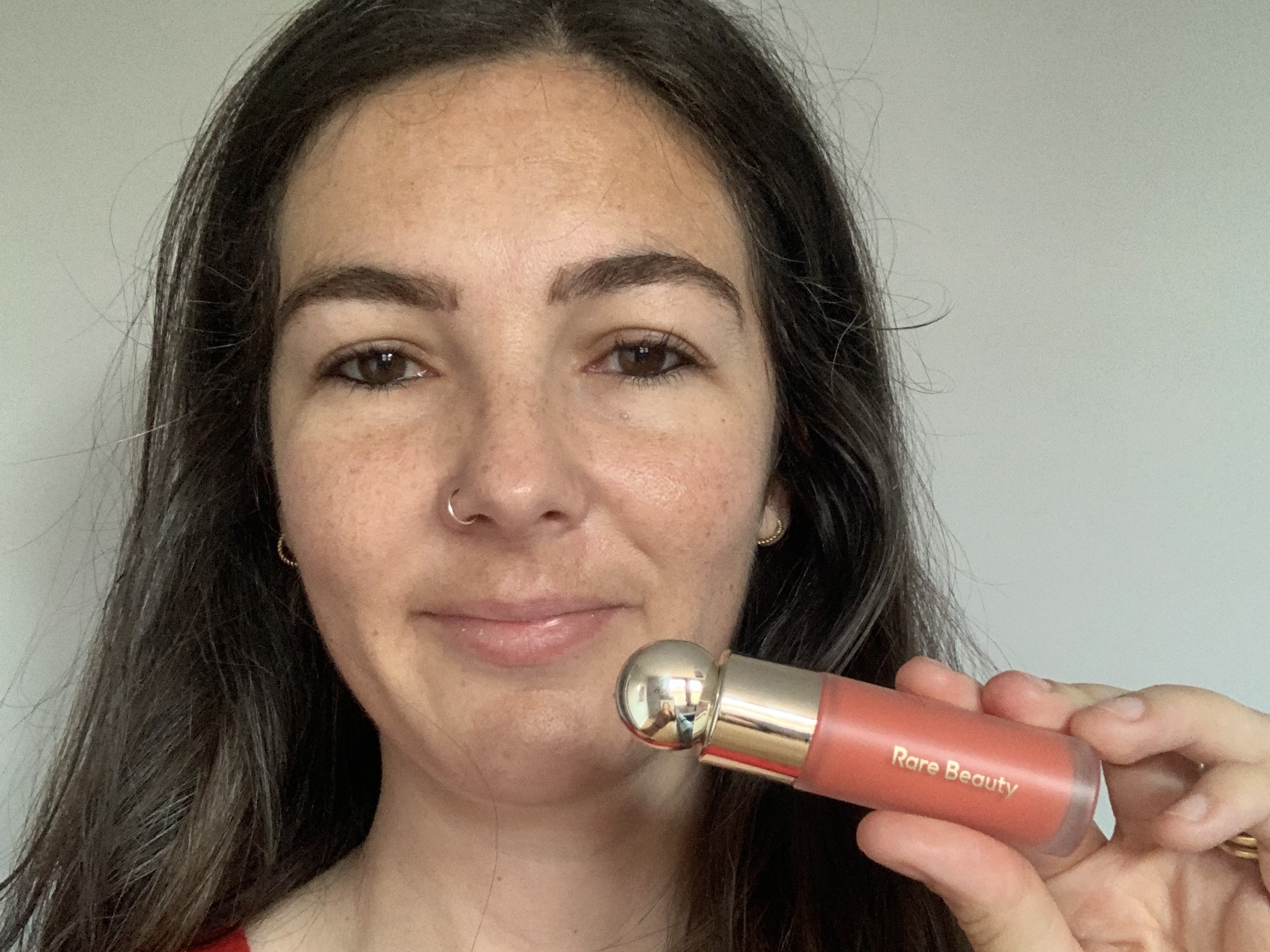 Victoria's Rare Beauty Soft Pinch Liquid Blush review

Unlike Hanitra, I've never really been into blush and historically I've also leaned towards self-tanning drops and bronzer to warm up my complexion. It has been impossible to ignore liquid and cream blushers recently though, especially Selena Gomez's liquid blush. When Rare Beauty launched at Space NK in 2022, I tried the Soft Pinch Liquid Blush in Happy, but I wasn't quite as taken by it as everyone else. One year on and people are still going wild for it, so I decided to try it again but in a different shade.

It turns out, the shade of blusher you use is hugely important – as well as the finish. Last year, I tried Bliss which is a soft pink tone with a matte finish, this time I chose from Joy (punchy red shade with a dewy finish), Believe (rich mauve shade with a dewy finish) and Lucky (hot pink shade with a dewy finish) which are all much bolder. There is a swatch shot of all three Rare Beauty liquid blush shades below.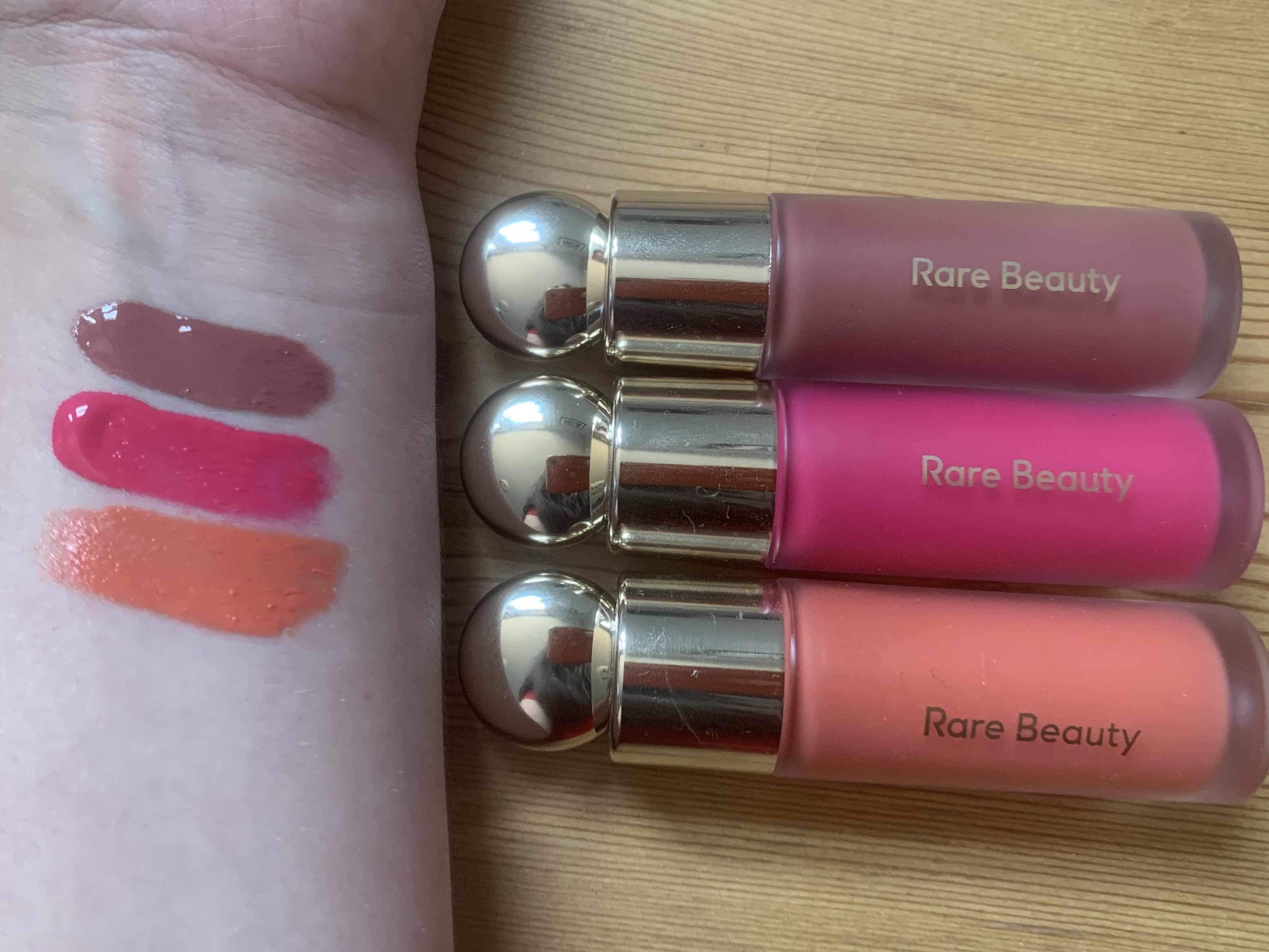 Rare Beauty Soft Pinch Liquid Blush Joy, Believe and Lucky swatch

I landed on Joy because my skin is slightly tanned at the moment, and I've been following the tomato girl makeup trend on TikTok – this product could have been made for the look. I put a couple of dots on each cheek and a small one on my nose. I'm lazier than Hanitra and used my fingers to blend it in. Rare Beauty Soft Pinch Liquid Blush is very pigmented so I recommend starting with a small amount, blending it out and then adding more if necessary.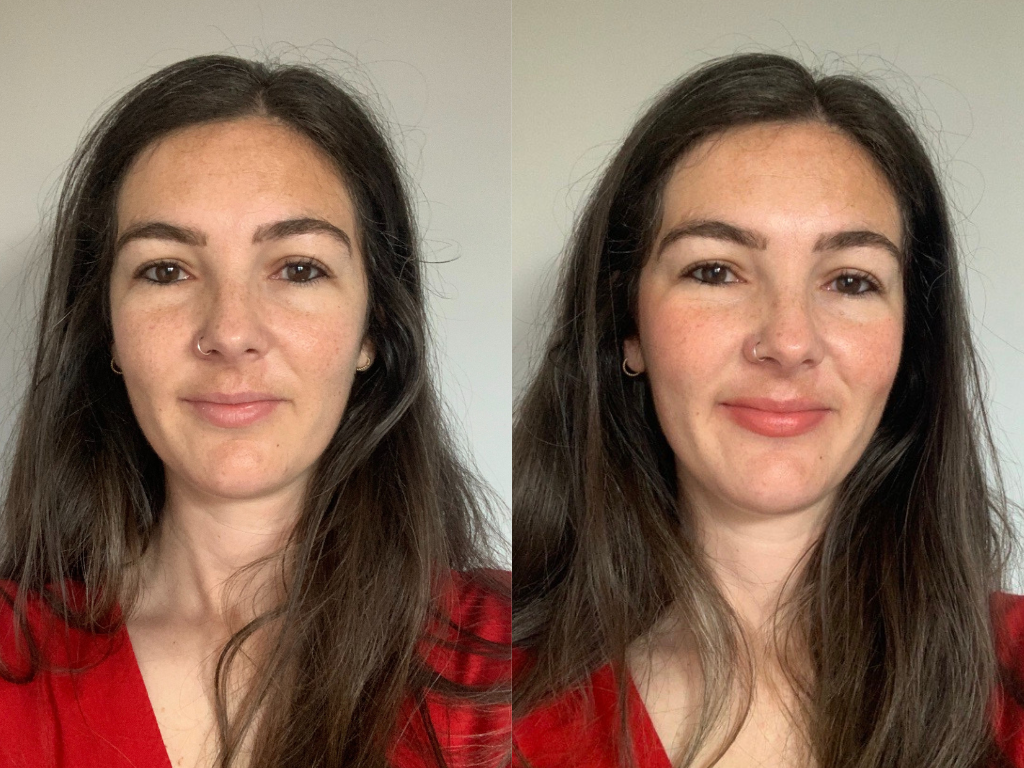 Rare Beauty Soft Pinch Liquid Blush Joy before and after

The formula is super lightweight and once it set, I pretty much forgot I was wearing it. Does Rare Beauty's liquid blush last? In short, yes. I used it on my lips too (I really channelled the tomato girl aesthetic with this one) and was impressed with the staying power, even after eating and drinking.
Viv's Rare Beauty Soft Pinch Liquid Blush Review
• Skin type: Oily
• Skin tone: Dark
• Product reviewed: Rare Beauty Soft Pinch Liquid Blush, € 25,00 in Believe
I love wearing blusher, but I usually opt for a powder formula with a matte finish as I have oily skin. This was my first time wearing a liquid blush and I cannot tell you how impressed I was. I went for Rare Beauty's dewy Believe shade, which came out lighter than it looked in the bottle but I really liked the overall finish on my skin tone.
Rare Beauty Soft Pinch Liquid Blush Believe before and after

While Believe sits in the dewy family, it's not overly glow. In fact, I'd probably say it looks more matte when it dries which I appreciated. The liquid texture was so easy to use and it blended in easily. I used the applicator to apply two dots on my cheeks and then used my fingers to blend out. A little goes a long way, so I wouldn't apply more than two dots to begin with.

I applied the Rare Beauty Soft Pinch Liquid Blush at 8am before work and had to wash it off at 7pm because it had lasted throughout the day. Will I keep using Selena Gomez's blush? Definitely, it's quick and easy to use and slots into my routine quite nicely.
Our Verdict: Is Rare Beauty Blush Worth It?
There is no denying Rare Beauty Soft Pinch Liquid Blush, € 25,00 is deserving of the hype. The lightweight formula is incredibly versatile and can be used across your cheeks and lips to give you a gorgeous natural-looking glow. We both opted for shades with a dewy finish and found that a little really does go a long way, so you can expect this blush to last you. While it is highly pigmented, you can blend it out for more of a subtle flushed look. Our honest verdict is that once you've found the best shade of Rare Beauty's liquid blush for you, it will become a staple in your makeup bag.
How Long Does Rare Beauty Blush Last?
This is the all-important question that everyone wants to know and having both tried Rare Beauty's liquid blush for work, at the weekend and evening occasions, including a wedding, we can confirm that it does. Bolder shades such as Grateful, Joy and Lucky have particularly good staying power. If you're applying at 7am, your blusher won't be as visible by 7pm and we recommend topping up on-the-go, however we were very impressed by the natural and even fade. You're not left with patchy blush or a ring of pink across your cheeks.
More From Rare Beauty
The Soft Pinch Liquid Blush isn't the only product from Selena Gomez's makeup line that has gone viral, the Rare Beauty Soft Pinch Tinted Lip Oil, € 22,00 is equally as popular. Like the liquid blush, this nourishing lip formula is highly pigmented and comes in an array of shades to suit all skin tones and moods. We love that the gel-to-oil formula glides on and doesn't leave lips feeling sticky. It's currently the top selling lip gloss at Space NK, so it's definitely worth exploring.
Rare Beauty Warm Wishes Effortless Bronzer Stick, € 18,20 is another bestselling Rare Beauty product and is ideal if you hoping to make your summer glow last or want to tap into the latte makeup trend. The cream bronzer warms up your skin and gives it a natural, dewy finish. You can also use it along your jawline and hair line for more of a sculpted finish.
Keen to explore Selena Gomez's makeup line further? Read our roundup of the best rare beauty products.
More Honest Beauty Product Reviews
• Review of the Rare Soft Pinch Tinted Lip Oil
• Review of Rare Beauty's Luminizer and Highlighter • Rare Beauty Liquid Touch Foundation Review
• Review of the Drunk Elephant D-Bronzi Anti-Pollution Drops • Review of the Dr. Dennis Gross Derminfusions Eye Mask