MOST WANTED
What's All The Fuss Around Drunk Elephant D-Bronzi Drops?
Plenty of beauty products go viral these days, but the popularity of
Drunk Elephant D-Bronzi Anti-Pollution Drops
is on a whole other level. It is easily one of the most talked about beauty products on TikTok with #dbronzidrops garnering over 24.7million mentions and 74 million views to date. And it has been
almost
impossible to get your hands on D-Bronzi Drops since TikTok beauty influencer
Alix Earle
mentioned them in one of her Get Ready With Me videos at the end of last year.
If you haven't tried
Drunk Elephant's
iconic D-Bronzi Drops, it is impossible to understand why these bronzing drops are so popular. Especially considering they've been around since 2018 and were formerly available in tube packaging. What is all the hype around D-Bronzi Drops?
We decided to ask two Space NK team members to share their honest D-Bronzi review. While Space NK's Senior Digital Marketing Coordinator Kirsten Merritt has been using the bronzing drops for months, our Email Marketing Assistant Annabel Beale has been experimenting with them for a few weeks. Scroll down to read their Drunk Elephant bronzing drops review.
Top Line On Drunk Elephant D-Bronzi Drops
• Glow-giving liquid bronzer that works across all skin tones
• Packed full antioxidants, including blackcurrant seed and Marula oils • Platinum peptides help to smooth out fine lines and wrinkles
• Can be used on face and body, and mixed into your moisturiser or serum
How To Use Drunk Elephant D-Bronzi Drops
Drunk Elephant's D-Bronzi Drops are very much bronzing drops rather than a liquid bronzer and shouldn't be applied directly onto your skin. The brand recommends mixing a drop into your serum, face oil or moisturiser to achieve a healthy glow and benefit from the antioxidants. Fun fact: if you use Drunk Elephant Protini Polypeptide Cream, € 67,00 or Drunk Elephant Lala Retro Whipped Cream, € 17,00, you can pump out your moisturiser, add a drop of D-Bronzi straight on top and mix rather than decanting onto the back of your hand.
A quick scroll of social media will show you that there is more than one way to use Drunk Elephant's bronzing drops though. For example, on TikTok Emily Billings recommends mixing it into your base: "It sheers out your foundation so it's a thinner consistency with a bit of glow." We asked Kirsten and Annabel to share how they use them to inspire you too.
Annabel's Drunk Elephant Bronzing Drops Review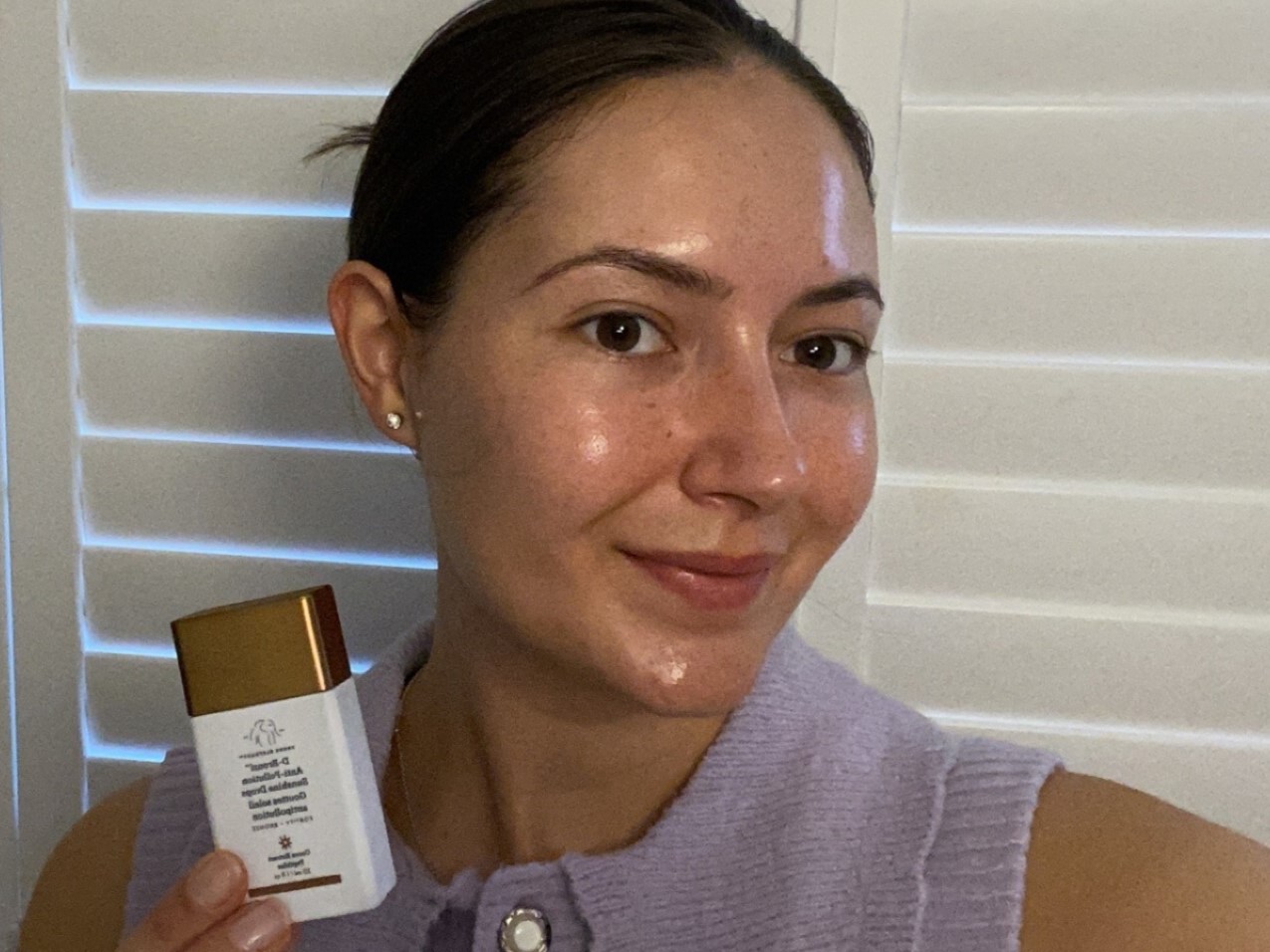 Minimal makeup is very much my vibe as I don't like my face to feel heavy or oily. I tend to keep my base light and lean on cream-bronzer-or-powder-bronzer-what-is-better and blusher to complete my look. Over the past few weeks, I have used Drunk Elephant D-Bronzi Drops almost every day – whether I've been running errands with no makeup on or if I've been wearing more of a base and wanted to dial up my glow.
I've experimented with mixing the D-Bronzi Drops with different serums and moisturisers, but my favourite combination is to mix them with my Ultra Violette Supreme Screen Hydrating Facial Skinscreen SPF 50+, € 39,10. It gives the best glow. I apply concealer where needed and then mix a few drops in with my SPF – it couldn't be easier, or quicker.
What I love most about these drops is that they don't feel thick or heavy on my face. Plus, they give the best glow, and you can control how much radiance you want by the amount of product you use. I don't think I could live without Drunk Elephant D-Bronzi Drops now.
If you haven't tried these bronzing drops, I highly recommend doing so, especially during the summer months when it feels too hot to wear lots of makeup.
Kirsten's Drunk Elephant Bronzing Drops Review
Be prepared for the most positive Drunk Elephant bronzing drops review as I've been using them for over a year now and I genuinely cannot imagine not having them in my makeup bag. The majority of the time, I mix a few drops into my moisturiser just before I apply my SPF. While my moisturisers have changed over the past 12 months, the D-Bronzi Drops still mix well and give my skin the same healthy glow (see the photo below for proof!). What I love most is that my skin still looks golden and dewy even after applying my sunscreen on top.
When it comes to bronzing, I usually veer towards cream formulas, but I don't always achieve a dewy finish. Drunk Elephant's D-Bronzi Drops give my skin an all-over glow. For me, the added skincare benefits such as protecting the skin against pollution makes it a staple throughout the year.
I promise you, once you try these you won't be able to imagine a routine without them. They leave your skin with a natural dewy finish and healthy glow.
Our Verdict On Drunk Elephant D-Bronzi Drops
Whether you want to tap into the no makeup makeup look or prefer a fuller makeup look, Drunk Elephant D-Bronzi Anti-Pollution Drops, € 35,00 will help you achieve a natural-looking glow. They're incredibly versatile and you can dial up your radiance quickly and easily. We also love that these bronzing drops offer antioxidant protection to help protect our skin from pollution.
Be sure to click 'Notify Me' to join the D-Bronzi wait list to avoid missing out next time Drunk Elephant's bronzing drops are in stock.
Best Alternatives For Drunk Elephant D-Bronzi Drops
Drunk Elephant D-Bronzi Drops are regularly out of stock. While that's the sure sign of a great beauty product, it's also very frustrating. Unsurprisingly #dbronzidropsdupe has racked up over 630k views on TikTok. If you're in a rush for your bronzing drops, here are three of the best alternatives.
More Honest Reviews
• Review of the Charlotte Tilbury Airbrush Flawless Setting Spray
• Review of the Hourglass Veil Hydrating Skin Tint • Review of the Sol Janeiro Bum Bum Cream
• Review of the Charlotte Tilbury Lip Blur • Review of the Kate Somerville Mega-C Brightening Facial