IN FOCUS
Cream vs Powder Blusher: Which Is Best For You?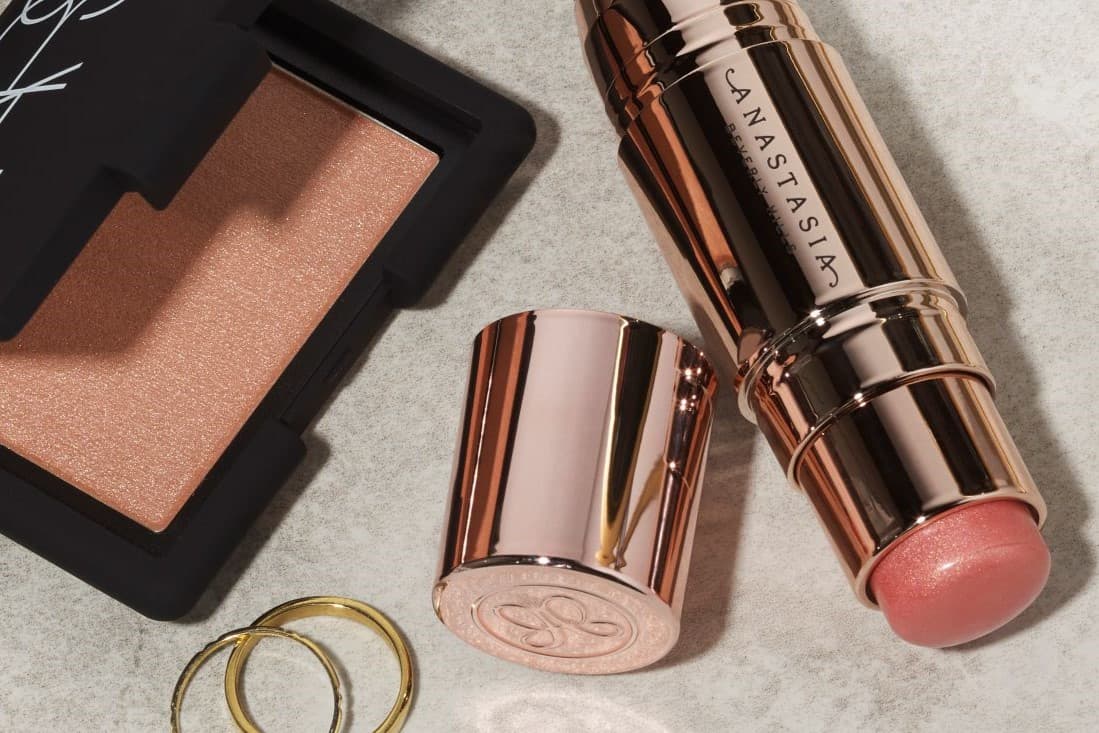 Love it or hate it (note: you really shouldn't), blusher has come a long way in its longstanding history. From popping up on many a classical portrait to the rise of stick blushers and cream blushers and a multitude of viral TikTok moments (we're looking at you, Rare Beauty), blusher is going through a bit of a renaissance.
Here at Space NK we love that it's having a (much deserved) moment. "I absolutely love blusher!" declares Space NK's Head of Education (and ultimate makeup guru) Niamh Butler. "Depending on your mood, it can either give a naturally healthy glow or add drama to a look, and can really help give a lifted look to the face." And at the end of the day, don't we all love a lifted look and a healthy glow?
Blusher is in fact so popular right now that the options available can be very unsurprisingly very overwhelming. Not to mention one of the most debatable beauty topics of all – cream blusher vs powder blusher. Many of us makeup enthusiasts have at some point wondered… is one formula better than the other? And which formulas are best suited to which skin types? Let us help you navigate the battle of the blushers…
WHAT IS THE DIFFERENCE BETWEEN CREAM AND POWDER BLUSHERS?
Formulations aside, the main difference between cream and powder blushers is simply the finish. "Cream blushers are your go-to if you want a glowing, dewy finish," explains Niamh. "They are great if you want a more subtle, sheer finish – but are generally buildable if you want more of an impact. Powder blushers are brilliant if you find your makeup moves easily, want intense pigment, or don't particularly want a dewy look."
DO CREAM BLUSHERS WORK ON OILY SKIN?
There's no denying that cream and stick blushers really have taken the beauty scene by storm as of late and do work wonders for drier skin types. However, we've got news for you – you do not need to stay away from cream blushers if you have oily skin. "It used to be said that creams didn't suit oilier skin types," says Niamh. "But formulas and pigments are so good now that this isn't the case. These skin types can set with translucent powders or use a powder highlight over the liquid blusher to set and keep a glowing finish." Drier skin types don't necessarily have to stray away from powder blushers either, as so many powder formulas are now cleverly infused with hydrating skincare ingredients.
HOW TO APPLY CREAM AND POWDER BLUSHERS
If there's one thing cream, stick and powder blushers have in common, it's that application is key to avoid any flushing disasters. "You can use a brush when using stick and cream blushers – but I prefer to use my fingers," explains Niamh. "This warms up the product, making blending easy. If you're applying liquid blusher over foundation, make sure to use a setting powder first. Powder will grab to liquid, so setting your foundation first means you will get an even better application."
And remember – less is more, or at least start off with less. "Apply lightly to avoid moving your foundation underneath," says Niamh. "Start with a little and build to avoid too much colour."
For applying a powder blusher, Niamh recommends Charlotte Tilbury Bronzer & Blusher Brush, $40.00 and the multitasking Space NK Brush 201 - Foundation, Primer and Skincare, $32.00. "I love a domed brush for powder application, as this shape blends as you apply, giving soft edges."
THE BEST STICK AND CREAM BLUSHERS
"Cream blushers are hugely popular in Space NK right now, and for a reason," points out Niamh. Many of us love a good dew that's so easily achievable (and a breeze to work with and blend) with cream and stick formulas. We love Anastasia Beverly Hills Stick Blush, $19.50, a take-everywhere design that comes with its own built-in brush. There's also the super easy to apply Hourglass Vanish Blush Stick, $46.00 and the young yet iconic . And, of course, there's the infamous Rare Beauty Soft Pinch Liquid Blush, $23.00 – it works especially well mixed with Rare Beauty Positive Light Liquid Luminizer, $31.00 and delivers the most unapologetically charming flush of colour (the shade 'Joy' is a particular office favourite).
THE BEST POWDER BLUSHERS
Amidst the cream blusher frenzy, let's not forget that powder blushers still pack a punch. Naturally, Nars Blush, $32.00 in Orgasm is still a perennial favourite. The luminous RMS Beauty "Re" Dimension Hydra Powder Blush, $35.00 comes in a striking variety of shades, and the bestselling Charlotte Tilbury Cheek To Chic Blush, $44.00 is beautifully pigmented. For a little bit of French luxury, turn to Sisley-Paris Le Phyto-Blush, $76.50. We also love the second-skin finish of Laura Mercier Blush Colour Infusion, $16.00.
THE VERDICT ON CREAM AND POWDER BLUSHERS
In short – we believe that there's plenty of room in our makeup bags for cream, stick and powder blushers. Moreover, they can even coexist in peace and work together for maximum impact. "I love to use both and layer powder over cream," says Niamh. "This increases depth of colour and longevity." So, stop picking sides and start enjoying the best of both worlds.
Read More
• How to Choose the Right Lipstick for You
• The Best No-Makeup Makeup Products • Laura Mercier vs Nars Tinted Moisturiser
• The Best Makeup Brushes • Best New-In Makeup Products