IN FOCUS
What Is Glass Skin And How Can I Achieve It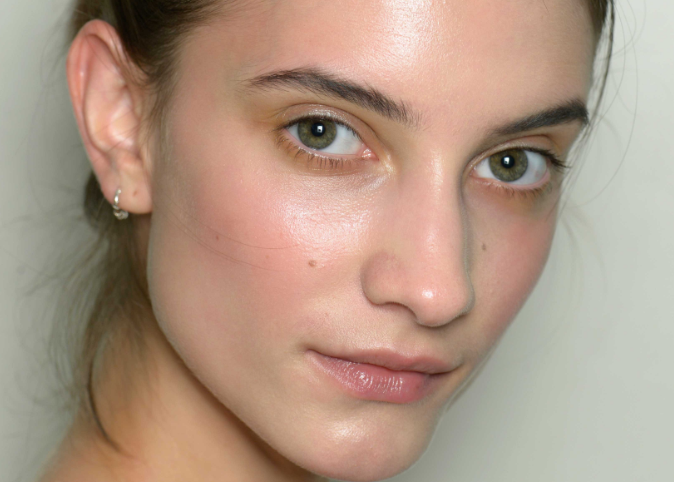 Glass Skin in the latest Korean beauty trend to try. The result is a crystal clear, transparent complexion with an ethereal sheen to it. Read on as we detail how to take on the trend.
What Is Glass Skin?
Straight out of Korea, Glass Skin refers to a smooth and flawless complexion that reflects light like a piece of glass. It can be achieved by religiously following a strategic and effective skincare regime that involves layering skin with numerous lightweight formulas infused with nourishing vitamins and botanicals.
Step 1: Double Cleanse
This two-prong approach is a non-negotiable first step in Korean beauty routines. The initial cleanse should be an oil-based formula, such as Caudalie Make-up Removing Cleansing Oil, $10.00 which works to remove all traces of makeup but without stripping the skin of essential moisture.
Next, it's time to decongest and clarify. gives skin a deep cleanse without leaving it feeling dry or tight, like some foam formulas. With the help of rice germ oil and mineral spring water, your skin is left feeling clean and soft.
Step 2: Exfoliate
To achieve skin that is ultra-smooth and glass like, don't skip exfoliation. Remove dead skin cells and reveal brighter, more radiant-looking skin with hardworking alpha and beta hydroxy acids in gentle, everyday formulas. Try Caudalie Vinopure Clear Skin Purifying Toner, $12.00 infused with exfoliating salicylic acid as well as Caudalie's signature organic grape water which also hydrates and soothes the skin. Alternatively, is gentle enough to use every day, even on sensitive skins, and imparts instant, visible radiance.
Step 3: Essence
The key to Glass Skin is hydration. Boost skin's moisture levels with a skincare step straight from Korea – the essence. Super lightweight and infused with radiance-boosting vitamins, an essence should be tapped into skin using fingertips to enhance the cellular renewal process and increase elasticity and firmness. Loaded with hydrating hero, hyaluronic acid, try
Step 5: Moisturise
Lock in the goodness of the various preceding skincare steps with a lightweight moisturiser. Look for a thin, water-based formula like Sunday Riley Tidal Brightening Enzyme Water Cream which is packed with hyaluronic acid and botanical extracts to help skin absorb and hold vital moisture. The secret to glass skin is keeping it plumped and naturally glowy, so mist your face with a hyaluronic-infused spritz like Emma Hardie Pump & Glow Hydrating Facial Mist throughout the day.