IN FOCUS
How To Get Rid Of Hormonal Acne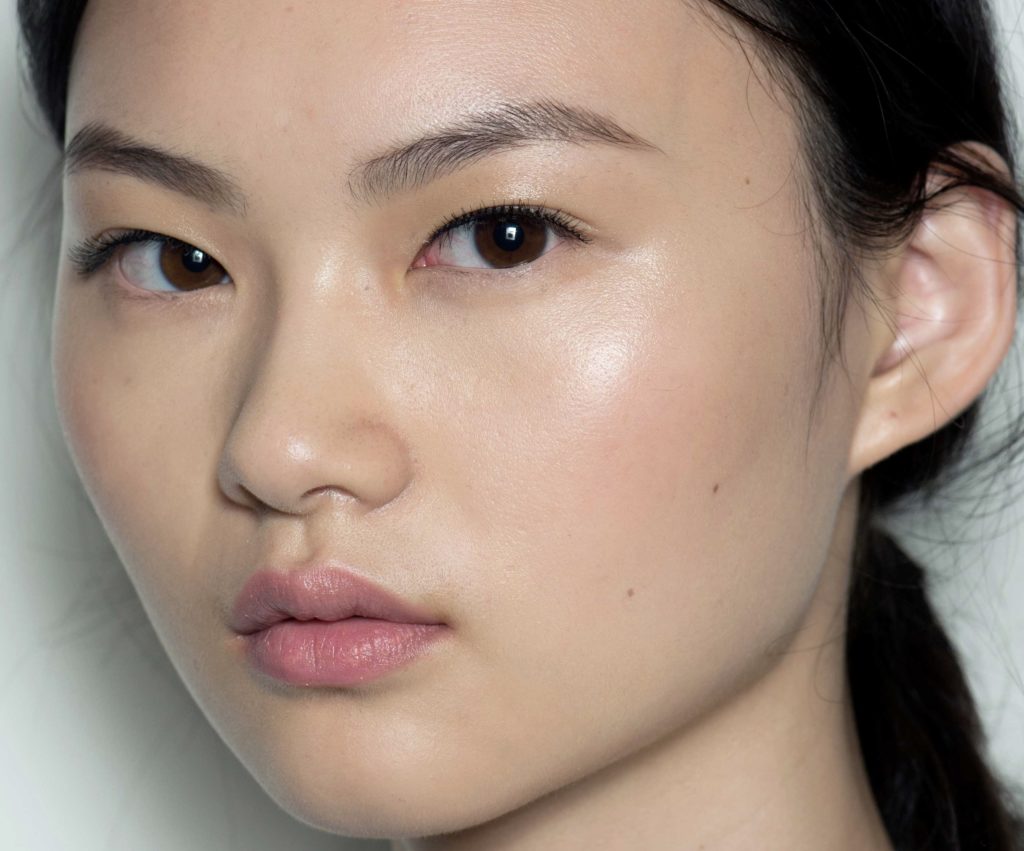 There is nothing enjoyable about an acne breakout, but there is something incredibly irritating about it happening every month around the time of your period. It's like clockwork. Alongside all the other symptoms, including bloating, cramps, mood swings, and insomnia, a breakout is the cherry on top that no one wants.
Commonly appearing around your chin, mouth and jawline, this
type of acne
appears due to an imbalance of hormones and usually manifests itself through under-the-skin bumps that are often painful to the touch. While we've used the example of your period, hormonal acne is also associated with teenagers, during
pregnancy
and when people go through the
menopause
. Any time there's a surge in hormones, there's the potential for an acne breakout.
Can you get rid of hormonal acne? Are there particular ingredients that are good for combatting breakouts? Is there anything that can make acne worse? We've answered all of the most commonly asked questions below and included the best products for hormonal acne below…
WHAT IS HORMONAL ACNE?
As its name suggests, this form of acne appears due to an imbalance of hormones. While papules, which are inflamed pink bumps that cluster under the skin and are painful to touch, are the most common, you might also experience whiteheads and pustules which are red at the bottom with white or yellow heads that are filled with pus. Most people tend to find that hormonal acne breakouts appear around your chin, mouth and jawline.
WHAT CAUSES HORMONAL ACNE?
"Hormonal acne is affected by the levels of oestrogen and testosterone hormones in the body," says Jon Rummins, head of training at Rodial. "When the levels of testosterone are increased, the skin reacts by producing more oil – this excess oil can then block pores, leading to blemishes and acne." Unfortunately, women tend to suffer with this more than men, as menstruation and menopause are two key bodily changes responsible for fluctuating hormone levels and rising testosterone.
While it can appear at any age, hormonal acne usually affects people in their twenties to forties. However, "food, dietary issues, stress, lack of exercise and a lack of sleep can also trigger it," notes Dr Lancer, US-based dermatologist.
What Are The Best Ingredients For Acne?
There are a host of active ingredients that you can buy over the counter that can help ease acne breakouts. The key is to use them in moderation rather than overloading your skin as this can cause more harm than good. Rather than using them all at the same time, choose one ingredient to use as part of your morning routine and one in the evening. If your skin is sensitive, you might want to use them on different days.
Retinol
Retinol has been used as an acne treatment since the 1930s and "is proven to speed up cell turnover, helping to clear blemishes and repair acne scarring," says Jon. If you haven't used retinol before, opt for a low concentration and ease your skin in gently. Don't use your retinol cream or serum at the same time as alpha hydroxy acids (AHAs) or beta hydroxy acids (BHAs) unless you're well-versed in the ingredient and know your skin can handle it.
Salicylic Acid
Salicylic acid is a beta hydroxy acid (BHA) which helps to loosen blocked pores. It's also a good anti-inflammatory and helps to ease whiteheads and take the sting out of under-the-skin pimples. Unsurprisingly, salicylic acid is regularly found in acne-fighting products, from your cleanser and serum to on-the-spot gels.
Glycolic Acid
This AHA helps to exfoliate and remove any dry, dead surface skin. Glycolic acid can also help to hydrate skin and ease inflammation, as well as combat bacteria. Use an overnight glycolic serum or pads once or twice a week. If you want something gentler, opt for lactic acid which is a milder AHA that helps to slough away dead skin.
Benzoyl Peroxide
You won't find benzoyl peroxide in many over the counter skincare products, but you can purchase a gel at pharmacies. The ingredient is antiseptic and works by neutralising bacteria with oxygen. It is potent so as with retinol, start with a lower concentration to prevent any dry, flakiness. If you have dark skin, it is especially important that you use a low concentration because it can increase hyperpigmentation.
How Can I Get Rid Of Hormonal Acne?
Experts agree that consistency is the number one rule when it comes to treating hormonal acne, so find a skincare routine that works and stick to it long-term. Where possible, go for products that are natural and simple; it's about keeping skin clean and nourished within an ongoing routine. Dr Dennis Gross, dermatologist and creator of the eponymous range, suggests committing to a rigorous 6-step routine: cleanse, steam, peel, serum, treat and hydrate.
Step 1: Cleanse
"Cleansing the right way is essential," says Jon. "Avoid harsh, drying cleansers and soaps which strip the skin's moisture balance and lead to an over-production of oil". Try using Murad AHA/BHA Exfoliating Cleanser, $56.00 as your first cleanse and finish with .
Step 2: Steam
Twice a week steam your face "to decongest pores," says Dr Dennis. This can be as simple as holding your face over a bowl of water with a towel over your head. Follow your steam with a peel (such as the Dr. Dennis Gross Alpha Beta Universal Daily Peel, $27.50) to remove dead skin and oil gland blockage.
Step 3: Treat
There are hundreds of serums on the market that will help treat acne and ease scarring. Whether you opt for a retinol serum, such as Paula's Choice 1% Retinol Treatment, $16.90, to help treat your acne, or a gentler bakuchiol oil treatment Herbivore Bakuchiol Smoothing Serum, $43.20, it's important to give the ingredients time to work their magic, nothing will work overnight. If you're concerned about acne scarring, it might be worth adding in Kate Somerville EradiKate Blemish Mark Fading Gel, $75.50, which contains salicylic acid and niacinamide to help clear and refine pores, as well as strengthen your skin's barrier.
Step 4: Hydrate
It might be tempting to skip your moisturiser, especially if your skin is feeling oilier than usual, but don't. Keeping your skin hydrated is all part of ensuring it's balance. Opt for a lightweight texture – we love both Kate Somerville Oil-free Moisturiser, $84.50 and Dr. Dennis Gross Hyaluronic Marine Oil-Free Moisture Cushion, $83.00. We also recommend using Rodial Dragon's Blood Hyaluronic Mask, $58.50 overnight once or twice a week to help boost your hydration levels. The anti-inflammatory formula helps to soothe skin too. Don't forget to apply your SPF every morning, especially if you're using retinol.
WHAT PREVENTATIVE MEASURES CAN I TAKE?
"Thinking about your lifestyle is an important way to deal with hormonal acne," says Dr Lancer, and of course diet is hugely important when it comes to your skin. "Try to reduce the level of stimulants which can raise levels of cortisol (the 'stress chemical')," recommends Jon. "Sugar, dairy, caffeine and red meat can all lead to higher levels of inflammation."
So, what should you eat? Jon suggests trying to stick to anti-inflammatory, plant-based foods where possible; leafy greens, berries and avocados are all great options when you need to calm your skin and boost your antioxidant intake. Stress can also impact the skin and lead to hormonal-related breakouts, so it's important to manage. "Try and think about ways to reduce stress levels, whether it be through mindfulness, exercise or deeper meditation," says Claire Vero, founder and CEO of probiotic skincare brand Aurelia Probiotics.
Final Thoughts On Hormonal Acne
Consistency is key. Even the best skincare in the world won't work overnight. In fact, it's likely to take three to four weeks minimum to kick in and help rebalance your skin. As well as finding an effective skincare routine, it's important to leave your spots alone: "Try not to pick or squeeze hormonal acne breakouts as they can scar, leaving a worse mark than the original breakout itself," says Claire.
And if you really struggle to keep your hormonal acne at bay, it might be time to see a professional. Dermatologists can help to discover the root cause of your spots, which in turn will lead to an appropriate treatment method. Changes to contraception or other medication may also affect the way your skin acts, so speak to your GP about your options here too.
Read More On Acne
• Dr. Anjali Mahto On Dealing With Adult Acne
• Space NK's Guide To The Different Types Of Acne • The Ultimate Makeup For Acne Prone Skin
• Understanding Acne Scarring and Pigmentation In Darker Skin Tones • Five Tips For Living With Acne