IN FOCUS
Our Recipe For The Ultimate Relaxing Bath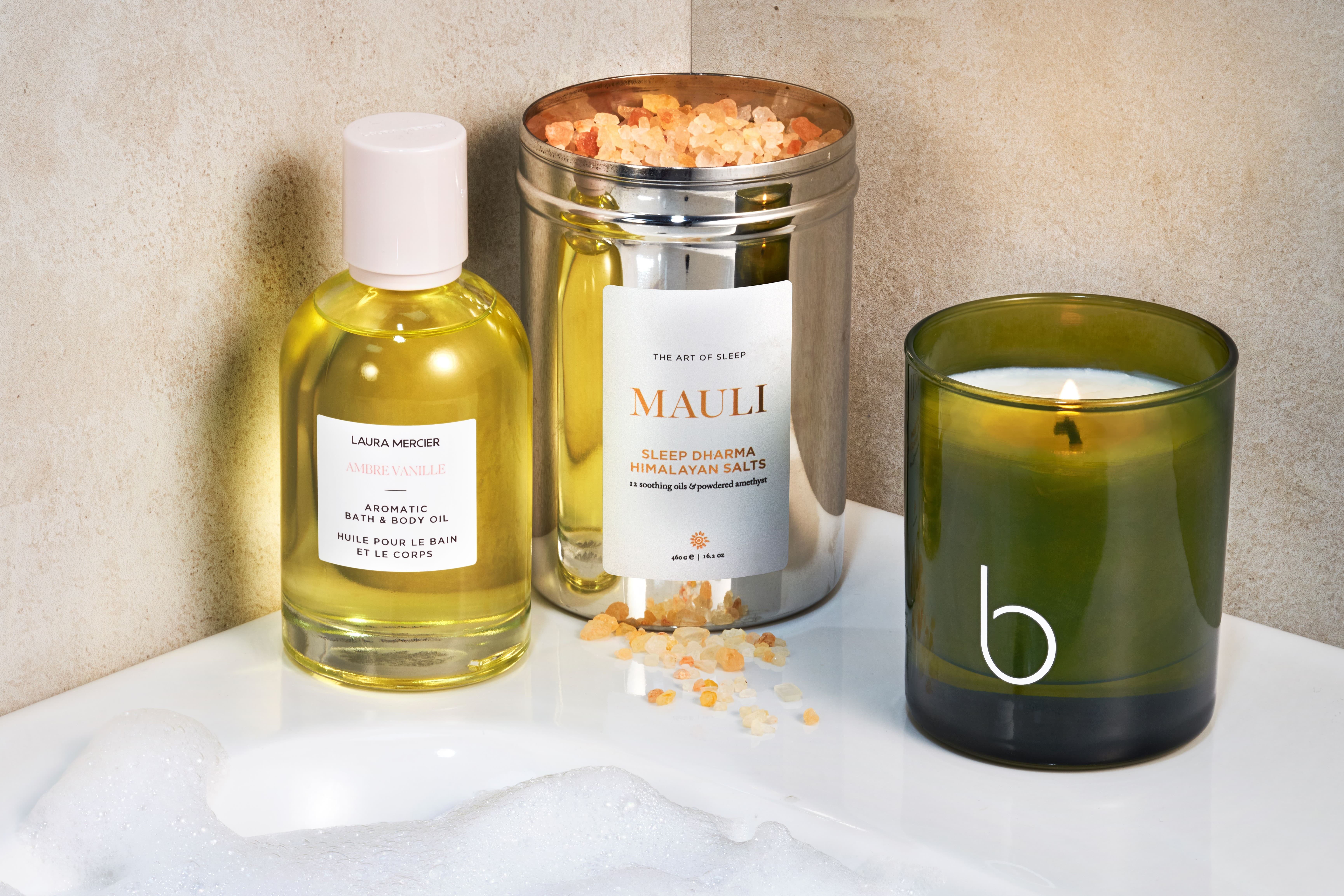 A long soak in the bath is the perfect tonic to a stressful day. Find the right combination of
bath oils
and salts, and it can also relieve achy muscles and aide a good night's sleep. While TikTok, or #ShowerTok for those in the know, would have you believe that it's all about the shower these days, we are loyal members of the bathing appreciation club. Here's our tried and tested method for creating your own recipe for the ultimate relaxing bath.
Step 1: Set The Tone
By which we simply mean, light a scented candle to suit your mood. If we're feeling stressed out and fraught, Aromatherapy Associates Forest Therapy Candle, $65.00 provides a moment of escapism. Cypress, juniper and ho wood recreate the fresh tranquillity usually found only in remote woodlands. If you're someone who regularly finds themselves tossing and turning hours after hitting the hay, Bamford English Lavender Scented Candle, $37.50 will help you wind down.
Not keen on scented candles? Move into your bathroom about 30 minutes before you start running the water.
Step 2: Lay The Foundations
AKA sprinkle some dreamy bath salts in the water as it runs. Make sure your water temperature is warm rather than hot – you don't want to scold your skin. For us, Mauli Sleep Dharma Bath Salts, $55.00 are the ultimate bath salts and can help remedy achy muscles, calm a whirling mind and put us comfortably into bedtime mode.
Step 3: Choose Your Potion
Bath oil or bubbles? Of course, you can have both and if that sounds too decadent, then we highly recommend investing in Aromatherapy Associates De-Stress Shower Oil, $39.00, which gives you all the benefits of a bath oil and bubbles. Bathing purists may prefer Laura Mercier Ambre Vanille Bath And Body Oil, $75.00 – the baobab and jojoba oil rich formula is also available in Almond Coconut and Neroli Du Sud and can be used as a nourishing body oil after you've stepped out of the bath.
If you're here for bubbles, then the much in-demand Neom Bedtime Hero Bath Foam, $30.00 will suit you perfectly. It sells out regularly though, so make sure you request to be notified as soon as fresh stock lands.
Step 4: Relax
Lie back and relax, read or listen to a podcast. Don't forget to have your favourite body lotion or oil to hand when you're ready to get out. Our current favourites include…
Read More
• Best Bath Oils
• Best Luxury Bath and Body Products Under £15 • How to Get the Best Body Glow this Summer