IN FOCUS
Understanding Rosacea & How To Treat It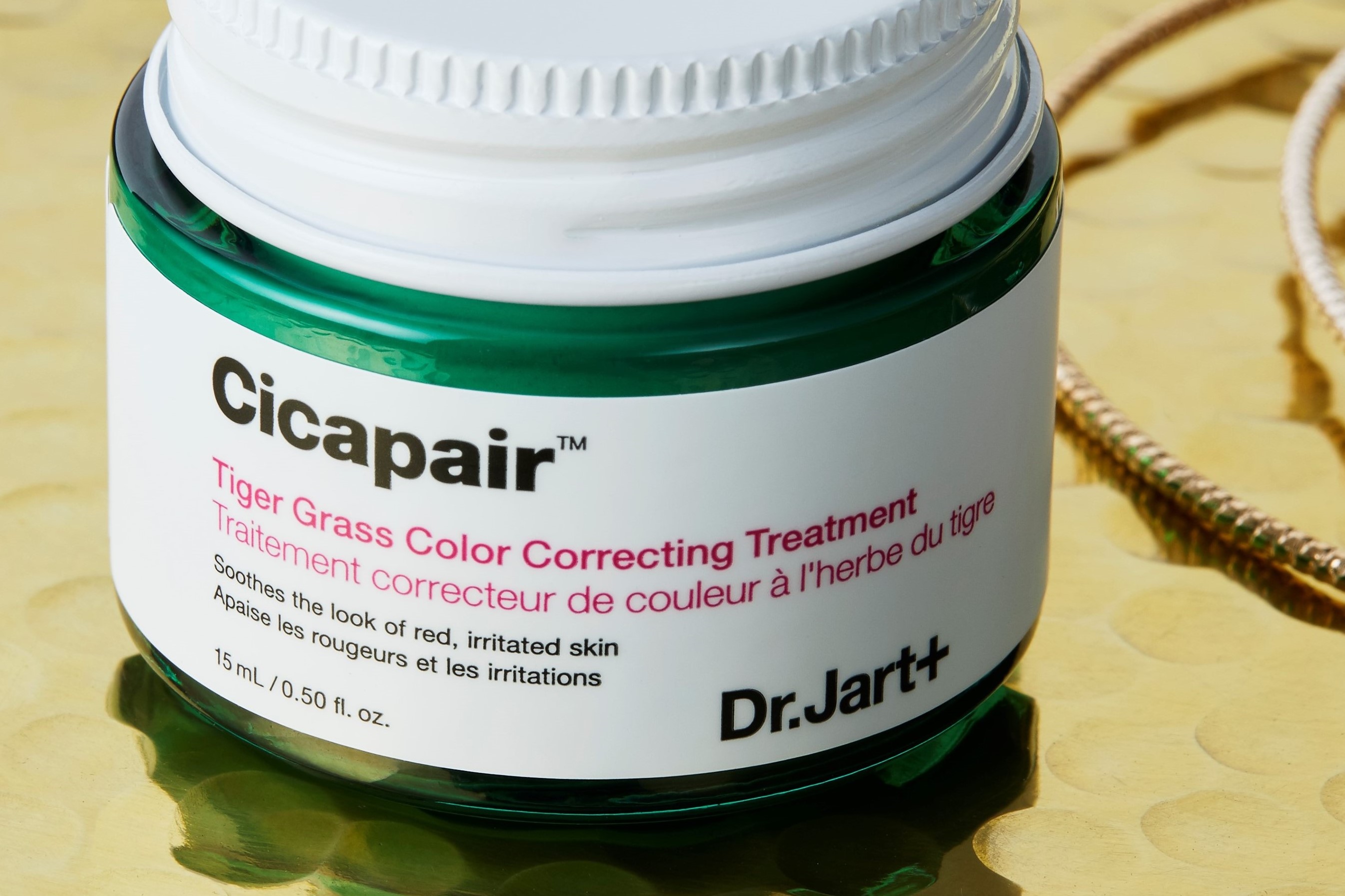 Skin conditions like acne or eczema are not fun, but they're even more irritating when they're underlying, and you know there's to treat them and get rid of them for good. Rosacea is one of those and although we know that there's no forever solution, we do know how you can soothe some of the symptoms.
Rosacea is a skin condition that affects 1 in 10 people in the UK and women aged between 30 and 60 are three times more likely to develop rosacea than anyone else. So, if you are struggling with rosacea, know that you're not alone and that it's a lot more common than you'd think. Let's delve into everything you need to know about rosacea and some habits you can implement to soothe the symptoms.
What is Rosacea?
Rosacea is a skin condition characterised by flushing, continual redness and visible blood vessels. Your skin often feels dry, tight and bumpy. While the exact cause is unknown, there are several possibilities. "Rosacea is often caused by underlying inflammatory and bacterial factors combined with your skin barrier being compromised in some way," explains aesthetic doctor, Dr. David Jack.
What is Rosacea caused by?
The cause is unknown but there are triggers that can make it worse (food, temperature, alcohol, sun exposure, skincare ingredients). Flare-ups are often a result of abnormalities in your blood vessels, and this can be triggered by lots of different things, including the sun, cold weather, pollution, stress, alcohol and coffee. Thankfully, there are several things you can do to help, starting with a good skincare routine. Always patch test any new formulas as rosacea makes skin ultra-sensitive and compromises the barrier function.
Best ingredients to fight rosacea
Rosacea is a skin condition that can't be treated but you can definitely use skincare to help calm the symptoms. We laid out a little guide for you to choose the right skincare if you struggle with rosacea. If you don't have rosacea but you have sensitive or reactive skin, this is also a good list of ingredients to keep on your radar.
• Azelaic acid is a mild exfoliant. It can help unclog pores while still being gentle with the skin, won't cause any flare-ups. Also a good one for those who struggle with hormonal acne.
• Niacinamide is an amazing ingredient to help with so many skin issues, whether it's redness, inflammation or pigmentation. Niacinamide is a staple ingredient to have in your bathroom. Even after using a product that might be a bit harsh or caused a reaction, niacinamide can help with these skin reactions.
• Probiotic skincare can help balance your skin's microbiome, which is hugely beneficial as rosacea is caused by a damaged skin barrier. What does that mean? It just means your skin is more prone to reaction to environmental stressors, skin touching or skincare products. Using probiotic skincare will help rebuild and heal you skin microbiome. It's definitely something to look into if you struggle with a damaged skin barrier or to figure out if you might have induced rosacea or other skin reactions.
• CBD has made a lot of noise in the last few years in the wellness space but also in beauty. It turns out that adding the hemp extract on your skin can help with inflammation and calm redness on your skin.
• Rosehip is one of the best calming ingredients to use on your skin, especially as an oil. Rosehip oil is a concentrate of vitamins that will nourish your skin and soothe it. One of the most difficult things with rosacea is that it's uncomfortable and sometimes painful.
• Tiger grass is a heaven-sent ingredient for people who struggle with sensitive skin. Think of it as a colour corrector but in a skincare form. Dr Jart+ Cicapair Tiger Grass Color Correcting Treatment has one of the most soothing formulas when it comes to skincare. Apply a generous layer under your makeup and you will see the redness being cancelled out. The thick texture is also extremely nourishing for anyone who struggles with dry skin.
• SPF is a daily must-have in your skincare routine, but even more if you struggle with rosacea. The sun can be a trigger for rosacea and therefore make it worse and create permanent sun damage.
Skincare ingredients to avoid if you have Rosacea
While our goal is to make sure you use the right ingredients and products to soothe your skin's rosacea, we also want to make sure you don't make it worse. Although they can be efficient, for those who struggle with a skin condition like rosacea, it's better to stay away as they can make your skin even more sensitive.
• Witch hazel is one of those ingredients that can be really good but also be really irritant. If you have rosacea, the latter will be happening to your skin, so you really want to remove that from your skincare routine.
• Essential oils are ingredients that we never know if they're good or bad in skincare. If you have rosacea, try to keep them out of your routine. We wouldn't recommend these for anyone who has sensitive skin and especially rosacea.
• Glycolic acid is another exfoliant like azelaic acid, but this one might be a little too strong for people who deal with rosacea. Make sure you go for something that will not make your skin worse.
Best skincare products for rosacea
With rosacea, you want to keep your skincare routine as simple as possible, with only the most important steps. Sometimes an elaborate skincare routine can do wonders for your skin but when you have condition like rosacea, the fewer products, the better.
Step 1: Gentle cleanser
Cleansing is one of the most important parts of a morning and evening skincare routine. When it comes to rosacea, you still want to make sure you cleanser your skin but you want to be a bit more careful. Kendra Flockhart, Education Executive at Darphin. "The cleansing process has to be done very gently using fingertips only. Avoid using wash cloths, sponges and cleansing devices as these manually exfoliate and are too harsh for delicate skin". Choose gently cleanser that will cleanse your skin while respecting your skin barrier. We love both Kate Somerville DeliKate Soothing Cleanser, $49.50 and .
Step 2: Calming Treatment
With your serums and treatments, you want to choose something calming that will help soothe the redness. Choose something that has some of the ingredients listed above and apply a nice layer on clean skin, such as Ren Clean Skincare Evercalm Barrier Support Elixir, $51.75.
Step 3: Moisturiser
After your treatments or serums, your moisturiser will lock in all the benefits. You can go for something simple or for a moisturiser with actives that will benefit your skin even more, like probiotics. One thing you want to look for is good texture. Something thick that will nourish the skin and really help with the irritation rosacea can cause – try Kate Somerville DeliKate Recovery Cream, $70.00 or .
Step 4: SPF
Remember that the sun is a big trigger for rosacea, so wearing an SPF everyday is an absolute must. Opt for a sunscreen that has been specifically formulated for sensitive skin as they tend to be fragrance and chemical-free. Ultrasun Face Mineral SPF50, $34.00 is a good choice. It's lightweight and infused with antioxidant-rich ingredients to supercharge the protection. Likewise, is formulated to suit even the most sensitive of skin and leaves no white cast.
The Best Makeup to Hide Rosacea
Skin conditions like acne, hyperpigmentation or rosacea can sometimes make us feel quite insecure about our skin. It can be the first thing we notice when looking at our skin and sometimes we're scared that it might be the first thing people see when looking at us. Don't worry, we know the feeling and we've got you covered. Rosacea means that you're probably dealing with severe redness on your skin and that can be hard to deal with.
When it comes to makeup, you want to use something quite light that still has a good amount of coverage. We recommend using a CC cream because it combines the skincare benefits of a moisturiser and the coverage of a light foundation. We love the IT cosmetics because it has amazing coverage. If the redness is one of your main issues, we recommend Erborian CC Red Correct, $23.50 or even Charlotte Tilbury Hollywood Flawless Filter, $50.50.
Final thoughts on Rosacea
What you need to remember is that rosacea is actually a lot more common than you'd think, you don't always know or notice it because people are quite good at hiding it. So, if you struggle with it, you are not alone. To help soothe your skin and calm the redness down, you want to reach for gentle products with calming ingredients. You also want to stay well away from products that might have too much fragrance or anything that can trigger redness. And to top it all off, you can definitely use makeup to hide some of that redness.
Read More
• Latest New Beauty Product Launches
• What Is Sensitive Skin? • What Is Retinol?
• How To Treat Hormonal Acne • How To Recycle With Handle