IN FOCUS
How Many Serums Should You Be Using?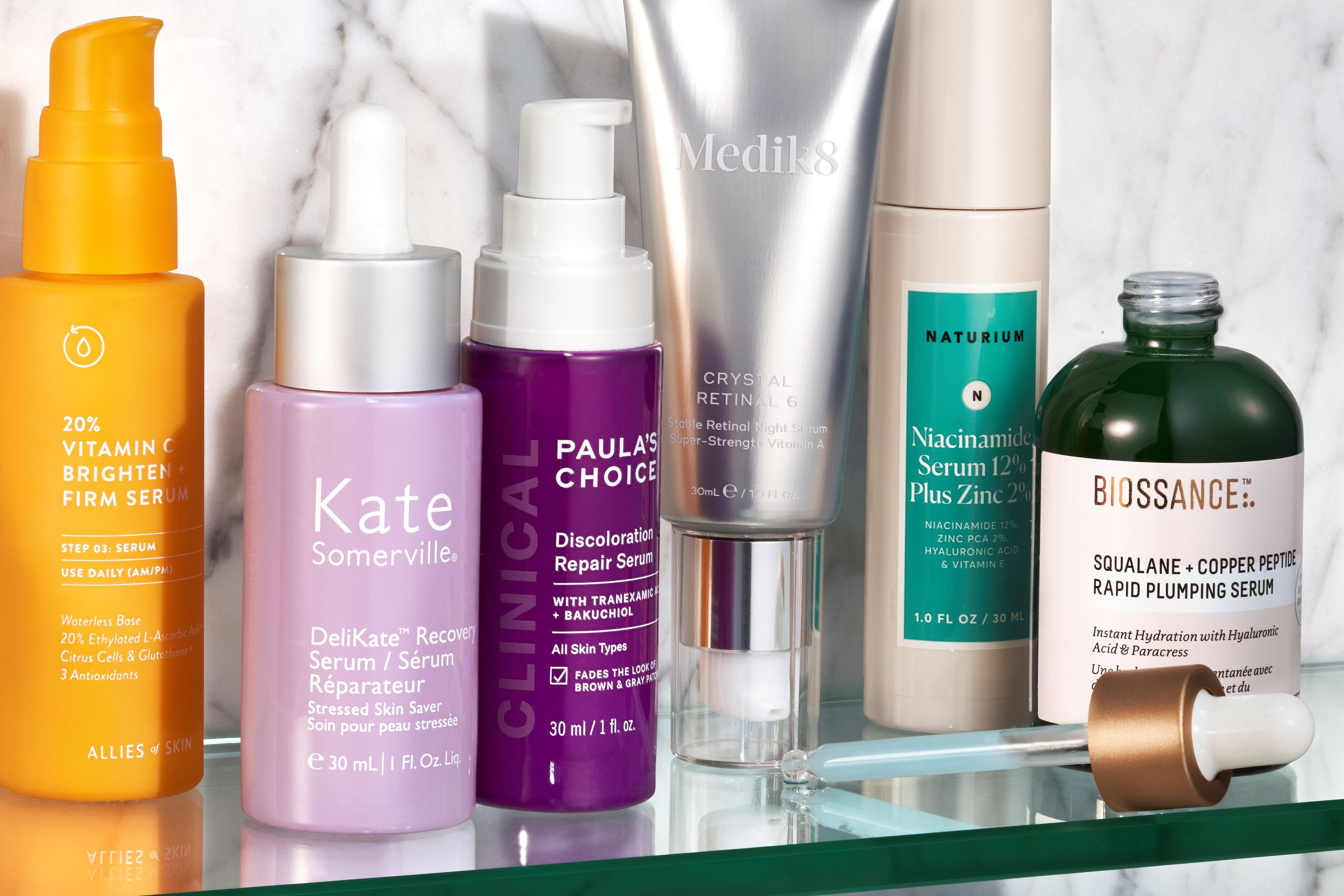 Let's face it, skincare routines have become more complicated than they need to be. The truth is a well-considered routine that focuses on just the essentials is often preferable for most
skin types
. Facial serums are absolutely one of those essentials. Serums are your opportunity to treat targeted concerns, such as dehydration, lines, texture, redness, or
acne
, with ingredients in concentrations you simply won't find in your average moisturiser.
If you've ever been confused by serums read our handy guide that will inform you on everything from the best hydrating facial serums, and best anti-ageing serum, to the best serums for combination skin, and the best serums for mature skin. Plus, of course, why, and how you should be using them. Here's what you need to know…
What are skin serums?
"Facial serums are concentrated, clear, gel-like solutions applied to the skin which consist of small molecules," explains Dr Anjali Mahto, consultant dermatologist at SELF London. "This means that they are absorbed quickly and penetrate deep into the skin. This contrasts with a moisturiser, which has larger particles and is designed to hydrate the skin surface."
"Serums are usually water-based, and they do not contain occlusive, moisturising ingredients such as petrolatum or mineral oil," continues Dr Mahto. "They have a high concentration of active ingredients such as antioxidants, vitamins, peptides, and brightening agents and they can be used to treat dryness, fine lines, wrinkles, dark spots, uneven skin tone, and premature skin ageing."
So, what do serums do? Because serums contain smaller molecules than moisturisers, they can penetrate deeper into the skin where they can have a bigger impact. If you have dry skin this might be hydrating intensely, or if you have redness and sensitivity, your serum may deliver ingredients like Niacinamide that help to strengthen your skin barrier.
How many serums can I use at once?
It's not uncommon to see people on social media layer-up three, sometimes four, serums at a time, but it's simply unnecessary. "A common issue I see in clinic is the overuse of products. Far too often people are using upwards of five products in the evening and it's not necessary. If in doubt, less is always more!" says Dr Mahto. "If you're using something with a high dose active in it (such as vitamin A or vitamin C), I'd recommend just sticking with that. Where layering can help is if you're using a humectant type serum. These can sometimes be beneficial underneath serums with high levels of actives as they can help with the skin's moisture levels, without disrupting the serum with the active in it."
Sandwiching your high-dose active serum with something more hydrating and strengthening, such as niacinamide, can help minimise sensitivity. The best niacinamide serums, in our opinion, include Dr. Barbara Sturm The Better B Niacinamide Serum, $145.00 and Paula's Choice 10% Niacinamide Booster, $61.10.
Which serums should I use?
Here's a closer look at what you could incorporate into your routine as your high-dose active depending on your skin type and concerns:
Hydrating facial serums for dry skin
Summer Fridays Dream Oasis Hydration Serum, $57.00 deeply hydrates with a trio of super-star ingredients: squalane, hyaluronic acid, and glycerine.
Drunk Elephant B-Hydra Intensive Hydration Serum, $54.50 contains pineapple ceramides and pro-vitamin B5 to boost hydration and help skin hold onto water for longer.
Best anti-ageing serum
Biossance Squalane + Copper Peptide Rapid Plumping Serum, $68.00 works double duty by hydrating but also supporting collagen and elastin production.
Algenist Genius Ultimate Anti-Aging Vitamin C+ Serum, $118.00 helps to fade dark spots, while protecting skin from environmental aggressors.
Best serums for combination skin
Aesop Lightweight Facial Hydrating Serum, $65.00 is ideal for combination types. It contains soothing aloe vera, calming panthenol, and protecting and strengthening antioxidants including vitamins B and C.
Révive Moisturizing Renewal Serum, $235.00 delivers hydration for where your skin feels dry, but also targets rough texture and redness with gentle exfoliators and avocado oil.
Best serums for mature skin
targets lines and uneven texture with a stable form of Vitamin A. It works fast, and without the sensitivity you might associate with retinol. This Medik8 serum is one of our favourites.
Tatcha The Silk Serum, $98.00 helps to soften lines, firm skin, and reduce redness with plant-based retinol alternatives, and silk protein to plump out lines.
When should I apply face serums?
"From a personal perspective, I like to keep it very simple. In the morning I use a vitamin C serum for antioxidant protection underneath my sunscreen," says Dr Mahto. "I'm more likely to use two serums in the evening. I will sometimes use a moisturising serum underneath my vitamin A serum. This can help negate some of the side effects (such as dry skin) you get from vitamin A use."
As you do for the rest of your skincare, if you are layering two serums, apply them in terms of thickness, starting with your water-based (such as hyaluronic acid), and then your oil-based (such as vitamin C). Your serums should be applied after cleansing, and before applying your moisturiser and SPF (if daytime).
Final thoughts on serums
Serums are excellent tools for targeting the skin concerns at the top of your to-do list, such as dehydration, redness, lines, or pigmentation. But don't get carried away. Layer two at most; one being your high-dose serum, such as vitamin A or C, and one being formulated with your skin barrier and hydration in mind. Don't be tempted to apply layer upon layer, it will just stress out your skin.
Read More
• Everything you Need To Know About Skin Cycling
• Best Skincare for Sensitive Skin • Everything You Need To Know About Skin Flooding
• The Best Cleanser for Every Skin Type • How to do the Retinol Sandwich Method