MOST WANTED
Why Drunk Elephant's C-Firma Fresh Day Serum Makes A Worthy Skincare Gift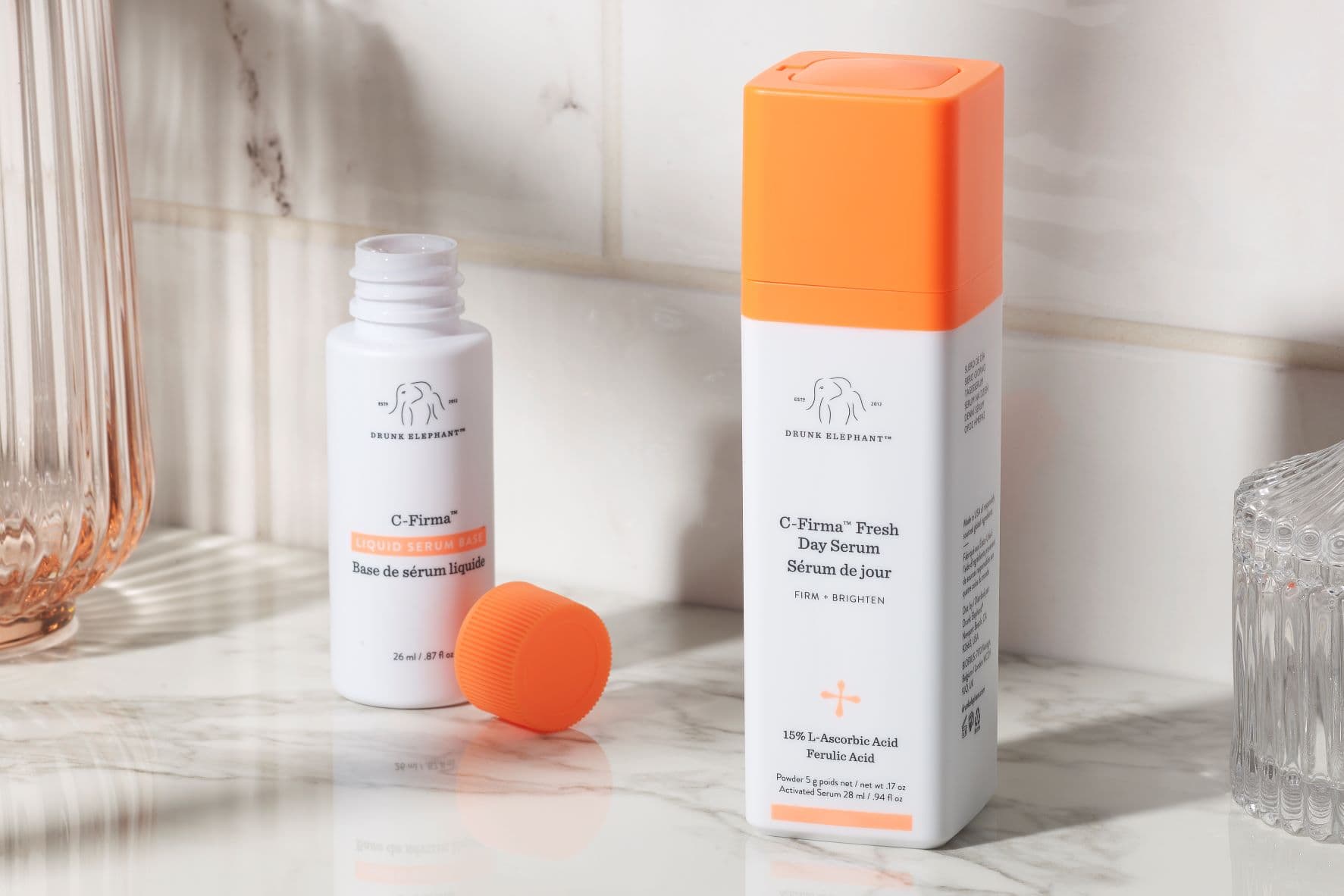 You might have noticed that Drunk Elephant C-Firma Fresh Day Serum features in almost all of Drunk Elephant's Christmas skincare gift sets and be wondering why. In a nutshell, people love it. C-Firma Fresh Day Serum is one of the bestselling
vitamin C serums
at Space NK and customers really do bulk buy it.
The brand upgraded the OG C-Firma Day Serum earlier this year, and the new formula offers all the same skin-boosting benefits, but it's even more potent. Could this make the perfect skincare gift (for you or them)? Scroll down to read our beauty editor's
Drunk Elephant C-Firma Fresh Day Serum
review.
Top Line On Drunk Elephant C-Firma Fresh Serum
C-Firma Fresh Day Serum contains 15% l'ascorbic acid, 0.5% ferulic acid and 1% vitamin E to give skin a brightening boost and antioxidant protection from harmful free radicals. While the original C-Firma came pre-mixed, with Drunk Elephant C-Firma Fresh Day Serum, $87.00 the powdered vitamin C (15% l'ascorbic acid) comes in a separate bottle to the serum and needs to be added in full before you start using it.
Everything You Need To Know About C-Firma Fresh Day Serum
The beauty of Drunk Elephant's vitamin C serum is that is caters to all skin types and tones. Once mixed and shaken, the serum has an orangey tinge to it, but it's light in texture, albeit slightly oily. Two pumps are more than enough for your face and neck and the serum absorbs quickly, without feeling gritty or greasy.
While the main purpose of this formula is to give skin a potent dose of vitamin C, Drunk Elephant has added a couple of other ingredients to help turbocharge your glow. Pumpkin ferment and pomegranate extract help to minimise the appearance of pores and slough away dry, dead surface skin cells that can leave your complexion looking dull.
While you can use this as part of your morning routine and reap the antioxidant benefits of vitamin C, I prefer to use it in the evening, alternating between this and my retinol serum and exfoliating acids. I wouldn't recommend using C-Firma Fresh Day Cream (and any vitamin C serum for that matter) alongside glycolic acid or retinol as it will overload your skin.
Whether you intend to incorporate it into your morning or evening routine, you should apply it to freshly cleansed skin before your hyaluronic acid or niacinamide serum and moisturiser. Don't forget to use SPF as vitamin C makes your skin more sensitive to UV rays.
The Verdict On Drunk Elephant C-Firma Fresh Day Serum
If you're looking for a good quality vitamin C skin and are concerned with dullness and dark spots, Drunk Elephant C-Firma Fresh Day Serum is a good investment. The set-up takes about 60 seconds longer than other vitamin C serums as you have to mix the powder into the solution and give it a good shake once, but the result is a fresher dose of vitamin C that hasn't lost any potency sitting on the shelf.
If your skin is on the sensitive side, I would recommend introducing this once a week and not using other active ingredients. Vitamin C has myriad skin benefits, including smoothing, brightening and plumping, but it's an active ingredient that should be introduced with care.
More On Drunk Elephant
As I mentioned, C-Firma Fresh Day Serum features in a lot of the brand's Christmas skincare gift sets, alongside the trusted and much-loved Protini Polypeptide Cream. The Drunk Elephant Wake-Up Haul Day Kit, $66.30 features both bestsellers alongside the Protini Powerpeptide Resurf Serum and vitamin C eye cream. It's worth pointing out that this kit is also worth £140!
If you're looking to push the boat out, check out Drunk Elephant Trunk 6.0, $315.00. For more money saving skin kits, look to Drunk Elephant A Night to Remember Night Kit, $110.50 which is worth £125 and Drunk Elephant Weekend with My Baby Kit, $97.50 which would cost £95 if you bought the products individually.
More Gifting Inspiration
• Best Sustainable Beauty Gifts
• Best Skincare Gifts • Best Grooming Gifts For Men
• Best Candles to Gift