IN FOCUS
A Guide To Afro Hair By The Experts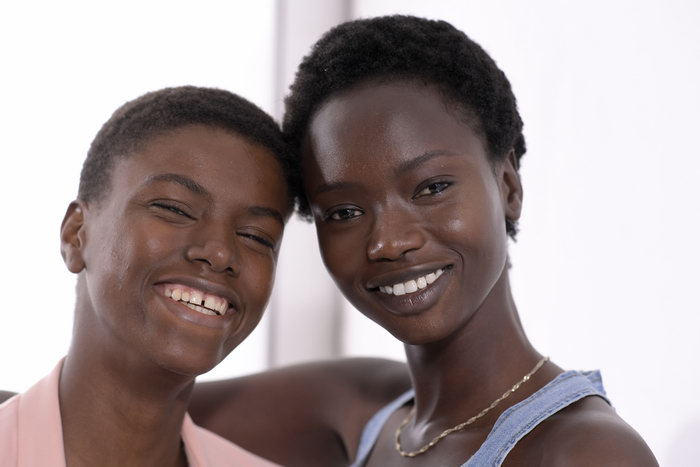 As those with afro hair know, for years the beauty industry has tended to cater for those with naturally finer, smoother textures. While women of colour have been largely ignored by the bigger brands, the tide is beginning to change thanks to a number of smaller brands dedicating their expertise to ensuring that their formulas work for all hair types. The likes of Nancy Twine, founder of
Briogeo
and renowned hair stylist
Charlotte Mensah
are both industry leaders when it comes to afro hair.
"I love working with Afro hair and the different textures it offers, as it allows endless styling opportunities," says Charlotte. "I realised in 1999 that there was a real need for a premium Afro hair salon that not only promoted proper hair care and maintenance but also offered that service from a holistic approach." Since then Charlotte has gone on to create a line of nourishing at-home products to ensure men and women of colour have the tools at their disposal – the
Manketti Hair Oil
continues to top our bestsellers list.
Product trainer Mary Anifowoshe not only knows the full catalogue of
Space NK's hair products
inside out, she also knows the ones that work well on afro hair. "I have lots of fine but coarse hair with a mix of textures on my head – anywhere from 4a to 4c! It's very common and the trick is to tailor your routine to your curliest bits to make sure you're always getting enough moisture," says Mary, who also has a weave which helps her to change up her style more regularly without causing any damage. Here are the products, tips and tricks both Charlotte and Mary swear by…
What is Afro Hair?
Afro hair, also known as kinky hair or coily refers to type 4 hair in the hair typing system. This type of hair is very thick and coily, it is also very dry, meaning that it's one of the most fragile that can easily break. Afro hair is very voluminous as it grows outwards, compared to finer hair that naturally falls down.
Just like any other hair texture, afro hair demands a specific type of care to maintain its health and natural body. If you have afro hair and are still trying to figure out how to it, or what type of products you should use, our experts have put a together a step-by-step guide for this specific type of hair.
How to Take Care of Afro Hair
Step 1: Cleanse, don't strip
"For my natural hair, the biggest tip I have is to wash as little as you can get away with. You want a deeply cleansing, but not stripping shampoo because the care product you use tend to be oily and quite heavyweight," says Mary. "My natural afro hair is plaited and generally my main concern is getting my hair clean, but not squeakily so. I love the Briogeo Scalp Revival Charcoal + Coconut Oil Micro-exfoliating Shampoo  because it smells like After Eights (win) and really helps to cleanse my hair and scalp (double win)."
"I also really like the Christophe Robin Hydrating Shampoo with Aloe Vera for a second wash because it catches anything I've missed without drying out my lengths," she adds.
Step 2: Conditioner is King
Afro hair is much more fragile than most people think and needs rich conditioners to prevent breakages. "It also soaks up moisture like a sponge so moisturise, moisturise, moisturise with natural oils," says Charlotte.
"I adore the Christophe Robin Regenerating Mask with Rare Prickly Pear Seed Oil and  Charlotte Mensah Manketti Oil Conditioner. I completely finished the latter! Not only does it offer a fair bit of slip for braiding, but it also has a lovely comforting scent that reminded me of getting my hair plaited for school as a kid," says Mary. [/copy [copy]"Every once and a while it's really good to use a steam cap with your conditioner – it makes your hair silky smooth and soft," adds Mary. "My mum used to put one on me as a kid, but I'm so fidgety that I do it a lot less as an adult."
Step 3: Tailor your Routine to your Hair Texture
It's worth noting that Mary tweaks her routine for her extensions. "The main difference is the conditioner," she explains. "For straight styles, I use something light and smoothing like  Olaplex No. 5 Bond Maintenance Conditioner, and for curls and waves I actually still use the Christophe Robin Regenerating Mask with Rare Prickly Pear Seed Oil but just a lot less."
Step 4: How to Detangle Afro Hair
"Always detangle your hair from the bottom up," says Charlotte. "Starting at the ends allows you to gently detangle each knot, rather than yanking your way through with a comb or brush." Not only will it prevent breakages, but it also helps protect your scalp.
How Often Should you Wash Afro Hair
Wash day is like a ritual of its own when it comes to afro hair. But how often should that be? Depending on your hair type, your hair doesn't need to be washed as often. The thicker your hair is, the more spaced out your wash days are. for afro hair, we recommend washing your hair every 7-10 days on average. This will vary depending on your lifestyle, how active you are, or even where you live.
How to Wrap Afro Hair at Night
Looking after afro hair is not just about wash day or styling during the day, it is also about making sure it is secured at night. Charlotte recommends taking time out to 'cuddle' your hair at night. "Take five minutes to pamper your hair before bedtime, which means moisturising if necessary, securing the ends and covering at night." Sleeping with a silk hair wrap will keep your hair from moving around and having too much friction, which can cause breakage. The Slip Pure Silk Hair Wrap is a great one to use for that.
Final Thoughts on Afro Hair Care
Time is a luxury for a lot of us, but Charlotte finds herself telling her clients to slow down, especially when it comes to their hair. "Take a few minutes each day to massage your scalp with a few drops of my Manketti Hair Oil," says Charlotte. "This simple practice stimulates the secretion of sebaceous oils and stimulates blood circulation."
Read More
• Best Routine For Textured Hair
• Best Products For Curly Hair • A Guide To Hair Oils
• How To Use Olaplex • How To Look After your Scalp