IN FOCUS
Behind Space NK's New Hand and Body Range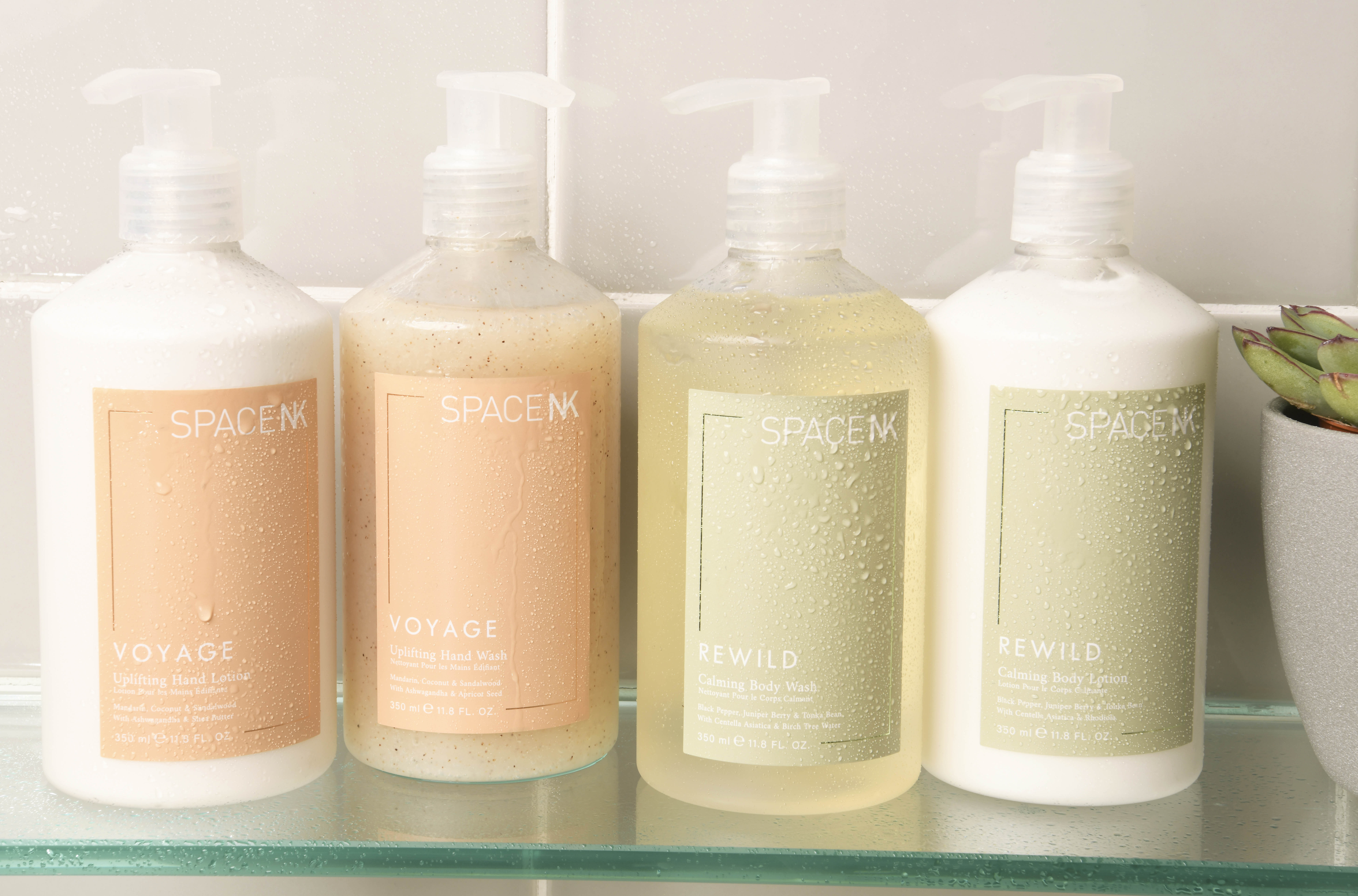 Over the past few years, Space NK customers have been requesting more body care and easy gifting options during the festive season. It quickly became a no brainer to create our own affordable but luxurious range in line with the iconic Shimmering Spice Candle and Travel Bags. So, we decided to branch out and create our very own hand & body range with two luxurious options, Rewild and Voyage…
The Formulations
There are thousands of hand lotions and body washes out there and it was important that Space NK's debut offering stood out on the shelves, so the formulas had to be next-level. With time being the ultimate luxury, we also wanted to make sure the products were multitasking and worked on a physical and emotional level. Adaptogens (plant-based ingredients that help to lift your mood) play a key role alongside well-known, physically nourishing ingredients such as aloe vera and shea butter. While Rewild utilises the calming powers of centella asiatica, Voyage is packed full of Ayurvedic favourite, ashwagandha to help you relax and unwind.
The Scents
Getting the scents right for Rewild and Voyage was the part I was most nervous about as fragrance can be so personal, but it was actually really fun. Modern, gender-neutral and transportive was the brief we started with, and I think we nailed it with both lines. The fragrances to be universally appealing and for the Space NK community to connect with them, so we started with a huge number of different fragrances and were able to narrow them pretty quickly with a little help from our customers, managers and teams. We set up a voting process and the winners became clear in no time at all.
With Rewild, it's like you're taking an early morning walk through a forest on a crisp, autumnal day with notes of cedarwood, patchouli and vertiver. It's fresh and calming with the gentlest lift thanks to black pepper and sweet orange. Voyage transports you back to those care-free beach days with uplifting citrusy notes, jasmine and creamy coconut – it's the perfect pick-me-up on a cold, rainy day.
The Sustainability Factor
Making sure the range was as sustainable as possible for non-negotiable for me and the team, but that doesn't mean it was straightforward. All the bottles are made from recycled materials and the pumps are removable, so you can reuse them when you purchase a refill bottle. We have also reconfigured some of our flagship stores to kit them out with refill stations.
While we have done the best we can to create refillable, recyclable product packaging, the job isn't done, and we plan to continue to innovate and evolve as new technologies are discovered and become available to us, so watch this space…