IN FOCUS
Make Way For Copper Peptides - The Must-Try Skincare Ingredient for Ageing Skin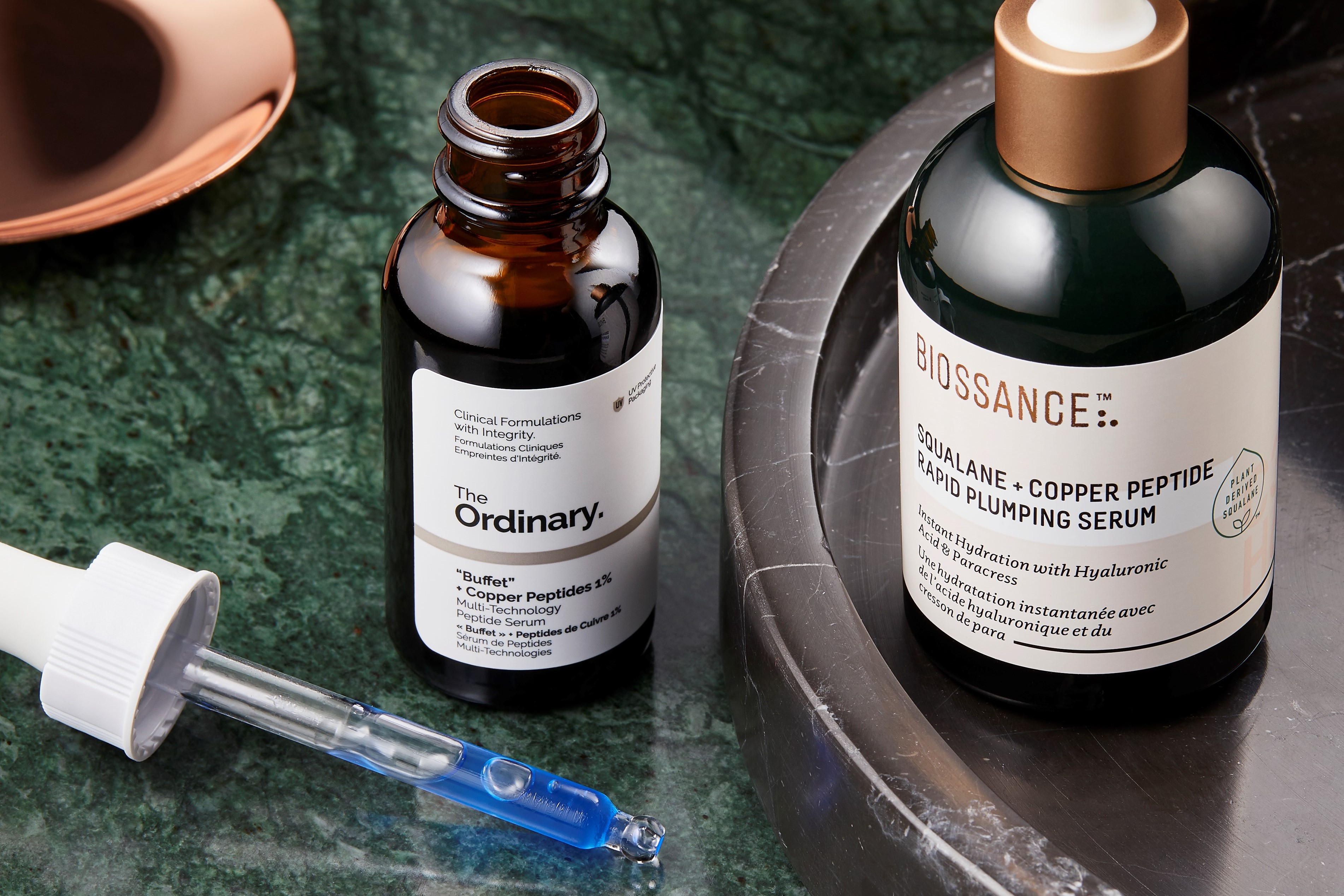 Many of us are turning to precious materials to bolster our skincare regime. And not just because it makes us feel fancy (although, that too). Take colloidal silver for example - the antibacterial, abrasion-healing,
antioxidant-rich
ingredient has been harnessed in everything from moisturisers, to serums, and even flannels and pillowcases. Because who doesn't want an antibacterial pillowcase?! There's colloidal gold with its unrivalled anti-inflammatory and all-round anti-ageing powers, and let's not forget the brightening benefits of diamond dust. But what about copper? Sure, it's less spangly than silver, and not as opulent as gold, but in skincare terms, copper - or more specifically copper
- may just be the precious metal our skin is lusting after.
"Copper peptides are one of the most important parts of any anti-ageing
skincare routine
," says prescribing clinician and dermatology expert, Michael Sam-Yorke. And it's not just a case of prevention. According to Michael, these clever peptides have the ability to actually reverse signs of ageing, and it's all down to replacing the protein our skin relies on for its bounce. "Peptides are in fact the building blocks of protein that make up the foundation of our skin. As we start to age, the levels of protein in our skin starts to reduce, leading to the loss of elasticity, which results in sagging skin and the formation of wrinkles," Michael explains. Copper peptides work to counteract this process, "supporting your skin's natural supply and stimulating collagen production," he says.
Is your copper curiosity building? Ours too, so let's find out more.
What are Copper Peptides?
"Copper peptides are amino acid chains (peptides) that are bonded to copper 2+ ions (Cu2 +)," Chief Scientific Officer at Deciem, Prudvi Kaka tells us. "They are found naturally occurring in the skin and may support a wide range of skin functions including barrier function, collagen, and elastin production," he adds.
The Benefits of Copper Peptides for Skin
"Copper peptides trigger your skin to visibly repair and rejuvenate and are used in skincare to stimulate your skin's natural production of collagen and elastin," explains McKenzie Bolt, Director of Global Education at skincare brand, Biossance. It's the reason copper peptides are so effective on fine lines, wrinkles, and sagging. "They're great for those looking to reverse the signs of ageing," Michael confirms.
Side Effects of Copper Peptides
"There is nothing to suggest copper peptides can cause any noticeable side effects. However, I'd advise against applying to broken or peeling skin and, as with any new skincare product, to take a patch-test before regular use. I'd also advise against combining copper peptides with direct acids, strong antioxidants and retinoids," says Michael. Why? Take vitamin C for example: "as an antioxidant, vitamin C can be quite potent and although it can help with everything from wrinkles to hyperpigmentation - when mixed with copper peptides they cancel each other out. So, if you've been mixing these two ingredients without seeing any results - this is why!" Michael tells us. [copy]As for retinol, "this is a very temperamental ingredient and therefore doesn't work well when mixed with potent actives," Michael warns. "When mixed with copper peptides, retinol can cause your skin to become extremely dry," he tells us.
How to use Copper Peptides in your Skincare Routine
"Copper Peptides should be introduced when you start to notice the appearance of wrinkles and fine lines," Michael advises. "Typically, I'd suggest introducing it into your routine from your late 20's to early 30's," he says. "Think of them like a healthy gym session for your skin, keeping your elastin and collagen fibres of your skin strong and youthful," Mckenzie adds.
So, where does this ingredient fit into our skincare routine? "Depending on how the copper peptides have been incorporated into a product, they can be applied before or after the application of thicker creams or serums," Prudvi expands. "For the copper peptide products offered by DECIEM (such as The Ordinary Buffet Copper Peptides), they should be applied as the first step after cleansing and before other serums or creams in both AM and PM."
As a reminder, it's not recommended to use copper peptides at the same time as acids, retinoids, pure or ethylated vitamin C and strong antioxidants. "Should any of these ingredients be present in an existing routine, they should be applied separately, i.e. one in the morning and the other in the evening or alternate mornings/evenings," Prudvi prescribes.
Our Favourite Copper Peptides Products
A lot of brands have been incorporating copper peptides into their anti-ageing serum formulas.
When it comes to copper skin saviours, this newbie is the one to try. It calls on blue copper peptides lauded for their ability to encourage collagen and elasticity production, plus a dose of plumping hyaluronic acid. Why? "Copper peptides when combined with Hyaluronic Acid give an instant plumping effect and long-term firming and strengthening effects," explains McKenzie.
For The Ordinary copper peptides, it's all about "targeting textural irregularities, uneven tone, and a general lack of radiance normally present in older skin," says Prudvi. Teamed with the brand's bestselling Buffet formula, the 1% concentration in this copper peptide serum is ready to deliver brighter, tighter, clearer-looking skin in no time.
You say "skin health", we say, "NIOD". Specifically, this copper peptide serum from the brand, with its lightweight, water-like texture, peptide-rich formula and collagen-boosting promise. For your healthiest-looking skin yet, "apply onto the skin as the first step after cleansing and before other serums or creams in both AM and PM," recommends Prudvi.
An award-winning copper peptide serum, boosted with skin-defending antioxidant benefits. Use this on freshly cleansed skin, morning and evening to help firm skin, plump out wrinkles and shield against damaging free radicals. Oh, and did you spot the split-product design? That's to keep certain ingredients from merging too early and deactivating. Clever, right?
Final Verdict on Copper Peptides for Skin
If ageing skin is your concern, copper peptides could well be the cure. Introduced at the right stage and age, this must-try metallic has the ability to support collagen production, skin firmness, and elasticity as well as boost your skin's defences against external stressors. And that's pretty brilliant. Just be wary of how copper peptides slot into your routine. If you're using direct acids, retinoids, vitamin C, or other strong antioxidants, the efficacy of your skincare ingredients could be compromised, and even cancelled out. In short, copper peptides need space in order to shine, and that's when you'll really notice the difference.