IN FOCUS
Discover This Month's NDULGE Birthday Treats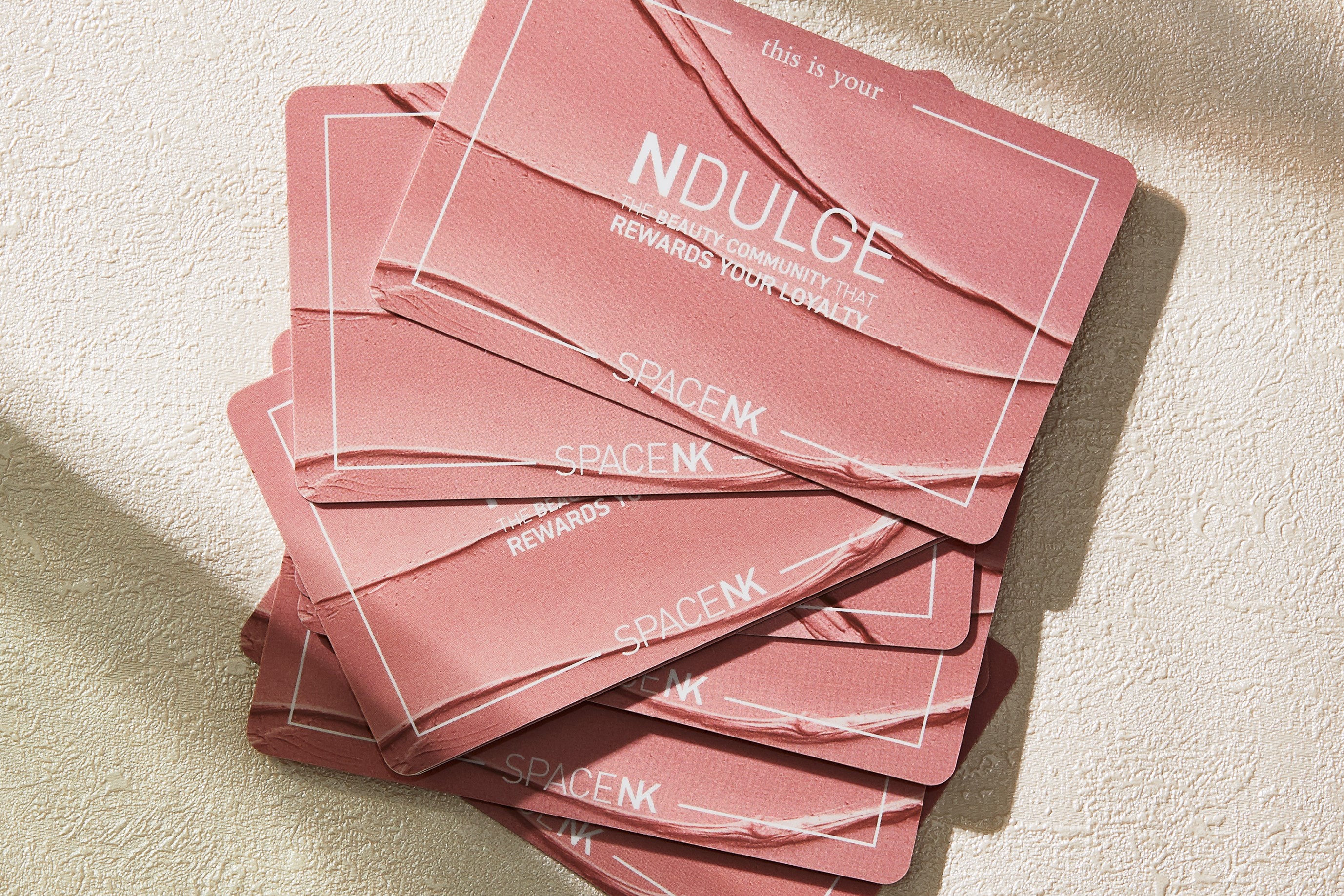 Whether you're shopping for food or makeup, most stores now offer some kind of loyalty scheme. At Space NK, we take loyalty very seriously – so much so, we're convinced that you won't a beauty rewards programme as good as NDULGE. While you will receive points for every purchase you make, there are plenty of other benefits to joining NDULGE, including exclusive access to our brand events where you'll have the opportunity to meet founders and industry renowned experts.
What is NDULGE and how does it work?
There are many reasons to join NDULGE, our beauty loyalty scheme. Not only do you earn 1 point for every £1 you spend and enjoy early access to the sales and exclusive brand events, but you also receive a complimentary birthday beauty treat. These change month by month and include some of our favourite beauty brands carefully selected by our buying team. It's worth noting that when you reach 100 points, you'll receive a £5 reward to spend on your next beauty purchase too.
NDULGE vs NDULGE Deluxe
The two-tiered system has been curated specifically to celebrate and reward loyalty. Everyone in the beauty community starts as an NDULGE member and receives all of the benefits mentioned above. Any NDULGE customers who spent £1000 or more within a 12-month period will automatically be upgraded to NUDLGE Deluxe.
NDULGE Deluxe members collect double the rewards and receive £10 for every 100 points earned, which is double the points standard NDULGE customers receive for every 100 points.
This month's NDULGE birthday gift: August 2022
August's trio of mini treats makes the perfect evening ritual to ensure your skin looks brighter and smoother come the morning. Kick your routine off with Patchology Soothe sheet mask, before applying the bestselling Sunday Riley CEO 15% Vitamin C Brightening Serum, € 72,00 (5ml) which helps to ease dark spots. Finish your routine with Goldfaden Md Wake Up Call, € 92,50, this creamy moisturiser helps to smooth and hydrate skin, leaving you with a gorgeous glow.
NDULGE Deluxe member? You have a tough decision this month as there are six full-size products to choose from. If you want to refresh your skincare routine, we recommend opting for the eye brightening Summer Fridays Light Aura Vitamin C + Peptide Eye Cream, € 34,40 or Erborian Skin Hero Bare Skin Perfector, € 20,50, which is a skincare-makeup hybrid that makes achieving the no makeup makeup look effortless. Ameliorate Smoothing Body Exfoliant, € 20,00 and Margaret Dabbs London Intensive Hydrating Foot Lotion, € 34,00 are ideal for anyone with a holiday coming up for obvious reasons, while Bamford Geranium Hand and Body Wash, € 51,75 and Neom Real Luxury Scented Travel Candle, € 19,00 are perfect for lowering stress levels.
How to become an NDULGE member today
All new customers are automatically enrolled into the loyalty scheme, but if you're not an NDULGE member yet, simply sign-up here and start reaping the rewards today.