IN FOCUS
Tan-Luxe vs. Isle of Paradise: Which Is Better For You?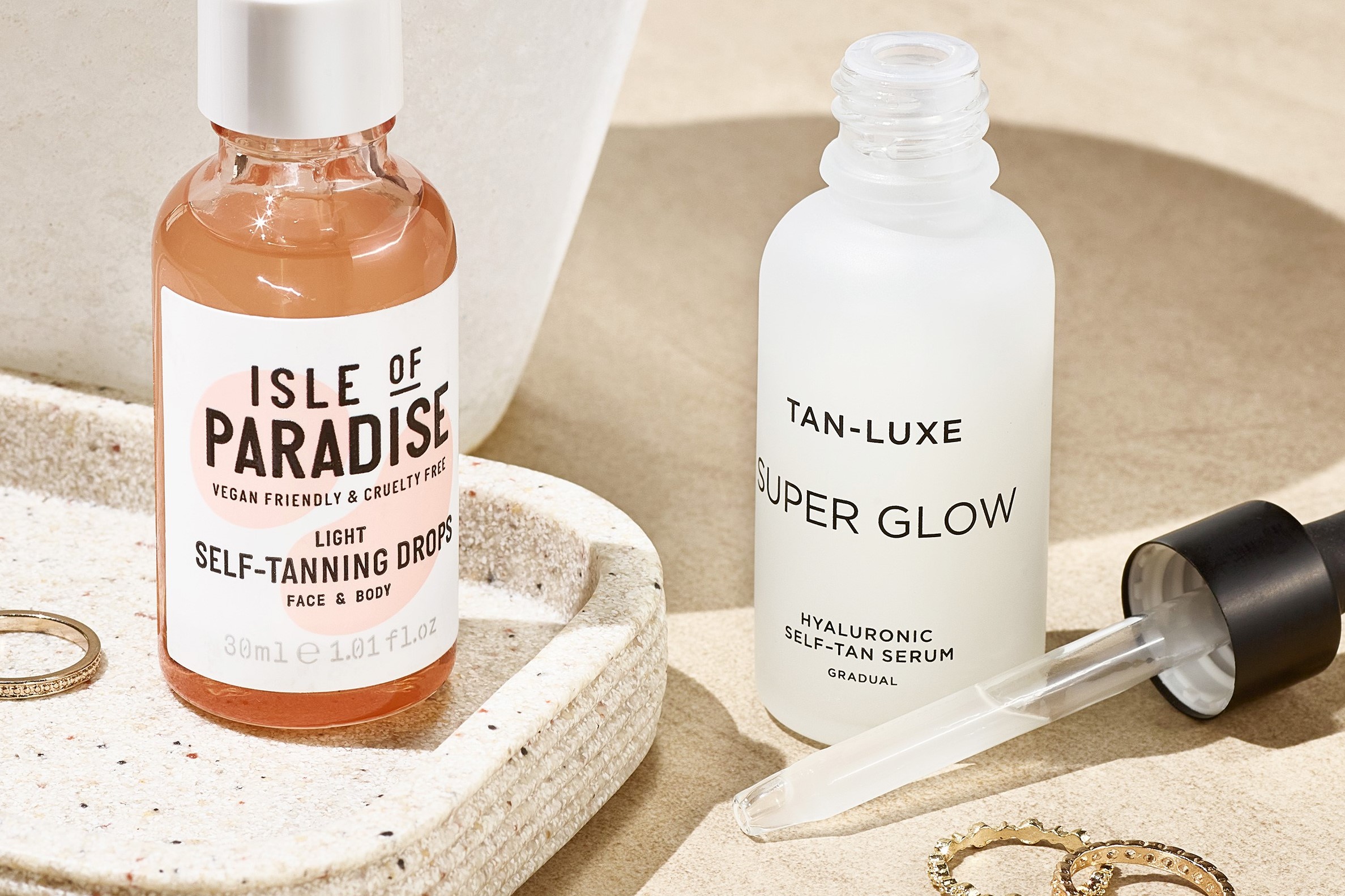 Self-tan is one of those beauty products that few of us enjoy experimenting with. Unless you opt for a wash-off formula, it can be tricky (but not impossible) to fix
fake tan disasters
.
Isle of Paradise
and
Tan-Luxe
are two of the
best self-tan
brands out there. There are similarities between the two. Both have exceptional tanning drops, they're also homegrown British brands and are founded by tanning advocates who have come up with innovative ways to make applying self-tan at home easier. Therefore, it's tricky to decide whether you should invest in Tan-Luxe or Isle of Paradise.
To help you make your decision, freelance beauty writer Rebecca Baio has shared her love for Isle of Paradise, while our beauty editor Victoria Hall reveals why she always comes back to Tan-Luxe.
Why Isle Of Paradise Is So Good
Behind The Brand: After honing his skills as a celebrity tanning expert, learning all about skin types, tones and textures, founder Jules Von Hep discovered what the tanning community needed: something personalised that they could easily apply themselves, without compromising on results.
Jules discovered it was tricky to conceal redness on his clients as adding a tan with red or orange undertones to already rosy skin will only amplify redness. Pre-Isle Of Paradise, his solution was to mix in colour correcting makeup with the tanning product, but now with his 'medium' green range, designed to counteract flushed tones, 'deep' violet range to balance orange, yellow and ashy skin, and 'light' peach for the rest, the colour correcting work is done for us. Clever, right?
Why I Love It: As a teen, I was pretty devoted to bottled tan. But it was a slapdash affair - a budget, extra dark, biscuit-scented foam was slathered onto the reachable bits before a night out, no mitt in sight. Then a quick scrub of the palms with a bar of soap, and voila, I was a questionable shade of mud, AKA good to go. If I felt particularly fancy, I might moisturise beforehand (but usually didn't), or plan to tan a day in advance. But generally, knowing I was about to step into a dark and dingy nightclub gave me the confidence to just go for it, streaks and all, ignoring any comments that I smelt like a stale digestive.
Isle Of Paradise has taught me the importance of prep, and how much of a difference this makes to helping your tan last. Beyond that, Isle Of Paradise products make it pretty hard to fail. Every time, you're left with a creamy, buttery, seamless tan, that looks (dare I say it) real, and not even a whiff of that biscuit scent. The colour correcting options are a delight for any skin tone (I go for peach), and the formulas? That trusty mousse is there if you want it, but also a butter, serum, mist, and even a tanning water. And should you mess anything up - a blending balm to smooth out the issue. If only I had discovered the brand sooner!
Isle of Paradise's Hero Product: Isle of Paradise Self-Tanning Water, € 28,00
A water? That tans? Don't be bonkers. But guess what folks, that's exactly what this product does, and quite magnificently, may I add. In light, medium and dark options, each with an added colour correcting benefit, this weightless tanning water is an effortless way to mist your skin with a sunkissed glow. Add a trio of hydrating coconut, avocado and chia seed oils, and skin is left feeling as healthy and nourished as it looks.
The Formula You Should Try First: Isle of Paradise Self-Tanning Water, € 28,00
Want to add a tan to your routine without shaking things up too much? Then Isle Of Paradise Drops are the product to try. You simply add the drops to your face and/or body moisturiser (following Von Hep's advice of 'the more you add, the more you glow') and repeat whenever you feel that tan needs a top up. Simple, but brilliant.
Why Tan-Luxe Is So Good
Behind The Brand: While Marc Elrick was happy with the hair and makeup offering he stocked in his salon, he felt that the self-tanning products didn't quite hit the mark. So, he took it upon himself to create something better and after five years of research, development, and feedback, Tan-Luxe was born. To say Tan-Luxe The Face Illuminating Tan Drops, € 48,00 were a tanning game-changer would be a huge understatement. Prior to these clever drops launching and allowing everyone and anyone to tailor their faux tan to suit their skin tone or mood, you had to pray that the formula wouldn't leave you looking Tango'ed, or be so subtle that it almost wasn't worth the prep. With Tan-Luxe, you could test the water with three drops and build it up day by day until you reached peak glow.
Why I Love It: Tan-Luxe is genuinely one of those brands that you use once and can't be without. It makes fake tanning from head-to-toe at home fool-proof. The ability to tailor your tan to your desired finish was obviously the biggest selling point. Once or twice a week, I'll add three of drops to my hyaluronic acid serum before bed. During the summer months, I'll dial it up and add more drops for a deeper tan. The best bit? No matter how heavy handed you get, Tan-Luxe instils a natural-looking tan rather than anything overtly orange.
The cocktail of skincare ingredients incorporated into each formula, including glycerin, hyaluronic acid and aloe vera is another important factor. While some fake tans can be drying and clog your pores, Marc has been diligent with his formulations and Tan-Luxe doesn't cause breakouts or dry patches.
Tan-Luxe's Hero Product: Tan-Luxe Super Glow Hyaluronic Self-Tan Serum, € 17,00
While the Illuminating Face Drops might have put the brand on the map, these have become a firm favourite among Space NK customers. Combining hyaluronic acid, raspberry seed oil and vitamin E, this serum bridges the gap between skincare and self-tan. If you have combination to oily skin, you could use this alone (with SPF during the day!), while dry skin types might want to add their usual face cream on top. Within a couple of days, you'll have a natural-looking, sun kissed glow.
The Formula You Should Try First: Tan-Luxe Super Glow Night Repair, € 52,00
Whether you're a self-tanning novice or a skincare buff, this is such a good place to start. It is one of Tan-Luxe's newest offering and it is heavy on the skincare side of things with hyaluronic acid, five different skin-plumping peptides and a handful of nourishing oils. After you've cleansed in the evening, you add one pump of the Super Glow Elixir with three or more drops of Super Glow Facial Oil and your night-time routine is complete.
The Verdict
First and foremost, we want to stress that you can't go wrong with either of these brands. As far as sunless tanning goes, they are both excellent options. There are a couple of very slight nuances. For example, if you've struggled to find a self-tan that pairs well with your undertones, head to Isle of Paradise. If you're a skincare buff, or have dry skin, we'd recommend heading towards Tan-Luxe. Regardless of which brand you choose though, remember that with self-tanning prepping your skin in advance and washing your hands properly after applying is essential.
Read More
• Best Self Tan Products
• Is Cream Bronzer Better than Powder? • The Best Cream Blushes
• Everything You Need To Know About SPF