IN FOCUS
Our Summer-to-Autumn Skincare Tips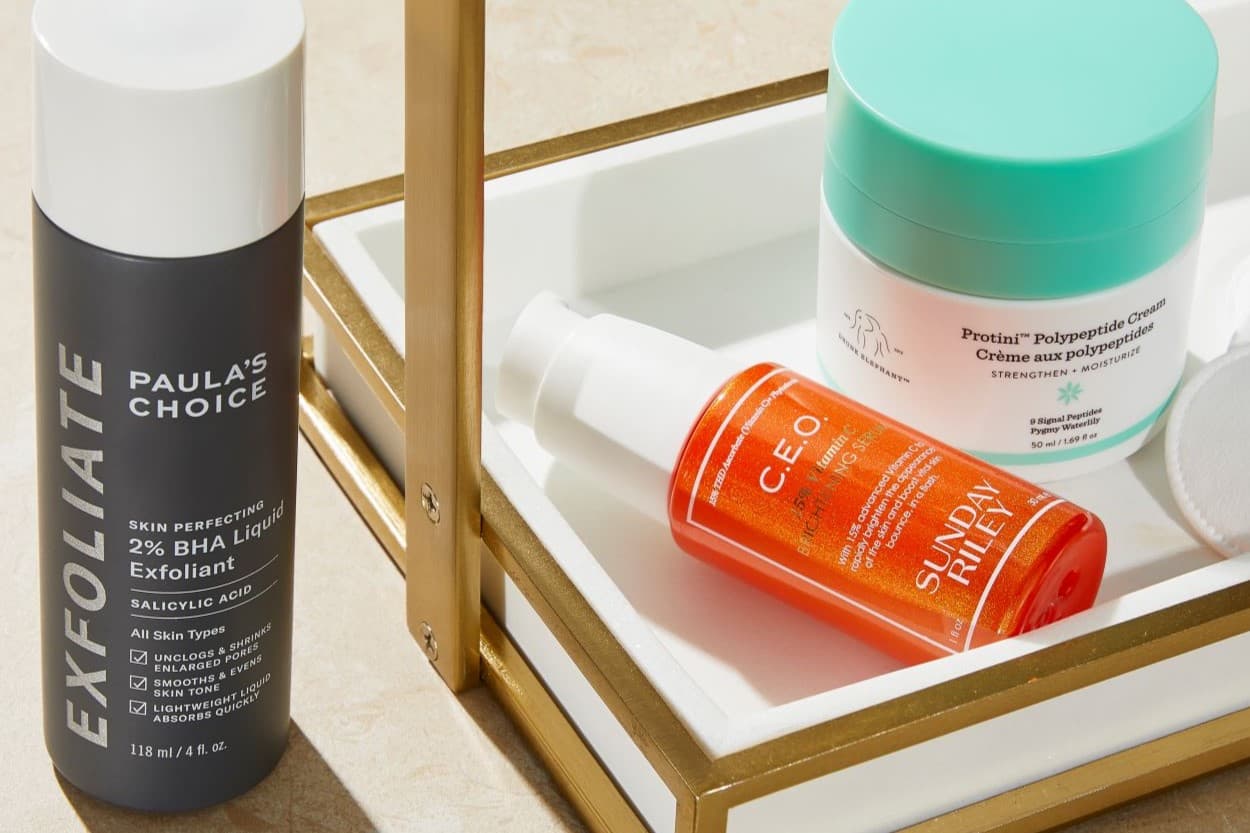 September is (already) here, which unofficially means that summer is over and autumn is right around the corner. This means the end of dreamy holidays , going back to work, Fashion Week approaching and changes in the weather – less sun, more rain and lower temperatures.
From our daily habits to our wardrobe, we change a lot of things when we transition into a new season, but what about our skincare? Be it dehydration to dullness, the cooler temperatures can take a toll on our skin. That's why we need to adjust our skincare to prep our skin for this transition.
If you've been considering switching up your skincare but don't know where to start, read on for our top tips on transitioning your skincare from summer to autumn.
How does the Autumnal Weather Affect My Skin?
At the end of the summer, it's likely your skin is still feeling the effects of the sun and the hot weather. If your skin is oily and congested or if you're seeing some pigmentation, that's your summer skin showing. You might be thinking that you don't want to change your skincare because you're still trying to work through the clogged pores and oily skin – but a little skin detox wouldn't hurt.
The colder temperatures in autumn and winter will make your skin dry. If you have oily skin, that might be good news for you. However, if you naturally have dry skin or sensitive skin, you might want to think about starting to switch out your skincare arsenal. It's all about transitioning and incorporating the right ingredients to prepare and strengthen your skin barrier for when those cooler temperatures start to hit. Remember that skincare doesn't work instantly – so the earlier you start, the happier and healthier your skin will be.
How to Switch your Skincare from Summer to Autumn?
When it comes to autumn skincare, you want to make sure our skin is well hydrated and that your skin barrier is healthy and strong. A compromised skin barrier means that it will be easier for environmental stressors like pollution and even the cold to get into the deeper layers of your skin, which can lead to dehydration and sometimes inflammation. So start by incorporating the right ingredients into each step of your routine.
Step 1: Go for a Gentle Cleanser
In the summer, we tend to choose cleansers with exfoliating properties, with ingredients like salicylic acid to really get into those pores and remove all impurities. Going into autumn, cleansing is just as important – but you want to go for a more gentle formula that will preserve your skin's moisture. We love the Kate Somerville Goat Milk Moisturizing Cleanser, € 39,00, it's great for those with dry and sensitive skin. For those dealing with flare-ups or inflammation, the Medik8 Calmwise Soothing Cleanser, € 31,00 is another great option to remove the impurities without causing any more damage. If you wear makeup, make sure to double cleanse with a good cleansing balm before using your cleanser.
For a stronger skin barrier, you can also opt for a probiotic-based cleanser like the new Tula Skincare The Cult Classic Purifying Face Cleanser, € 12,00. This formula will help clean out your pores while feeding your skin microbiome and boosting your barrier function.
Step 2: Exfoliate less
Exfoliation is important all-year round, it's how we get rid of dead skin cells and impurities to get healthy, glowing skin. But there is always a fine line between exfoliation and over-exfoliation, especially when the weather gets colder. When transitioning cooler temperatures, you might want to think about exfoliating your skin fewer times than in the summer. Keep it to once or twice a week, and make sure to monitor your skin to keep stop it from drying out. The Paula's Choice Skin Perfecting 2% BHA Liquid Exfoliant, € 13,00 is a house favourite and works for all skin types.
Step 4: Choose a rich moisturiser
When it's hot outside, gel and water-based moisturisers give the right amount of moisture to your skin without clogging pores. Come autumn, it's time to opt for something with rich ingredients like ceramides and peptides. The Drunk Elephant Protini Polypeptide Cream, € 70,15 is a great addition to your routine for this time of year. Packed with nutrients, this cream will help repair any sun damage and protect your skin barrier for the coming months.
Step 5: Consider using a face oil
A face oil is the perfect addition to your routine to lock in all the other layers of your skincare, especially if you have dry skin. For extra nourishment, there's The Ordinary 100% Plant-Derived Squalane, € 10,70, or you can also go for an oil with actives like Ren Clean Skincare Evercalm Barrier Support Elixir, € 51,75 to support your barrier function. If you have oily skin, you might want to stop at your moisturiser to avoid any congestion, or try to incorporate an oil once a week and see how your skin reacts.
How to Repair your Skin Barrier
Your skin barrier is like a shield that keeps your skin from getting damaged by environmental stressors like pollution, UV rays and bacteria. Due to sun exposure in the summer, it's common to have a damaged skin barrier come the end of the summer and the beginning of autumn. To support and repair your skin barrier, you have to choose gentle skincare, as we just explained. You simply need to give your skin time to heal and feed it with hydrating and nourishing ingredients like hyaluronic acid or honey. If you're dealing with pigmentation, you can use niacinamide as it will help fade those dark marks. Try to stay away from strong active like exfoliating acids and retinol, while your skin is still recovering. And most importantly, remember to wear sunscreen everyday to keep the sun from damaging your skin further.
Our Final Note on Summer to Autumn Skincare
Transitioning your skincare in-between seasons is all about preparing your skin and protecting it from harsh weather conditions. This autumn, make sure you're packing in the hydration and strengthening your skin barrier with nourishing ingredients. We all have our skin concerns – pay attention to your skin's needs and choose the ingredients and formulas that work best for you!
Read More
• The Benefits of Rosehip Oil
• What is Slugging in Skincare? • The Best Hydrating Face Masks
• Can you Use Vitamin C with Retinol? • The Benefits of Milk in Skincare