IN FOCUS
The Minimalist Makeup Guide For The Party Season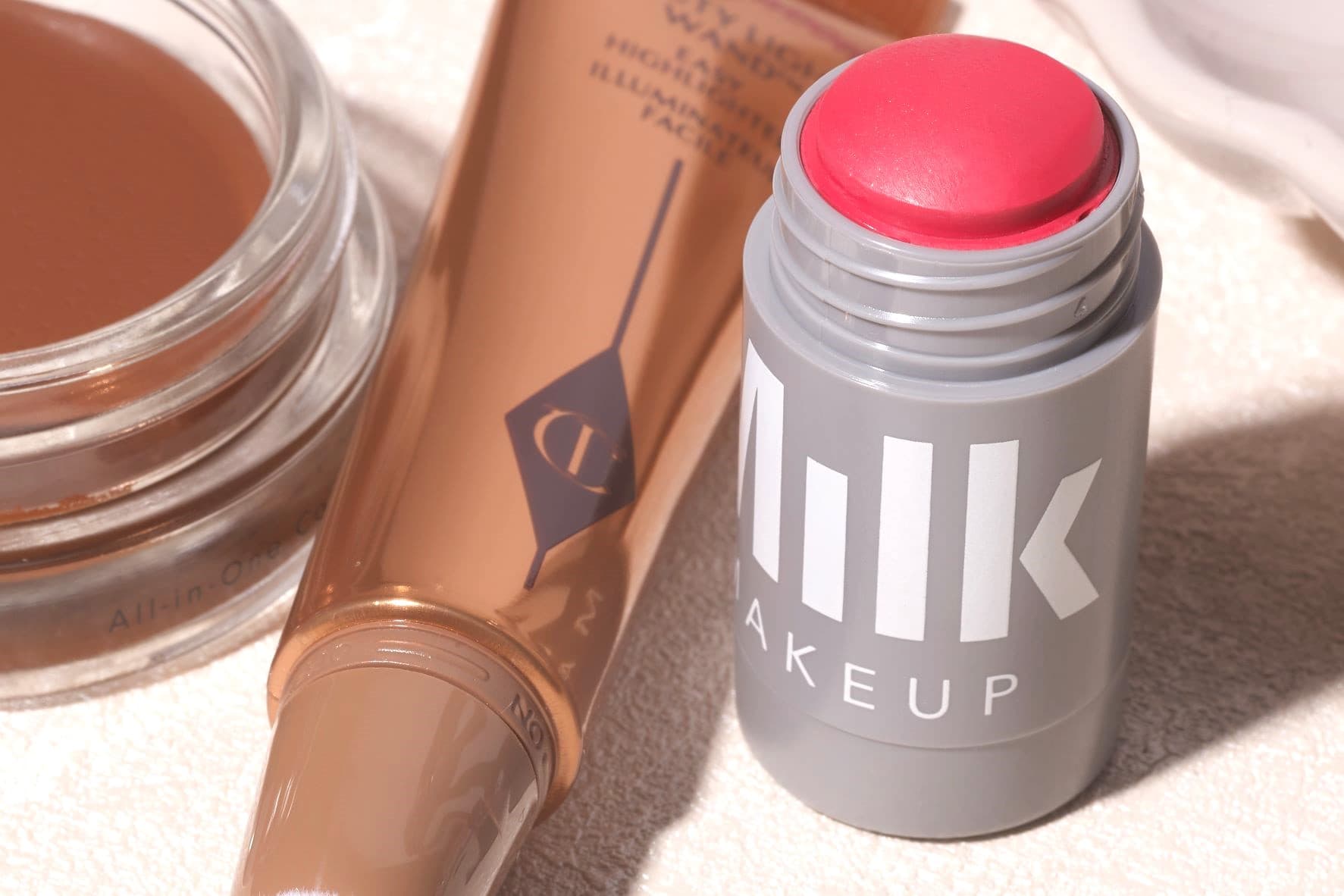 It's December AKA it's (un)officially Christmas and officially party season! After two years of lockdowns and keeping our gatherings small, this year we can safely say that party season is back.
From
festive makeup
to
hair heroes
, some of us have been rebuilding our beauty arsenal but if you're more into the minimalist makeup look, this one is for you. Read on if you want to lowdown on how to dial up your look without veering too far away from the minimalist feel.
Why we love a minimalist makeup look for the party season
Between having no time to get ready and enjoying the feel of a lightweight base and fewer products, we love a less is more makeup look at this time of year. A minimalist party season look is all about keeping it simple with pops of colour here and there with the help of multitasking, easy-to-use products.
How to create minimalist makeup look for party season
Step 1: Keep your base simple
When it comes to keeping it minimal, we love an all-round makeup base that gives good coverage and doubles up as a foundation and concealer. We love the Monika Blunder Beauty Cover Foundation/Concealer, € 52,00, it's perfect to cover any spots or imperfections without feeling heavy or looking cakey. Also, keeping your makeup base light gives it more chance to last longer throughout the night.
Step 2: Multi taskers for your lips and cheeks
It's the age-old trick to use your lipstick as a blusher for a monochromatic look and fortunately now there are products like Milk Makeup Lip + Cheek, € 22,00, which can be used across your lips, cheeks and eyes, and comes in eight shades to cater to all skin tones. We love using this one for a healthy, rosy glow, plus it's an easy one to reapply throughout the night.
Step 3: Highlight for the festive touch
Highlighter can be one of those love-it-or-hate-it makeup products, and it's easy to go overboard and use too much. The iconic Charlotte Tilbury Beauty Light Wand, € 35,00 gives your skin the healthiest glow that lasts all night – it's an essential for our Christmas makeup look. Apply your highlighter across your cheekbones and the high points of your face for the perfect festive glow.
Step 4: Glitter eyeshadow
An optional step but sometimes a neutral, glitter eyeshadow can be good to have on hand. If you're keeping it simple with the rest of your makeup, this is your opportunity to bring that little bit of magic to your makeup look. We love the Hourglass Scattered Light Glitter Shadow in Vivid, € 32,00, it lasts all night and brightens up your entire face. Finish off the look with a sweeping of waterproof mascara to intensify your eye look.
Step 5: Red lipstick
No Christmas makeup look is complete without a bold, true red lipstick to bring the festive vibes to another level. If you want to take your festive look to the next level, pare back your eye makeup and opt for a bold, matte red lipstick. The Rare Beauty Lip Soufflé Matte Lip Cream, € 16,10 will bring that bold colour, without drying out your lips. We also love the classic Nars Powermatte Lipstick, € 29,00 for a red that will not budge. If a punchy lip is too bold for you, use your lip and cheek tint and dot a little bit of colour on your lips.
Our Final Thoughts on a Minimalist Party Makeup Look
Keep it simple, with a touch of colour or glitter, if you want to successfully tap into the minimalist festive makeup look. Choose multi-purpose products that are easy to carry around, effortless to apply and last all night. If you've got that, then you've got your Christmas festive makeup all figured out, and you're ready to party.
Read More
• The TikTok Makeup Trends to Recreate
• The Best Mascaras for Every Effect • How To Enhance Your Natural Lashes
• How to Choose the Right Lipstick for You • How to Make Your Makeup Last Longer