IN FOCUS
Travelling In Style With Tiffany Masterson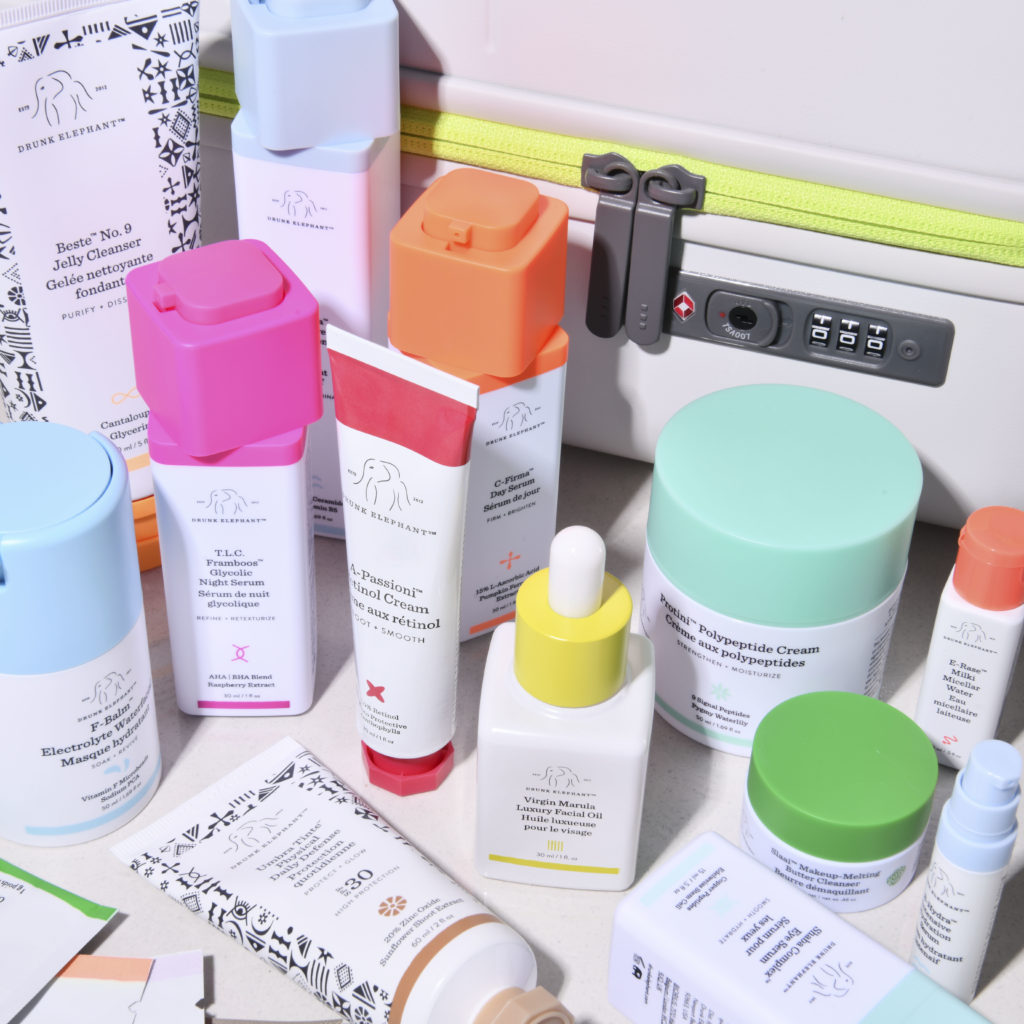 Stop what you're doing, Drunk Elephant has just dropped The Trunk 4.0. It includes not just three or four full-size products, but a whopping 10 and these bestselling formulas come wrapped up in a limited edition, never-seen-before suitcase. And, just in case that wasn't enough to have scrambling for your card details, you'll also save yourself £143.
With the likes of Drunk Elephant F-Balm Electrolyte Waterfacial Hydrating Mask, € 51,00, Drunk Elephant C-Firma Day Serum, € 45,60, Drunk Elephant T.L.C. Framboos Glycolic Night Serum, € 52,20 and Drunk Elephant B-Hydra Intensive Hydration Serum, € 48,00 packed safely inside, this kind of splurge on Drunk Elephant would usually set you back £513. Drunk Elephant Trunk 4.0, € 422,00 is just £370, including that suitcase. While this show-stopping gift set is likely to sell out in hours rather than days, it got us thinking about how Drunk Elephant's founder Tiffany Masterson travels and the beauty essentials in her suitcase.
Tiffany On The Trunk…
"Travel has always inspired me – there's nothing more exciting than exploring a new place or culture," says Drunk Elephant's founder Tiffany Masterson. "Of course, over the last year, the very idea of travel has taken on a much more profound significance, and along with the rest of the world, I've learned what a gift it really is." To celebrate the joy of travel, Tiffany decided to team up with Monos, a luxury luggage company renowned for its minimalist design. "It's full of all the skincare you could want for," adds Tiffany.
On Her Beauty Essentials…
While The Trunk 4.0 contains full-size products, Tiffany tends to travel with The Littles. "They last 30 days, so I don't have to worry about running out," she explains. "My routine stays the same and it's super simple. A good cleanse at night with Drunk Elephant T.L.C. Framboos Glycolic Night Serum, € 52,20 mixed with a dropper full of Drunk Elephant Virgin Marula Luxury Facial Oil, € 70,00. Topped by a layer of Drunk Elephant F-Balm Electrolyte Waterfacial Hydrating Mask, € 51,00. In the morning, it's Drunk Elephant C-Firma Day Serum, € 45,60 mixed with retinol and Drunk Elephant Lala Retro Whipped Cream, € 59,00. I top that off with Drunk Elephant Umbra Tinte Physical Daily Defense SPF30, € 35,00 with a pump of . My skin glows."
On Her Travel Essentials…
Keeping her skin looking radiant and glow-y is paramount regardless of where and how she's travelled, and Tiffany doesn't rely solely on her beauty products. "I'm a strict non-drinker when I'm working and travelling," she says. "I just don't like it and I feel my skin looks a thousand times better without it."
Aside from her miniature beauty haul and plenty of sleep and water, Tiffany is just as specific about her other travel essentials. "I wouldn't be without my Amika High Tide Deep Waver for my hair; a cosy blanket from Naked Cashmere; my supplements; a pair of brown suede Saint Laurent slides over thick grey socks and my protein powder and Nuun tablets," she says. Fortunately, there is plenty of room for all the above in the Monos wheelie case. We just need to get our hands on one…