MOST WANTED
Tried & Tested: Dermalogica Milkfoliant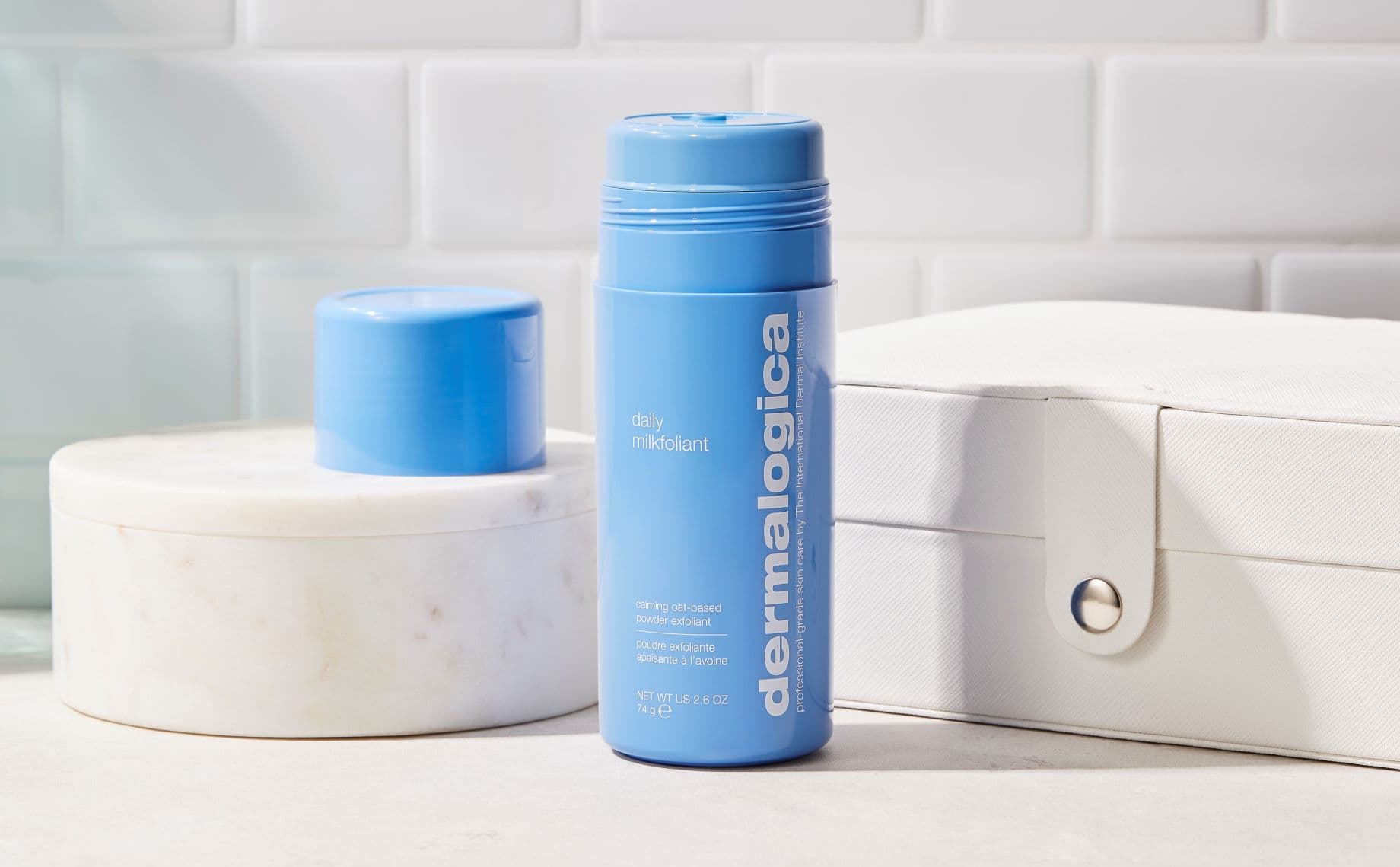 There are some skincare brands we just trust. Come dehydration or shine, we know they'll do right by our skin. And when we have a little moment of curiosity and decide to stray off our regular skincare path (sometimes a positive experience, other times not so much), theirs are the products we always come crawling back to.
Dermalogica
is one of those trusted brands.
Catered to benefit any skin type and concern, its range divvies up solutions to everything from
adult acne
to sensitivity and redness, oliness,
pigmentation
, and even the skin side effects of
menopause
. And don't expect just one product for each, oh no. The Dermalogica approach allows every single person - regardless of gender, age, skin type or sensitivity - a no compromise approach to skin care. Looking for an SPF that won't cause a flare up? Dermalogica has the solution. An anti-ageing serum your skin can tolerate? Look no further.
Needless today, when this brand decided to create a shiny new exfoliator, aka
Dermalogica Daily Milkfoliant
, I didn't hesitate to dive in. Read on to hear my honest review.
Top Line On Dermalogica Daily Milkfoliant
A gentle, powder exfoliant packed with alpha hydroxy acids and beta hydroxy acids (aka AHAs and BHAs) to help polish away dead skin cells and dig out pore debris. While effective at exfoliating, it also leaves skin feeling calm, courtesy of smoothing, softening coconut milk and soothing oat bran extracts. In the formula, you'll also find papain extract with its excellent resurfacing action, a blend of a naturally derived plant saccharide, atomised sea salt and hyaluronic acid to help support the skin's moisture barrier.
Everything you need to know about Dermalogica's Exfoliator
As someone with pretty reactive, sensitive skin, I've always been wary of chemical exfoliators. Why? One simple reason - I don't want my skin barrier to be weakened. Now, in some ways this is an irrational fear as chemical exfoliators have a very specific role. They work by dissolving the 'glue' that holds dead skin cells in place (the cells that contribute to skin looking lacklustre), causing these - plus pore debris - to be lifted away and allowing our new, fresh, glowy skin cells beneath to shine through. Of course, if you go overboard with a product of this kind, your barrier may well be compromised. That said, avoid it completely and you may be doomed to a life with blackheads and a dull complexion.
So, when questioning how to exfoliate sensitive skin, Dermalogica Daily Milkfoliant strikes the perfect balance. Used in moderation (Dermalogica suggests daily on the packaging, however I've opted for a more cautious twice-a-week exfoliating routine) my skin texture and appearance have undoubtedly improved.
But more surprisingly, so have my flare ups. Especially at a time of year when an increase in SPF and heat usually sparks breakouts and sensitivity. That'll be the moisture-barrier-boosting blend of saccharide, atomised sea salt and hyaluronic acid, I expect.
The verdict on Dermalogica Daily Milkfoliant
If, like me, you're still deciding whether or not to add a chemical exfoliator into your weekly routine, Dermalogica Daily Milkfoliant, € 19,00 is the product to try. Its ultra-gentle approach to an action which can (when approached in the wrong way) leave skin feeling stripped and sensitised has completely converted me. And it still gets results. Blackheads in particular have always been a concern of mine, but with a twice-weekly dose of this, I can confirm my nose is looking considerably less polka dot than before.
More from Dermalogica
As I mentioned, Dermalogica is all about its no-compromise routines, whatever your skin type. Chances are, if you've turned to this kind of gentle exfoliator (as opposed to the popular Dermalogica Daily Microfoliant), you're also seeking a sensitive skin routine. So, what other Dermalogica products does the brand recommend? A twice-daily cleanse with Dermalogica Ultracalming Cleanser, € 45,00, a daily dose of Dermalogica Ultracalming Serum Concentrate, € 73,00, Dermalogica Intensive Eye Repair, € 65,00, and of course, UV protection is a must, so Dermalogica Invisible Defense SPF 30, € 54,00. Want more? Read our roundup of the best Dermalogica products for acne-prone, sensitive skin.
Read More Reviews
• Tatcha Dewy Skin Cream Review
• Nécessaire Deodorant Review • Review of Space NK's Flourish Hand Cream
• Review of JVN Complete Air Dry Cream • Nars Light Reflecting Foundation Review