MOST WANTED
We Put Dermalogica's Liquid Peelfoliant To The Test On Different Skin Types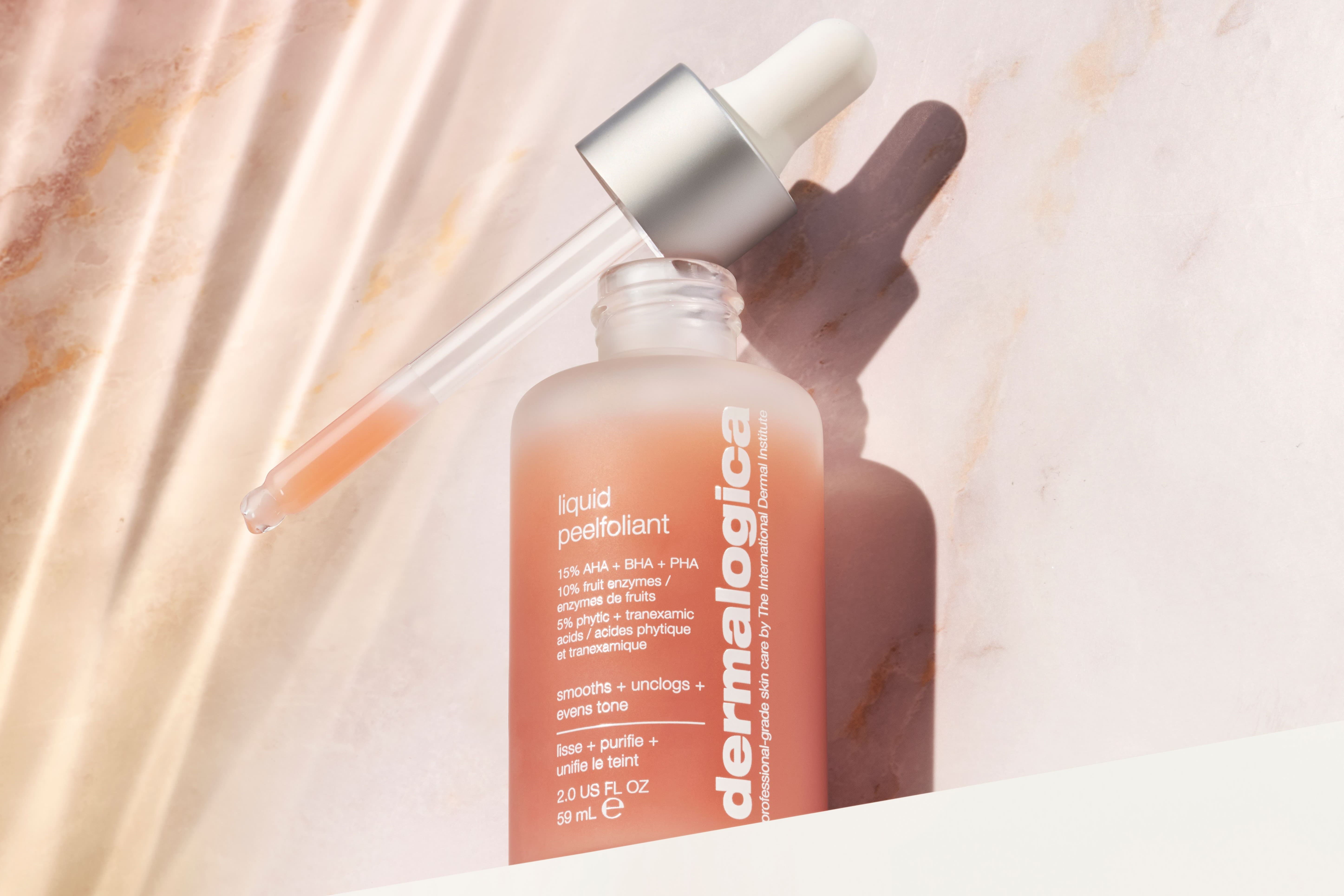 The word 'peel' tends to spark some trepidation in some people. The scene from
Sex and the City
where Samantha is left red-faced and uncomfortable after a salon peel has been etched in many minds. The rise of liquid exfoliators has helped normalise the concept somewhat, but these formulas always seem more relevant for oily and acne-prone
skin types
.
Dermalogica
is hoping to change this misconception with its new Liquid Peelfoliant. The expertly formulated peel promises to help exfoliate and smooth skin without stripping it or exacerbating dryness. Can all skin types really use this liquid exfoliant?
We asked two Space NK team members with different skin types to review the at-home peel, including brand copywriter Vanessa Zaree and digital content assistant Lauren Watts. Scroll down to read their honest
Dermalogica Liquid Peelfoliant
review.
Top Line On Dermalogica Liquid Peelfoliant
• A professional-grade exfoliant designed to smooth out bumps and uneven skin tone
• Contains 15% blend of AHAs, BHA and PHA alongside 10% fruit enzymes to smooth skin and unblock pores • Tranexamic acid helps to top-up hydration levels and prevent dryness
• Suitable for all skin types, but for daily use you must build up your skin's tolerance
Vanessa's Dermalogica Liquid Peelfoliant Review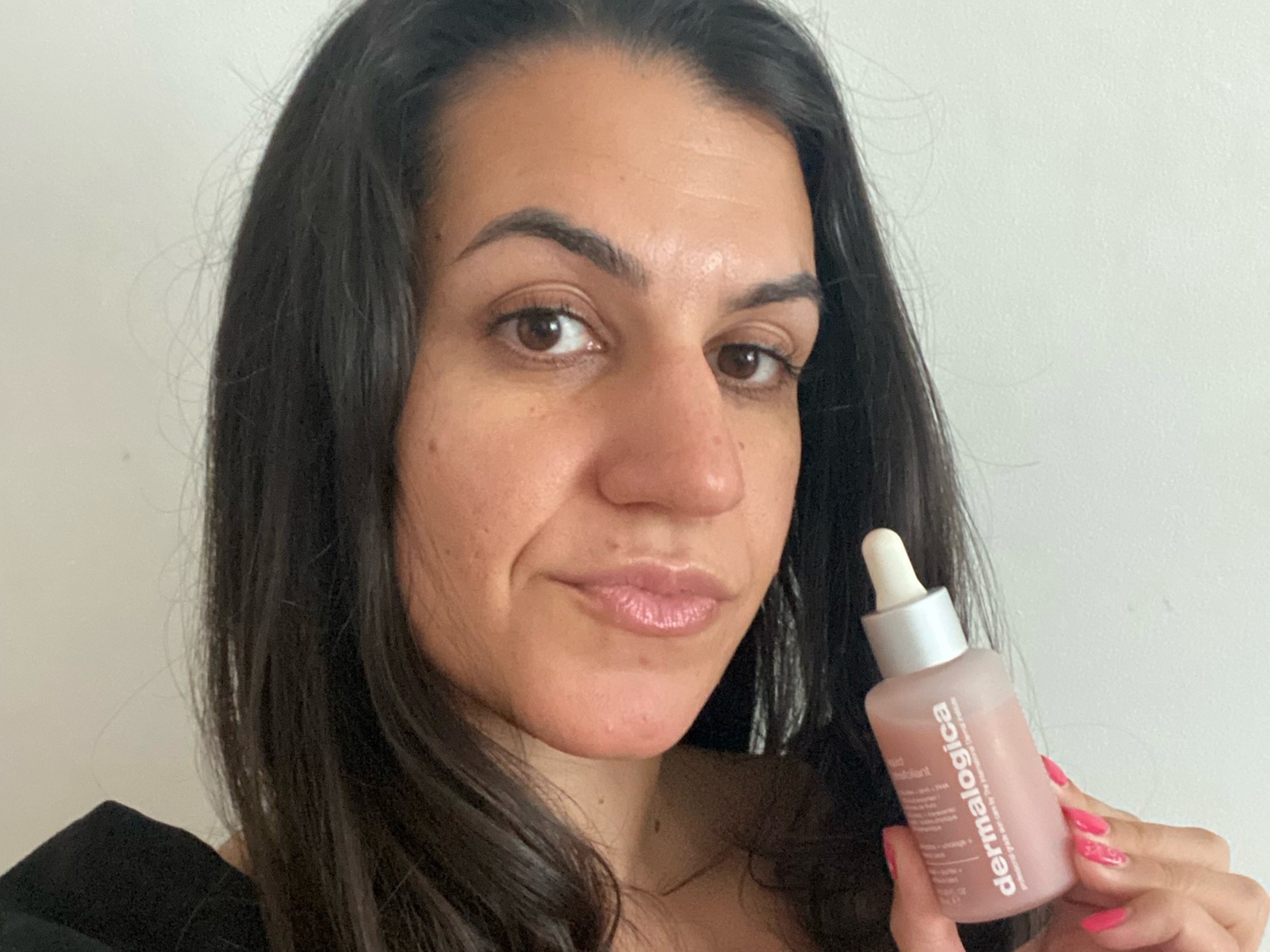 For the most part my skin is oily, but it does have its moments of dehydration, sensitivity and occasional dry patches. This leads to my main concerns being skin texture, visible and clogged pores and acne scars. I don't get blemishes too often, but when I do, it's a struggle to lift the pigmentation left after these.
I don't use at-home peels and liquid peels as often as I'd like to, but I'm no stranger to them either – one of my all-time favourites is The Ordinary AHA + BHA Peeling Solution, £8.40. However, I won't use it more than once a week – so I was surprised to hear that Dermalogica's Liquid Peelfoliant can be used every other day.
After using the liquid peel once, I found the texture surprisingly nice (and its pink colour is very pretty!), easy to spread and fairly easy to apply thanks to its dropper applicator. What surprised me the most was the fact that the tingling sensation was absolutely minimal – I'd almost say I didn't feel anything!
Dermalogica recommends using the Liquid Peelfoliant in the morning, which I did do on days when I wasn't rushing out. The brand also advises to rinse it off after three minutes – which I made sure I did due to my skin's sensitivity (this is probably why I didn't find it tingly). I wouldn't say I noticed much about my skin the very first time I used it – but I do remember thinking my skin looked pretty radiant and plump the following day.
I've also used it in the evening, and I will say that I had to follow with a serum and moisturiser straight after as it seemed like my skin was craving moisture. Also, this treatment is designed to be used every day after a week or once skin has built up a tolerance, however I was very cautious and used it every other day instead.
Lauren's Dermalogica Liquid Peelfoliant Review
While I use a liquid exfoliator with salicylic acid twice a week in a bid to achieve that 'glass skin' effect, I've never used a peel before. My skin tends to be on the dry side, so I'm cautious of over-exfoliating it. Dermalogica is a brand I trust though as it's got so many great products tailored to particular skin types and concerns, including rosacea and pigmentation. So, I felt confident that the Liquid Peelfoliant wasn't going to aggressively strip my skin.
The first morning I tried the formula, I left it on for about three minutes before washing it off and applying my usual skincare routine. I had a Teams meeting first thing and I noticed how glow-y my skin looked on camera, even with sunscreen on top.
The texture was slightly sticky; however, I didn't mind as I washed it off afterwards. My skin was so soft and smooth to touch afterwards. I also felt super confident not wearing makeup when I had this on because my skin looked to radiant. I have used it every other day for the last two weeks for about three minutes. I have also used this on my boyfriend, and he is a big fan.
Our Verdict On Dermalogica's Liquid Peelfoliant
While it's clear that Lauren will absolutely keep using Dermalogica Liquid Peelfoliant, € 74,75, especially if she has an early morning Teams call, Vanessa is interested in the long-term results. "I've been using it for just under two weeks and my skin looks very nice, supple and perked up after use. It definitely gives a glow – and I'm going to continue using it to see if it can make a difference to my enlarged pores over time."
If you like your acids and active ingredients, you'll likely love this product from the get-go. "I think it's great for instant results as it does deliver on the glow," says Vanessa. "I'd suggest being cautious if you have sensitive skin – and if like me you have enlarged pores, be patient!"
Read More Honest Product Reviews
• Review of the Drunk Elephant D-Bronzi Anti-Pollution Drops
• Review of the Iconic K18 Hair Mask • Review of the Charlotte Tilbury Airbrush Flawless Setting Spray
• Review of the Hourglass Veil Hydrating Skin Tint • Review of the Sol Janeiro Bum Bum Cream