SPACE SESSIONS
Stella McCartney On Rethinking Our Approach To Skincare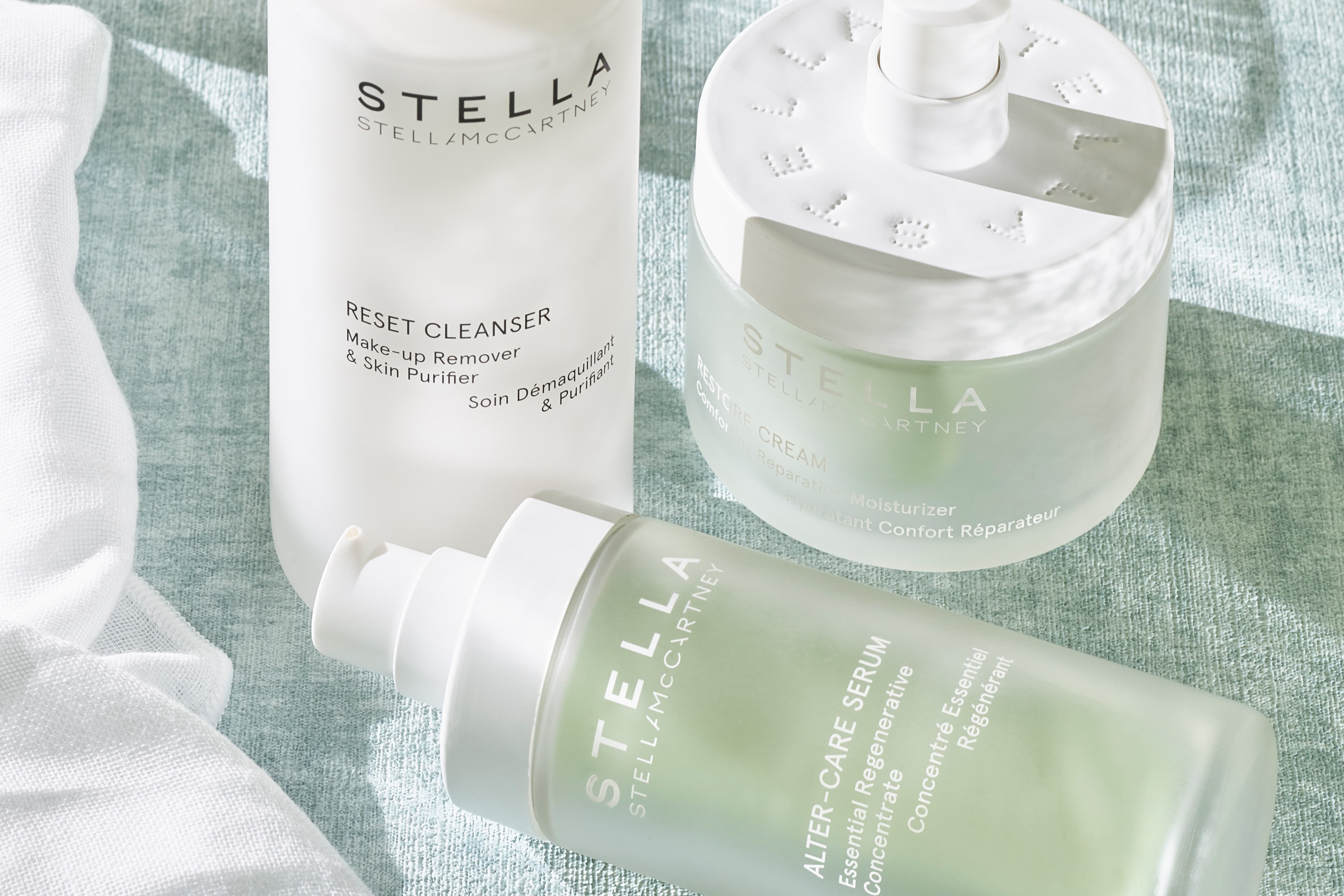 Rinsing your face with soap and water has been firmly placed in the past. Today, the majority of beauty enthusiasts will adopt a five, six, even seven-step skincare routine. But are all the serums, oils, mists,
masks
, tonics and
exfoliators
really necessary? "People can over complicate and over consume skincare," says Stella McCartney, fashion designer and founder of the new
planet-conscious skincare
brand,
Stella by Stella McCartney
. "And when those products aren't used, many are thrown away and end up as landfill," she adds. It's just one reason Stella decided her brand would put an end to this 'more is more' attitude.
Streamlining the skincare routine to just three essential products - a cleanser, serum and cream - (which are of course fully recyclable and refillable), Stella urges us to consider what's really necessary. But don't be fooled into thinking these products are any sort of compromise. "Each of our products has been formulated to work in harmony with the skin's eco-system, supporting its key functions of regeneration and protection, and ensuring skin sustainability," says Stella.
Eager to know more? We talk to the famed founder to discuss inspiration, innovation and the challenges of choosing conscious beauty in a world obsessed with updates.
My Mum was My Inspiration
If I'm being honest, I would say my largest inspiration has been my mother. She always had a very pared back, minimalistic skincare regime and never really wore any make up and her skin was amazing! Our skin is very good at looking after itself. It is an ecosystem, just like nature. That is why I have created a new essential skincare line and why I have launched with just three products. Each of our products has been formulated to work in harmony with this eco-system, supporting its key functions of regeneration and protection, and ensuring 'skin sustainability'. Our collection takes a longer-term view, focusing on health and vitality.
Stella's Results Speak for Themselves
I didn't want to compromise. Our clinical results are really impressive and I wouldn't use anything else on my skin now! The products care for your skin and the planet- and in those terms, I think it sets a benchmark for what's possible in the beauty field. Our Stella by Stella McCartney Alter-Care Serum, € 128,00 has ingredients like organic rock samphire which offers a retinol-like action. It is rich in fatty acids and phytosterols and does wonders to smooth out fine lines and wrinkles. Our Stella by Stella McCartney Restore Cream, € 99,00 does the job with ingredients that include wild organic birch sap – rich in minerals, sugars, and vitamin C - that helps to hydrate and restore visible firmness. It is also packed with cherry blossom extract that is bursting with polyphenols and glucosides, to even and smooth skin but also to reinforce its barrier​. My 2-in-1 cleanser melts away makeup and impurities, including pollution particles, from the surface of the skin – while respecting its pH. It also contains marine spring water - which is incredibly rich in minerals – particularly magnesium, potassium and sodium to improve skin hydration and radiance.
The Eco-Beauty Route Wasn't Easy, but the Effort Was Worth It
When you create a new product, you need to weigh your options at each step of the process to minimize your impact on the planet and that takes time! I wanted to create desirable products that were effective and which reflect my commitment to living sustainably and in harmony with nature. It wasn't easy but I'm proud that the ingredients in the formulas are at least 99% natural-origin. It was quite the explorative journey - it was three years in the making and we banned almost 2000 ingredients to make sure our products were as harmonious with your skin and the planet as possible. Some of the biggest challenges were also in the technical elements – from finding sustainable ways to ship product (we maximise ship-freight over air-freight) to how we created the refills. It's the rigour and extent we pushed ourselves to be sustainable that I'm particularly proud of. I believe that luxury and being responsible can go hand in hand, and that is what we have achieved.
Here's why Stella Stands Out
I don't think there's anyone in the market that is the same as us. I'm used to having to fight to make the impossible possible, and this was no different. The experts we have worked with have said the same thing, the formulas, the packaging, the refills, this is all totally new. For me, there were several key principles that needed to be adhered to. Firstly, the brand and the products needed to have my vegan and cruelty free principles at its heart. I'm proud to say that we have been accredited by the Cruelty-Free International Leaping Bunny Programme and the Vegan Society. Another differentiator is our exclusive refill system. My ambition at the very start of this project was also to reinvent refills, which I've done through the creation of reusable bottles made from recycled glass and super-light and soft refills that are obtained from certified renewable sources which are recyclable. If you refill once, you lower the product's impact on climate change by a third, if you refill twice – it's by half and you can also use the refill on its own, reducing the impact by two thirds.
Conscious Living is a Choice
I think there is a need to simplify our routines – to pare it down to the essentials. The key factor when it comes to sustainability is that there is no magic solution. If I sum everything I've learnt since developing my skincare, then my top tips for being eco-aware would be:
1) Use natural ingredients that don't harm your skin and which don't pollute the planet or our oceans when they are washed down the drain
2) One of the biggest impacts of a luxury cosmetic product is its packaging. Wherever possible refill your products.
3) Recycle: select products which have minimised their use of virgin materials, maximised the use of recycled materials and where the product itself is recyclable
4) Where possible buy products from brands that ship versus flying their products. (I know that seems like an odd tip, but by shipping vs flying our products to the UK & US, we lowered the carbon footprint of our products by more than a 1/3!)
5) Of course go for brands which are vegan and fight against animal testing!
Read More
• Stella Alter Care Serum Review
• Review of the Stella by Stella McCartney Skincare Line • Vegan-Friendly Skincare
• The Benefits of Squalane • Natural Retinol Alternatives Explained