IN FOCUS
The 'Everything Shower' Trend Explained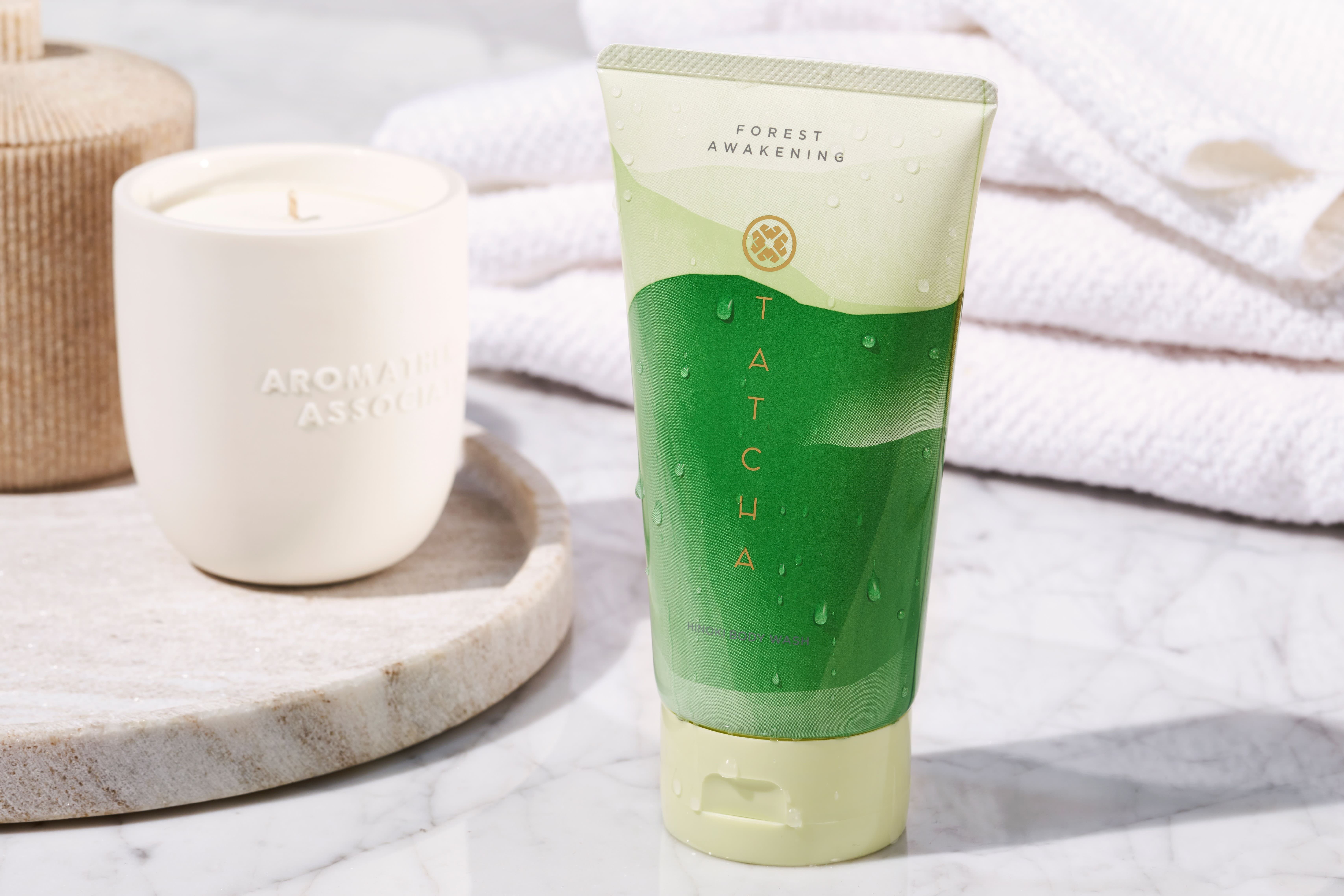 Bathing is often seen as the ultimate act of self-care – a long, hot soak in the tub is the perfect way to end a stressful day after all. Not everyone has a bath though and TikTokkers are determined to democratise this luxury. TikTok's #showertok has amassed over 5.7 billion views and there's one particular trend, the everything shower that has really taken hold.
An everything shower is a weekly head-to-toe routine that can take anywhere from two to four hours. It includes using a clarifying scalp mask, shaving your legs,
double cleansing
your face, you name it. "From a luxurious
hair mask
to a fabulous body wash, this is your chance to go all out," says Space NK's social media manager April Clayton. While plenty of TikTokkers have relished a new approach to self-care, others have claimed to feel exhausted after their marathon shower routine.
With a cost of living crisis, not to mention the amount of water required for a two hour shower, there is a lot to unpack with this trend so we delved into the everything shower before deciding whether to embrace it or swerve it.
What Is The Everything Shower Trend?
There's always at least one beauty trend doing the rounds on TikTok – whether it's hair slugging or skin flooding. The everything shower is all about taking your usual shower routine and transforming it into a self-care session where you can pamper and preen your full body. An everything shower routine begins before you turn on the taps as you need to choose your music and scented candle to create calming ambience before you dry body brush.
Are There Any Benefits To An Everything Shower?
Alongside increased hygiene levels and softer, smoother skin and hair, some TikTokkers have been praising the self-care benefits of the everything shower. "Self-care is something we have spoken a lot about over the last few years and it remains important for so many reasons," says Jini Sanassy, Space NK's head of PR. "The everything shower is the weekly reset moment we all need – life can be relentless, so why not make something that is quite functional (just going to have a quick shower!) more relaxing."
Tatcha founder Vicky Tsai is also a fan of taking a more practical approach to self-care. The brand's new Forest Awakening collection has been infused with hinoki, a plant found in Japanese forests which is said to help aide relaxation and ease stress levels. With luxury textures and a soothing scent, the range helps you to embrace the healing power of nature wherever you live.
"In Japan, they take their outside time very seriously and practice shinrin-yoku (forest bathing) to take in the forest through their senses," says Vicky. "There's an official Society for Forest Medicine and they've conducted countless studies that have proven the physiological and psychological benefits from spending just 30 minutes outdoors and in nature." Featuring a body wash, body milk and body oil, we'd say Tatcha's Forest Awakening range is the perfect addition to your everything shower routine – some might go as far as to say it's all you need for a self-care shower.
The Everything Shower Routine
Whether you're down for a two-hour shower routine or not, there are some helpful tips you can pick up – especially on the order you should do things in. For example, if you have back acne you should follow Kylie Jenner's approach. Kylie starts her shower routine with her shampoo and conditioner, rinsing it straight away to prevent the conditioner sitting on her skin for too long and clogging her pores. US-based dermatologist Dr Lindsey Zubritsky, AKA @dermguru, seconds this advice and also recommends you exfoliate before shaving to minimise any irritation. Here is our full everything shower routine.
Stage 1: Your Pre-Shower Game
We've yet to find anyone who enjoys dry body brushing, but we do know plenty of people who enjoy the results. Before you turn on the taps, reach for Aromatherapy Associates Polishing Body Brush, $36.50 and starting from your ankles and wrists, brush upwards towards your heart in circular movements to give your circulation a boost.
Stage 2: Your Haircare Routine
If you use a lot of styling products or your scalp feels overly greasy, we recommend starting with an exfoliating scalp mask to give your hair and scalp a deep cleanse. Massage it into your roots gently and follow with your usual shampoo and conditioner. For those with thicker hair who want to leave their hair mask on for longer without having to worry about causing a breakout on their back, clip your hair up once you've combed the formula through your mid-lengths and ends. Looking for a hair mask recommendation? Oribe Gold Lust Transformative Masque, $25.00 remains a bestseller and we're obsessed with Ceremonia Mascarilla de Babassu, $29.00 for frizz-smoothing.
Stage 3: Your Bodycare Routine
We're talking exfoliating, cleansing… the full works. is the best body wash for every kind of shower routine in our opinion. With the addition of Nécessaire The Body Exfoliator Eucalyptus, $30.00, these two formulas will ensure your skin is smoothed and cleansed without being abrasively stripped of natural oils. As Dr Lindsey Zubritsky recommends, the best time to shave is after you've exfoliated.
Stage 4: Your Skincare Routine
Moving upwards, it's time to cleanse and exfoliate, or exfoliate and cleanse depending on your preference. Cleanse and exfoliate gets our vote as we like to use a muslin cloth to catch any leftover product. If you're exfoliating, you can skip your double cleanse.
Stage 5: The Post-Shower Wrap Up
You've come this far so there's no point in skipping out of the shower and getting dressed without moisturising. By applying your body cream onto damp skin, you'll lock in more hydration. Our current favourite is as the lightweight formula absorbs into skin quickly without feeling slippery or greasy. Plus, it smells heavenly – expect the tension in your shoulder and jawline to melt away if it hadn't already in the shower.
The Verdict On The Everything Shower Trend
While we're all for turning our shower routine into a pampering self-care moment, we're puzzled by how people are stretching it out for two hours – let alone four. The idea of turning a speedy, mundane shower into a conscious moment where you can physically and metaphorically wash away the day's stresses sounds divine. But, realistically and economically, we'd rather invest in dreamy products that have been formulated to cleanse our skin and help us relax (Tatcha Forest Awakening products, we're looking at you) rather than zap our energy levels with a lengthy routine.
The grooming element of the everything shower shouldn't be overlooked either, but we're still not convinced that we need more than an hour for a full body routine – even if you are pulling out all the stops.
Read More About Tatcha
• Best Tatcha Skincare Products
• Review of the Tatcha Silk Serum • Review of Tatcha Violet-C Radiance Mask
• Tatcha Lip Balm VS Tatcha Lip Mask: What's The Difference? • Tatcha The Rice Polish Deep Review