SPACE SESSIONS
Makeup Artist Rae Morris Shares Her Insider Brush Tricks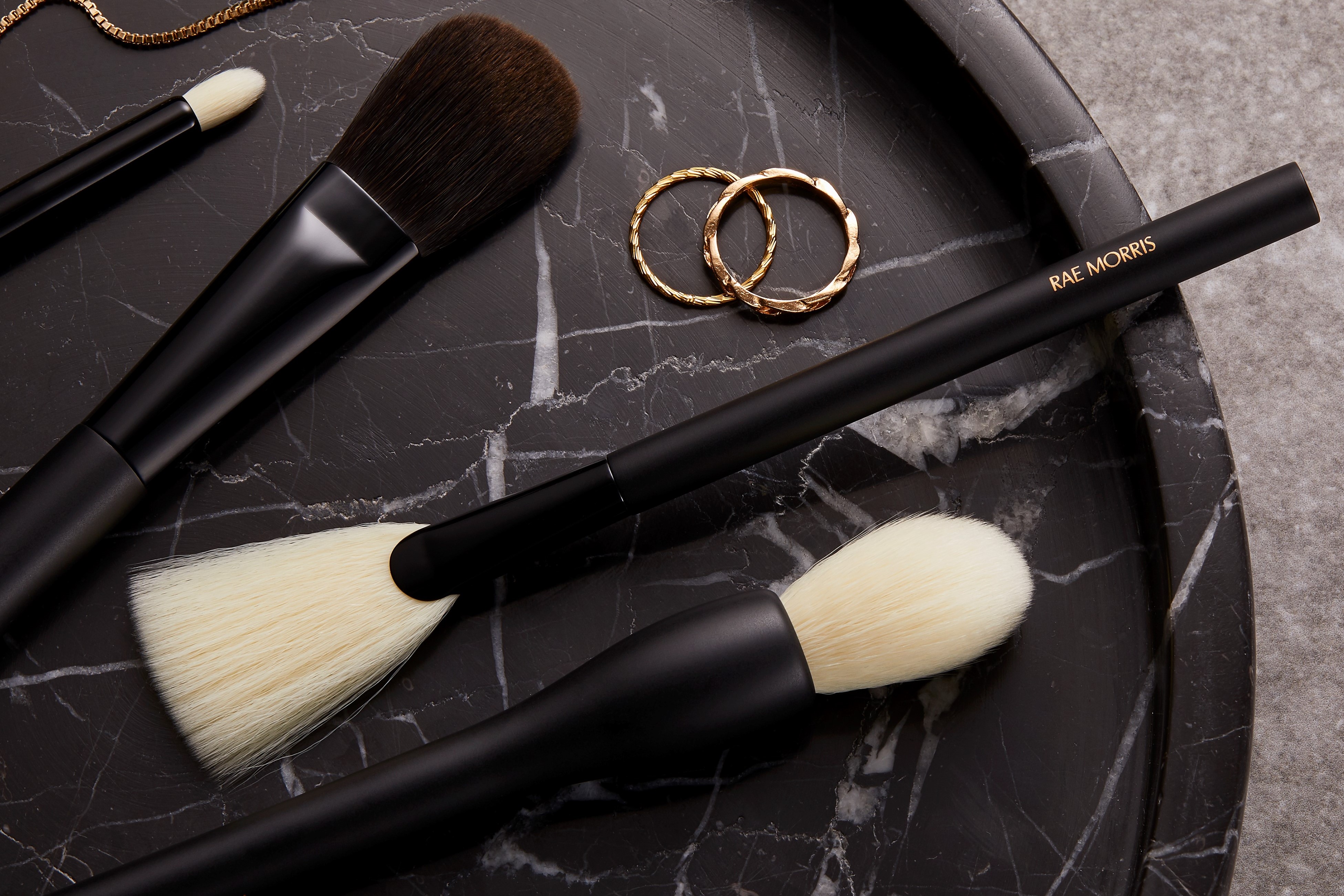 Most makeup artists have a minimum of 26 brushes in their kit bag at any one time. Brushes are their number one tool and without them they'd be as useful as a carless taxi driver. So, if anyone knows what makes a good makeup brush, it's them. Makeup artist
Rae Morris
has over 25 years of experience within the industry; she's worked with some of the top beauty brands, has a rota of celebrity clients and she's authored six books, including
Rae Morris Makeup Masterclass
.
Alongside the step-by-step guides in her books, Rae also regularly hosts live masterclasses. When we asked her what the number one makeup tip, she finds herself passing on to people is, she said: "You should always match your foundation to your décolletage so that your face and body are the same. Never match to your jawline as your neck can be two-to-three shades different to the colour of your face."
If sharing her knowledge wasn't enough, Rae has also created her very own
makeup brushes
to give us a helping hand with the application process. Far from your average run-of-the-mill brushes, these are Jishaku makeup brushes AKA the highest quality. While the bristles are so soft, they're strokable, each brush has a magnetic base, so they stand upright on any surface. Obviously, we wanted to know what her insider tricks were for getting the most out of your makeup brushes…
Makeup Brushes Vs. Fingers
It's a common beauty question that we always put to makeup artists: do brushes or fingers yield better results. "Brushes are for precision and perfection, that's why makeup artists will always favour brushes over fingers," says Rae. "Fingers can come in handy sometimes, but it's just impossible to do precision work, like a feathered brow, a defined crease, pointed lips, contoured cheeks, beauty spots or chiselled jaw lines et cetera with your hands." Rae also points out that using your fingers can be messy and you run the risk of being left with print marks.
Not All Makeup Requires Brushes
While Rae is firmly in the makeup brush camp, there are a couple of things she'll apply without. "Fingers are great for applying a 'base' eyeshadow and for cream blush and bronze," she tells us. "For eyeliner, brows, sharp lip lines and most detailed eye work (including smoky eyes) I only ever use a makeup brush though."
Don't Forget To Clean Your Brushes
Another question we regularly ask is how often should you clean your makeup brushes? "I personally wash my makeup brushes between every client and sometimes, if I need to, in between products I'm using," says Rae. "As a rule of thumb, I always recommend a good clean once a week using washing detergent or soap. It's important to avoid using conditioners as these leave a greasy film on the brushes." If you use a lot of products, you should consider using a brush cleaning spray – "the beauty of this is it dries in seconds and is sterilised," adds Rae.
Rae's Essential Makeup Brushes
Most of us don't need 26 makeup brushes, but there are three must-haves that Rae recommends we all invest in.
Rae Morris #27 Mini Radiance, £93.00: This is the mini version of my most used brush. It's the softest brush you'll ever use (but still firm) and it works with all foundation types (from liquid to cream to powder). Plus, it cuts your application time in half.
Rae Morris #7 Deluxe Point Shader, £55.00: This brush will change the way you do your eye makeup. It's super soft, perfect for creating the defined socket. Add pressure to the brush and you can also create the best smoky eye with minimal strokes.
Rae Morris #14 Perfect Eyeliner, £32.00: If you love to wear eyeliner this brush is for you. Not only does it create the sharpest of liner flicks, when I want to smudge or create an intensity shadow around the lash line, it's literally perfection.
Apply Some Pressure
Rae has one important trick when it comes to using your makeup brushes and really maximising the results. "Just apply any product you are using to the very tip of the brush, use the lightest pressure, and slow down your application… the slower you use your brush, the better the blending," she says.
Read More

• The Essential Makeup Brushes You Need • 8 Rare Beauty Products Our Beauty Editor Really Rates
• Meet The New Season Makeup Products Trending Now • Discover The Latest New Beauty Products Our Buying Team Recommends
• Space NK's Buying Coordinator Reviews NARS Light Reflecting Foundation