UK300052682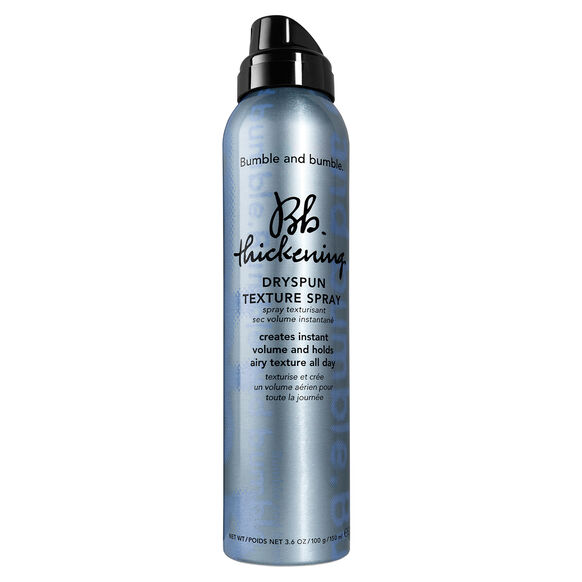 This item is currently not available
International delivery restrictions.
Learn more
We are unable to ship this item to certain countries.
Find out more
.
This product cannot be shipped to locations outside the UK.
This product cannot be shipped to locations outside the UK.
Fast and easy payment with

Please note we are unable to ship this product outside of the EEA, Switzerland and Andorra.
Achieve body, volume and bounce with Bumble and Bumble Thickening Dryspun Texture Spray, a texturising hairspray that gets to work immediately whenever the tresses need a boost.
This nourishing styling spray contains active natural ingredients such as silk powder, hydrolysed wheat proteins and zeolite, which work together to provide immense hold, a tousled texture and unbeatable shine. The presence of PVP and VP/VA copolymers helps keep every lock in place for the duration of the day.
Bumble and Bumble Thickening Dryspun Texture Spray works well with all hair types and lengths, including hair that has been coloured or chemically treated. When sprayed liberally onto dry locks after blow-drying, the spray breathes new life into fatigued and lifeless hair.
Key Benefits
Adds volume, texture and bounce to the hair
Boasts staying power
Its natural, active ingredients ensure that locks remain soft and brushable
Can add texture and body in an instant
Suitable for hair of all lengths and types
Works on coloured and treated tresses
SKU# UK300052682
HYDROFLUOROCARBON 152A , DIMETHYL ETHER , ALCOHOL DENAT. , VP/VA COPOLYMER , ZEOLITE , SILK POWDER\SERICA\POUDRE DE SOIE , HELIANTHUS ANNUUS (SUNFLOWER) SEED EXTRACT , HYDROLYZED WHEAT PROTEIN , GLYCERIN , PEG-12 DIMETHICONE , PHENETHYL BENZOATE , PVP , FRAGRANCE (PARFUM) , LINALOOL , BENZYL BENZOATE , HEXYL CINNAMAL , BUTYLPHENYL METHYLPROPIONAL , LIMONENE
Shake well, hold can 10 inches away from dry hair, and spray in even strokes where you want lift and airy texture.
跟踪的:Y50
在7-11个工作日内收到您的订单 消费Y350即可免费
表现:Y130
在3-5个工作日内收到您的订单
在所有顶级造型师的工具包中,都包含了 Bumble and Bumble 护发用品,该用品的灵感来自该品牌最初的纽约沙龙所固有的对美发工艺的创造性和激情。
Rated

5

out of

5
by
Rebtay
from
Great for curls
I tend to use this on my hair when I have curled or styled wavy. Not sticky on the hair at all, and a lovely smell. Gives the hair a little grip as well, which seems to work I well for me. I will sometimes use it on straightened hair to calm down any fly away. Gives a little shine too. Would buy again.
Date published: 2020-05-18
Rated

4

out of

5
by
Alexandra3010
from
Non-sticky, great hold
A lovely hairspray to use, and unlike any other hairsprays I have come across, this one does not leave your hair with a sticky feeling. Lovely to use and great for adding texture to your hair and volume. Has a nice and light/pleasant scent to it also, but not overpowering at all
Date published: 2020-04-06
Rated

5

out of

5
by
lucyldn
from
Texture spray
I have used a range of the BB products and this literally does what it says on the tin. My hair is quite fine so it can become greasy when I use too much product, I am happy to say this did not disappoint. Whilst product never holds my hair for too long anyway, I am happy with the initial results and the bottle seems to last ages.
Date published: 2020-04-05
Rated

3

out of

5
by
Heyma11orie
from
Nice but have found better
I think this is nice for the price. However i don't think it gives great lasting volume like other products i have come across. This adds a bit of lift and subtle texture but i don't find it lasts long either. Great for everyday but not for a night out if you want it to last
Date published: 2020-02-13
Rated

3

out of

5
by
caitlinpr47
from
Afraid I just don't get the type
I got this for a wedding as I planned to put my hair up. It did help to make hair more gritty which was helpful for me as my lengths are quite silky. I put some round my roots too but ending up brushing it out and going back to dry shampoo for volume because it made my hair feel awful. I know that it's much more on-trend to have messier, matte-looking hair so really this is just about my preference. If that's the look you want this certainly delivers it.
Date published: 2020-02-08
Rated

5

out of

5
by
pistachios09
from
Amazing
I love most of the Bumble and Bumble hair products. This Thickening Dryspun Texture Spray is my most favarite one. It give my hair texture, thickness and smells lush too. It doens't smell chemical or feel sticky like other volumizing sprays I've tried before. It is amzing!
Date published: 2020-02-02
Rated

5

out of

5
by
ajblondie
from
Brilliant
I have very fine but a lot of it, despite this my hair is usually quite flat and I have to add product to give it volume, I usually use the powders which work great but I hate the feel of them in my hair so this texture spray has been amazing at giving my hair volume and lift and hold to my style without feeling like I have loads of product on it. My only complaint is that it does not come in a bigger bottle as I can see me getting through it quickly.
Date published: 2020-01-18
Rated

4

out of

5
by
AJB123
from
Gives fine hair "oomph"
Having not had great success with the Bumble and Bumble surf spray, I wasn't sure whether to buy this - but I am so glad that I did. It gives my fine hair some much needed "oomph" and volume and makes it look effortlessly undone and tousled without leaving it feeling crunchy or sticky.
Date published: 2020-01-02
Rated

4

out of

5
by
Nicksjj
from
Great hairspray!
This does exactly what it says it's going to - which I couldn't quite believe the first time I used it! I've been using it for a while, when my hair was long and now it's really short. My hair is very fine, so I'm not sure how it would work on coarser hair, and I have a lot of hair - this gives it volume, thickness, makes it easier to style and is really easy to use. Also smells a lot more natural than so many of the cheaper, chemical smelling alternatives.
Date published: 2019-12-10
Rated

5

out of

5
by
Vandoodle
from
Great texture spray
I sometimes get greasy hair, so this is a god sent. It gives it great texture and volume, I absolutely love it. It makes my hair look fuller and not sniff. Also gives you great movement. I would recommend this spray if you have greasy hair and need a bit of a boost. 10 out of 10 from me. Will be buying again
Date published: 2019-11-24
Rated

5

out of

5
by
NurseJaniceEmmanuel
from
Amazing texture spray, love it
This is my 3rd can of this amazing texture spray. My long hair used to be straight, but as I've got older it has become wavy. This spray really brings out the curls and gives it extra body. It does not leave my hair crispy, and brushes out easily. I use it as the final product on my hair. it also smells gorgeous. I hope this product is never discontinued.
Date published: 2019-11-14
Rated

3

out of

5
by
LouLou27
from
Need to use a lot of product
I was keen to try Bumble and Bumble's Thickening Dryspun Texture Spray but I found I needed a lot of product on my fine hair to add volume and texture. The spray helped to add volume and didn't leave my hair feeling crunchy as it is a very lightweight product. The fragrance is also pleasant. However, I probably wouldn't repurchase this spray as it is quite pricey and I needed to use so much to achieve the best result.
Date published: 2019-11-11
Rated

5

out of

5
by
CLO21
from
Love it!
I am always on the hunt for products that make my hair look thicker but not make it frizzy and this is a hit! My hair is curly but I straighten and then curl it,I now spray this on after and my hair looks lots thicker but isn't too heavy or hat like,a definite find and my new go to hair product
Date published: 2019-10-07
Rated

5

out of

5
by
Beauty Qween
from
Love it!
This is my instant styler, and this is how I use it: first, I apply dry shampoo to my roots (Bumble & Bumble Pret a Porter or Batiste) and let it sit on my roots for a few minutes, massage and brush out, then spray the thickening spray through different parts at my crown, massage and fluff my hair up with fingers, then tussle my hair. This is an awesome styling tool for my limp, slightly wavy hair. I also love the scent of it. I just wish it wasn't so expensive...
Date published: 2019-09-22
Rated

5

out of

5
by
MissDonna83
from
Dryspun Texture Spray
This is the original holy grail of texture sprays for me! I've tried many others but always come back to this one. It's a beautiful light and fine spray that doesn't make my roots feel heavy, it just gives some nice volume. I use this when I want to style my hair for a special event or night out.
Date published: 2019-09-15
Rated

4

out of

5
by
LuBear
from
Nice
I tried this product having followed a fashion influencer on Instagram who said she always used this product and recommended. It does smell wonderful, but I did find it a little coarse in the hair but does style well so would say it could be worth trying.
Date published: 2019-08-28
Rated

5

out of

5
by
LornaMB
from
Better on my thick hair than hairspray!
My hairdresser recently told me that hairspray was not holding my hairstyles very well because my hair is too heavy and that standard hairspray just weighs it down. She recommended I try the Bumble and Bumble Thickening Dryspun Texture Spray as an alternative. At first I was confused as I already have super thick hair but she said the formula would separate the strands, rather than sticking them altogether. This spray is really great for up-dos and for keeping hair strands separated.
Date published: 2019-08-21
Rated

5

out of

5
by
LouLou83
from
Gives VOLUME!
If you are after volume then this is the spray for you. I've tried a lot of sprays with the same claims but they never fully come through and within an hour my hair is lank again. This product works and leaves me feeling like I've had a professional blow dry. A little goes a long way, I find a can lasts me for a good while.
Date published: 2019-07-30
Rated

2

out of

5
by
Ames
from
Not Much Impact
I just can't get this product to work for me (freely will admit that it could be user error). I lift my hair up, spray it at the roots, and then gently tease my hair with my fingers. Unfortunately, any lift from the spray is only temporary and my hair falls flat again quickly. On the plus side, the smell is pleasant and not too overpowering. It does leave some residue in the hair but not enough to make your hair feel gross (ie, like you need an immediate shower)
Date published: 2019-07-15
Rated

4

out of

5
by
Ksmith
from
Non-sticky
I have found that this product provides my fine, wavy hair with subtle volume and texture without leaving it feeling sticky as some other volumising products do. I also like the fact that it can be used on dry hair as I find this more convenient. The smell is quite strong when first applied but 'dies down' to a pleasant fragrance after a few minutes.
Date published: 2019-06-06
Rated

5

out of

5
by
NBlondon
from
Noticeable difference to hair texture
On my second bottle of this after getting hooked on the improvement to the appearance of my hair on application. I have very fine hair that has a tendency to look very flat, coupled with a bike ride to work that flattens my hair further under a helmet. A spray of this followed by a fixing hairspray brings back volume, even to 2nd day after hair wash.
Date published: 2019-04-24
Rated

4

out of

5
by
Habantia1958
from
Does Not Dry The Hair Out But Gives Volume.
I was given a mini sample of this product in store. Now I do own the Oribe which has been mentioned being similar to this product. I do not need thickening but do like to add extra volume to my short cropped style on the second or third day and this product did the job. Easy to use with no smell that I can notice, just like a hairspray apply where you want extra texture and volume to your hair. It did give my hair volume did not feel heavy or dry on my hair. It is not a dry shampoo but that is not what I want it for.
Date published: 2019-04-17
Rated

5

out of

5
by
MangoMoose
from
Similar to Oribe
This applies like a hairspray to dry hair but has a powdery texture which boosts volume and texture without looking dull or powdery. It is a great alternative to the very pricey Oribe spray and gives near-identical results. Oribe possibly has the slight edge in the way that, if applied well, it's barely perceptible to feel in the hair whereas this one feels a little more noticeable to the touch. Neither are as heavy and chalky as the usual cheaper dry shampoos. If you have a Space NK store nearby, test each on one side of the hair and you'll be hard pushed to see the difference. There's not a lot in it, and given the price difference per ml, the Bumble and Bumble one is well worth purchasing. For info, I have straight, fine highlighted bobbed hair in which I try (desperately) to create texture.
Date published: 2019-03-20
Rated

5

out of

5
by
aesovs1
from
Adds texture without weight
I switched to this product from the Oribe texture spray - mostly because the scent of that one didn't agree with me - and found this to work just as well (if not better). Like any other texturising spray, it adds grit and hold to hair, but this one does that without making the hair feel claggy with product - it really is a dry finish. It works really well at bringing three or four day hair that's gone limp back to life, or adding some volume and texture back in after ironing my hair.
Date published: 2019-02-03
Rated

5

out of

5
by
Overandover
from
Texture and volume
I use this product usually when I need more volume on the day 2 - it does not replace a dry shampoo though, if hair is very greasy, but if it's not the case, then this spray does the job. Also can be used on freshly washed and styled hair, to add texture and volume. My favs are this one and Oribe spray (which is twice more expensive anyway).
Date published: 2019-01-06
Rated

5

out of

5
by
Jayneyb
from
Fabulous Product - On repeat purchase!
I adore this stuff. I gave it a go after seeing a review on You Tube and haven't looked back. I have fine hair but a lot of it. After blow drying my hair I lift up the top sections of my hair and spray this at the roots. Then give it a bit of a "jush" and off I go. Because of the powdery texture it makes my blow dry last longer and keeps my oily roots at bay, so I can then curl my second day hair.
Date published: 2019-01-04
Rated

4

out of

5
by
Dramatic Beauty Seeker
from
Does what it says
Unite is my favourite dry texture spray, but it's difficult to find in London. Oribe is a close second, but it's expensive. That leaves gold-old, trusted Bumble and Bumble. It does what it says and adds lovely texture for beachy waves without weighing down my hair. The smell is gorgeous too.
Date published: 2018-12-10
Rated

3

out of

5
by
Cheryl93
from
It's alright
I purchased this product due to the hype but honestly, I can't quite justify the price with what it actually does to my hair. Honestly speaking, you can get the same effect with dry shampoo from the drugstore at a fraction of the price. Therefore, I will not be repurchasing.
Date published: 2018-12-03
Rated

2

out of

5
by
tyna_s
from
Not great for me
I've bought this product before, and didn't get along well with it, however I thought I'd give it another go. Unfortunately, I was right first time. I thought last time that maybe I'd applied too much so this time I tried using less. It makes my hair feel and look really dry.
Date published: 2018-11-18
Rated

5

out of

5
by
Mrs P
from
Life for my hair
Well, it's nearly November, and every year with no fail when Autumn arrives filled with its lovely cold grey weather, my hair turns into a flat lifeless mess. This texturising spray is amazing, it gives my hair a beautiful bounce and volume without weighing it down or making it feel greasy or giving it that crispy feeling I really dislike. It smells lovely too. A must have for me!
Date published: 2018-10-29
bvseo_sdk, dw_cartridge, 18.2.0, p_sdk_3.2.0
CLOUD, getReviews, 29ms
reviews, product