IN FOCUS
How To Give Yourself A Facial Massage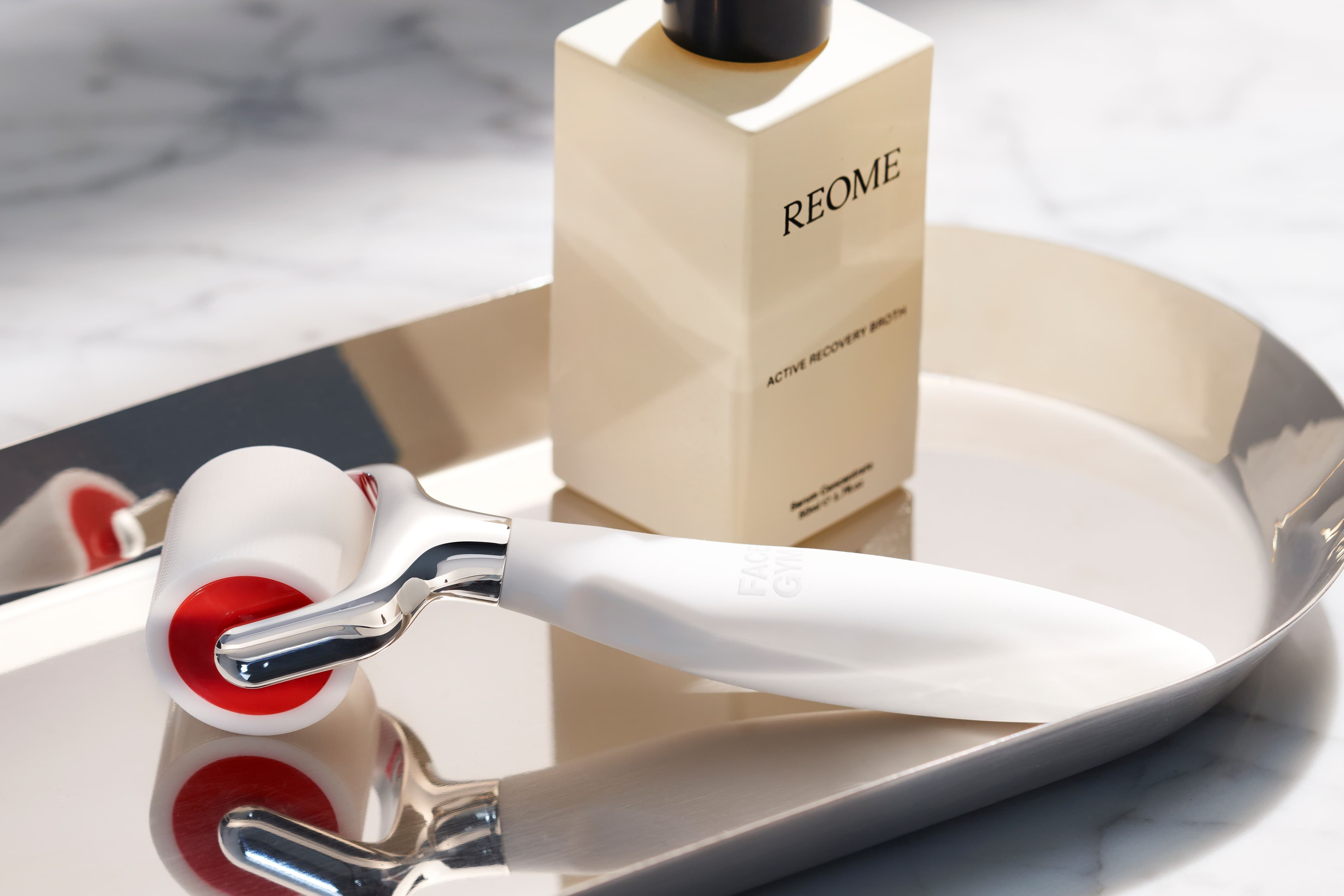 The definition of a good skincare routine has changed a little in recent years. It's no longer a task consisting of cleansing, toning, and moisturising. It has expanded to include
serums
that target our specific concerns, exfoliators to remove dead skin, and, crucially,
SPF
. There are also face massage tools and facial massage techniques to consider now, each designed to further our skin goals.
Facial massage is not just something that should only be experienced in the aesthetician's chair, it's a method that can (and should) be deployed at home, too.
FaceGym
is considered the OG of facial massage, or workouts as they call them. If you have ever experienced one of their signature treatments, or used their products, you will know they pack a punch.
To celebrate FaceGym's arrival into Space NK, including some treatments in store, we caught up with FaceGym Educator and facial sculpting expert, Sophie Perry, to get the lowdown on facial massage and how to master it at home.
What is a face massage?
Facial massage is a technique that has its roots in traditional practices, like Traditional Chinese Medicine, and it's a method often used by facialists as part of their treatments to boost circulation and sculpt.
With more than 40 muscles in the face, massage allows you to see instant glowy and lifted results, which is why it has become a popular addition to at-home skincare routines. Essentially facial massage techniques consist of deliberate light, medium, and firm hand movements over your face, connecting with your facial muscles. You can also use various tools, such as jade rollers, and Gua Sha, to massage.
What are the benefits of facial massage techniques?
"The benefits of facial massage are endless," says Sophie. "It boosts the circulatory system, helping to flush fresh blood, oxygen and nutrients to the tissues, creating a healthy vibrant looking complexion. It also stimulates the lymphatic system and so help to drain fluid and toxins, releasing puffiness from the face, while increasing collagen production. Also, not forgetting, facial massage helps us de-stress and unwind by lowering cortisol levels. As for the face, it ultimately helps to lift, define, and strengthen."
How to do a face massage
So, you're wondering how to do a face massage? Sophie recommends focusing as much on prep as the movements themselves. "To get the most out of your at-home workout, your skin needs to be clean so that it can absorb the ingredients from the product you have chosen for your massage. After cleansing, grab a facial oil and smooth over your skin. If you're really pushed for time, massage over your moisturiser."
Now that your oil is applied, it's time to get stuck in. Quite literally. The technique you use will depend on your desired outcome:

Target your jawline:
Grip your fingertips and the pad of your thumbs to your jawline and sweep upwards to just underneath your ear, and then sweeping down onto the sides of your next to drain.
Sculpt cheekbones:
Use the pads of your fingers on both hands to rapidly sweep upwards over your cheekbones. Cup your thumb under your chin and align the rest of your hand over your cheeks, allowing your pointer finger to cup your cheekbone, and sweep outwards. Lastly nestle your knuckle under your cheekbone and glide upwards and outwards. Don't forget to drain onto your neck.
Release brow tension:
Use your thumb and pointer finger to pinch and glide over your brow bone, focusing on the small recess where the front of your brow meets your eye socket.
Engage in some cardio:
Use light to medium finger movements in rapid succession, sweep up and outwards over your cheeks, upwards from your jaw, and over the arch and tail or your brows. Repeat as necessary and finish by sweeping your hands from the centre of your face and forehead down onto the sides of your neck to drain.
Final word on facial massage
Like most things, the secret is consistency. "With facial massage it's never one and done," explains Sophie. "To keep the results long lasting a few minutes a day is recommended, it doesn't need to be complicated." If you want to take your massage technique up a notch, introduce the FACEGYM Facegym Pro, € 660,00 into your routine. It prompts involuntary muscle contractions, helping to tone and build shape and structure. "It's designed to be used every other day," says Sophie. "The rest day in between is key to building the tone and health of your facial muscles."
Read More
• What Is Double Cleansing?
• Everything You Need To Know About K-Beauty • Best Skincare For Sensitive Skin
• Best Eco-Friendly Skincare Brands • Everything You Need To Know About Skin Cycling