IN FOCUS
Milk: The Unexpected Ingredient Your Beauty Routine Is Missing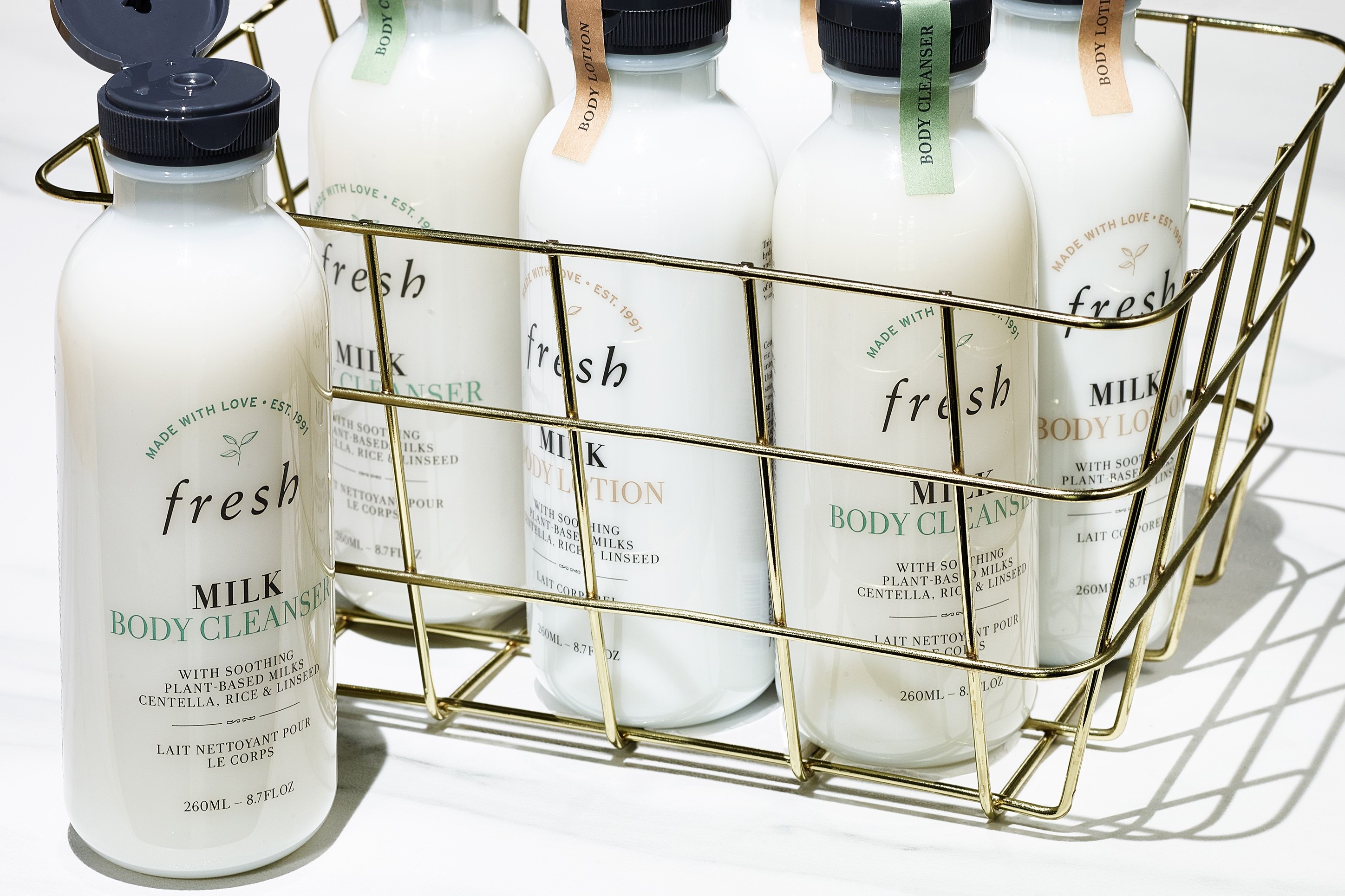 We love a weird and wacky skincare ingredient. Give us snail slime (aka mucin) and tell us it has exfoliating powers - we'll slather it on. Charcoal for a skin detox? Hand it over. Bee venom to plump out wrinkles? Why not! And while some may call them fads, many seemingly mad skin solutions are actually rooted in history - it was a way for people to perfect and improve the condition of their skin, by simply using what was available to them.
Take milk for example. We've all heard the tale of Cleopatra choosing to bathe in a tub of donkey milk, (most likely with a
clay mask
). But why? It's believed the extravagant Egyptian queen was actually calling on the benefits of lactic acid - an
alpha hydroxy acid
found in dairy products which, when applied topically, can help to exfoliate away dull skin cells, dig out debris from pores, and give you an overall clearer and brighter-looking complexion. Go Cleo!
Of course, today, we don't need donkeys to get our fix of lactic acid. In fact, we don't need donkeys (or any animal by that matter) to get milk. Cue plant-based milk alternatives, loaded with nutrients to nourish our bodies both inside and out. These types of milks, drawn from the likes of seeds, grains, nuts and other ground-grown goodies are the latest in a series of strange skincare ingredients you need to try. And we're lapping up the benefits.
Wondering where these plant-based milks come from, what the skin benefits are, which milk is best for your skin concern, and how to introduce milk into your daily beauty routine? Read on.
What is plant-based milk?
Oats, almonds, soy milk, rice, coconuts, even seeds - it seems almost anything can become milk these days. But what actually is milk when not from an udder? Simply put, a plant milk is actually a milk-like substance created from an item that is soaked, ground and blended with water (and sometimes other ingredients) to create a creamy liquid. Why turn to these over the traditional dairy milks? Apart from heaps of additional benefits for our skin, "It's better for the planet — our shared home," says Caglar Odabasi, UK & Europe Head of Education at beauty brand, Fresh. "Animal agriculture is a top contributor to the climate crisis, and cows produce more greenhouse gas emissions than any other livestock. Dairy farms are also a major source of water pollution, and they have a huge water footprint," he adds.
How can plant milks benefit our skin?
"Depending on the ingredients, plant-based milks offer a variety of vitamins and minerals," says Odabasi. How is this type of milk then harnessed for skincare? For Fresh's new Milk collection, which includes a body lotion, body cleanser and hand cream, "We have formulated a "milk" emulsion made of water-soluble (hydrophilic) and oil-soluble (lipophilic) ingredients that are carefully blended together," Odabassi explains. What are these ingredients, and how do they benefit our skin? "For this range, we've used a blend of three different plant milks: centanella for soothing benefits, rice milk for nourishing benefits & to comfort the skin, and linseed milk to strengthen the skin," he tells us.
Plant milks in skincare vs pure plant milk
Curious how a plant-milk boosted skincare compares to applying the milk directly to skin (Cleopatra-style)? Odabasi urges us to put our trust in the beauty brands and avoid at-home creations. "There is a lot of scientific work behind the scenes when a product is being formulated vs just using a raw ingredient directly on the skin. In certain cases this may not be even safe or beneficial," he warns us. "Not only the ingredients but how they are extracted and how the products are formulated play a big part in their safety and efficacy," Odabasi adds.
The skincare milks to know about
Each with their own skin-improving benefits, these three milks and the trialled-and-tested products that contain them are worthy of a spot in our skincare cabinet.
Sesame Milk
Skincare benefits: Sesame milk is great for clearing and brightening the appearance of skin, as it contains exfoliating enzymes, great for lifting away any dead cells that may be resting on the surface of skin. It's also an effective skin softener - nourishing and moisturising the skin for added suppleness.
Try it in: Erborian Milk & Peel Mask, € 32,00. Combining the exfoliating benefits of sesame milk with skin-strengthening sesame oil, this five-minute mask is ready to give skin a health kick and rediscover its luminosity.
Almond Milk
Skincare benefits: Almond milk is known to be an excellent source of vitamin E, which - when used on skin - has a healing effect, working on everything from signs of ageing to cell damage, and can even help to reduce the appearance of scars.
Try it in: Drunk Elephant Sugared Koffie Almond Milk Scrub, € 32,00. Exfoliating powdered coffee beans and brown sugar crystals are balanced with nourishing plant oils and a splash of soothing almond milk in this antioxidant-rich body smoother.
Rice Milk
Skincare benefits: The Japanese beauty secret works wonders when looking to lighten and brighten irregular skin tone, including everything from dark spots to pigmentation. Not to mention its oil-balancing qualities. Blemishes, be gone.
Try it in: Fresh Milk Body Cleanser, € 11,00. Designed to soak skin in moisture while clearing away daily debris, this creamy cleanser is boosted with a plant-based blend of linseed, rice and Centella Asiatica milks to soothe, perfect and soften skin below the chin.
Read More
• Latest New Beauty Product Launches
• What Is Sensitive Skin? • What Is Retinol?
• How To Treat Hormonal Acne • How To Recycle With Handle