IN FOCUS
Benefits Of Olive Oil For Skin And Hair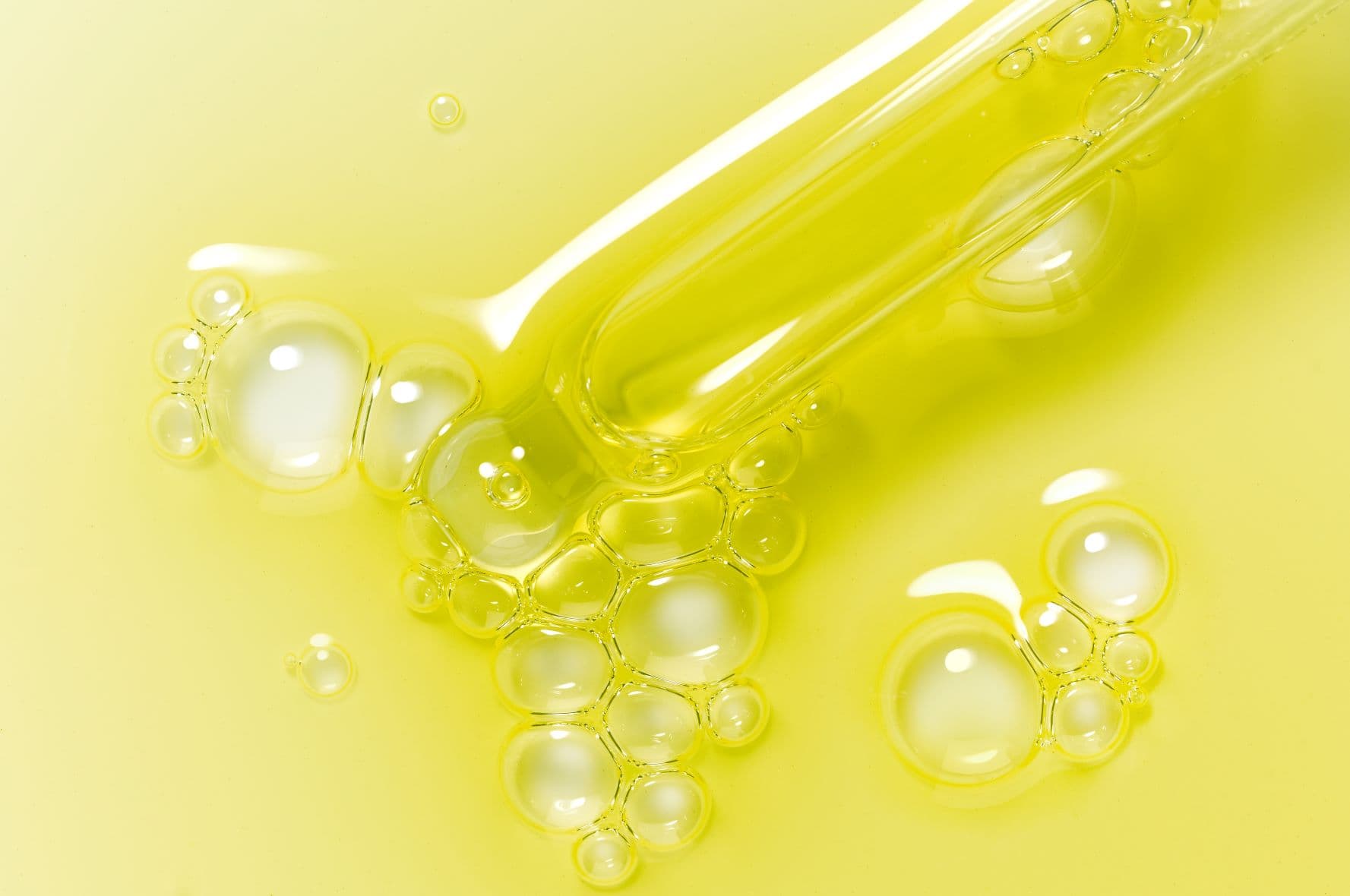 It's a kitchen cupboard staple so it may surprise you to lean that olive oil is also a superb beauty ingredient, helping to both moisturise, and protect skin and hair from aggressors such as the sun. Oils in general have a very long history of use in both skincare and haircare and primarily it's because they are lipophilic, which essentially means they help to support the skin's own lipid layer which contributes to moisture and helps to strengthen the skin's protective barrier, preventing moisture-loss, while calming sensitivities.
Olive oil is a particularly beneficial ingredient to include in skincare and haircare products if you want to boost moisture and up protection. As a beauty ingredient, olive oil dates back to at least 51 BC, (though most likely it was in use long before then) and Cleopatra is even known to have used it on her skin. Additionally, cultures around the world have traditionally used olive oil as a treatment for both the hair and scalp, for its protective and moisturising properties. More recently, people comb olive oil through their brows to add an additional layer of condition.
But, why is there so much love for olive oil? Firstly, olive oil is known to contain excellent antioxidants which help to fight free-radicals in the skin created by aggressors such as UV and pollution. Secondly, like all oils, olive oil is lipophilic so it supports moisturisation. Both of these qualities not only help to keep skin and hair moisturised, supple and healthy, but they also help to slow the appearance of signs of ageing.
What Is Olive Oil?
A little refresher in what olive oil is, exactly. Olive oil is the result of pressing whole olives grown on olive trees traditionally found in the Mediterranean Basin. The process of pressing allows the oil of the olive to be extracted, and then it is refined for either cooking or beauty purposes. Olive oil is a key player in the Meditteranean diet, a diet consisting mainly whole grains, fish, fruits, vegetables and, you guessed it, olive oil The Mediterranean diet is credited as one of the healthiest in the world and olive oil is known to help improve heart health, lower inflammation, protect cells and improve brain function and mood.
The Benefits Of Olive Oil For Skin
There are many olive oil skin benefits and olive oil for the treatment of dry skin is very popular. You're likely to find olive oil in cleansers, moisturisers (for both face and body), conditioning hair treatments and serums and face masks. Formulators will often bolster a formula with olive oil to ensure they are delivering maximum hydration, something people of all ages, all skin tones and types will benefit from.
On the long list of olive oil skin benefits is preventing moisture loss, which in turn helps to strengthen the skin's protective barrier and reduce the appearance of fine lines. Antioxidant wise, olive oil boasts vitamins A, D, K and E, plus squalane, which together help to reduce oxidative stress, preventing the early signs of ageing appearing on skin and further reducing the likelihood of triggering sensitivities and inflammation. It's for these reasons if you have psoriasis, rosacea, acne and/or acne scarring, it will likely be beneficial to look for products containing olive oil as a key ingredient.
The Benefits Of Olive Oil For Hair
So, is olive oil good for hair? The answer is a resounding 'yes'. On a surface level, a small amount of olive oil applied overnight or as a pre-shampoo treatment, will help to reduce frizz, prevent breakage and split ends, and boast shine. Beyond that, olive oil is known to penetrate the hair's shaft – again, because it is lipophilic – and make it more watertight. The antioxidant properties that make olive oil such an excellent skincare ingredient are just as useful for your hair, helping to protect it against the damaging and prematurely ageing effects of UV and pollution, and even heat styling and chemical treatments. Look for it in hair masks, overnight treatments and styling products such as finishing serums.
There is one caveat, however. As you might imagine, fine, thin or thinning hair may find olive oil to be too weighty, making hair hang limp and feel oily to the touch. Always apply a very small amount first to judge the results.
How To Use Olive Oil In Your Routine
You can use olive oil at almost any stage of your skincare routine, from cleansing, to masks, to moisturisers. Cleansing oils and balms containing olive oil are an excellent choice for your first cleanse because they attract dirt and excess sebum from your skin and breakdown hard-wearing makeup, including waterproof mascara. A rich face mask containing olive oil is also a great weekly treat for your skin to rebalance, reduce redness and sensitives and restore lost moisture.
If you have oily acne-prone skin you might be reluctant at first to use anything containing olive oil, but it won't make your skin feel greasier. On the contrary, olive oil will help to reduce excess sebum and calm breakouts.
As for incorporating olive oil into your hair routine, if you have curly and coily hair a shampoo or pre-poo containing olive oil will help to restore moisture and gently cleanse. If you have fine, flyaway hair, a weekly conditioning treatment containing olive oil will be enough to strengthen and moisturise without weighing your hair down.
Our Favourite Olive Oil Skincare Products
Summer Fridays Heavenly Sixteen All-In-One Face Oil, € 60,00: This calming and nourishing facial oil combines olive oil with 15 other oils, including cranberry and meadowfoam, to protect skin and strengthen its moisture barrier. Press a few drops into your skin as the final step in your daily skincare routine.
Augustinus Bader The Body Oil, € 88,00: Olive fruit oil, squalane and argan oil combine to moisturise and target cellulite, stretch marks and hyperpigmentation. Massage into your body after dry brushing for best results.
Upcircle Face Mask With The Powder Of Discarded Olive Stones, € 24,00: This unique face mask utilises the protective properties of discarded olive stones. The stones are finely ground into a powder before being combined with brightening turmeric oil and detoxifying kaolin clay.
Malin + Goetz Facial Cleansing Oil, € 40,00: A multi-tasking first-step cleanser that breaks down stubborn makeup and balances sensitivities thanks to its grapeseed, avocado, and olive oil formula.
Ouai Thick Hair Treatment Masque, € 38,00: Restore hydration and repair damage with this intensive hair treatment containing shea butter, hydrolysed protein and almond, macadamia, and olive oils.
Read More
• The Benefits of Turmeric for Skin
• The Benefits of Honey for Skin • What Is Retinol?
• The Benefits of Niacinamide • The Benefits of Rosehip Oil